About
Looking for healthy, satisfying food that you can make on your own in a jiffy after a hard dayís work? Try a salad.
Salads are rich in nutrients and vitamins and low in calories. Eating salads every day is the healthiest habit you can adopt in your lifestyle. For a vegetarian, it can be a mixture of vegetables, fruits or both. Add up some pieces of chicken or tuna for a non-vegetarian salad and mix it with a few seasonings, nuts or sauce which will give a spicy, crunchy feeling and itís fun to eat. Everyone can make a salad. It is not necessary to be a chef to prepare a salad. Your own ingredients such as fresh cream, mayonnaise, yogurt or lime juice available in your kitchen can be used to make good salad dressings for delicious and healthy homemade salads.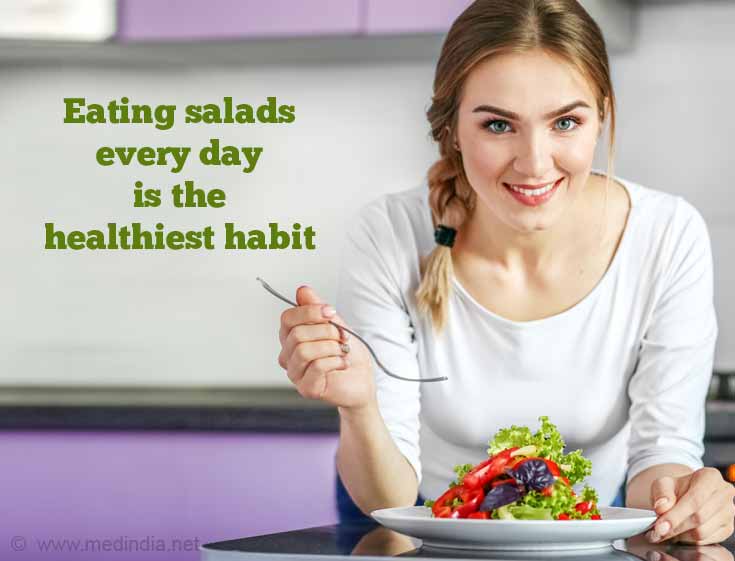 Health Benefits of Salads
Salads with Fiber: Almonds, beans, bran, wheat, and peas are all high in fiber content. Add some of these in your salads to pep up the fiber content in your diet. This can lower the cholesterol level, keep bones strong and prevent constipation. Vegetables like carrot and broccoli frequently used in salads sharpen our eyesight as they contain vitamin A.
Mixing Fruits and Vegetables: The more colorful the plate is, the more appetizing it looks. Well, Iím talking about the combination of vegetables and fruits in your salad. They are rich in vitamin A, B and C that keep our body fit and healthy. Vegetables and fruits also ward off a wide range of ailments and lifestyle diseases.
Salads to Tackle Weight Loss Problem: Having a tough time trying to lose weight? Try having raw vegetables with high fiber content such as broccoli, celery, spinach, carrots and sweet potatoes in the form of plain salads or have them steamed as part of your food routine. It helps to cut off calories and maintain ideal body weight. Start off your meal having a bowl of salad that contains a variety of healthy vegetables or fruits with some toppings. Salads contain a lot of nutrients, vitamins, proteins, and fiber and so they help fill you up before you have the main dinner. Here the calorie intake will be less as you tend to get full just after having the salads whereas the vitamin intake will be more which is nutritious and good for your body.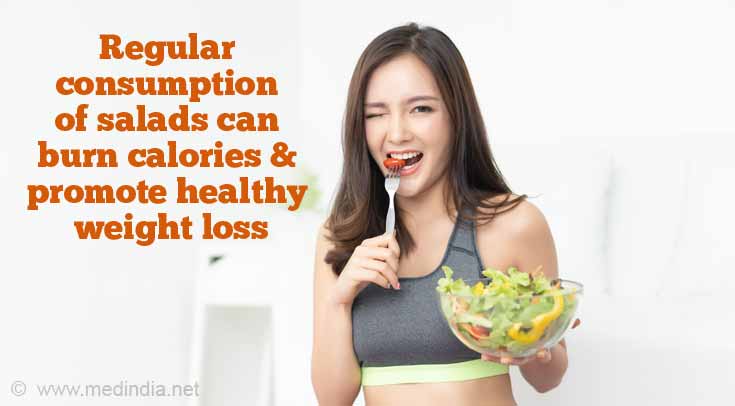 Diet with Healthy Fat Contents: Our body also needs a little bit of good fat. A little mixture of good fats in our salads like avocado and olive oil will help protect us against cancer and heart diseases.
Healthy Salad Dressing
Do names like Fresh dressing, Greek dressing, Italian dressing, Thousand Island dressing or Vinaigrette puzzle you? There are a variety of dressings for salads depending on how special one can make a mixture of it well. The basic ingredients for salad dressings include olive oil, lemon, vinegar, cream, yogurt, buttermilk, mustard, salt and pepper.
All salads are not meant only for vegetarians, so you donít have to worry about it, as there are also lots of choices of salads even for non-vegetarians as well. The more the mixture of fruits and vegetables in your salads, the more healthy your salad is. So, make use of all the fresh items you have in your house to prepare a healthy nutritious salad. Salads, which are nutritious and tasty are the perfect meals during the hot summer.
Special Salads for Kids: Try making your kid eat a salad! That would probably be the biggest challenge. Kids love dessert and find salad boring. But, hereís a tip to make salads irresistible that your kids will be tempted to take a bite. Find vegetables and fruits that your kid likes, toss them together with cool shapes, fun toppings and colorful dressing and make your own salad.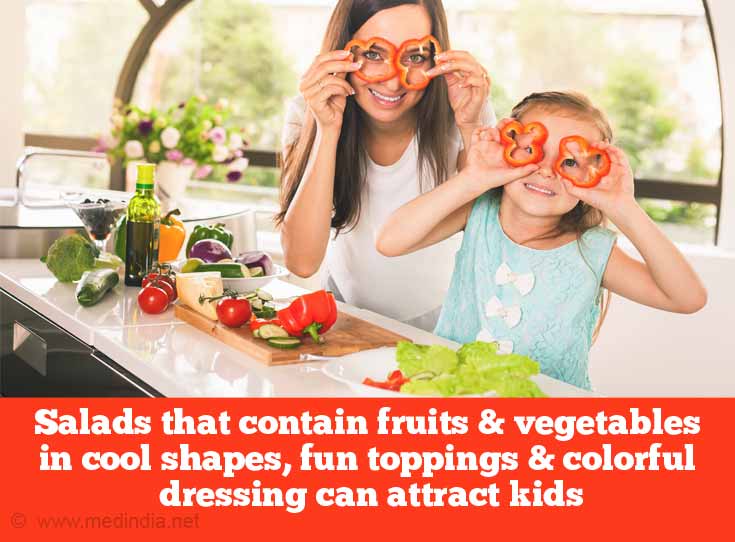 A Perfect Diabeticís Salad: A mixture of a healthy and nutritious green lettuce vegetable with some toppings of your favorite cooked whole grain such as broken wheat, or soya granules with a bit of protein as in egg white or tofu, is a perfect salad for a diabetic.
Are Fast Food Salads Healthy?
Fast food chains include many salads on their menus but the salad dressings and toppings can pack in loads of fat and calories if youíre not watching the amount of mayonnaise and grated cheese added in these salads. Next time you order coleslaw or a chicken salad wrap in a restaurant, ask for reduced-fat dressings.
Tips to Make a Healthy Salad
Choose salads that have dark green lettuce to get more vitamins, minerals and phytochemicals.
Along with vegetables, add nuts, beans and seeds to make a filling salad packed with extra protein and fiber.
Make your salad a one-dish meal by adding lean meat and lightly cooked seafood along with the vegetables.
Use low-fat salad dressing and roughly calculate the calories in mayonnaise, cream or oil used, to know that you are really eating a light salad.
Use only fresh, raw vegetables or lightly steamed vegetables. Choose colorful vegetables like red, yellow and green capsicum (bell pepper), carrots, broccoli, peas, cucumber and beetroot to get maximum health benefits.
Choose a light, low-cal, low fat dressing if youíre buying. You can make your own salad dressing by mixing 1 part olive oil, with 2 parts vinegar, a dash of lemon, pepper and salt.
Hereís a simple recipe for a quick healthy salad:
Cherry tomato, cucumber and green bean salad:
Ingredients:
150g cherry tomatoes, halved
1 Lebanese cucumber, sliced
90g baby green beans, trimmed
1/4-cup olive oil
1 tablespoon lemon juice
1 tablespoon finely chopped dill
1 avocado, peeled, stone removed, sliced
Salt and pepper
Method:
Step 1: Take a large bowl and place the tomato and cucumber.
Step 2: Heat some water in a saucepan and add the beans in the boiling water, leave it for 2-3 minutes till it gets cooked.
Step 3: Drain the beans aside and refresh it in cool water.
Step 4: Once it gets cooled, add some olive oil and lemon juice and mix it well.
Step 5: Add the beans and avocado to tomato mixture and season it with a bit of salt and black pepper.
Step 6: Mix it well and place the salad in a bowl and serve.
Latest Publications and Research on Healthy Salads
Please use one of the following formats to cite this article in your essay, paper or report:
APA

Lari Warjri. (2019, February 04). Healthy Salads | Salads for Health. Medindia. Retrieved on May 25, 2022 from https://www.medindia.net/patients/lifestyleandwellness/healthy-salads.htm.

MLA

Lari Warjri. "Healthy Salads | Salads for Health". Medindia. May 25, 2022. <https://www.medindia.net/patients/lifestyleandwellness/healthy-salads.htm>.

Chicago

Lari Warjri. "Healthy Salads | Salads for Health". Medindia. https://www.medindia.net/patients/lifestyleandwellness/healthy-salads.htm. (accessed May 25, 2022).

Harvard

Lari Warjri. 2021. Healthy Salads | Salads for Health. Medindia, viewed May 25, 2022, https://www.medindia.net/patients/lifestyleandwellness/healthy-salads.htm.
Request an Appointment with a Doctor (Nutrition Expert)
Ms. Jaichitra R
DNHE
1 year experience

Teleconsult Now
View Profile
Dr. Sunita Malhotra
DDPHN, MSc
30 years experience
Pro Health Diet Clinic, Sector 37-C
Teleconsult Now
View Profile
Dr. Pratiksha Prashant
Masters in Dietitics, Masters in Health Science, International Health coach, International diabetic educator, Certification in Vedic nutrition, Bachelors in Dental Surgery
7 years experience

Teleconsult Now
View Profile
Ms. Pandi Alagammai Thillainathan
BSc, MSc
1 year experience
Online mode, Porur
Teleconsult Now
View Profile
View All