About
Diwali is synonymous with lights, fireworks, sweets and fun with family and friends. We celebrate the festival, we eat our hearts out and then later we cringe and we are grumpy because of all the weight gained due to unlimited food delights of Diwali. But we just canít resist another piece of that sweet treat. No we canít. The days that follow are ridden with the guilt of leaving our diet plan by the wayside and not being able to fit into our clothes.
It is perfectly normal for the average person to put on a few extra kilos during Diwali. All that sugar that we stuff settles nicely in our middles and then we dread the rest of the festival season because suddenly we are just too fat!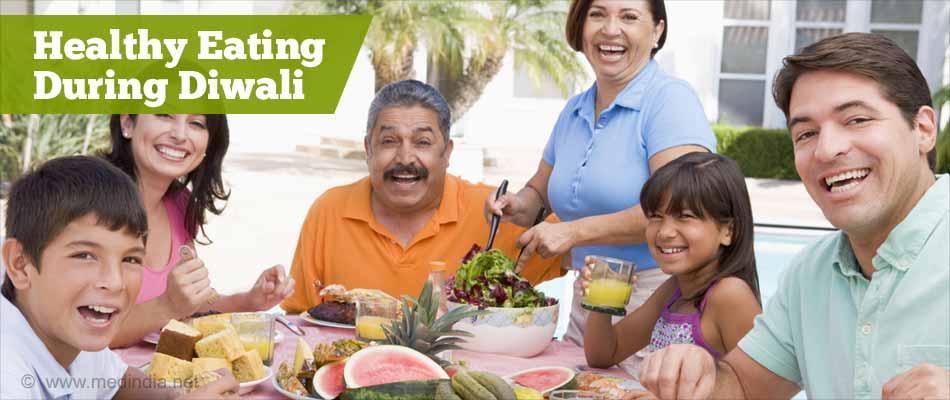 But there is relief at hand. We can celebrate the festival of lights without unwanted weight gain. With a little bit of planning we can ensure healthy eating during Diwali for our families and ourselves. The trick is to stop overeating unhealthy foods, workout a bit, drink sufficient water and switch to low calorie recipes.
But now you are thinking that is no fun! Is it possible to have a festive, fun and healthy Diwali? You bet! Read on to find out.
Get the Basics Right
For healthy Diwali food recipes it is important to get the right ingredients and stock them at home in time for Diwali. A week before the D-day is the right time to get the basics ready so that you can start preparing for your festival eating in a healthy way. The below ingredients can be used in a variety of ways to make many healthy recipes for a guilt-free Diwali.
Advertisement
Go nuts. Be generous while shopping for nuts, seeds and dried fruits. Get almonds, raisins, dried apricots, dried figs, sunflower seeds and sesame seeds in good measure. Even not-so-healthy nuts like cashew and pistachio are a good bet to add flavor to your Diwali healthy cooking plan. Buy almond and pistachio shrivels or prepare them at home a few days before Diwali. Chop cashew nuts into small pieces and store in an airtight container.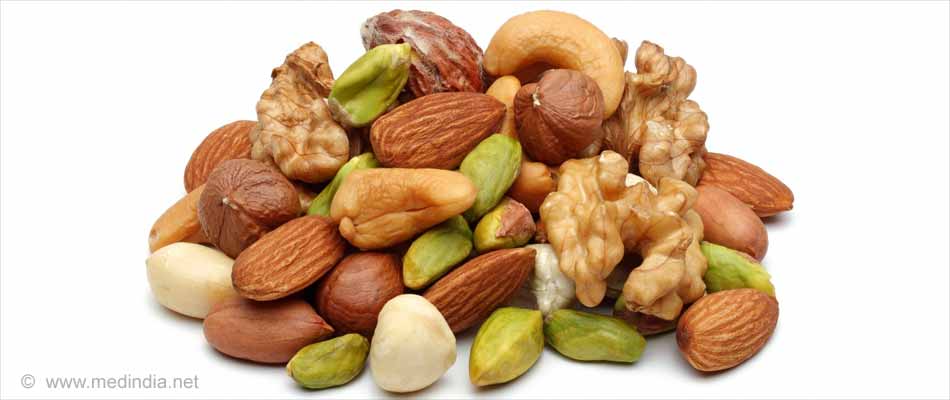 Spice it up. Some spices can liven up both savory and sweet foods. Your options are saffron, cinnamon, cardamom, cloves, black peppercorns and star anise. Grind into a fine powder some quantities of cinnamon, peppercorns and cardamom and store them separately in airtight containers.
Sweet supply. Buy organic jaggery and honey. Agave is another ingredient you can use as a sugar substitute.
Some Diwali Recipes:
Healthy salads:
Salads do not conjure up the image of celebrations. Maybe you would just make a salad as a side dish during Diwali if you are having family or friends over for dinner. But eating salads everyday leading up to Diwali as well as during the celebration days can ensure that your cravings are satiated, your hunger abated and that you are able to avoid fat foods with ease. But because itís Diwali and its celebration time, ditch the boring salads and add some sparkle to fruits and vegetables.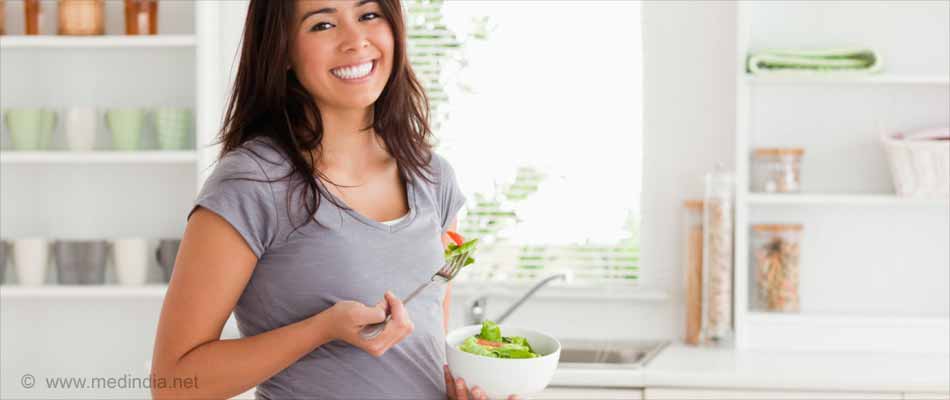 Apple-pomegranate salad
Mix together in a large bowl; cubes of unpeeled apples, peeled orange stems, pomegranate seeds, sesame seeds, 2-3 chopped dried figs and salt. Your salad is ready. Yes, it is that simple. The tartness of oranges combined with sweetness of figs makes this salad stand out. The pomegranates and apples offer both sweetness and crunch. You can substitute oranges with grapefruit. This salad is perfect for those mid-day hunger pangs. Eating fiber rich foods like apples will fill you up nicely and reduce your cravings. The nutrient-dense dried fruits are an added bonus too.
Fresh-sweet salad
For this, cube apples and pears, peel grapefruit stems and scoop out some fresh avocado meat. Finely chop lettuce leaves, grate some fresh coconut and mix them together. Add dried cranberries and salt. You can add sliced coconut and mint leaves too. Substitute cranberries with any dried berry. To increase the sweetness of the salad, add dried apricots or raisins.
Fiery-green salad
Thinly slice capsicums (yellow, red and green), chop spinach, peppers, jalapeno, lettuce leaves and mix them with a sweet fruit and one citrus fruit of your choice. Then add either pomegranate seeds or 1-2 dried fruits to balance the heat from the peppers and jalapeno. Add salt, black pepper powder and lemon juice. Eat this if you crave the zing and instantly think of spicy snacks.
Healthy desserts:
Desserts and healthy? Sounds like a misnomer. But low calorie desserts are possible with some creative tweaks. Here are some ideas to help you get started on low calorie sweets.
Coconut-chocolate ladoos
Diwali is not complete without ladoos. But we can definitely do without kilos of sugar and dollops of ghee. This is a Diwali sweet recipe that is bound to be a hit with kids and adults alike.
Use fresh coconut but if that is not possible for you, substitute it with dry coconut powder. Mix this with dark chocolate shavings or add chocolate powder. Heat some ghee and add to the mixture. You can add either sugar or jaggery to sweeten the dish. Sugar in limited quantity is acceptable. Make a sugar/jaggery syrup and add the mixture. Then add chopped almonds and pistachio. Shape them into balls and serve with delight.
Both coconut and dark chocolate are healthier options for desserts. Both are fiber rich foods. Dark chocolate is also packed with antioxidants.
Dried-fruits ladoos
Finely chop almonds, pistachio, cashew, figs and dates and put them through the blender. Add just a bit of ghee and shape the mixture into small balls. The sweetness and stickiness of figs and dates is enough to bind the mixture. No need for sugar here. You can add dried coconut to taste. But make sure to add fresh rose petals into the mixture before making the ladoos. You can also add a bit of rose water for an extra festive touch.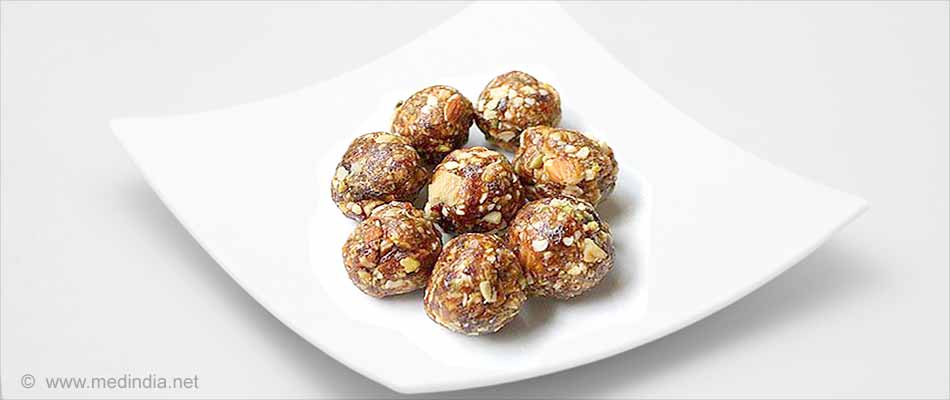 Oat-saffron ladoos
Soak some saffron leaves in water for a few hours. Dry roast some oats and set aside. Roast with little ghee either semolina or whole wheat flour till it is brown. Add oats, saffron and some cardamom powder. Use sugar or agave or jaggery. Mix together and make your ladoos. You can also shape them into patties.
Some Diwali food recipes for savory dishes:
Corn patties
Make a mix of corn, green chilies, onion, spring onion, coriander leaves in a blender. Add salt and black pepper powder to taste. Make dough from whole wheat flour mixed with salt and herbs of your choice Ė mint, curry leaves, thyme, parsley, and chives etc. Roll out round shapes, brush lightly with oil (or not), place the corn mixture and make into patties or balls. Deep fry or bake this yummy treat and serve with fresh mint chutney.
You can add more leafy greens like spinach to the mix to up the nutrient quotient of the dish.
Substitute corn with potatoes or add peppers.
For those eating meat during Diwali, substitute corn with cooked chicken or lamb mince.
Vegetable cutlets
Boil and mash potatoes. Add chopped green chili, capsicum, carrots, spinach, salt, turmeric powder, black pepper powder, red chili powder, coriander leaves, semolina or corn flour, and make patties. Wrap them inside whole wheat bread slices or whole wheat dough and fry or bake. Serve with fresh green chutney.
Add pomegranate seeds and fresh coconut to change the flavor.
Lightly cook this mixture with coconut oil and mustard seeds. For a healthier version of the snack wrap them inside cabbage leaves and relish.
Peanut mixture
Dry roast peanuts and set aside to cool. Heat some olive oil and add mustard or caraway seeds. When they splatter, remove from heat and add red chili powder, salt and dry mint leaves. This makes for excellent low calorie Diwali food recipe.
Do the same with almonds or cashews to make different versions.
Change the oil to change the flavor.
Donít fry but roast peanuts, almonds and cashews with salt to make healthy Diwali snacks.
Extra tips:
Craving sweets? Then chop a banana in a bowl, add honey, black pepper powder, salt and eat to satiate your sweet cravings. It works every time. To make it more nutritious or to add more sweetness you can always add chopped dried fruits like figs and raisins or berries.
While cooking in the kitchen during a festival, snacking is quite common. To make these impromptu snacking healthier, keep apples or pear cubes dipped in honey ready on the kitchen counter. You can also dip fruits into syrup of dark chocolate and honey.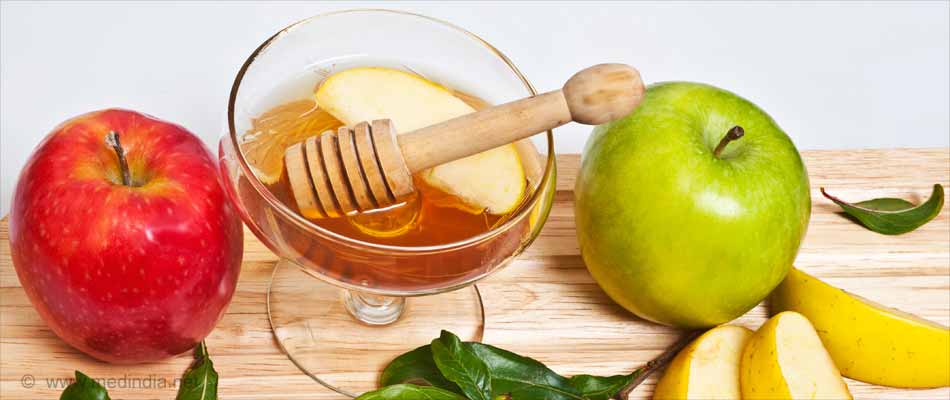 Never cook on an empty stomach. This is a surefire way to crave your favorite goodies. Instead have a bowl of cereal topped with fresh or dried fruits before you step into the kitchen. Apply the same principle while grocery shopping.
Refrain from eating meat during Diwali. This will just add to your calorie count. But if you must eat it, balance the calories in another meal or eat roasted chicken breast or steamed fish flavored with herbs and spices.
Grill some vegetables like carrots or zucchini with olive oil to eat with dinner.
Make sugar syrup with saffron and dip low-fat cottage cheese cubes into it. Spear the cubes with toothpick and serve your guests a unique treat.
Use toothpicks to serve fresh or candied pineapple cubes with fresh mint leaves.
Get creative with ingredients for healthy cooking.
Donít follow a strict calorie while cooking, instead have fun. Have a safe and healthy Diwali.
References:
The Truth About Agave -

(http://www.webmd.com/diet/features/the-truth-about-agave)

Nutrition and healthy eating -

(http://www.mayoclinic.org/healthy-living/nutrition-and-healthy-eating/in-depth/high-fiber-foods/art-20050948)
Latest Publications and Research on Healthy Eating During Diwali
Please use one of the following formats to cite this article in your essay, paper or report:
APA

Rakhee Maloo. (2018, June 13). Healthy Eating During Diwali. Medindia. Retrieved on May 19, 2022 from https://www.medindia.net/patients/lifestyleandwellness/healthy-eating-during-diwali.htm.

MLA

Rakhee Maloo. "Healthy Eating During Diwali". Medindia. May 19, 2022. <https://www.medindia.net/patients/lifestyleandwellness/healthy-eating-during-diwali.htm>.

Chicago

Rakhee Maloo. "Healthy Eating During Diwali". Medindia. https://www.medindia.net/patients/lifestyleandwellness/healthy-eating-during-diwali.htm. (accessed May 19, 2022).

Harvard

Rakhee Maloo. 2021. Healthy Eating During Diwali. Medindia, viewed May 19, 2022, https://www.medindia.net/patients/lifestyleandwellness/healthy-eating-during-diwali.htm.
Request an Appointment with a Doctor (Nutrition Expert)
Ms. Himaja H
BSc, MSc
12 years experience
Health and Nutrify clinic, Serlingampally
Teleconsult Now
View Profile
Ms. Bharathi Ravi
B.Tech, M.Tech
2 years experience

Teleconsult Now
View Profile
Mrs. Priya S
BSc
11 years experience

Teleconsult Now
View Profile
Ms. Dharanya Ramesh
BSc, Pg
1 year experience
Dt.Dharanya s clinic, Arul Nagar
Teleconsult Now
View Profile
View All