What is Skimmed Milk?
Skimmed milk is obtained by removing all the cream or milk-fat from whole milk. Skimmed milk has a lower calorie count than whole milk but it retains almost all the nutritive value of whole milk.
Skimmed milk contains very little vitamins A and D as these are fat-soluble vitamins and so they are lost when the cream of the milk is removed.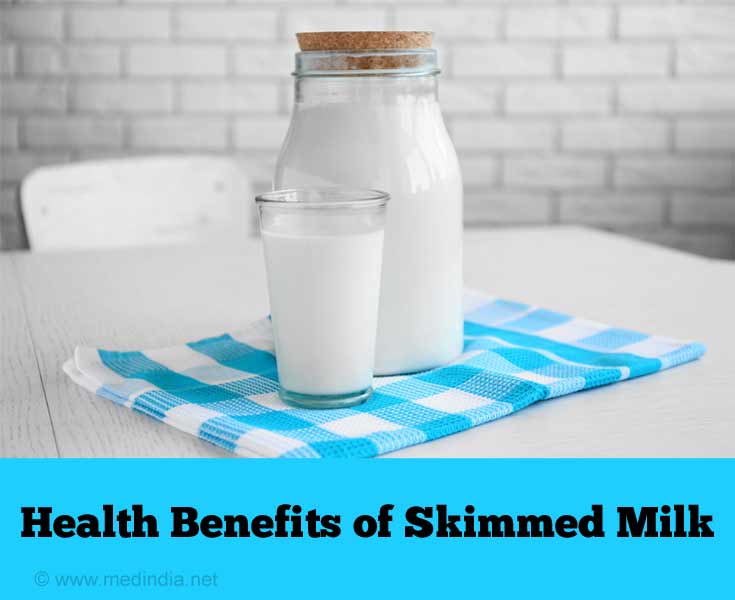 There are several methods used to remove fats present in whole milk and manufacturers of skimmed milk often use a combination of fat-removal methods to ensure that skimmed milk has only a minimum amount of fat in it.
The milk is heated to about 100 degrees Fahrenheit as this causes the fat in the milk to rise to the top from where it can be easily removed.
Centrifugal separation is another technique often used to separate the fat from the milk. Centrifuges are used to spin the milk rapidly so that the fats and water separate and they can then be channeled into separate containers.
According to Indian laws, skimmed milk cannot contain more than 0.5% milk fat by weight, which means that the calories in skimmed milk are much lower than that of whole milk.
Skimmed milk, semi-skimmed milk or even skim milk powder has several health benefits as they are nutritionally rich foods. Regular skim milk is not lactose-free but those who are lactose intolerant can buy specially formulated lactose-free skim milk. You can also learn how to make skimmed milk at home by simply heating whole milk and allowing it to cool before siphoning off the cream. Here are a few of the health benefits of skimmed milk:
Skimmed Milk for Heart Health: Full fat milk contains saturated fats which have long been associated with cardiovascular diseases, the most common one being coronary heart disease. It would not be wise to cut milk and milk products out of your diet as they are nutritionally rich and can help you meet your daily requirements for several vitamins and minerals. Skim milk is very low in fat and contains almost no saturated fats. One cup of whole milk contains almost 5 grams of fat while the same amount of skim milk contains just 0.1 grams of saturated fat.
Skimmed Milk Reduces Cholesterol Levels: Include high calcium foods such as dairy products in your daily diet as this will lower your total cholesterol concentration without inducing any negative side effects. One study showed that postmenopausal women benefited greatly from an increased calcium intake as it had a positive effect on circulating lipids. Furthermore, calcium intake also increases the effect of cholesterol-lowering plant sterols. These sterols occur naturally in plant foods such as grains, nuts and seeds. Have a large bowl of rice bran or oat bran porridge along skimmed milk to keep a check on your cholesterol levels. Sprinkle chopped almonds and walnuts over your porridge as they are an excellent source of plant sterols. One cup of whole milk contains about 25 mg of cholesterol while the same amount of skim milk contains less than 5 mg of cholesterol.
Skimmed Milk for Bone Health: Calcium is not fat soluble and so it is not present in the fat of the milk. This is why the amount of calcium in skimmed milk is the same as that of whole milk. Calcium is the most important mineral in bone development and maintenance which is why doctors advise parents to give their children milk on a daily basis. Bone mass increases throughout childhood and adolescence and peaks when the individual is between 30 and 35 years old. If a person's bone mass is lower when they reach this period of their life, they are more likely to experience bone health problems as they grow older. Osteoporosis is one of the most common bone disorders and it is more common in postmenopausal women. Women sometimes reduce their intake of milk products in an effort to reduce their calorie intake. This is unwise as it means that your daily nutritional intake is also much lower and you are more likely to suffer from musculoskeletal problems later in life. You can have skim milk instead of whole milk as this will ensure that you have an adequate intake of calcium without significantly increasing your calorie intake.
Skimmed Milk for Dental Health: Skimmed milk and skimmed milk products are high in calcium and phosphorous which are minerals necessary for the development and maintenance of healthy teeth. Protein in the milk prevents the loss of calcium and phosphate and this promotes healthy tooth enamel. The casein protein in milk reduces the proliferation rate of the bacteria that cause cavities.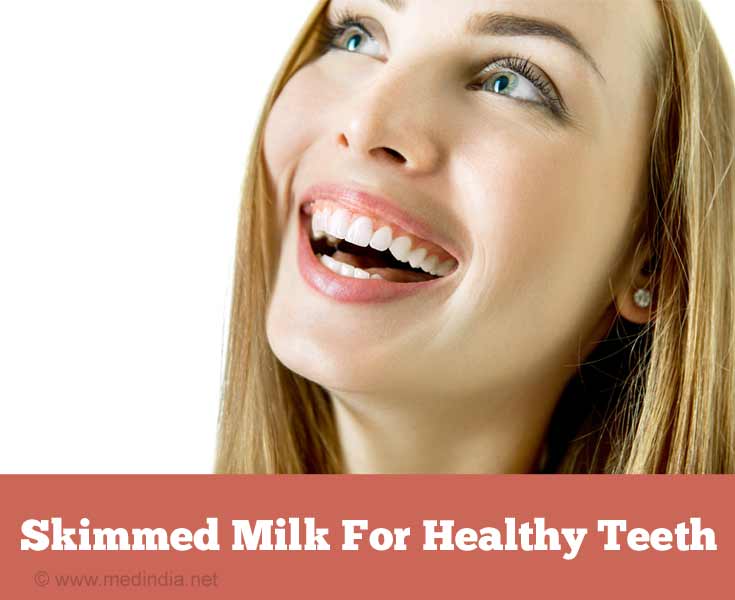 Skimmed Milk for Muscle Growth: Milk is an excellent source of protein and it is considered to be one of the best 'muscle foods'. Milk contains two types of high-quality proteins called whey and casein; while whey is absorbed quickly by the bloodstream, casein is digested slowly. You should drink a glass of skimmed milk after your workout as the whey in the milk will provide your muscles with the protein they require to recover from the strenuous activity. The casein protein in skimmed milk will be digested over a longer period and will also help to keep your energy levels higher through the rest of your day.
Chocolate Walnut Fudge
Ingredients:
3 cups skimmed milk
3 cups granulated sugar
½ cup unsweetened cocoa powder
2 tablespoons butter
½ cup chopped walnuts
1 cup marshmallows
1 teaspoon vanilla extract
¼ cup chocolate chips (optional)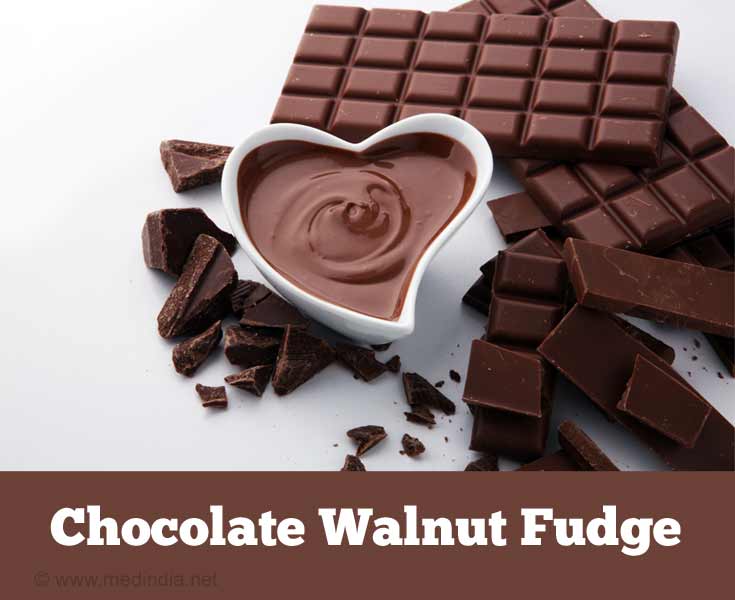 Method:
Boil milk over a low flame until it is reduced by the half the quantity. Stir occasionally to prevent it from sticking to the bottom of the pan.
Add the sugar, cocoa powder and butter to the pan and then bring it to a boil over medium heat. Lower the flame and stir continuously until the mixture thickens.
Take the saucepan off the stove and add in the chopped walnuts marshmallows and vanilla extract. Stir until the mixture is smooth.
Pour the warm fudge mixture into a pan and sprinkle it with the chocolate chips. Refrigerate overnight so that it sets. Cut the fudge into 1 inch squares and serve.
Nutrition Facts for Skimmed Milk
The nutritional values of "Skimmed Milk" per 100 grams are:
Nutrition Summary
Total Calories
34
Protein
3.4 g
Fat
0.4 g
Carbohydrate
5 g
Nutrients
Amount
%Daily Value
Calcium, Ca
122 mg
12.2 %
Copper, Cu
0.01 mg
0.65 %
Iron, Fe
0.03 mg
0.17 %
Magnesium, Mg
11 mg
2.75 %
Manganese, Mn
0 mg
0.15 %
Phosphorus, P
101 mg
10.1 %
Potassium, K
156 mg
4.46 %
Selenium, Se
3.1 mcg
4.43 %
Sodium, Na
42 mg
1.75 %
Zinc, Zn
0.42 mg
2.8 %
Vitamin A
15 IU
0.3 %
Vitamin C
0 mg
0 %
Vitamin B6
0.04 mg
1.85 %
Vitamin E
0.01 mg
0.03 %
Vitamin K
0 mcg
0 %
Riboflavin
0.18 mg
10.71 %
Thiamin
0.04 mg
3 %
Folate, DFE
5 mcg
1.25 %
Niacin
0.09 mg
0.47 %
Sugars
5.09 g
Fiber
0 g
0 %
Cholesterol
2 mg
0.67 %
Water
90.84 g
Carotene, alpha
0 mcg
Carotene, beta
7 mcg
Choline
15.6 mg
Lycopene
0 mcg

View all +
Data source: USDA Nutrient Database, R25
*Percent Daily Values (%DV) are based on a 2,000 calorie reference diet. Your daily values may be higher or lower based on your individual needs.
References:
Calcium and Vitamin D Improve Cholesterol in Postmenopausal Women -

(http://www.menopause.org/docs/default-source/2014/calcium-vitamin-d-and-cholesterol-final.pdf)

What Is Known about Milk's Effect on Teeth? -

(https://milk.procon.org/view.answers.php?questionID=000977)
Post a Comment
Comments should be on the topic and should not be abusive. The editorial team reserves the right to review and moderate the comments posted on the site.
Advertisement
Your Health Super Store