What is Salmon?
Salmon is one of the richest natural sources of lean protein and omega 3 fatty acids. Salmon are "anadromous" fish species which are found in both fresh and sea water. Omega 3 fatty acids in salmon are obtained in form of Eicosapentaenoic Acid (EPA) and Docosahexaenoic Acid (DHA). It also contain relatively lesser amounts of omega 6 fatty acids. Salmon is found to have benefiting effects for overall cardiovascular health, eyes, brain, and tissue development.
Various species of salmon are harvested round the globe of which Alaskan chum, sockeye, pink, coho and chinook salmon are most consumed. Salmon are consumed as fresh fish, smoked or salted in the form of various mouth-watering delicacies. Smoked salmon has been attributed as protein food under USDA nutritional guidelines.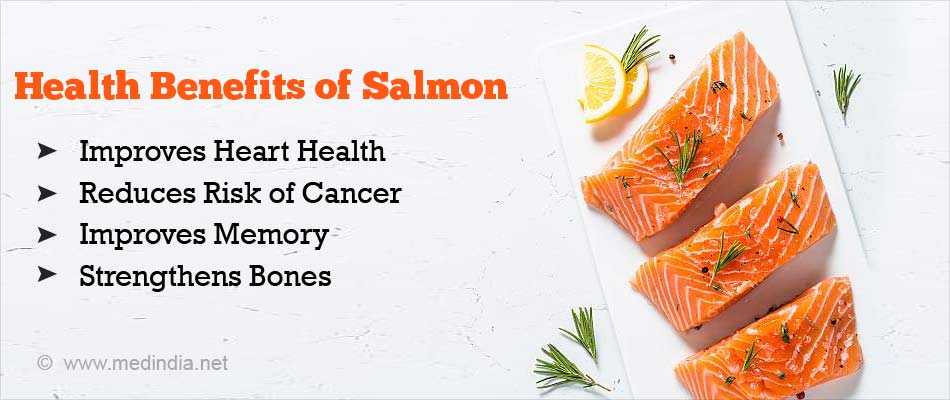 Salmon is an excellent source of proteins and amino acids. It has a rich omega 3 fatty acid profile along with important nutrients like vitamin B12, vitamin D, vitamin B6 and niacin. Salmon also contains minerals like selenium, potassium, calcium and phosphorus. It also contains some amounts of pantothenic acid, choline and biotin.
The fatty acids and protein content in salmon vary among different varieties. The omega 3 fatty acid content varies from about 700 to 1800 mg per 3 ounce, with Atlantic farmed salmon topping the list.
Good Heart Health: Rich concentrations of omega 3 fatty acids in salmon greatly benefit overall heart health. It is found to be associated with reduced risk of many heart diseases including stroke, heart attack, high blood pressure and increased triglyceride concentration in blood. It helps regulate irregular heartbeats and strengthen cardiac muscles. Omega 3 fatty acids help reduce inflammation thereby lowering the risk of cardiovascular diseases.
Presence of essential amino acids in salmon is attributed to repair of damaged arteries and cardiac walls. They also help in reducing cholesterol levels and regulate blood pressure.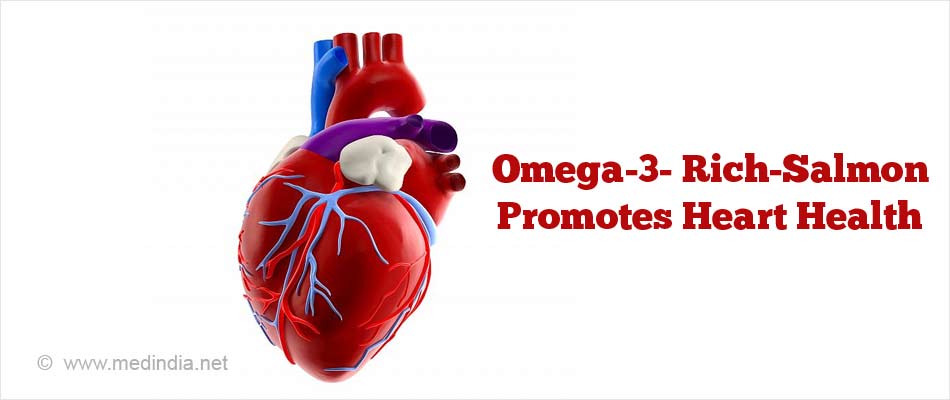 Enables Good Eye Health: Including salmon in regular diet helps improve eye health, another health benefit owing to omega 3 fatty acids and aminoacids present in it. Salmon intake helps in reducing the risk of macular degeneration and chronic dry eye. 2-4 servings of salmon per week have been shown to have significant positive affects against these eye diseases. People eating a regular portion of salmon in their diet have better vision and reduced eye fatigue.
Reduces Risk of Cancer: Omega 3 fatty acids are also associated with reduced risk of various types of cancers. Regular consumption of this fatty acid rich fish has been shown to considerably decrease the risk of cancers like colorectal cancer, breast cancer, prostate cancer and blood related cancers including leukemia. It is suggested to include one serving of salmon per week in your diet for protection against such life-threatening cancers.
 Improves Memory and Brain Health: Salmon is often referred as the 'Brain Food'. It enhances cognitive abilities, induces good sleep, improves memory and reduces the risk of Parkinson's and Alzheimer's disease during later stages of life. The amino acids, vitamins A, D and selenium present in salmon help reduce inflammation, delay aging of neural cells and prevent nervous damage. It uplifts mood by relaxing brain nerves and acting as antidepressants. Neuroprotectin D1 is the special compound that is attributed to reduced inflammation in brain tissue, improving cognitive functions. Studies suggest that people consuming salmon are more intelligent than those who do not consume salmon.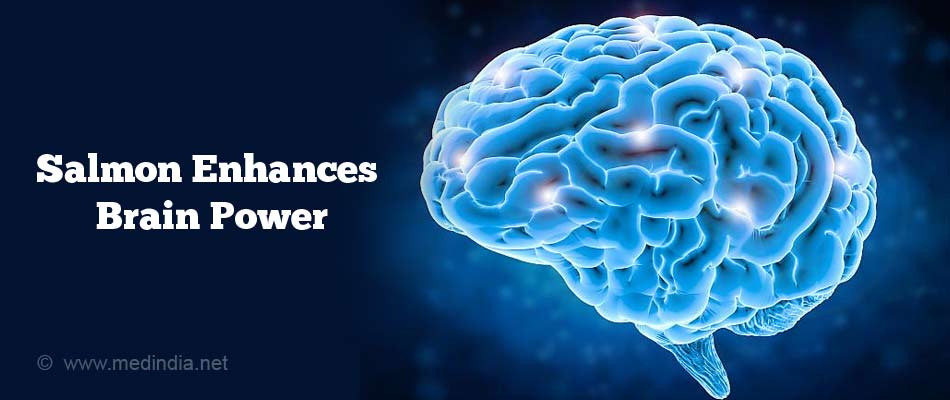 Strengthens Bones, Joints and Muscles: Omega 3 fatty acids considerably reduce joint inflammation. Another bioactive compound present in salmon is calcitonin which supports cartilage structure and balance the amount of collagen and minerals in bones. These bioactive peptides work in resonance with omega 3 fatty acids to provide anti-inflammatory benefits for bones and muscles.
Regulates Insulin Levels: Salmon is rich in omega 3 fatty acids, vitamin D and selenium. This uncommon combination of essential nutrients performs important function of regulating insulin levels in the blood. It helps maintain blood sugar levels by aiding the process of sugar absorption in the blood thus reducing the risk of diabetes. Regular intake of salmon in diet improves body metabolism and enhances nutrient absorption in the body.
Other Health Benefits: Salmon fish oil also improves hair quality making them lustrous and thick. It also makes skin, eyes and nails healthy and beautiful. Salmon being highly rich in proteins acts as a supplement for protein deficient diet and also aids weight loss. Salmon can also be opted as a nutritious baby food providing all the vital nutrients required for toddler growth.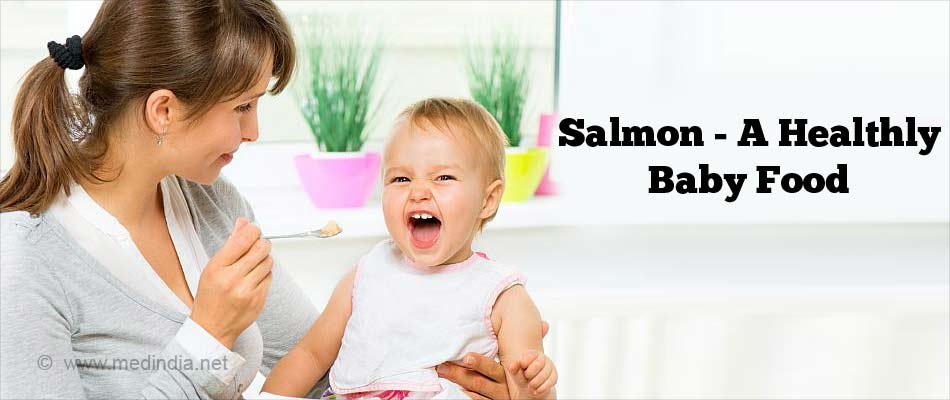 Wild caught salmon is recommended to be eaten without skin. Contaminants like mercury in salmon are present in its upper skin. So it is preferred to remove its skin before consumption. While choosing the salmon remember the bigger it is, the better it is.
Cooking salmon can be tricky as it tends to dry with some methods. Methods that keep it moist and tender, are the best methods of cooking salmon. Quick broil is one such technique that keeps its moisture intact and making it taste good. While grilling or cooking it in oven make sure it does not overcook. Always apply a coat of oil or butter on the fillet and sprinkle some salt over it for proper cooking. If using an oven, to ensure that salmon is well cooked, insert an toothpick or fork to check if the skin is flaky and flesh must be opaque. While grilling, the salmon should not burn as this could produce free radicals that are harmful for health.
Quick Salmon Salad
Ingredients:
2 cups cooked salmon
2 hard boiled eggs
1 cup chopped onions
1 diced cucumber
1 cup chopped bell peppers
Mixed herbs
Salt and pepper, to taste
Lemon juice
Mayonnaise, for dressing
Method
Crush boiled eggs. Add all the veggies, diced salmon, eggs together in a bowl. Now sprinkle salt and pepper and mixed herbs and toss well. Pour lemon juice over the salad and add adequate mayonnaise over it. Mix well and serve.
Fish, salmon, Atlantic, farmed, raw
The nutritional values of "Fish, salmon, Atlantic, farmed, raw" per 100 grams are:
Nutrition Summary
Total Calories
208
Protein
20.4 g
Fat
0.4 g
Carbohydrate
0 g
Nutrients
Amount
%Daily Value
Calcium, Ca
9 mg
0.9 %
Copper, Cu
0.04 mg
2.25 %
Iron, Fe
0.34 mg
1.89 %
Magnesium, Mg
27 mg
6.75 %
Manganese, Mn
0.01 mg
0.55 %
Phosphorus, P
240 mg
24 %
Potassium, K
363 mg
10.37 %
Selenium, Se
24 mcg
34.29 %
Sodium, Na
59 mg
2.46 %
Zinc, Zn
0.36 mg
2.4 %
Vitamin A
50 IU
1 %
Vitamin C
3.9 mg
6.5 %
Vitamin B6
0.64 mg
31.8 %
Vitamin E
3.55 mg
11.83 %
Vitamin K
0.5 mcg
0.62 %
Riboflavin
0.16 mg
9.12 %
Thiamin
0.21 mg
13.8 %
Folate, DFE
26 mcg
6.5 %
Niacin
8.67 mg
43.36 %
Sugars
~
Fiber
0 g
0 %
Cholesterol
55 mg
18.33 %
Water
64.89 g
Carotene, alpha
~
Carotene, beta
~
Choline
78.5 mg
Lycopene
~

View all +
Data source: USDA Nutrient Database, R25
*Percent Daily Values (%DV) are based on a 2,000 calorie reference diet. Your daily values may be higher or lower based on your individual needs.
References:
Fish and Omega-3 Fatty Acids -

(http://www.heart.org/HEARTORG/GettingHealthy/NutritionCenter/HealthyDietGoals/Fish-and-Omega-3-Fatty-Acids_UCM_303248_Article.jsp#.VpDcwd-qqko)

All-Star Foods -

(http://www.healthyeating.org/Healthy-Eating/All-Star-Foods/Meat-Beans/Article-Viewer/Article/89/health-benefits-of-tuna-and-salmon.aspx)

Salmon -

(http://www.seafoodhealthfacts.org/description-top-commercial-seafood-items/salmon)

Omega-3 in fish: How eating fish helps your heart -

(http://www.mayoclinic.org/diseases-conditions/heart-disease/in-depth/omega-3/art-20045614)
Latest Publications and Research on Health Benefits of Salmon