About
Rosemary (Rosmarinus officinalis) is a common household herb grown in many parts of the world. It is an upright evergreen shrub with long needle like aromatic leaves. The herb is used for flavoring food, in beverages, as well as in cosmetics.
Since ancient times, rosemary is associated with remembering significant events. The early Greeks and Romans threw sprigs of rosemary into the graves to signify their desire to remember the departed. Brides during Tudor period in England and Wales wore sprigs of rosemary to show that they would always remember their families. Even Ophelia mentioned 'there's rosemary, that's for remembrance' in Shakespeare's Hamlet.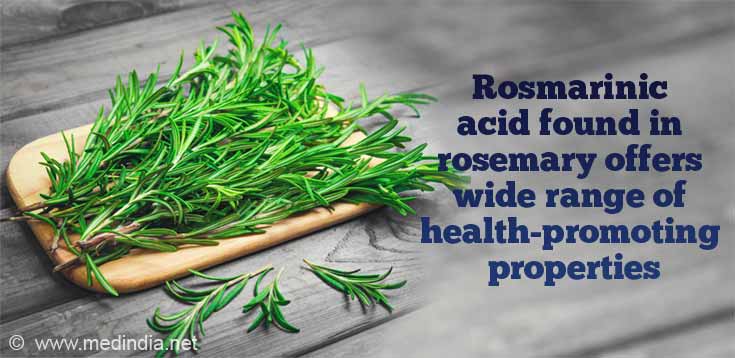 The most important constituents of rosemary are caffeic acid and its derivatives such as rosmarinic acid. Rosmarinic acid has a number of interesting biological activities, for example, it has antiviral, antibacterial, anti-inflammatory and antioxidant properties. And this is the compound that mainly gives rosemary its beneficial and health promoting effects. Moreover, rosmarinic acid is well absorbed from gastrointestinal tract as well as from the skin.
Rosemary is consumed either as fresh herb (whole or liquid extract) or dry herb (powdered, whole or teas). When cooking, it's best to use whole sprigs and then remove the sprig since the tough leaves do not soften during cooking. Rosemary oil is also an important ingredient used in aromatherapy.
Advertisement
Here are some health benefits of rosemary-
Rosemary is rich in dietary fiber and contains no cholesterol. The leaves provide just 131 calories per 100g.
Rosemary has so much of vitamin A that a few leaves a day in the diet would almost meet the requirement for optimal vision. Vitamin A is also required for maintaining healthy mucus membranes and skin.
Rosemary leaves (fresh) are also a good source of vitamin C (22mg /100g) that are required for collagen synthesis and boosting immunity.
Rosemary is very rich in B vitamins such pyridoxine and folic acid which is vital in synthesis and repair of DNA and RNA and also to prevent major birth defects of the baby's brain or spine in pregnant women.
Rosemary
has many therapeutic effects and helps in the management of many disorders and diseases as well.
Relieves Stress and Treats Inflammation - Free radicals (also called Reactive Oxygen Species) that cause oxidative stress are directly associated with inflammation, aging, and carcinogenesis. The body possesses various anti-oxidative systems and saliva is one such system. In one study on rosemary benefits, Japanese researchers found that smelling of lavender and rosemary essential oils in aromatherapy increased the production of saliva and reduced the stress hormone cortisol levels significantly. They concluded that these oils could protect the body from oxidative stress and relieve stress.
Other studies too have confirmed that rosemary leaves exhibit potent anti-inflammation and anti-tumor effects. Rosmarinic acid increases the production of prostaglandin E2 (substances that help in contraction and relaxation of smooth muscle, the dilation and constriction of blood vessels, control of blood pressure, and modulation of inflammation) and reduces the production of leukotriene B4 involved in inflammation.
Prevents Cancers - Rosemary has been reported to have a major role in cancer risk reduction. An Australian study found that rosemary extract, containing carnosol, carnosic acid, ursolic acid, and rosmarinic acid, could suppress the development of tumors in several organs including the colon, breast, liver, stomach, as well as melanoma and leukemia cells. The anticancer properties were found to arise through the molecular changes in the multiple-stage process of cancer development.
Fights Infections - A number of studies found rosemary oil to have antimicrobial properties. Rosemary oil could inhibit food borne pathogens such as Staphylococcus aureus, Bacillus subtilis, Listeria monocytogenes, Bacillus cereus, Escherichia coli and Pseudomonas aeruginosa, yeast (Candida albicans), and fungus (Aspergillus niger).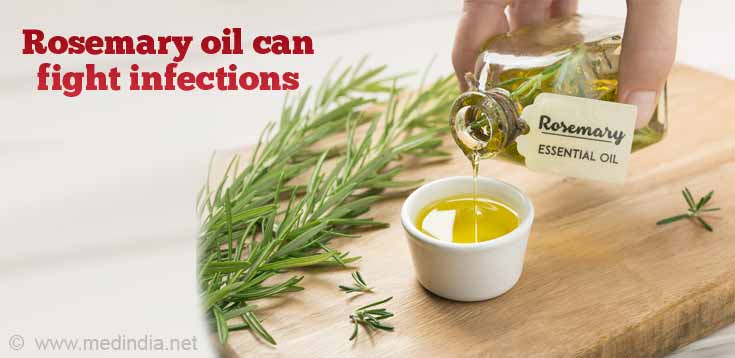 Improves Memory and Concentration - A study published in the International Journal of Neuroscience suggested that rosemary produced a significant enhancement of performance for overall quality of memory and secondary memory factors, but also produced an impairment of speed of memory in healthy adults. Rosemary could also improve mood and alertness. Another study published in the Journal of Medicinal Food investigating the effects of dried rosemary leaf powder on cognitive performance in older adults found that a 750mg-dose of rosemary had a statistically significant beneficial effect on memory, whereas the 6000mg-dose had a significant impairing effect on cognitive function.
Treats Gastric and Intestinal Problems - The rosmarinic acid in rosemary relaxes the muscles in trachea and intestine, stimulates bile production, and protects the liver. In folk medicine it is used as an antispasmodic in renal colic. Researchers from the Al-Fateh University of Medical Sciences, Libya, suggest that rosmarinic acid also has the therapeutic potential in treatment or prevention of peptic ulcer and liver toxicity.
Stimulates Hair Growth - One of the traditional uses of rosemary oil is to promote hair growth, though there is not much scientific evidence to prove this. However, a recent study on lab mouse showed that topical administration of rosemary leaf extract (RO-ext, 2mg/day/mouse) improved hair re-growth in mice that experienced hair re-growth interruption induced by testosterone treatment, suggesting an anti-androgenic activity mechanism of rosemary extract. The study published in the journal Phytotherapy Research concluded that rosemary extract is a promising crude drug for hair growth.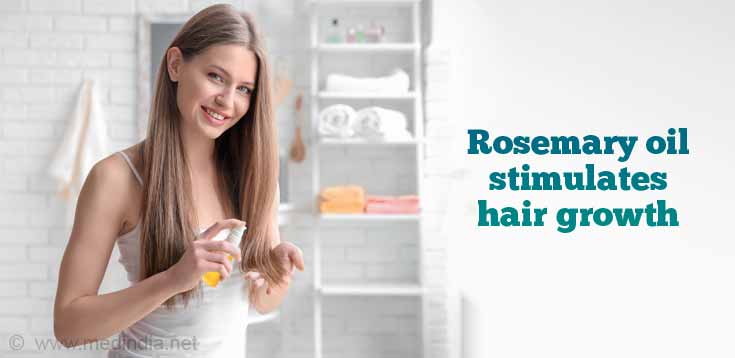 Apart from these benefits, experts also believe that rosemary has a therapeutic potential in treatment or prevention of bronchial asthma, spasmogenic disorders, atherosclerosis, ischaemic heart disease, cataract, and poor sperm motility.
Precautions
Despite so many health benefits of rosemary, there are certain precautions you need to take. Some of them are-
This herb has not been studied in children, so do not give rosemary as medicine to those below 18 years of age. It is safe to consume as a spice though.
Do not consume more than 4g to 6g of the dried herb per day.
Rosemary oil should not be taken orally; it can be toxic.
Pregnant women should not take rosemary as supplement because high doses of rosemary may cause miscarriage.
The herb may not be safe even for women who are nursing.
Do not take rosemary in any form if you have high blood pressure, ulcers, Crohn's disease, or ulcerative colitis.
In higher doses, rosemary leaves may cause side effects such as vomiting, spasms, and in some cases, accumulation of fluid in the lungs, and even coma.
Rosemary may interfere with blood thinners such as warfarin or aspirin and affect the blood's ability to clot.
The herb may interfere with the action of ACE inhibitors you take for high blood pressure.
Rosemary can alter the blood sugar levels, so it should not be taken if you are on any diabetes medication.
Rosemary is a diuretic and may increase the risk of dehydration.
Rosemary, fresh
The nutritional values of "Rosemary, fresh" per 100 grams are:
Nutrition Summary
Total Calories
131
Protein
3.3 g
Fat
0.4 g
Carbohydrate
20.7 g
Nutrients
Amount
%Daily Value
Calcium, Ca
317 mg
31.7 %
Copper, Cu
0.3 mg
15.05 %
Iron, Fe
6.65 mg
36.94 %
Magnesium, Mg
91 mg
22.75 %
Manganese, Mn
0.96 mg
48 %
Phosphorus, P
66 mg
6.6 %
Potassium, K
668 mg
19.09 %
Selenium, Se
~
Sodium, Na
26 mg
1.08 %
Zinc, Zn
0.93 mg
6.2 %
Vitamin A
2924 IU
58.48 %
Vitamin C
21.8 mg
36.33 %
Vitamin B6
0.34 mg
16.8 %
Vitamin E
~
Vitamin K
~
Riboflavin
0.15 mg
8.94 %
Thiamin
0.04 mg
2.4 %
Folate, DFE
109 mcg
27.25 %
Niacin
0.91 mg
4.56 %
Sugars
~
Fiber
14.1 g
56.4 %
Cholesterol
0 mg
0 %
Water
67.77 g
Carotene, alpha
~
Carotene, beta
~
Choline
~
Lycopene
~

View all +
Data source: USDA Nutrient Database, R25
*Percent Daily Values (%DV) are based on a 2,000 calorie reference diet. Your daily values may be higher or lower based on your individual needs.
References:
Rosemary -

(http://umm.edu/health/medical/altmed/herb/rosemary)

Smelling lavender and rosemary increases free radical scavenging activity and decreases cortisol level in saliva. -

(http://www.ncbi.nlm.nih.gov/pubmed/17291597)
Latest Publications and Research on Health Benefits of Rosemary Herb
Please use one of the following formats to cite this article in your essay, paper or report:
APA

Mita Majumdar. (2019, March 11). Health Benefits of Rosemary Herb | Rosemary Herb - Health Benefits. Medindia. Retrieved on May 25, 2022 from https://www.medindia.net/patients/lifestyleandwellness/health-benefits-of-rosemary-herb.htm.

MLA

Mita Majumdar. "Health Benefits of Rosemary Herb | Rosemary Herb - Health Benefits". Medindia. May 25, 2022. <https://www.medindia.net/patients/lifestyleandwellness/health-benefits-of-rosemary-herb.htm>.

Chicago

Mita Majumdar. "Health Benefits of Rosemary Herb | Rosemary Herb - Health Benefits". Medindia. https://www.medindia.net/patients/lifestyleandwellness/health-benefits-of-rosemary-herb.htm. (accessed May 25, 2022).

Harvard

Mita Majumdar. 2021. Health Benefits of Rosemary Herb | Rosemary Herb - Health Benefits. Medindia, viewed May 25, 2022, https://www.medindia.net/patients/lifestyleandwellness/health-benefits-of-rosemary-herb.htm.
Request an Appointment with a Doctor (Nutrition Expert)
Dr. Sunita Malhotra
DDPHN, MSc
30 years experience
Pro Health Diet Clinic, Sector 37-C
Teleconsult Now
View Profile
Ms. Dharanya Ramesh
BSc, Pg
1 year experience
Dt.Dharanya s clinic, Arul Nagar
Teleconsult Now
View Profile
Dr. Pratiksha Prashant
Masters in Dietitics, Masters in Health Science, International Health coach, International diabetic educator, Certification in Vedic nutrition, Bachelors in Dental Surgery
7 years experience

Teleconsult Now
View Profile
Ms. Bharathi Ravi
B.Tech, M.Tech
2 years experience

Teleconsult Now
View Profile
View All