All You Need to Know About Papaya
Papaya is a delicious tropical fruit which has a great taste, mouthwatering flavor and great health benefits. Originally from the tropics of America, the taste and its numerous health benefits made it popular in all the continents.
Papaya enjoys a rich history, and has been used since very long for medicinal uses in day to day life. The Mayans used to worship papaya trees and called it the 'Tree of Life'.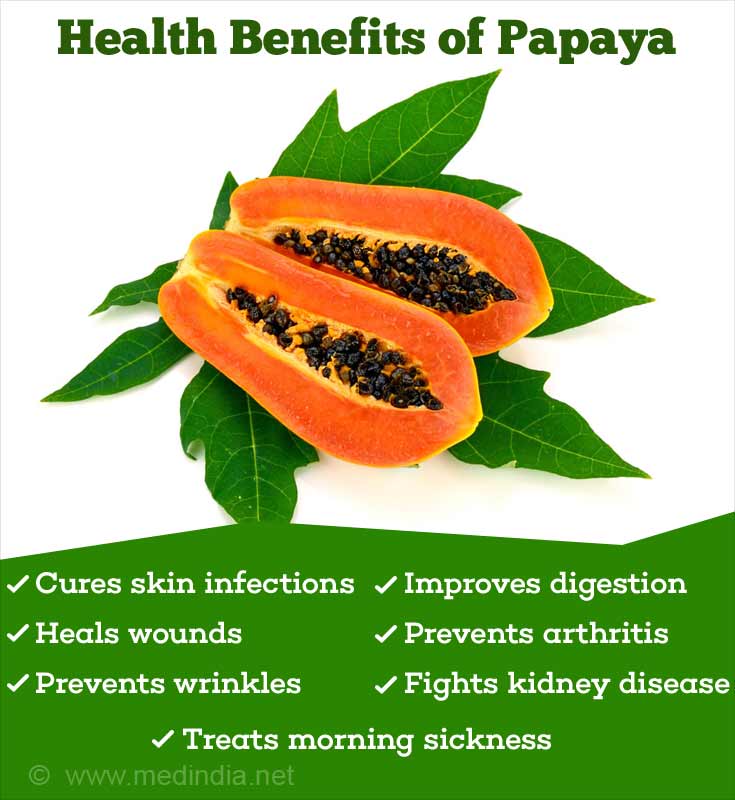 Papaya is said to be one of the favorite fruits of Christopher Columbus. The story goes that when his crew landed in America after a long sea voyage on the meager meal, the native people welcomed them with an extravagant feast, which caused digestive problems. The natives took the voyagers to the forest and offered them papaya and they got cured.
The leaves, seeds and the milk of the papaya tree are used to cure intestinal problems and kill intestinal worms and parasites. Women from India, Pakistan and Bangladesh use them to prevent pregnancy and for abortion. Above all, papaya is a very delicious food that has been enjoyed lavishly by people as a part of cuisines and salads.
Advertisement
Health Benefits of Papaya:
Skin & Papaya - It is great for the skin and can be used as a face pack. It helps to get rid of acne and skin infections as it helps to open clogged pores. The fermented flesh of papaya also called papain helps to dissolve the dead cells, giving fresh and glowing skin as a result. It is good to cure skin infections and wounds that donít heal quickly.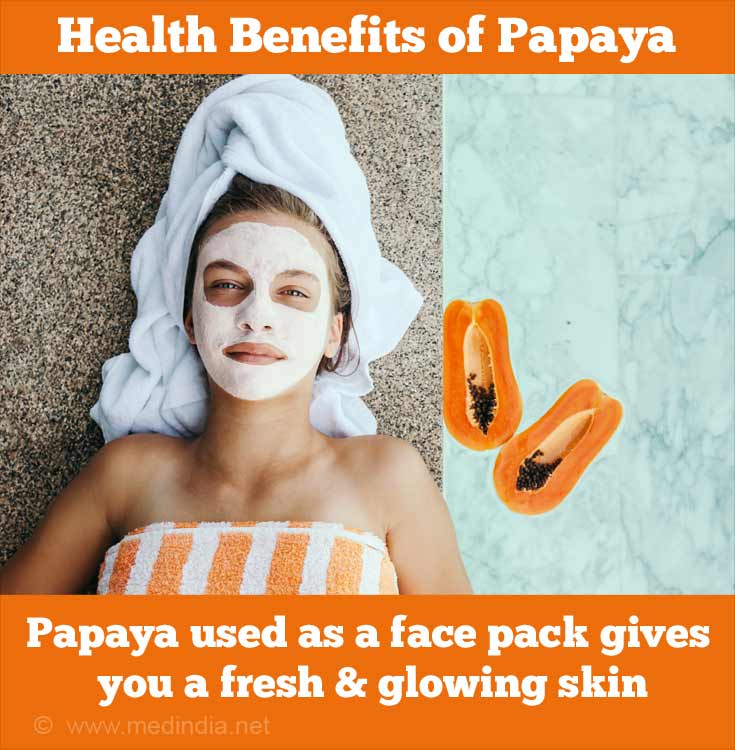 Cholesterol & Papaya - As it is rich in fiber, papaya helps lower blood cholesterol levels. It contains enzymes that help prevent oxidization of cholesterol, which in return helps to prevent heart attacks.
Anti-aging & Papaya - The antioxidants in papaya help in controlling premature aging. This quality of the papaya helps you to get a younger look.
Intestinal Worms & Papaya - The seeds of papaya too possess medicinal properties. They are very good in treating intestinal worms in the body.
Constipation & Papaya - Papaya helps in preventing constipation and aids in digestion. The enzyme papain is a digestive enzyme that helps in natural digestion.
Colon & Papaya - Its juice helps in curing infections of the colon by clearing the pus and mucus from it. You need to take it regularly to heal quickly.
Weight Loss & Papaya - It is low in calories and high in nutritional values. Hence, it is good food for those who want to lose some weight.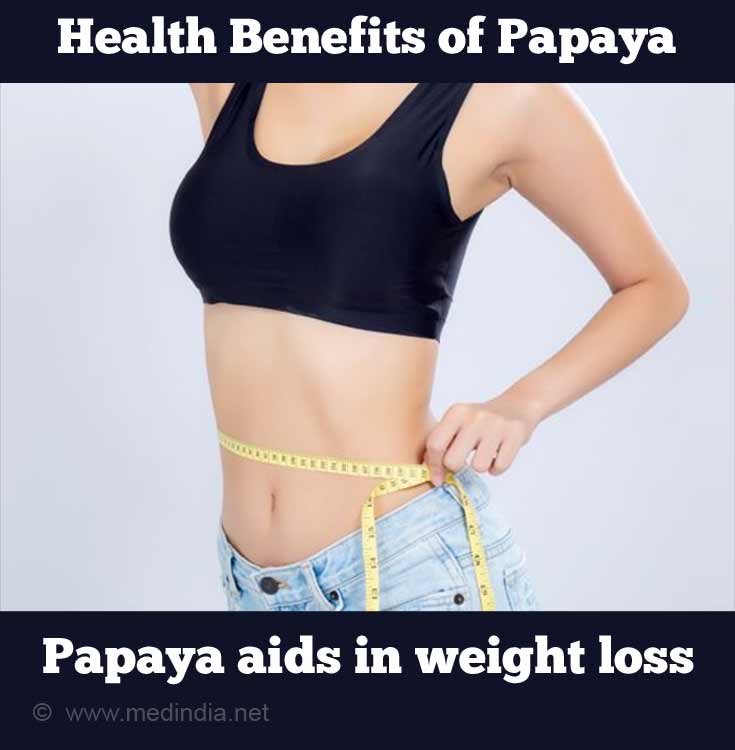 Morning Sickness & Papaya - In pregnant ladies, regular consumption of a small slice of papaya helps to cure nausea and morning sickness.
Osteoporosis & Papaya - It contains anti-inflammatory enzymes that help in relieving pain for those who are suffering from arthritis, edema and osteoporosis, and it also possesses anti-cancerous properties that can help prevent cancer.
Advertisement
Immunity & Papaya - It is rich in Vitamin A and Vitamin C that help in boosting the bodyís immunity and hence is very good for those who are suffering from fever, cold or flu.
Shampoos & Papaya - Shampoos containing papaya are very good to control dandruff.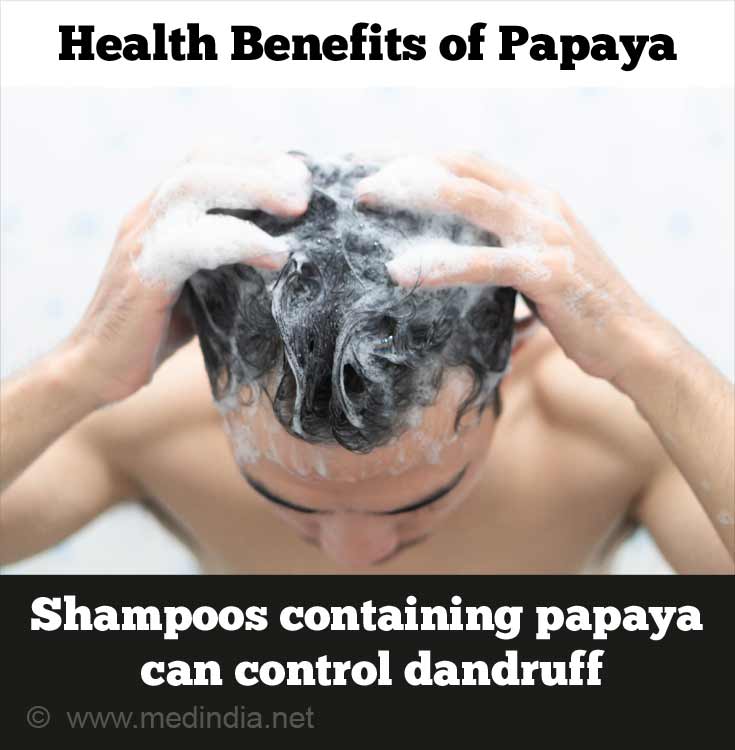 Menstrual Irregularities & Papaya - It helps in controlling the menstrual irregularities in women. Papaya helps to ease menstrual cramps and helps in promoting the regular flow of menstruation.
Liver cancer & Papaya juice - As it has an anti-proliferative effect on liver cancer cells it stops or slows down the growth of the cancer cells of the liver and helps in its cure.
Contraception & Papaya - Research with adult male langur monkeys has shown that it has the contraceptive capability and maybe it has a similar effect in adult males too.
Kidney disorder & Papaya - In poison-related kidney disorder it was found that the aqueous seed extract of the unripe mature fruits of papaya induces antioxidant and oxidative free radical scavenging and help kidney to recover.
Dengue Treatment and Papaya - Researchers have found that the juice obtained from the papaya leaves help in the dengue fever treatment. The extract obtained from the papaya leaf increases the platelet count also known as thrombocytes in patients with dengue fever.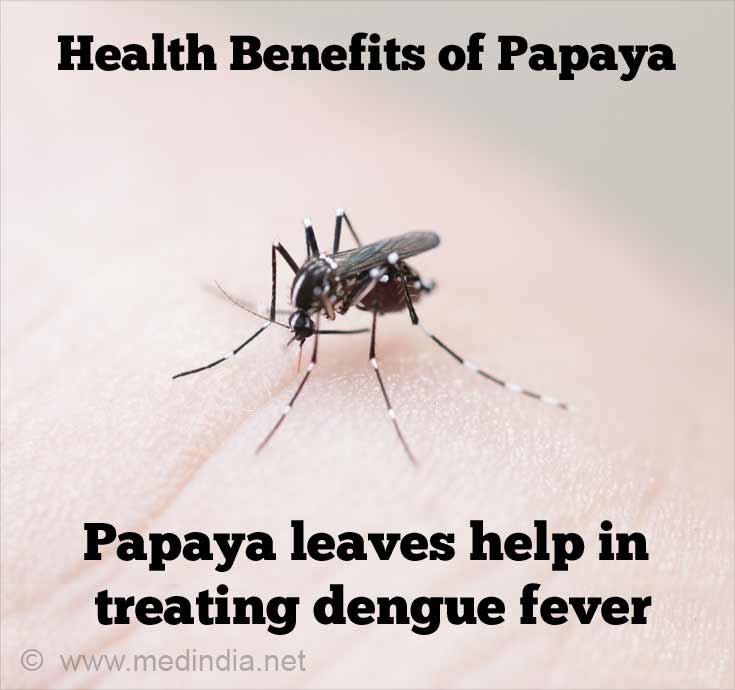 How does Papaya get Spoiled?
1. Usually, it gets overripe if not eaten in good time and might lose it's taste.
2. Viral infection of the papaya ringspot virus (PRV) can cause premature molting and malformation of the leaves of the plant. In the 1990s, the virus threatened to wipe out Hawaii's papaya industry completely.
3. The papaya is also susceptible to the fruit fly, a small fly-like insect that lays its eggs in young fruit.
How to Buy & Shop for Papaya?
Step1- Papayas are very delicious fruit. Asian, Hawaiian and Caribbean variety are available. They come in various sizes and shapes.
Hawaiian is usually smaller and pear-shaped, while Asian and Caribbean papayas are long and large.
Step 2- If you want to eat the papaya after 1 or 2 days, buy, green-skinned papaya which is firm to feel. Normally as it will ripen after 1 to 3 days.
If you want to eat the papaya on the same day look for ripe papaya in which the skin is turning from green to yellow or orange. If you gently press your finger into its flesh, it will yield but it will not be too soft Ė otherwise, it is overripe.
Papaya is a fruit worth considering in your daily or weekly grocery list. Consume them at least once a week. Papaya can also be taken with fruit salads, or in other cuisines. If you are not eating the papaya you can apply it directly to the skin, as it is bound to show some positive results that benefit your health.
Papayas, raw
The nutritional values of "Papayas, raw" per 100 grams are:
Nutrition Summary
Total Calories
43
Protein
0.5 g
Fat
0.4 g
Carbohydrate
10.8 g
Nutrients
Amount
%Daily Value
Calcium, Ca
20 mg
2 %
Copper, Cu
0.04 mg
2.25 %
Iron, Fe
0.25 mg
1.39 %
Magnesium, Mg
21 mg
5.25 %
Manganese, Mn
0.04 mg
2 %
Phosphorus, P
10 mg
1 %
Potassium, K
182 mg
5.2 %
Selenium, Se
0.6 mcg
0.86 %
Sodium, Na
8 mg
0.33 %
Zinc, Zn
0.08 mg
0.53 %
Vitamin A
950 IU
19 %
Vitamin C
60.9 mg
101.5 %
Vitamin B6
0.04 mg
1.9 %
Vitamin E
0.3 mg
1 %
Vitamin K
2.6 mcg
3.25 %
Riboflavin
0.03 mg
1.59 %
Thiamin
0.02 mg
1.53 %
Folate, DFE
37 mcg
9.25 %
Niacin
0.36 mg
1.78 %
Sugars
7.82 g
Fiber
1.7 g
6.8 %
Cholesterol
0 mg
0 %
Water
88.06 g
Carotene, alpha
2 mcg
Carotene, beta
274 mcg
Choline
6.1 mg
Lycopene
1828 mcg

View all +
Data source: USDA Nutrient Database, R25
*Percent Daily Values (%DV) are based on a 2,000 calorie reference diet. Your daily values may be higher or lower based on your individual needs.
Please use one of the following formats to cite this article in your essay, paper or report:
APA

Krishna Bora. (2020, August 31). Health Benefits of Papaya. Medindia. Retrieved on Jun 09, 2023 from https://www.medindia.net/patients/lifestyleandwellness/health-benefits-of-papaya.htm.

MLA

Krishna Bora. "Health Benefits of Papaya". Medindia. Jun 09, 2023. <https://www.medindia.net/patients/lifestyleandwellness/health-benefits-of-papaya.htm>.

Chicago

Krishna Bora. "Health Benefits of Papaya". Medindia. https://www.medindia.net/patients/lifestyleandwellness/health-benefits-of-papaya.htm. (accessed Jun 09, 2023).

Harvard

Krishna Bora. 2020. Health Benefits of Papaya. Medindia, viewed Jun 09, 2023, https://www.medindia.net/patients/lifestyleandwellness/health-benefits-of-papaya.htm.
Latest Publications and Research on Papaya
Request an Appointment with a Doctor (Nutrition Expert)
Dt. Prathima Potluri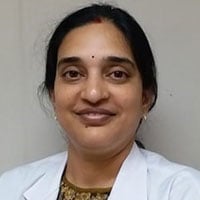 BSc, MSc
12 years experience

Dt. Nishita Suratkal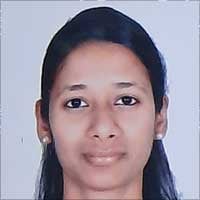 BSc, MSc
5 years experience
Nutrify your Gut, Thakur Village, Mumbai
Dt. Ritu Kumari Mishra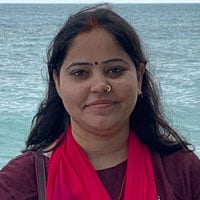 DDHN, BSc, MSc
1 year experience

Dr. Sunita Malhotra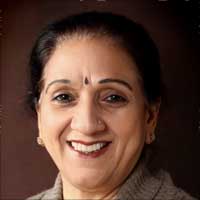 DDPHN, MSc
30 years experience
Pro Health Diet Clinic, Sector 37-C, Chandigarh
View All