What is Mangosteen?
The mangosteen (botanical: garcinia mangostana) is a popular and common fruit in Southeast Asia, but it is considered exotic in most parts of Europe and North America. The fruit comes from a tropical evergreen tree that is believed to have grown originally on the islands of Sunda and Moluccas, just off the coast of Indonesia.
Today the fruit is grown across most of Southeast Asia and it has also been introduced to countries across the world in South America, where it thrives in Colombia, Puerto Rico and Hawaii. In India, the fruit is grown and sold in the state of Kerala.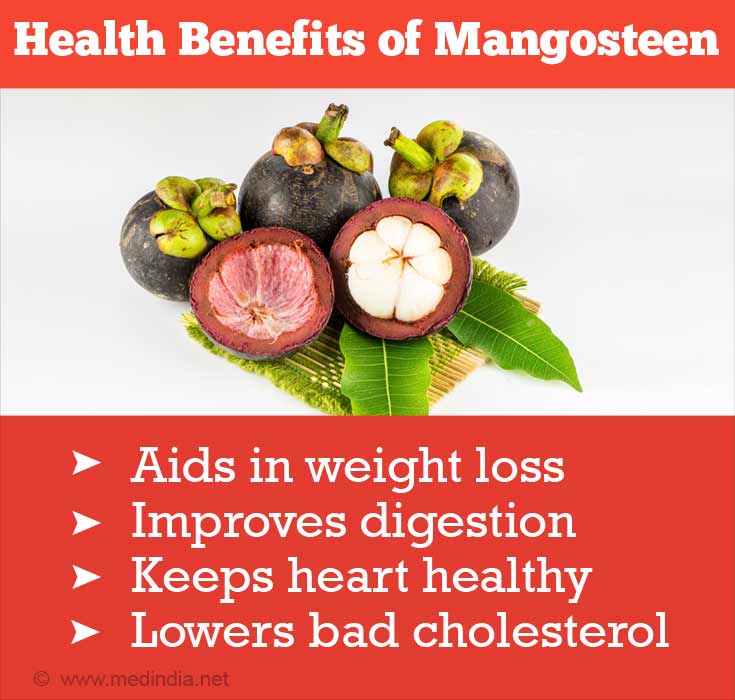 Mangosteen isn't just an exotic tropical fruit, but it is in many ways the very definition of a superfood. If you do have the good fortune of living in a part of the world where this fruit is easily accessible and affordable, relish it as much as you can because this nutrient-dense fruit offers you a wide variety of health benefits.
Advertisement
Xanthones: Mangosteen contains certain compounds called xanthones, which are naturally occurring polyphenols. Scientific experiments have revealed that these compounds can offer several benefits and its derivatives demonstrate an anti-inflammatory effect. This particular compound also makes mangosteen a good choice for anyone suffering from cardiovascular disease. Some studies also suggest that xanthones can help prevent or protect against colon cancer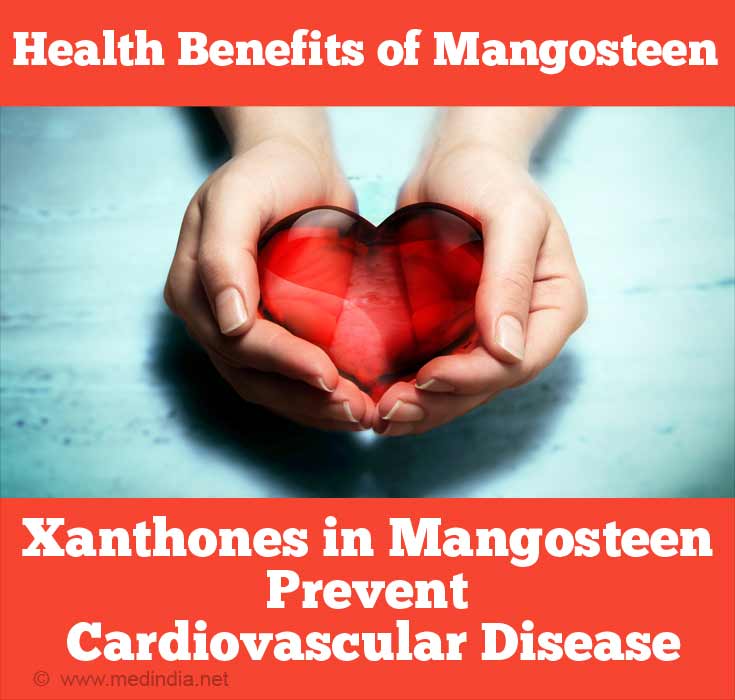 Weight Loss: Mangosteen is a great addition to the diet of any fitness enthusiast or for anyone trying to shed the extra pounds. It is extremely low in calories, contains absolutely no saturated fats or cholesterol and is very rich in dietary fiber. This means that it can satiate your appetite without raising your calorie intake and it will also keep you satisfied for a lot longer.
Improved Digestion: Mangosteen is a good source of dietary fiber and just 100 grams of the fruit will give you 13 percent of your required daily intake of fiber. This means that consuming mangosteen regularly can help relieve the symptoms of certain digestive disorders. Fiber intake can improve and facilitate the passage of stools if you have symptoms of constipation and it can also help to bulk up stools when suffering from symptoms of diarrhea.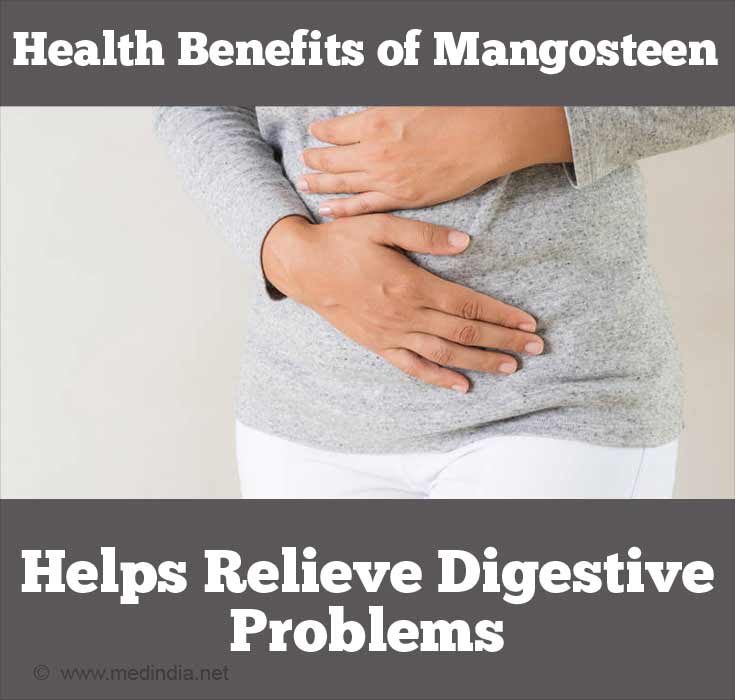 Heart Healthy: Mangosteen is also a good source of magnesium which is an essential mineral. This can be especially beneficial for heart health as magnesium helps to regulate the electrical function of the heart, which means that there is better regulation of the heart rate and blood pressure. This is especially useful for anyone with minor circulatory disorders.
Polysaccharides: Polysaccharides are a type of carbohydrate compound found in certain plants and more importantly in mangosteen. This is a big deal, because several studies suggest that polysaccharides may in fact possess certain antibacterial and anti-cancer properties. Apparently, it can halt the spread of cancer by preventing or limiting the mutated cell's ability to adhere to healthy cells.
Cholesterol Lowering: Increasing your intake of mangosteen may also help to reduced or keep a check on those cholesterol levels. According to some natural health care enthusiasts, consuming the mangosteen regularly helps to lower triglyceride levels and can also reduce LDL or 'bad cholesterol' levels in the body.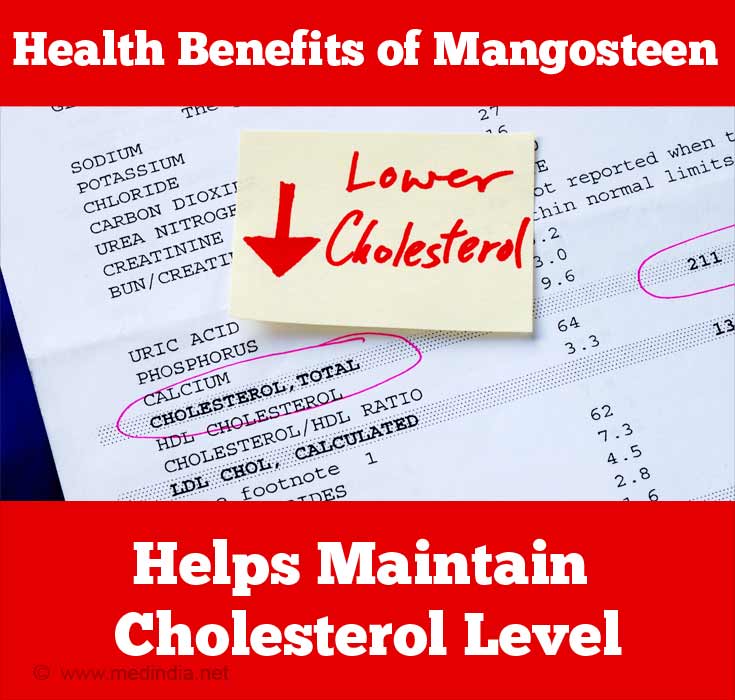 Mangosteen does quite well in most salads, but it doesn't hurt to experiment and try out different recipes as well. Here are two popular recipes that you can add to your repertoire:
Mangosteen Juice/Lemonade
Ingredient:
Mangosteen Fruit – 4
Sugar – 1 tablespoon
Lemon – 1
Refrigerated Water – 300ml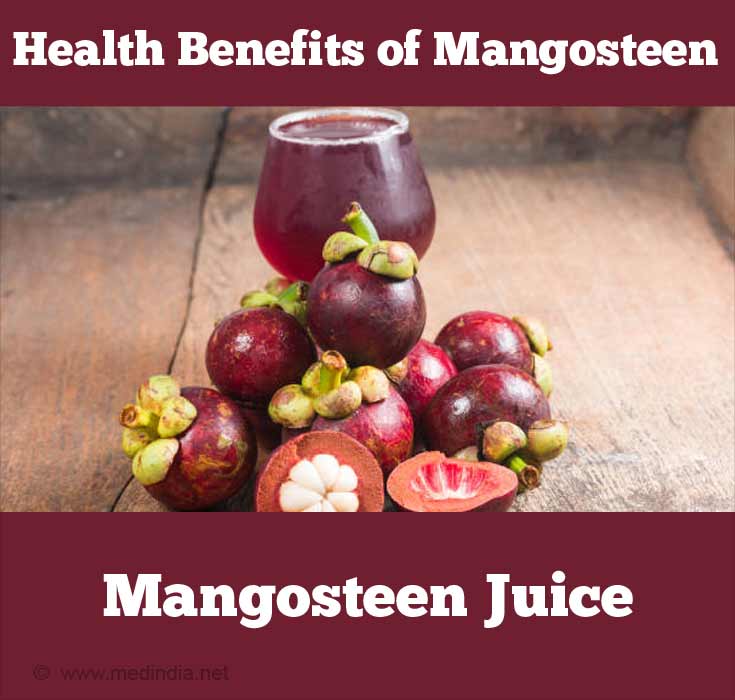 Directions
Cut the lemon into halves or quarters and squeeze the juice out of it, while taking care to remove and discard the seeds.
To get to the pulp and juice of the mangosteen fruit you can simply make an incision in the skin of the fruit and run the knife around the entire circumference of the skin, without actually halving the fruit. By doing this, you can get rid of the rind, without losing any of the pulp or juice. Once the skin is ruptured you can simply squeeze the fruit gently or apply gentle pressure to extract the pulp from within.
Collect the white pulpy flesh from all the mangosteen fruits and look for seeds in the pulp, taking care to discard any seeds that you find.
Add the seedless mangosteen fruit pulp to a blender and blend it well until it becomes a smooth paste with an even consistency.
Now pour the water into a jar or big container and add the sugar to it. Once the sugar has dissolved completely you can add the mangosteen paste to the solution and stir it thoroughly.
Add a bit of the lemon juice to the solution, if you'd like to give it a tangy taste.
Mangosteen Usage Tips
If mangosteen is easily available and affordable in the region where you live, you can even use the fruit to prepare homemade creams, pastes and ointments to pamper your skin. Mangosteen's natural antimicrobial properties make it the perfect ingredient for skin care products when dealing with quite a variety of skin disorders Acne, oily skin and other problems can often be addressed by increasing your intake of the fruit or by simply applying it to your skin as a topical application.
The juice of the mangosteen fruit can be used to naturally tighten and tone your skin naturally.
When buying the fruit, avoid picking mangosteen that has damaged or bruised skin as the fruit often becomes bitter and inedible. To ensure that the fruit you're purchasing is fresh try to pick out those that have bright purple skin as older stock will generally have dry and blotched skin.
Always wash mangosteen before consumption. You can rinse it under running water and dab it with a soft towel to dry it.
Mangosteen, canned, syrup pack
The nutritional values of "Mangosteen, canned, syrup pack" per 100 grams are:
Nutrition Summary
Total Calories
73
Protein
0.4 g
Fat
0.4 g
Carbohydrate
17.9 g
Nutrients
Amount
%Daily Value
Calcium, Ca
12 mg
1.2 %
Copper, Cu
0.07 mg
3.45 %
Iron, Fe
0.3 mg
1.67 %
Magnesium, Mg
13 mg
3.25 %
Manganese, Mn
0.1 mg
5.1 %
Phosphorus, P
8 mg
0.8 %
Potassium, K
48 mg
1.37 %
Selenium, Se
~
Sodium, Na
7 mg
0.29 %
Zinc, Zn
0.21 mg
1.4 %
Vitamin A
35 IU
0.7 %
Vitamin C
2.9 mg
4.83 %
Vitamin B6
0.02 mg
0.9 %
Vitamin E
~
Vitamin K
~
Riboflavin
0.05 mg
3.18 %
Thiamin
0.05 mg
3.6 %
Folate, DFE
31 mcg
7.75 %
Niacin
0.29 mg
1.43 %
Sugars
~
Fiber
1.8 g
7.2 %
Cholesterol
0 mg
0 %
Water
80.94 g
Carotene, alpha
1 mcg
Carotene, beta
16 mcg
Choline
~
Lycopene
~

View all +
Data source: USDA Nutrient Database, R25
*Percent Daily Values (%DV) are based on a 2,000 calorie reference diet. Your daily values may be higher or lower based on your individual needs.
References:
Purple Mangosteen - Nutrional Content -

(https://en.wikipedia.org/wiki/Purple_mangosteen#Nutritional_content)
Latest Publications and Research on Health Benefits of Mangosteen
Please use one of the following formats to cite this article in your essay, paper or report:
APA

Shaun DMello. (2020, October 09). Health Benefits of Mangosteen. Medindia. Retrieved on May 28, 2022 from https://www.medindia.net/patients/lifestyleandwellness/health-benefits-of-mangosteen.htm.

MLA

Shaun DMello. "Health Benefits of Mangosteen". Medindia. May 28, 2022. <https://www.medindia.net/patients/lifestyleandwellness/health-benefits-of-mangosteen.htm>.

Chicago

Shaun DMello. "Health Benefits of Mangosteen". Medindia. https://www.medindia.net/patients/lifestyleandwellness/health-benefits-of-mangosteen.htm. (accessed May 28, 2022).

Harvard

Shaun DMello. 2021. Health Benefits of Mangosteen. Medindia, viewed May 28, 2022, https://www.medindia.net/patients/lifestyleandwellness/health-benefits-of-mangosteen.htm.
Request an Appointment with a Doctor (Nutrition Expert)
Ms. Jaichitra R
DNHE
1 year experience

Teleconsult Now
View Profile
Dr. Pratiksha Prashant
Masters in Dietitics, Masters in Health Science, International Health coach, International diabetic educator, Certification in Vedic nutrition, Bachelors in Dental Surgery
7 years experience

Teleconsult Now
View Profile
Ms. Pandi Alagammai Thillainathan
BSc, MSc
1 year experience
Online mode, Porur
Teleconsult Now
View Profile
Ms. Bharathi Ravi
B.Tech, M.Tech
2 years experience

Teleconsult Now
View Profile
View All