What are Dandelions?
Dandelion greens belong to the sunflower family and have been long in use for its medicinal and nutritive value. Taraxacum officinale is the scientific name of the commonly used dandelion though there are wide varieties of dandelion. If you ask someone what dandelion is they are more likely to think of it as a pretty flower rather than a plant or herb with numerous health benefits. You can eat a fresh dandelion greens or even consider using dandelion tablets and supplements after consulting your doctor.
Dandelions are a rich source of many important nutrients that are needed by the human body for proper functioning. The greens are good for liver, gall bladder and useful for people with anemia. Here are some more dandelion benefits.
Improve Bone Health:
Being a good source of calcium, dandelion herb can benefit bones and keep joint troubles at bay. Additionally, certain antioxidants such as luteolin and vitamin C are beneficial in protecting the bones from damage caused by aging and these are found aplenty in dandelion greens.
Promote Digestive Health:
Dandelion leaves are a good source of fiber and thus, promote good digestive health. Eat dandelions for relief from constipation and for maintaining a healthy digestive tract. However, a fiber found in dandelions known as inulin can cause allergies in people who are susceptible to it. Therefore, it makes sense to add dandelions to your diet in small quantities.
Advertisement
Control Diabetes:
Dandelion can benefit people with diabetes as its juice can stimulate pancreatic insulin production and help in maintaining normal blood sugar levels. But this is not all; the diuretic nature of dandelions can also help people with diabetes by increasing their urination. This increase in urination flushes out excess sugar from the body and prevents from any sugar buildup in the kidneys.
A word of caution – diabetics who are already on modulators for blood sugar should consult their doctors before adding dandelions or dandelion supplements to their diets.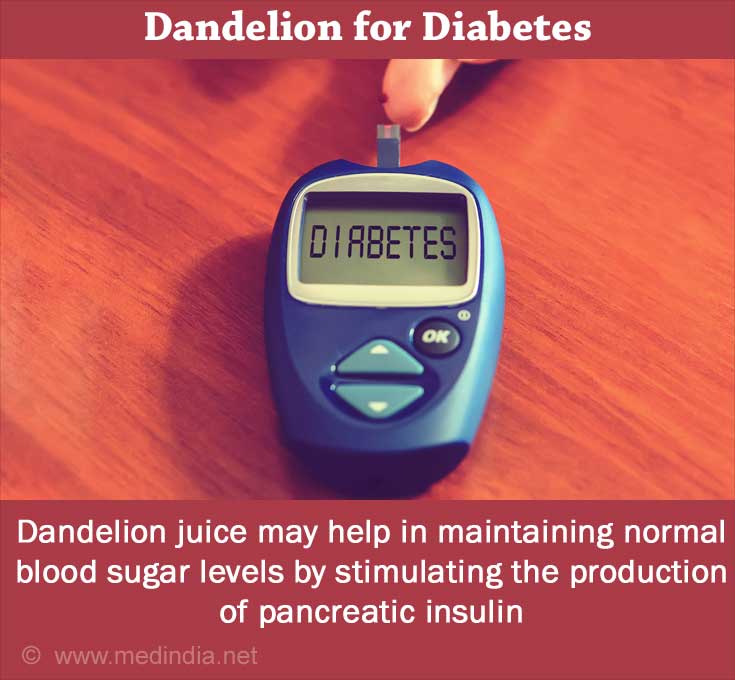 Keep Urinary Tract Healthy:
Being diuretic, dandelions help clean out toxins from the kidneys and keep the urinary tract healthy. Dandelion is also a powerful disinfectant so consuming it can keep microbial infections away from the urinary tract. Dandelion consumption is useful in keeping away infections in general.
Prevent Cancer:
Dandelions can keep cancers at bay, as it is rich in antioxidants. The fiber in dandelions also clears out toxins from colon thus, lowering chances of intestinal cancers. It keeps the urinary tract healthy and this further reduces cancer risks in many parts of the body.
Advertisement
Regulate Heart Health:
Potassium in dandelions can help regulate blood pressure and heart rate. Its rich fiber content and diuretic properties also keep blood pressure at healthy levels and this bodes well for overall heart health.
Improve Skin:
Dandelion milk, which is the sap from the plant, is useful in treating fungal infections from the skin. This sap is a powerful portion as it is highly alkaline in nature and also is a strong fungicidal and germicidal agent. Dandelion sap can be used as an all-natural skin treatment without any side effects for various skin conditions such as eczema, acne, itches and ringworm. But keep the sap from entering your eyes or else it can cause itchiness and it is also useful to do a patch test on the skin before its full application to rule out any allergic reactions.
Aid in Weight Loss:
Dandelion consumption aids in the elimination of excess body fluids, which helps in shedding a few pounds. People who wish to lose weight can increase their consumption of dandelions to fulfill their nutrient requirements in lieu of fewer calories.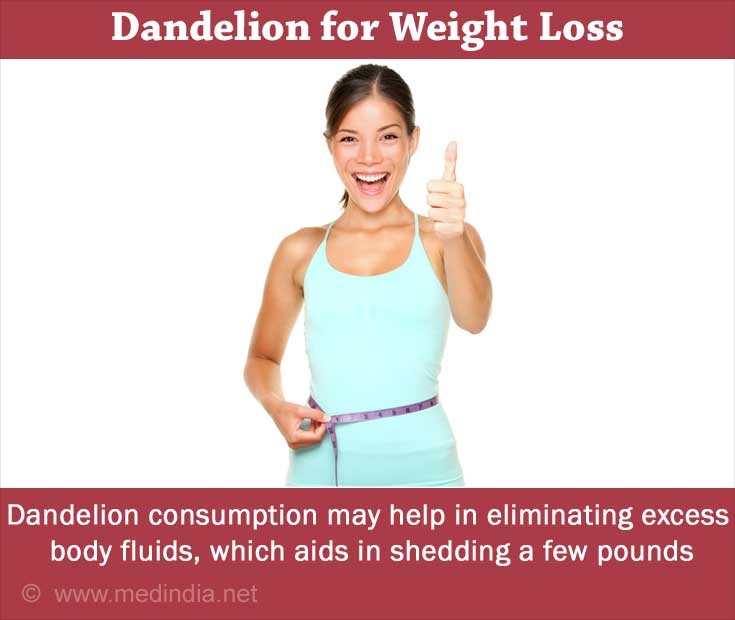 Dandelion-Tofu Salad
Crush garlic and sauté it with olive oil. Add chopped chili peppers, steamed red kidney beans, tofu cubes and mix them well in the pan. Add salt, dandelion greens, sesame seeds and remove from heat after a few minutes. Dress this healthy salad with dandelion flower petals and relish.
Dandelion Sandwich Spread
In a mixing bowl, add low-fat grated cheese of your choice. Add to it ample dandelion greens, crushed almonds, salt, black pepper powder, dried mint powder and some chili flakes. Use this spread for your vegetable sandwiches and burgers.
Healthiest Way of Cooking Dandelions
Dandelion greens are good to eat with just a light sauté. One can even deep-fry the flowers with some batter. Dandelion roots make for healthy concoctions. To retain the most nutrients, do not overcook the greens, as they are tender and quite palatable with just the right amount of heat.
Add a fistful of dandelion greens when making fresh mint or coriander chutneys with all the other ingredients. This is a good way to add more dandelion greens to your diet. You can add them to your rice dishes. After the rice is cooked just mix in the greens and cook for two minutes. Add the greens into your salads and juices. Make tea from dandelion roots for a healthy infusion. Dandelion tea health benefits are the same as you get from the consumption of dandelion greens.
Dandelion greens, raw
The nutritional values of "Dandelion greens, raw" per 100 grams are:
Nutrition Summary
Total Calories
45
Protein
2.7 g
Fat
0.4 g
Carbohydrate
9.2 g
Nutrients
Amount
%Daily Value
Calcium, Ca
187 mg
18.7 %
Copper, Cu
0.17 mg
8.55 %
Iron, Fe
3.1 mg
17.22 %
Magnesium, Mg
36 mg
9 %
Manganese, Mn
0.34 mg
17.1 %
Phosphorus, P
66 mg
6.6 %
Potassium, K
397 mg
11.34 %
Selenium, Se
0.5 mcg
0.71 %
Sodium, Na
76 mg
3.17 %
Zinc, Zn
0.41 mg
2.73 %
Vitamin A
10161 IU
203.22 %
Vitamin C
35 mg
58.33 %
Vitamin B6
0.25 mg
12.55 %
Vitamin E
3.44 mg
11.47 %
Vitamin K
778.4 mcg
973 %
Riboflavin
0.26 mg
15.29 %
Thiamin
0.19 mg
12.67 %
Folate, DFE
27 mcg
6.75 %
Niacin
0.81 mg
4.03 %
Sugars
0.71 g
Fiber
3.5 g
14 %
Cholesterol
0 mg
0 %
Water
85.6 g
Carotene, alpha
363 mcg
Carotene, beta
5854 mcg
Choline
35.3 mg
Lycopene
0 mcg

View all +
Data source: USDA Nutrient Database, R25
*Percent Daily Values (%DV) are based on a 2,000 calorie reference diet. Your daily values may be higher or lower based on your individual needs.
References:
Dandelion Greens are Edible and Linked to Health Benefits -

(https://www.healwithfood.org/health-benefits/dandelion-greens-edible-leaf-tea.php)

What Is The Dandelion Herb? -

(https://www.naturalremedies.org/dandelion/)
Latest Publications and Research on Health Benefits of Dandelion Plant
Please use one of the following formats to cite this article in your essay, paper or report:
APA

Rakhee Maloo. (2021, October 15). Health Benefits of Dandelion Plant. Medindia. Retrieved on Jun 27, 2022 from https://www.medindia.net/patients/lifestyleandwellness/health-benefits-of-dandelion-plant.htm.

MLA

Rakhee Maloo. "Health Benefits of Dandelion Plant". Medindia. Jun 27, 2022. <https://www.medindia.net/patients/lifestyleandwellness/health-benefits-of-dandelion-plant.htm>.

Chicago

Rakhee Maloo. "Health Benefits of Dandelion Plant". Medindia. https://www.medindia.net/patients/lifestyleandwellness/health-benefits-of-dandelion-plant.htm. (accessed Jun 27, 2022).

Harvard

Rakhee Maloo. 2021. Health Benefits of Dandelion Plant. Medindia, viewed Jun 27, 2022, https://www.medindia.net/patients/lifestyleandwellness/health-benefits-of-dandelion-plant.htm.
Request an Appointment with a Doctor (Nutrition Expert)
Ms. Himaja H
BSc, MSc
12 years experience
Health and Nutrify clinic, Serlingampally, Hyderabad
Mrs. Priya S
BSc
11 years experience

Dr. Varsha
PhD
39 years experience

Mrs. Uma Maheshwari
MSc
5 years experience
kadhri Aarogya, Coimbatore
View All