What is Cottage Cheese?
Cottage cheese (paneer) is a mild flavored cheese curd dairy product that is prepared from loosely packed cow's milk. It is prepared by allowing milk to curdle and then draining it almost completely. The milk is curdled by adding lemon juice, vinegar or chemical enzymes.
Milk goes bad quite often and curdles naturally. In such cases too, people often use the curdled milk to prepare cottage cheese. It is not pressed after draining however, so the curd that is retained is not compact. This curd that is left behind is then washed or rinsed out to get rid of the acidic content that is normally present in curd. The product that is left behind is a sweet curd cheese.
Cottage cheese prepared in this manner has a bland and mild taste, making it a great addition to various types of food as it brings out the flavor in other ingredients.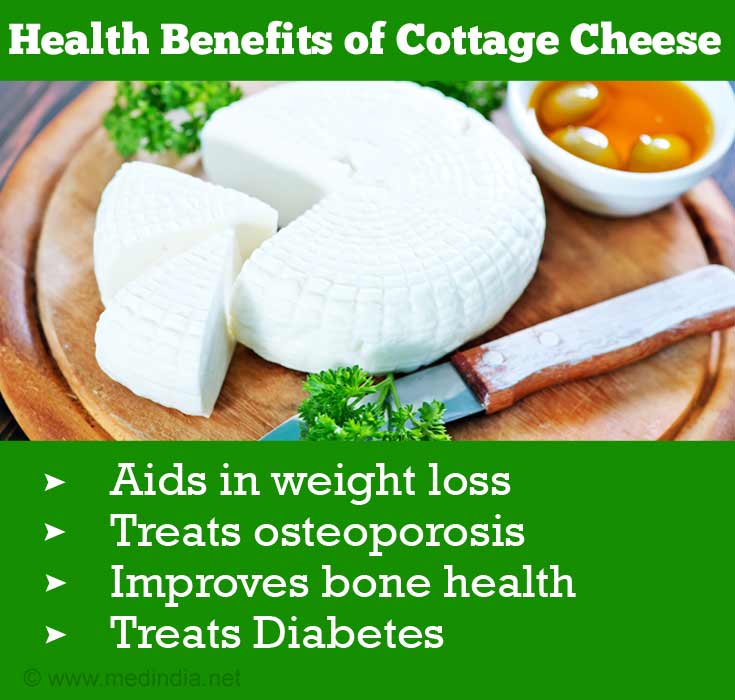 Cottage cheese can be found in different styles and may differ slightly depending on the different types of milk that it may be prepared from, with different fat levels or there may also be some variation because of the method of preparation. Cottage cheese may also be sold as chunks, not in the loosely packed curd form and this kind of cottage cheese is produced by pressing cottage cheese to get rid of all of the whey. Like milk, cottage cheese is a perishable food and should be consumed within a week to ten days of preparation.
Cottage cheese is often thought of as a dieter's food because of its nutritional profile. It certainly is healthy food and is often seen as such because of its high protein and calcium content and low-fat content. It is also a good source of numerous other nutrients and is extremely easy on the digestive system.
Protein Rich: Cottage cheese is a great source of protein and it's not surprising that most nutritionists recommend the inclusion of cottage cheese as an important ingredient in almost any vegetarian diet. The exclusion of meat from your diet significantly affects protein intake and increasing cottage cheese consumption is one of the best ways to offset this lack of protein in the diet. Just one cup of cottage cheese (226 gm) will give you 28 gm of protein. This means that it will give you 56% of required daily intake of protein.
Most of us are well aware of the importance of protein, but we often tend to regard it as not entirely necessary. However, this couldn't be less true. As one of the essential nutrients, protein is absolutely vital for our health and wellbeing. Protein is especially important for bodybuilding, fitness and sports enthusiasts, as protein is essential for muscle growth and repair. It is also extremely important during pregnancy, as protein drives fetal development and brain growth.
Diabetes-Friendly: Cottage cheese is low in carbohydrates and high in protein, making it a great addition to any diet for diabetics. It is even listed as a healthy food choice by the American Diabetes Association because the low carbohydrate content and protein dense food ensure that energy is released into the body slowly, without causing any of the spikes in blood sugar levels. This also means that unlike certain high energy foods it doesn't just give you a sudden burst of energy that peaks and falls just as quickly. While a cup of cottage cheese gives you 28 gm of protein, it contains just 6 gm of carbohydrates.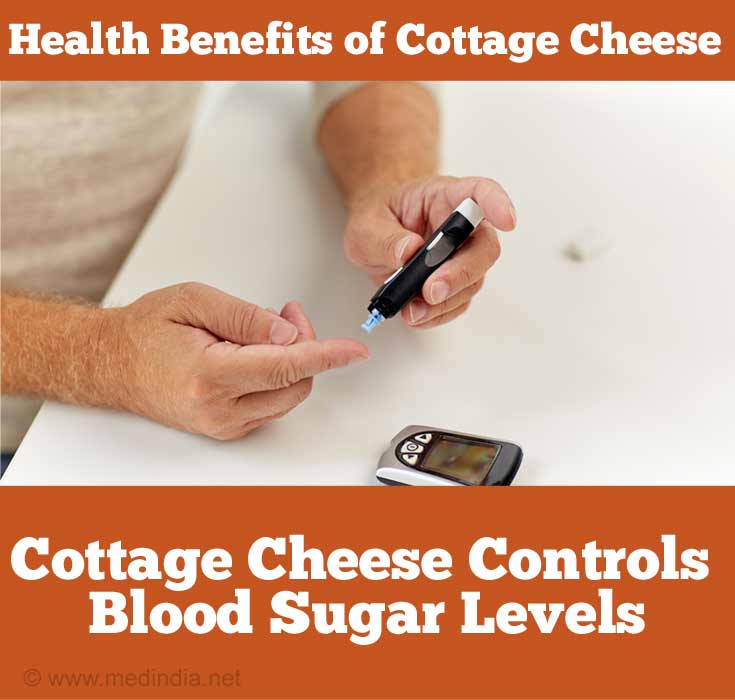 Satiating: The low-carb and high protein profile of cottage cheese also makes it a great health food for anyone with a weight problem that stems from overeating or from snacking on unhealthy foods. The slow release of energy from this protein dense food ensures that you get adequate energy without the sudden bursts in energy levels characteristic of other high energy foods. This makes it a good addition to your diet as a 'between meal' snack to satiate your hunger and prevent you from binging on junk foods.
Skeletal and dental health: Cottage cheese is also an excellent source of calcium making it a healthy food choice for everyone. While problems like osteoporosis that are associated with calcium deficiency or inadequate calcium intake usually set in later in life, calcium intake during childhood and youth have a considerable impact on bone health later in life. Try and include more cottage cheese in your diet, especially if you don't consume much milk and other milk products.
Weight Loss: Cottage cheese is also a great source of conjugated linoleic acid or CLA. CLA forms when the chemical composition of linoleic acid gets altered by bacteria. There are claims that CLA offers a variety of health benefits such as increasing body metabolism and promoting weight loss, cholesterol-lowering effect and cancer risk reduction. Unfortunately, most good sources of CLA like beef, lamb and veal also contain excessive amounts of fat. Butter, another source of CLA is also high in saturated fats. Cottage cheese is, therefore, a healthier source of CLA, especially if you are a vegetarian.
Keep in mind, that none of these claims about the efficacy of CLA have been substantiated with evidence so far.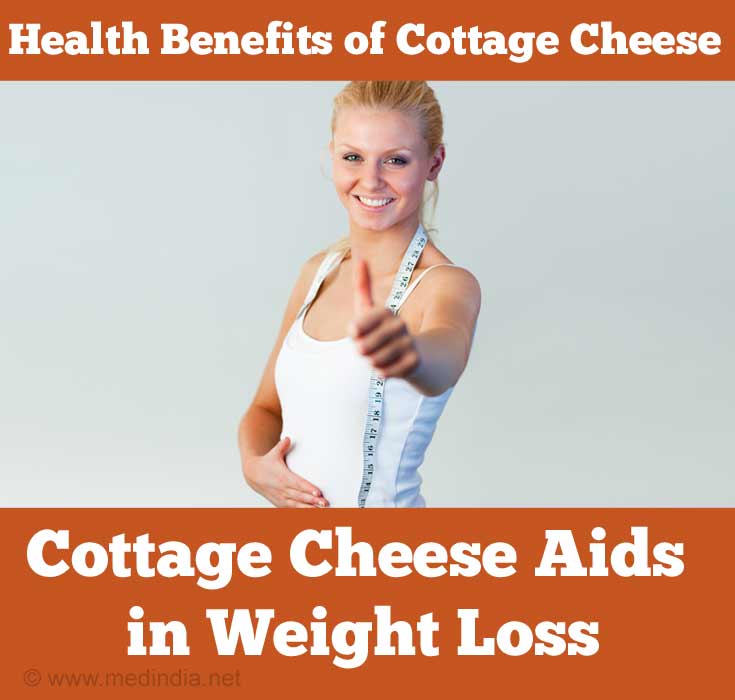 Cottage cheese lends itself easily to a variety of cuisines and it's hard to go wrong with cottage cheese. You can use it with fruits and other desserts or with salt, pepper and other spices as a dip or as a salad dressing.
Here is a simple healthy recipe for a cottage cheese dish that you can prepare at home:
Paneer Tikka
Ingredients:
150 grams of cottage cheese (Pressed cottage cheese)
1 medium-sized capsicum
Olive oil (While olive oil is the healthiest choice you can use any cooking oil)
Handful of mint and coriander leaves
Ginger garlic paste (1 tablespoon)
Gram flour (1 tablespoon)
A pinch of turmeric powder
Crushed carom seeds (Half teaspoon)
Red chili powder (Quarter teaspoon)
Cumin powder (Quarter teaspoon)
Garam masala powder (Quarter teaspoon)
Lemon juice (1 teaspoon)
Salt
Preparation:
Cut the cottage cheese into little squares or cubes.
Chop the capsicum into small pieces about the size of the cottage cheese cubes.
Mix the ginger garlic paste, gram flour, turmeric powder, carom seeds, chili powder, cumin powder, garam masala and lemon juice. If you wish to, you can also add salt to the mixture now, or you may sprinkle salt over the dish once prepared.
Once the ingredients have been mixed well, add the cottage cheese and capsicum to the mixture.
Mix once more to ensure that the cottage cheese is well coated.
Skewer the cottage cheese and capsicum pieces on toothpicks, alternating between the two.
Pour some olive oil onto a frying pan and heat it.
Add the skewered cottage cheese on to the pan and fry it till it takes on the light brown hue and becomes crisp. Avoid frying it too much.
If you can't fry all the cottage cheese at once you can do so in batches.
Once done with the frying, make sure to drain the skewered cottage cheese on paper napkins, so as to get rid of the excess oil.
Your paneer tikka is now ready to serve and you can sprinkle some chopped coriander and mint leaves over it and even add some more lemon juice before digging in!
Cheese, cottage, creamed, large or small curd
The nutritional values of "Cheese, cottage, creamed, large or small curd" per 100 grams are:
Nutrition Summary
Total Calories
98
Protein
11.1 g
Fat
0.4 g
Carbohydrate
3.4 g
Nutrients
Amount
%Daily Value
Calcium, Ca
83 mg
8.3 %
Copper, Cu
0.03 mg
1.45 %
Iron, Fe
0.07 mg
0.39 %
Magnesium, Mg
8 mg
2 %
Manganese, Mn
0 mg
0.1 %
Phosphorus, P
159 mg
15.9 %
Potassium, K
104 mg
2.97 %
Selenium, Se
9.7 mcg
13.86 %
Sodium, Na
364 mg
15.17 %
Zinc, Zn
0.4 mg
2.67 %
Vitamin A
140 IU
2.8 %
Vitamin C
0 mg
0 %
Vitamin B6
0.05 mg
2.3 %
Vitamin E
0.08 mg
0.27 %
Vitamin K
0 mcg
0 %
Riboflavin
0.16 mg
9.59 %
Thiamin
0.03 mg
1.8 %
Folate, DFE
12 mcg
3 %
Niacin
0.1 mg
0.5 %
Sugars
2.67 g
Fiber
0 g
0 %
Cholesterol
17 mg
5.67 %
Water
79.79 g
Carotene, alpha
0 mcg
Carotene, beta
12 mcg
Choline
18.4 mg
Lycopene
0 mcg

View all +
Data source: USDA Nutrient Database, R25
*Percent Daily Values (%DV) are based on a 2,000 calorie reference diet. Your daily values may be higher or lower based on your individual needs.
References:
Tips for Healthy Substitutes -

(https://health.gov/dietaryguidelines/dga2005/healthieryou/html/tips_healthy_subs.html)

Cottage Cheese -

(https://en.wikipedia.org/wiki/Cottage_cheese)
Latest Publications and Research on Health Benefits of Cottage Cheese