What are Collard Greens?
Collard greens are a dark green leafy vegetable belonging to the Brassica family, which includes kale, broccoli, mustard greens, Brussels sprouts and cabbage. They are one of nature's most nutritious treasures providing an array of health benefits such as lowering cholesterol levels, combating cancer, assisting proper digestion to healthy bones.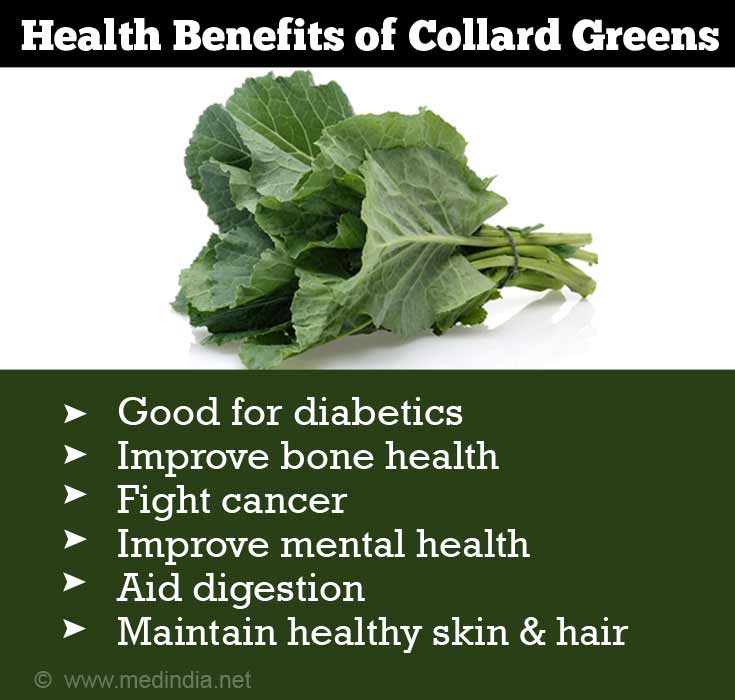 A native to the Mediterranean region, collard greens are a staple in Southern American dishes Steaming is the healthiest way to retain flavor and nutrition of collard greens. Vates, Flash, Georgia LS and Champion are different varieties of collards.
The low-calorie content makes collards a must-include on every dieter's plate. Collard greens are a nutrition powerhouse with a relatively fat-free, cholesterol-free and with low sodium content. They are an excellent source of vitamins A, C and K.
It provides more than 400% the recommended dietary intake of vitamin K. However, patients taking blood-thinning medication such as coumadin, warfarin must avoid eating collards due to its high vitamin K content. They also contain a significant amount of vital minerals like calcium and manganese, which play a role in various bodily functions.
Collard greens have a positive impact on digestion, bone health, sugar levels and mental abilities courtesy its wide variety of nutrients. They reduce the risk of cardiovascular diseases as they contain fiber, which binds bile salts resulting in the utilization of cholesterol to synthesize more bile. Since collards contain less sodium and are good sources of calcium and magnesium, people suffering from hypertension can benefit from consuming this vegetable.
Good for Diabetics:
Collard greens contain a significant amount of fiber and protein, which makes it a low glycemic index, diabetic-friendly food. It is a good source of manganese, which maintains stable sugar levels.
Improve Bone health:
Collard greens are rich in vitamin K, manganese and calcium, which are bone-friendly nutrients. Manganese plays a role in bone metabolism and the creation of enzymes for building bones.
Being a plant source, calcium from collards is better absorbed. Vitamin K consumption is important for bone health as it acts as a modifier of bone matrix proteins, enhances calcium absorption and reduces urinary excretion of calcium.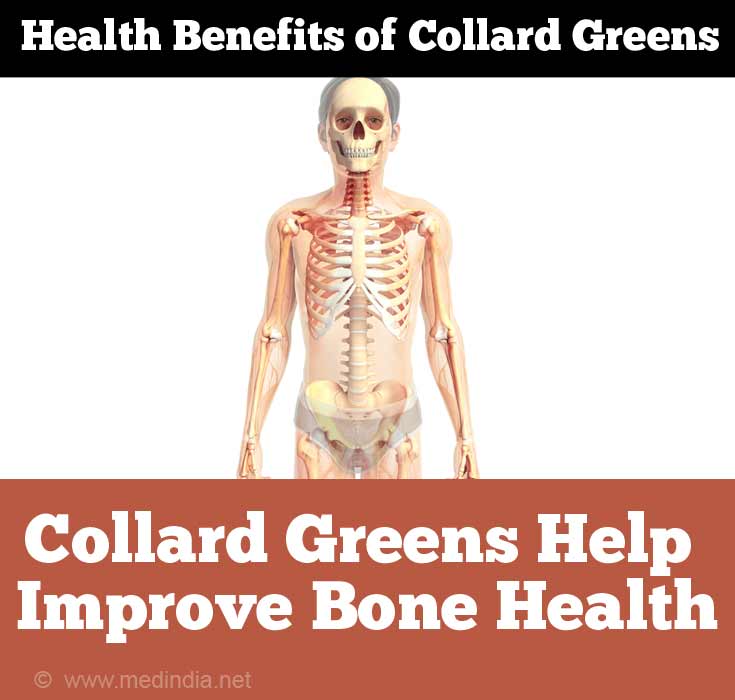 Fight against Cancer:
Collard greens are rich in phytonutrients like caffeic acid, ferulic acid, quercetin, and kaempferol, which possess anti-cancer properties; particularly lowering the risk of lung and prostate cancer. They are an excellent source of vitamins A and C, powerful anti-oxidants counteracting oxidative stress, which can cause growth and development of cancerous cells. Collard greens contain chlorophyll, which blocks carcinogenic effects of heterocyclic amines generated when meat is grilled at a high temperature.
Improve Mental Health:
Vitamin K in collard greens also limits neuronal damage in Alzheimer's disease patients. They contain significant amounts of choline, which promote sleep, muscle movement, learning and memory and aid in the transmission of nerve impulses.
Folate-rich collard greens combat depression by preventing a build-up of homocysteine, which interferes with the flow of blood and other nutrients to the brain. Excess homocysteine also interferes with the production of the neurotransmitters – serotonin, dopamine, and norepinephrine, which regulate mood, sleep and appetite.
Aid in Digestion:
Collard greens have high fiber and water content, which prevent constipation and maintain a healthy digestive tract.
Maintain Healthy Skin and Hair:
Incorporating collard greens helps in maintaining smooth, supple skin and healthy hair. Vitamin C and manganese in collards are essential for collagen production, which provides structure to skin and hair, whereas vitamin A reduces wrinkles, spots and promote hair growth.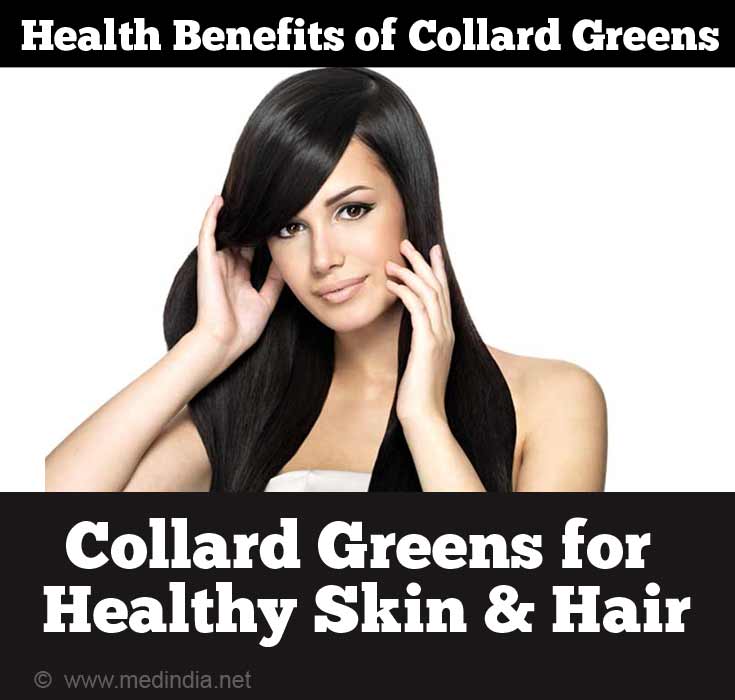 Baked collard greens chips are the most popular style in which collards are eaten. Apple cider vinegar and bacon complement collards best.
Here are some ingenious ways to cook collard greens in vegetarian style.
Collard Green Coleslaw:
Ingredients:
½ bunch collard greens
3 medium grated carrots
1 medium grated onion
1 medium diced red bell pepper
½ cup vinegar
⅓ cup sugar
¼ cup canola oil
1 teaspoon powdered mustard
Salt and pepper
Method:
Chop collard leaves in thin strips and place in a bowl. Add carrots, onion, and bell pepper.
Whisk together vinegar, sugar, oil, mustard, salt and pepper in a small saucepan and boil.
Remove from heat and pour the mixture over collard and vegetable mixture. Coat the vegetables with the dressing. Cover and chill for at least 4 hours.
Lemony-Nutty Collard Spaghetti:
Ingredients:
2 tablespoons extra-virgin olive oil
2 sliced garlic cloves, sliced
¼ teaspoon red pepper flakes
1 bunch thinly-sliced collard greens
¼ cup toasted pine nuts
2 tablespoons fresh lemon juice
2 cups whole grain spaghetti
¼ cup finely grated parmesan cheese
Salt
Method:
Heat oil in a skillet. Add garlic and red pepper flakes and cook for a minute.
Add collard greens and cook, until tender, about 5 minutes. Remove from heat; stir in pine nuts and lemon juice. Season with salt.
Meanwhile, cook spaghetti in a pot of boiling salted water until it becomes al dente.
Add spaghetti to the skillet.
Sprinkle with grated cheese. Serve immediately.
Tofu and Collard Scramble:
Ingredients:
½ tablespoon oil
2 minced garlic cloves
½ chopped onion
½ teaspoon turmeric powder
1 teaspoon freshly grated ginger
8-10 chopped collard green leaves
100 g crumbled tofu
Salt and pepper
Method:
Heat oil in a pan.
Add garlic, onion, turmeric, and ginger and cook for 3 to 4 minutes. Add collard greens and 2 tablespoons water. Cook for 2 minutes.
Add crumbled tofu and cook for 2 minutes. Add salt and pepper.
You can serve this scramble between a wrap, as a sandwich filling or as a vegetable.
Tips:
Choose collard greens with smooth dark green leaves and sturdy stems. Yellow leaves are more prone to wilting.
To store collards for a long duration, you can blanch and freeze them in zip lock freezer bags.
Collards, raw
The nutritional values of "Collards, raw" per 100 grams are:
Nutrition Summary
Total Calories
32
Protein
3 g
Fat
0.4 g
Carbohydrate
5.4 g
Nutrients
Amount
%Daily Value
Calcium, Ca
232 mg
23.2 %
Copper, Cu
0.05 mg
2.3 %
Iron, Fe
0.47 mg
2.61 %
Magnesium, Mg
27 mg
6.75 %
Manganese, Mn
0.66 mg
32.9 %
Phosphorus, P
25 mg
2.5 %
Potassium, K
213 mg
6.09 %
Selenium, Se
1.3 mcg
1.86 %
Sodium, Na
17 mg
0.71 %
Zinc, Zn
0.21 mg
1.4 %
Vitamin A
5019 IU
100.38 %
Vitamin C
35.3 mg
58.83 %
Vitamin B6
0.16 mg
8.25 %
Vitamin E
2.26 mg
7.53 %
Vitamin K
437.1 mcg
546.38 %
Riboflavin
0.13 mg
7.65 %
Thiamin
0.05 mg
3.6 %
Folate, DFE
129 mcg
32.25 %
Niacin
0.74 mg
3.71 %
Sugars
0.46 g
Fiber
4 g
16 %
Cholesterol
0 mg
0 %
Water
89.62 g
Carotene, alpha
14 mcg
Carotene, beta
2991 mcg
Choline
23.2 mg
Lycopene
0 mcg

View all +
Data source: USDA Nutrient Database, R25
*Percent Daily Values (%DV) are based on a 2,000 calorie reference diet. Your daily values may be higher or lower based on your individual needs.
References:
The World's Healthiest Foods -

(http://www.whfoods.org/)
Latest Publications and Research on Health Benefits of Collard Greens