What is Chikoo?
A sweet and delicious tropical fruit, chikoo is armed with a plethora of nutritional benefits. Chikoo is also known as sapota, sapodilla, nose berry, sapodilla plum or chikoo sapote. Chikoo fruit is a round or oval-shaped berry, which weighs around 150 grams. Chikoo fruit is soft and the inner pulp is easily digestible and has a crunchy and sweet flavour. The sugars such as fructose and sucrose present in the fruit gives it the sweetness that revitalizes you.
Chikoo is a tropical fruit, which is a native of American continent, but it is largely grown in India and Mexico. The ripened sapota is a good source of vitamins and minerals such as folic acid, niacin, pantothenic acid, potassium, copper and iron.
The chikoo fruit contributes to overall health and wellness of the body because it is packed with many nutrients. Chikoo is high in calories and so, it falls in the category of fruits such as mango, banana and jack fruit. The sapodilla fruit and other parts of sapota are used in the traditional medicine to treat coughs and colds; it also possesses diuretic, antidiarrheal, antibiotic, antihyperglycemic and hypercholesteraemic effects.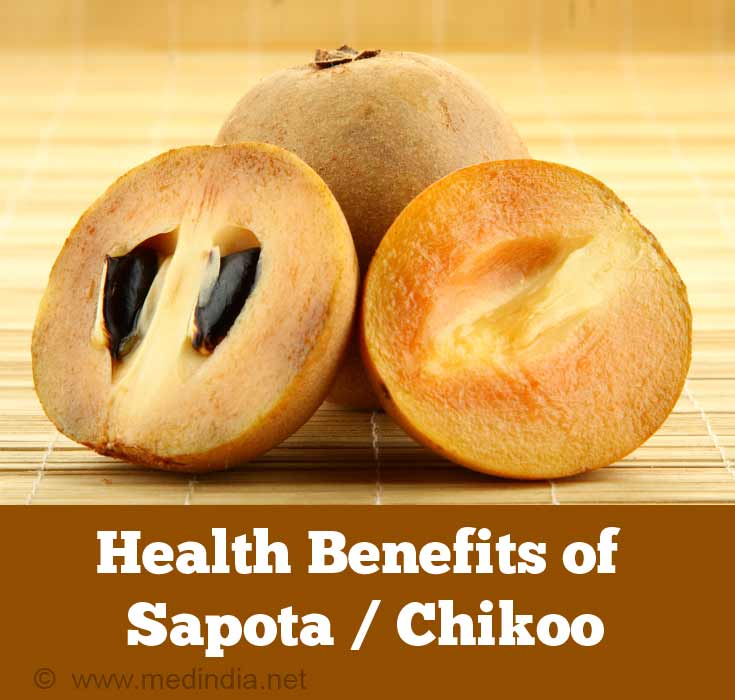 An Efficient Laxative and Antidiarrheal Agent: Sapota fruit is rich in dietary fibers and hence acts as a good bulk laxative. The fiber content of the fruit gives you relief from constipation, supports the colon membrane and prevents infections. Chikoo fruit is also an antidiarrheal agent owing to its purgative properties. It also helps in the alleviation of piles and dysentery. A decoction made by this fruit can also be administered as a cure for diarrhea.
Remedy for Cough and Cold: Sapota fruit has been used in alternative medicine in the treatment of congestion and chronic coughs. It helps in eliminating the phlegm and mucous from the nasal passage and respiratory tract. Hence it acts as a great remedy in alleviating colds and coughs.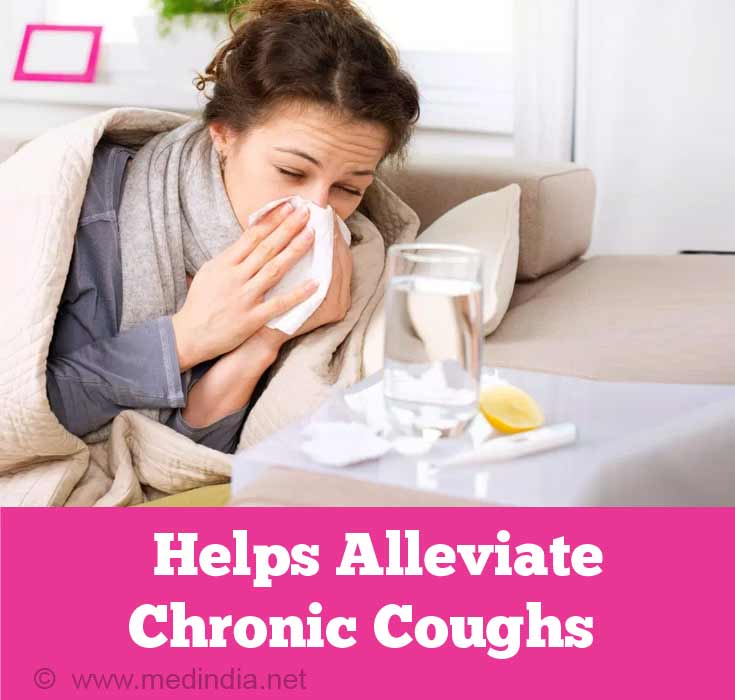 Antidiabetic and Anti-Lipidemic Properties: Recent research has shown significantly controls blood glucose levels. The extracts of leaves and pulp of sapota can reduce levels of glycaemia, insulin, leptin, cholesterol and triglycerides and increased the amount of high-density lipids. Its use also resulted in a marked decrease in weight gain.
Advertisement
Excellent Anti-Inflammatory Properties: Sapota is a good anti-inflammatory agent because of the high amount of tannins present in the fruit. It is used in preventing many disease conditions such as esophagitis, enteritis, irritable bowel syndrome and gastritis. It is also used to alleviate inflammation by reducing swelling and pain, and also treat arthritis. It acts as an anti-arthritic agent and used to treat certain rheumatic diseases.
Chikoo for Cancer: Chikoo protects against carcinogenic toxins and hence it can be used in the treatment of colon cancer, and also lung and oral cavity cancers due to its vitamin A content. The vitamins A and B are responsible for maintaining a healthy mucous lining of the body and texture of the skin. The antioxidants, dietary fibres, and nutrients present in sapota protects against cancer and bind the carcinogens to protect the mucous membrane of the colon. It results in significant inhibition of the tumor growth.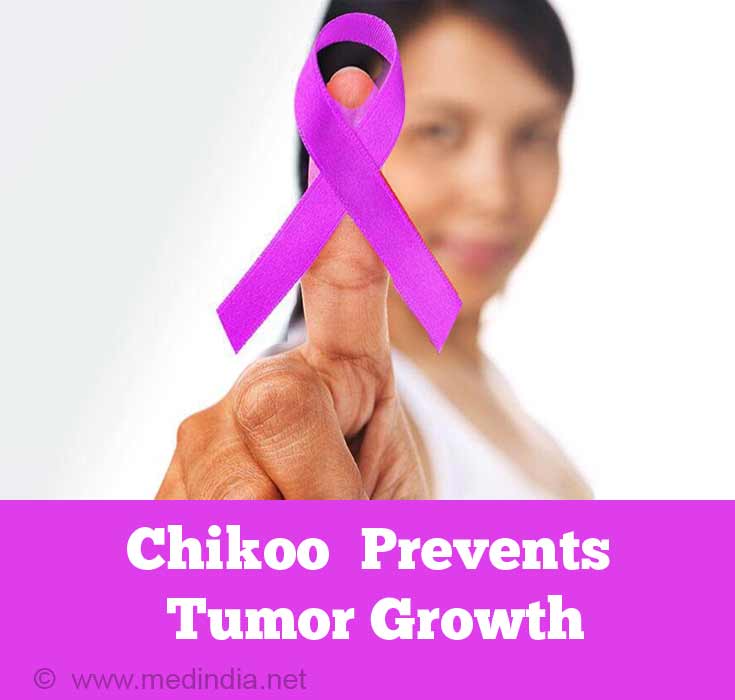 Great Antioxidant: The tannins present in chikoo fruit help in neutralizing acids and hence it has good anti-antioxidant properties. Antioxidant vitamins are also present in sapota, which is due to the presence of vitamin C, and vitamin A. Vitamin C enables the body to develop resistance against infections and also prevent formation of harmful free radicals.
Antimicrobial Properties: Chikoo fruit is an antiviral, anti-bacterial, anti-inflammatory and anti-parasitic agent. It has been used in the treatment of diarrhea and as a remedy for haemorrhoids, it also prevents bleeding.
Use of Chikoo during Pregnancy: Sapota is extremely beneficial for pregnant and lactating mothers. Women should consume chikoo during pregnancy because it helps in reducing weakness and in alleviating other pregnancy associated symptoms such as nausea and dizziness.
Skin Benefits of Chikoo: You can achieve a healthy and glowing skin by consuming this fruit. It helps in enhancing the glow of the skin, skin texture and complexion through completely natural means. The vitamin E content of sapota helps in effective moisturization of the skin resulting in a healthy and beautiful skin. The antioxidant properties of sapota also give it anti-aging benefits and help in reducing wrinkles. It helps in eliminating free radicals, which are responsible for enhancing the aging process. The milky sap obtained from the sapota plant is also useful in removing warts and fungal growth on the skin. The high vitamin A content of sapota fruit helps in maintaining and supporting good vision. The vitamin A is also helpful in improving vision in old age.
Benefits of Chikoo for Hair: Owing to the nutritional content of chikoo, it contributes in maintaining healthy hair. The oil obtained from the seeds of sapota moisturizes and softens your hair. It is excellent for curly hair and gives it sheen without leaving it greasy. It also nourishes the scalp by alleviating irritated skin conditions. It is also an effective remedy for preventing and treating hair-fall caused by seborrheic dermatitis.
The fresh and ripe sapodilla fruit can be cut into four parts and eaten directly by removing the seeds and outer covering of the fruit. Sapodilla also forms a good ingredient of salads and smoothies. The sugary taste of sapota has encouraged its use in shakes as well.
Advertisement
Chikoo Melon Shake Recipe
Ingredients:
1 cup chopper chikoo
1 cup chopped muskmelon
3 tbsp sugar
4 cups milk
½ tsp cardamom powder
Ice cubes as required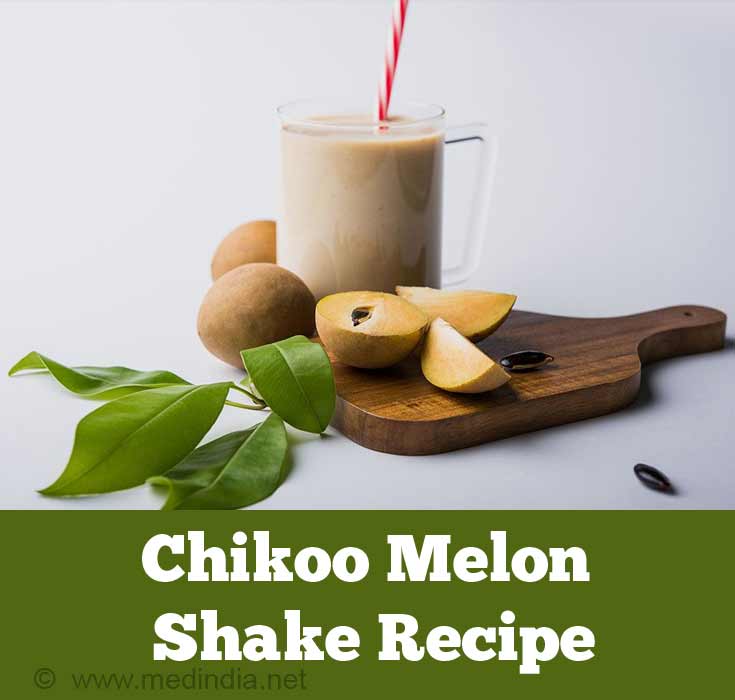 How to prepare?
Mix all the ingredients in a blender and blend well. Pour the shake in individual glasses and serve chilled with the help of ice cubes.
Health and Beauty Tips
Hair Mask
Grind the seeds of sapota and prepare a paste by mixing it with castor oil. Apply this mixture on the scalp and leave overnight. Wash it off next day with water to get smooth and shining hair. This hair mask is also a great remedy for dandruff.
Skin Ointment
The seed kernel oil of sapota can be applied on painful skin afflictions and used as a skin ointment.
Nutrition Facts for Chikoo / Sapodilla / Sapota Fruit
The nutritional values of "Chikoo / Sapodilla / Sapota Fruit" per 100 grams are:
Nutrition Summary
Total Calories
83
Protein
0.4 g
Fat
0.4 g
Carbohydrate
20 g
Nutrients
Amount
%Daily Value
Calcium, Ca
21 mg
2.1 %
Copper, Cu
0.09 mg
4.3 %
Iron, Fe
0.8 mg
4.44 %
Magnesium, Mg
12 mg
3 %
Manganese, Mn
~
Phosphorus, P
12 mg
1.2 %
Potassium, K
193 mg
5.51 %
Selenium, Se
0.6 mcg
0.86 %
Sodium, Na
12 mg
0.5 %
Zinc, Zn
0.1 mg
0.67 %
Vitamin A
60 IU
1.2 %
Vitamin C
14.7 mg
24.5 %
Vitamin B6
0.04 mg
1.85 %
Vitamin E
~
Vitamin K
~
Riboflavin
0.02 mg
1.18 %
Thiamin
0 mg
0 %
Folate, DFE
14 mcg
3.5 %
Niacin
0.2 mg
1 %
Sugars
~
Fiber
5.3 g
21.2 %
Cholesterol
0 mg
0 %
Water
78 g
Carotene, alpha
~
Carotene, beta
~
Choline
~
Lycopene
~

View all +
Data source: USDA Nutrient Database, R25
*Percent Daily Values (%DV) are based on a 2,000 calorie reference diet. Your daily values may be higher or lower based on your individual needs.
Please use one of the following formats to cite this article in your essay, paper or report:
APA

Pooja Srivastava Banerjee. (2019, January 12). Health Benefits of Chikoo | Sapodilla | Sapota Fruit. Medindia. Retrieved on Oct 02, 2023 from https://www.medindia.net/patients/lifestyleandwellness/health-benefits-of-chikoo.htm.

MLA

Pooja Srivastava Banerjee. "Health Benefits of Chikoo | Sapodilla | Sapota Fruit". Medindia. Oct 02, 2023. <https://www.medindia.net/patients/lifestyleandwellness/health-benefits-of-chikoo.htm>.

Chicago

Pooja Srivastava Banerjee. "Health Benefits of Chikoo | Sapodilla | Sapota Fruit". Medindia. https://www.medindia.net/patients/lifestyleandwellness/health-benefits-of-chikoo.htm. (accessed Oct 02, 2023).

Harvard

Pooja Srivastava Banerjee. 2019. Health Benefits of Chikoo | Sapodilla | Sapota Fruit. Medindia, viewed Oct 02, 2023, https://www.medindia.net/patients/lifestyleandwellness/health-benefits-of-chikoo.htm.
Latest Publications and Research on Health Benefits of Chikoo
Request an Appointment with a Doctor (Nutrition Expert)
Dr. Jaya Aishwarya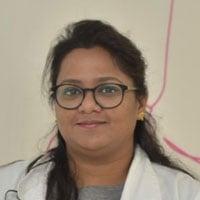 BSc, MSc, PhD
3 years experience
Health and Nutrition , Malviya nagar , New Delhi
Dt. Nishita Suratkal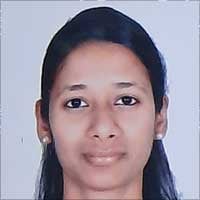 BSc, MSc
5 years experience
Nutrify your Gut, Thakur Village, Mumbai
Dt. Medha Unnithan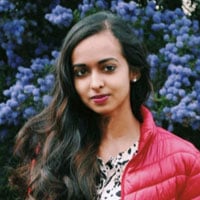 BSc, MSc, MSc, BSc
1 year experience
Vecura Wellness Clinic, Pn podur , pudukinar street , Tamil nadu 641014, Coimbatore
Dt. Sumita Thomas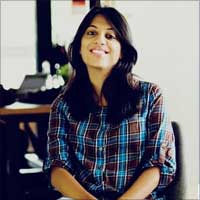 BSc, MSc
13 years experience

View All