What are Blueberries?
Blueberries are a dark blue or purple color and they are very sweet with tiny seeds that give the fruit a delicious crunch. The size of the blueberry can vary, but they are generally no bigger than a coin. The almost transparent flesh of the fruit is succulent which makes them perfect for pies and cakes. Blueberries can be cultivated or picked from blueberry bushes that grow in the wild.
The blueberry has gained popularity in the last decade due to emerging scientific information on blueberry health benefits. Today, the blueberry is the second most popular berry (strawberry being the most popular berry).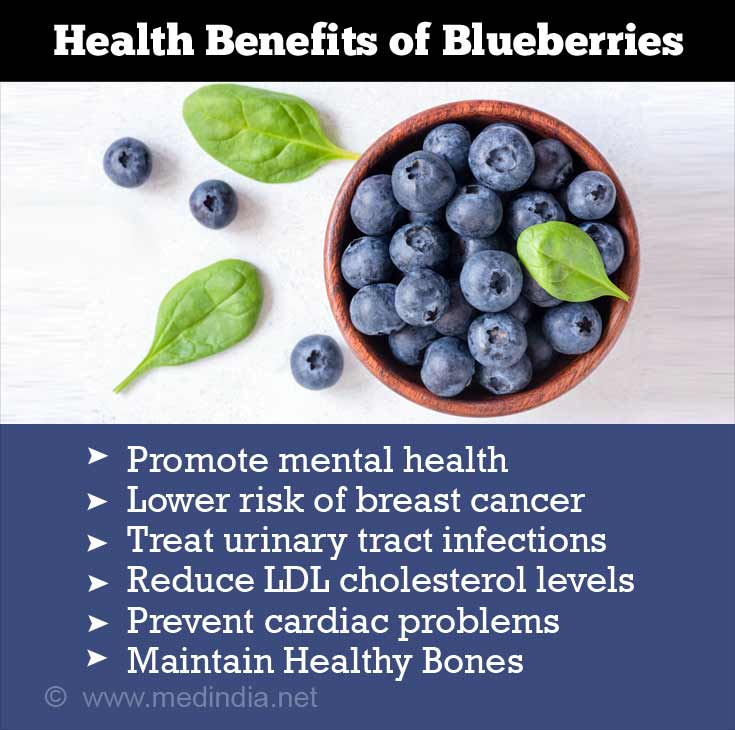 Health Benefits of Blueberries
Blueberries Promote Mental Health in Seniors: The nutrients in blueberries, specifically the vitamins, minerals and anthocyanins, can prevent and even treat neurotic disorders by protecting neurons and brain cells. Anthocyanins are powerful water-soluble antioxidants that give fruits like blueberries their distinct astringent taste sensation. Researchers at the University of Cincinnati proved that blueberries can help maintain memory function and prevent cognitive degeneration. Memory loss and cognitive degeneration are also closely linked to depression in seniors and the researchers found that a diet that was supplemented by blueberries had a positive effect on all three problems.

Another study showed that blueberries might be especially effective in preventing memory loss in elderly women as even a single serving of blueberries a week could help to slow cognitive degeneration. Some studies also show that blueberries improve motor skills and might even reduce an individual's risk of Alzheimer's disease. In animal studies, the results of the tests showed that older animals that were kept on a blueberry-rich diet improved their learning capacity and motor skills which suggests that blueberries for brain health may have practical applications for humans.
Blueberries for UTI Treatment and Prevention: Blueberries play a major role in the prevention and treatment of urinary tract infections (UTIs). Blueberries contain certain natural chemicals that prevent harmful bacteria from sticking to the cells that line the urinary tract. Human tests conducted on women who suffered from recurrent infections showed that women who consumed blueberry juice regularly had a lower risk of getting a UTI. Blueberries contain high amounts of bioflavonoids (called epicatechin), which help prevent UTIs and may even help reduce the severity of an existing infection.
Blueberries for Cancer: Blueberries have a wide variety of nutrients, some of which have been proven to reduce the risk of cancer. One of the main reasons why blueberries are effective in staving off cancer is because of their high antioxidant content. Antioxidants prevent damage by free radicals within the body and this reduces the risk of cancer and various other health problems. Animal tests in mice showed that blueberries can lower the risk of breast cancer and it may be effective even against more aggressive forms of breast cancer. Researchers feel that two cups of blueberries should be adequate to obtain similar results in humans. Human studies are now underway to determine the dosage and effects of blueberries for cancer prevention and treatment.

Cancer research has shown that a diet that is rich in phenolic compounds may result in a decreased cancer risk. In in-vitro tests, the polyphenols in blueberries were directly associated with the inhibition of colon cancer cell proliferation. This suggests that blueberry intake may reduce the risk of colon cancer. Similarly, tests in mice with lung cancer showed that blueberry extract supplements are very effective in reducing the number and the size of cancerous tumors.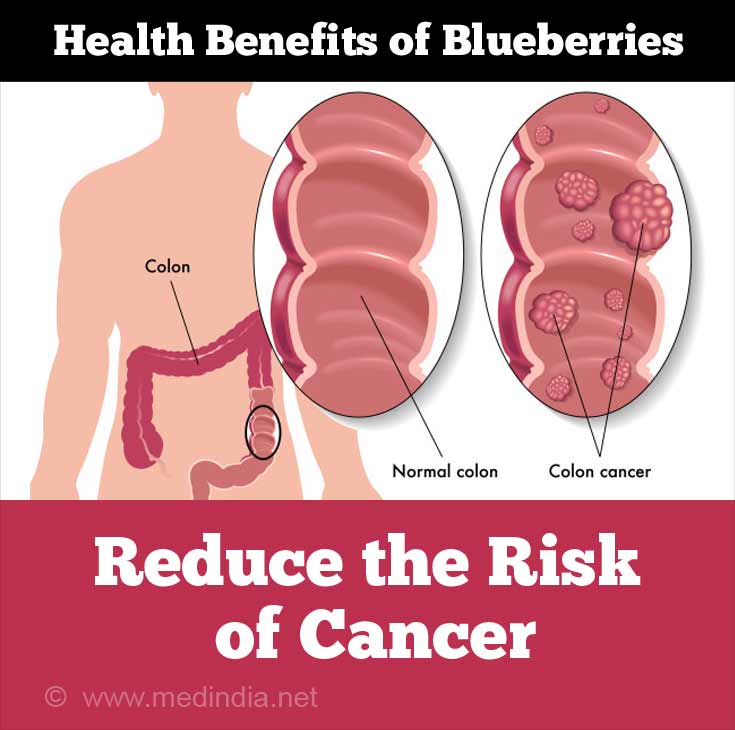 Blueberries for Heart Health: Consuming blueberries on a regular basis can improve overall heart health and prevent cardiac problems. In a laboratory test on two groups of mice, both were fed the same diet, but only one group received powdered blueberry along with their food. The rats that were fed the blueberry powder had less plaque formation in their aortas. Blueberries also help to reduce LDL cholesterol levels, and so this would provide additional protection from heart problems.
Blueberries for High Blood Pressure: Blood pressure is the force exerted by your blood on your arteries as your heart pumps blood throughout your body. High blood pressure is the term used to describe the chronic medical condition when an individual's blood pressure remains elevated. Since high blood pressure usually does not have any symptoms, it often goes untreated and the elevated blood pressure damages various organs in the person's body. High blood pressure can lead to heart failure, stroke, coronary heart disease and many other health issues. It is also one of the leading causes of end-stage kidney disease. Several laboratory studies have indicated that wild blueberries decrease the amount of oxidative stress on the blood vessels of the heart. These berries can also help regulate blood pressure and decrease inflammation.
Blueberries for Men: In a recent study, scientists examined the effects of fruit juices such as pomegranate, blueberry and cranberry on erectile response. These juices are high in antioxidants and so they have immense free radical scavenging capacity. The long-term consumption of blueberry juice resulted in increased blood flow and improved erectile response. Another study that studied the effects of blueberry on Peyronie's disease concluded that prescribed medication combined with the antioxidants in blueberries and vitamin E increased the patients' response to the prescribed treatment.
Blueberries for Weight Loss: It would be wise to include blueberries in a weight loss diet as research shows that these berries can help prevent weight gain. Rats that were fed on a high-fat diet along with blueberry extracts had less overall weight gain and more importantly, they had less accumulation of body fat as compared to the rats that were not given the blueberry extract. They also had less abdominal fat, which could prove to be very beneficial to humans as it is especially tough to get rid of belly fat.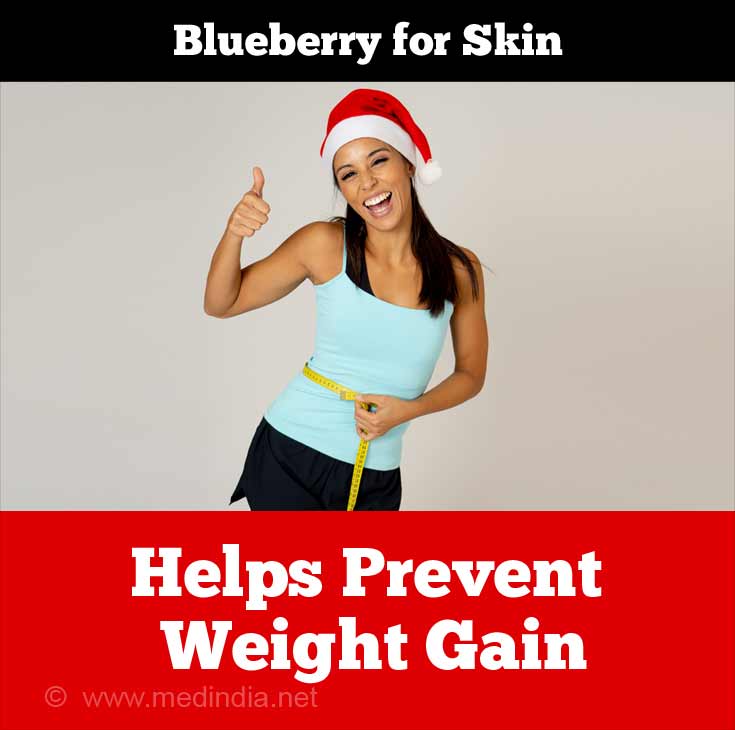 Blueberries to Maintain Healthy Bones: Blueberries contain a wide variety of vitamins and minerals including vitamin K, calcium, magnesium, phosphorus and zinc. These vitamins and minerals are crucial to the maintenance of bones and joints. Vitamin K is especially important for good bone health as it increases the body's absorption of calcium and decreases calcium loss.
Blueberries Recipe
Blueberry Muffins
Ingredients:
½ cup butter
2 cups all-purpose flour
2 cups fresh or frozen blueberries
¼ cup milk
¼ cup Greek yogurt
2 large eggs
¾ cup granulated sugar
2 ½ teaspoons baking powder
1⁄4teaspoon salt
1 teaspoon vanilla
zest from one lemon
Method:
Preheat your oven to 375 degrees.
Mix the butter and sugar in a large mixing bowl and then add the eggs. Beat thoroughly to form a thin mixture.
Add the vanilla, salt, lemon zest and baking powder and beat it once more until the mixture is smooth.
Add a few spoons of the milk, the yogurt and the flour to the bowl and mix thoroughly to form a runny batter. Repeat this step until all the flour, yogurt and milk has been added to the batter.
Transfer the batter to a transparent glass bowl and use a spoon to fold in the blueberries gently. Leave it undisturbed for 5 minutes then check if the blueberries have sunk to the bottom of the bowl. If they have sunk, it means that your batter is not stiff enough to hold up the blueberries and you will need to add ¼ cup of flour to your batter
Grease 18 regular-size muffin tins or 12 large size muffin tins.
Spoon the batter into the muffin tins. If you are using regular size muffin tins, you will need to bake them for 20-25 minutes and if you are using larger tins, you will need to increase your baking time by 10 minutes.
Advertisement
Blueberry Diet and Skin Care Tips
Diet plays a large role in determining skin health, but daily cleansing and moisturizing is also necessary in order to have clear smooth skin. Here's how you can include blueberries in your diet and skincare routine:
Blueberry Juice: Blend a handful of blueberries along with an apple and have this juice along with your breakfast each morning. Blueberries contain several vitamins including vitamin C and vitamin K, which are needed to make collagen and aid in the repair of skin tissue. Blueberries are also a good source of dietary fiber and so a glass of blueberry juice along with your breakfast will help to keep you feeling full right until lunch. Blueberry calories are very low – just over 50 calories in a 100 gms serving, which makes it perfect for a weight loss diet plan.
Blueberry Face Scrub: Puree 5 to 6 berries along with a spoon of honey and 5 drops of lemon juice. Pour this into a bowl and add a teaspoon of coarsely ground rice flour and 2 teaspoons of gram flour to it. Mix this thoroughly and apply the paste to your face. Allow it to remain on your face for 5 minutes and then use a little water to massage it into your skin slowly. Gram flour contains saponins which give it a natural soap-like quality while the rice flour scrubs off the uppermost layer of dead skin cells and grime. The blueberries in this scrub provide fruit enzymes have anti-aging properties and make your skin soft. The honey and lemon juice will moisturize your skin while getting rid of the excess oil, which results in visibly clearer skin. When using blueberries for skincare, be careful of your clothes as they can cause permanent stains on cloth.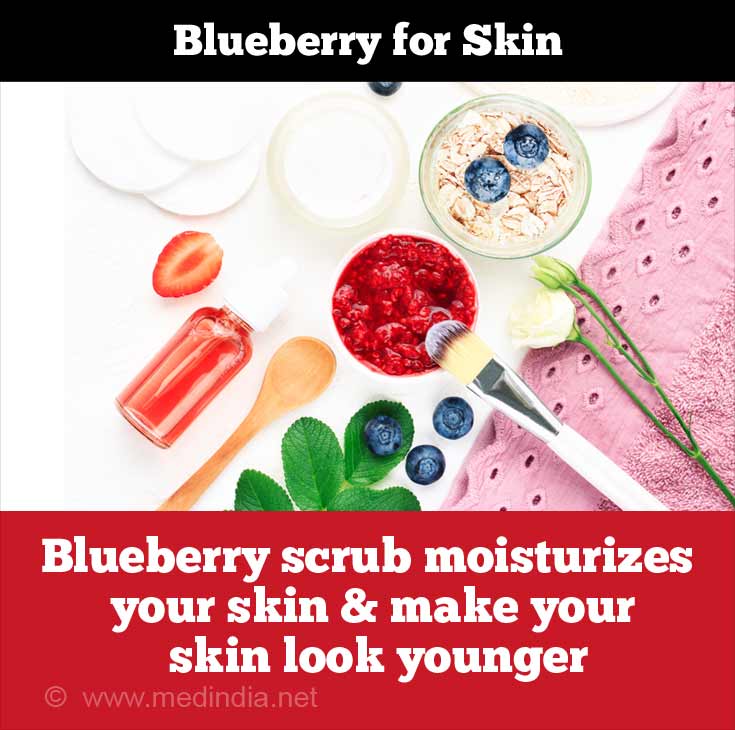 Blueberry Rejuvenating Face Mask: Grind dried blueberries or dehydrated blueberries to get a thin powder. Mix an equal amount of Fuller's Earth to this powder and store it in an air-tight container. Once a week, take two tablespoons of this powder and mix it with rose water and a little aloe vera gel to form a thick paste. Apply the paste in an even layer to your entire face and allow it to dry completely before rinsing it off with warm water.
Nutrition Facts for Blueberries
The nutritional values of "Blueberries" per 100 grams are:
Nutrition Summary
Total Calories
57
Protein
0.7 g
Fat
0.4 g
Carbohydrate
14.5 g
Nutrients
Amount
%Daily Value
Calcium, Ca
6 mg
0.6 %
Copper, Cu
0.06 mg
2.85 %
Iron, Fe
0.28 mg
1.56 %
Magnesium, Mg
6 mg
1.5 %
Manganese, Mn
0.34 mg
16.8 %
Phosphorus, P
12 mg
1.2 %
Potassium, K
77 mg
2.2 %
Selenium, Se
0.1 mcg
0.14 %
Sodium, Na
1 mg
0.04 %
Zinc, Zn
0.16 mg
1.07 %
Vitamin A
54 IU
1.08 %
Vitamin C
9.7 mg
16.17 %
Vitamin B6
0.05 mg
2.6 %
Vitamin E
0.57 mg
1.9 %
Vitamin K
19.3 mcg
24.13 %
Riboflavin
0.04 mg
2.41 %
Thiamin
0.04 mg
2.47 %
Folate, DFE
6 mcg
1.5 %
Niacin
0.42 mg
2.09 %
Sugars
9.96 g
Fiber
2.4 g
9.6 %
Cholesterol
0 mg
0 %
Water
84.21 g
Carotene, alpha
0 mcg
Carotene, beta
32 mcg
Choline
6 mg
Lycopene
0 mcg

View all +
Data source: USDA Nutrient Database, R25
*Percent Daily Values (%DV) are based on a 2,000 calorie reference diet. Your daily values may be higher or lower based on your individual needs.
References:
Blueberries and Health -

(http://www.ars.usda.gov/News/docs.htm?docid=24546)

Health Benefits of Bilberries (Wild Blueberries) -

(https://www.healwithfood.org/health-benefits/bilberries.php)
Latest Publications and Research on Health Benefits of Blueberries
Please use one of the following formats to cite this article in your essay, paper or report:
APA

Shaun DMello. (2019, July 24). Health Benefits of Blueberries. Medindia. Retrieved on Aug 17, 2022 from https://www.medindia.net/patients/lifestyleandwellness/health-benefits-of-blueberries.htm.

MLA

Shaun DMello. "Health Benefits of Blueberries". Medindia. Aug 17, 2022. <https://www.medindia.net/patients/lifestyleandwellness/health-benefits-of-blueberries.htm>.

Chicago

Shaun DMello. "Health Benefits of Blueberries". Medindia. https://www.medindia.net/patients/lifestyleandwellness/health-benefits-of-blueberries.htm. (accessed Aug 17, 2022).

Harvard

Shaun DMello. 2021. Health Benefits of Blueberries. Medindia, viewed Aug 17, 2022, https://www.medindia.net/patients/lifestyleandwellness/health-benefits-of-blueberries.htm.
Request an Appointment with a Doctor (Nutrition Expert)
Ms. Jaichitra R
DNHE
1 year experience

Ms. Pandi Alagammai Thillainathan
BSc, MSc
1 year experience
Online mode, Porur, Chennai
Dr. Sunita Malhotra
DDPHN, MSc
30 years experience
Pro Health Diet Clinic, Sector 37-C, Chandigarh
Ms. Nishita Suratkal
BSc, MSc
5 years experience
Nutrify your Gut, Thakur Village, Mumbai
View All