What is Banana Flower?
The banana flower is also known as a banana blossom or a banana heart and it is a drop-shaped purple flower that hangs at the end of a cluster of bananas. The tough maroon petals that surround the blossoms are known as bracts and need to be removed and discarded as they are inedible.
The light yellow floret encased within the bracts can be diced and eaten raw in salads or they can be cooked in curries. Like potatoes, apples and bananas, the flowers oxidize and turn black when they come in contact with air and so they should be soaked in water to prevent this from happening.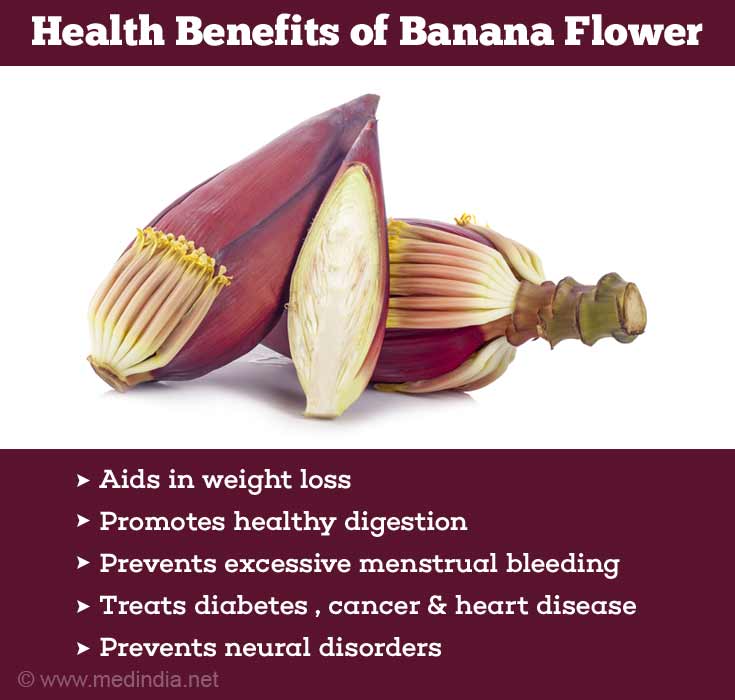 Banana flowers are valued for their nutritional and health benefits in most parts of Asia which is why it is very popular in Southeast Asian cuisine. Banana flower nutrition facts are particularly impressive as they contain a wide variety of nutrients. This flower also contains several minerals including phosphorous, calcium, potassium and magnesium. Some of the banana flower benefits for health include:
Banana Flower for Weight Loss
About 100 grams of banana flowers contain approximately 40 calories with less than 5 grams of protein and carbohydrates. They are also high in fiber and so an individual would feel satiated for longer periods. This makes banana flowers ideal for any weight loss diet plan. The simplest way to enjoy banana flower benefits for weight loss is to combine the banana flowers with other low-calorie fresh vegetables in salads and soups.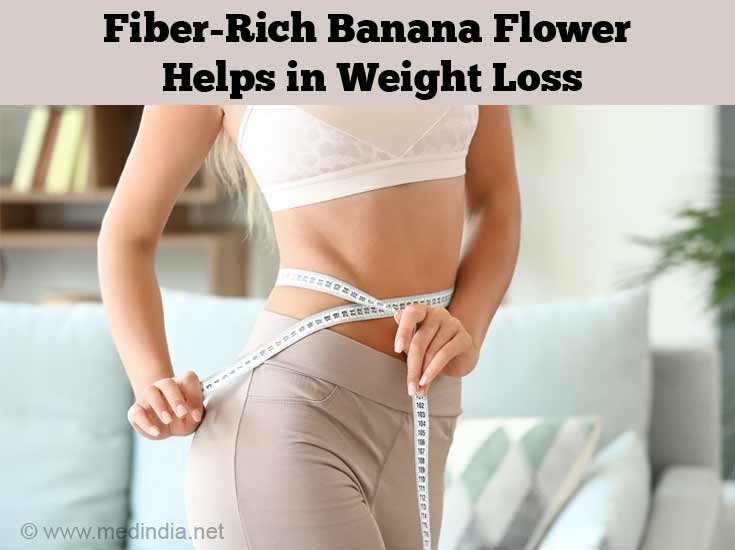 Banana Flower for Gastrointestinal Health
Banana flowers are a good source of dietary fiber as they contain soluble and insoluble fiber. Soluble fiber dissolves in water and forms a gel, which allows food to pass easily through the digestive tract. People with irritable bowel syndrome (IBS) and those who often suffer from diarrhea are often advised to increase their intake of soluble fiber and so they should include banana flowers in their regular diet plan. The insoluble fiber in banana flowers does not dissolve in water and it helps provide bulk to undigested waste products. This is why people with chronic constipation need to increase their intake of insoluble fiber. Both types of dietary fiber promote healthy digestion and absorption of food in the gastrointestinal tract.
Advertisement
Banana Flower for Diabetes
Diabetes mellitus is a metabolic disease which is characterized by high blood sugar levels for a prolonged period, and can wreak havoc on various organs in the body. The elevated sugar levels are linked to problems with insulin production or absorption. There have been several studies and animal tests in the last decade to determine the effect of banana flower on diabetes. A peer-reviewed study published in the Journal of the Science of Food and Agriculture showed that banana flower extracts promoted glucose uptake which in turn reduced blood sugar levels. The authors chalked this down to phenolic acids and other bioactives present in this flower. Similarly, a test carried out on diabetic rats showed that rats that were fed banana flower as part of their daily diet fared much better than the rats in the control group that did not receive the banana flower. The findings showed that the banana flower has anti-diabetic properties and that including it in a diabeticís diet would also reduce other diabetes symptoms such as polyuria, hyperglycemia and body weight fluctuations.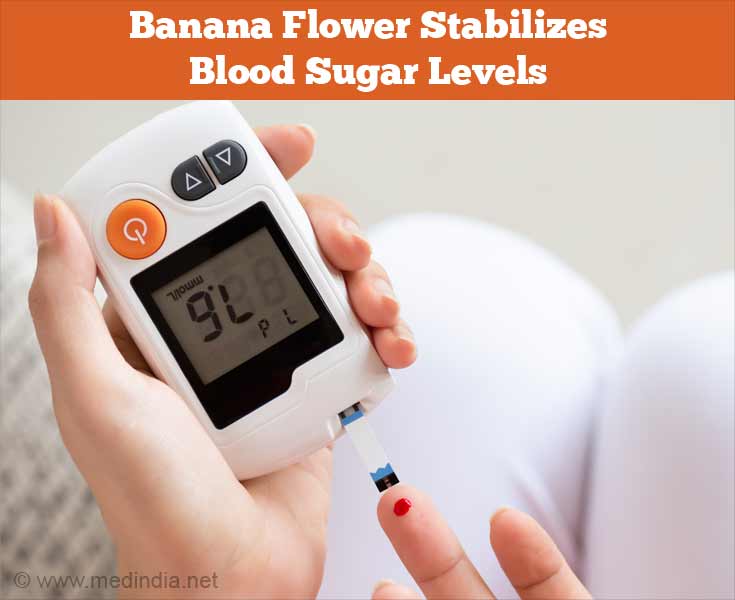 Banana Flower for Premenstrual Syndrome (PMS)
The severity of PMS symptoms can vary from one woman to another, and it can even vary month to month. Some of the most common PMS symptoms include bloating, digestive problems, mood swings, irritability and depression. Banana flowers are an effective home remedy for PMS as they can help to ameliorate a wide range of symptoms. Steamed banana flowers along with yogurt and freshly grated coconut is a simple, healthy and delicious dish that reduces PMS symptoms. The probiotics in yogurt along with the fiber in the flowers will help soothe digestive distress and prevent bloating. Banana flowers also contain magnesium which is a natural anti-depressant and so it will help reduce mood swings and depression. Some experts believe that banana flowers can increase a womanís progesterone levels, which will help prevent excessive menstrual bleeding.
Banana Flower for Cancer and Heart Disease
Banana flowers are rich in phenolic acids, tannins, flavonoids and various other antioxidants. These antioxidants neutralize free radicals and prevent oxidative damage. Since oxidative damage greatly increases the risk of several diseases including heart disease and cancer, antioxidants can play a vital role in preventing or even slowing down the progression of these conditions.
Advertisement
Banana Flower for Neural Disorders
Including banana flowers in a diet plan can also help prevent neural disorders such as Alzheimerís and Parkinsonís disease as free radicals easily damage the neural tissue.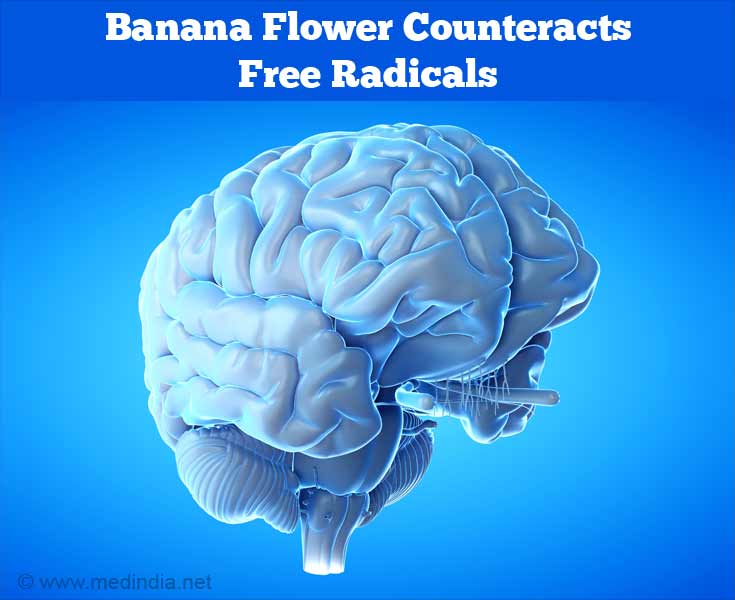 Choose a banana blossom that is unblemished and has a uniform purple-red color. The petals of the flower should be packed tightly together and there should be no sign of decay. The outermost petals are thick and tough and you will have to remove these along with the little matchstick-shaped pistil. Although you cannot consume these petals, they make beautiful dainty serving boats for your banana flower salad. The banana flower is quite bitter and so it is necessary to soak it overnight in water with vinegar or lemon juice. The acids in this juice break down the bitter sap, and this allows the other flavors to come to the forefront.
Banana Blossom Salad
Ingredients:
2 banana blossoms
500 grams shelled and cooked prawns
5 tablespoons of roasted almonds or assorted nuts
1 spring onion sliced fine
1 teaspoon lemon or sour lime juice
Salt and pepper to taste
1 tablespoon of butter
Advertisement
Method:
Core and dice the banana flowers and soak them overnight in a bowl of water to which a tablespoon of vinegar has been added. Rinse and drain well.
Cook the prawns in the butter along with a pinch of salt and pepper.
Grind the nuts coarsely so that it forms a chunky mix and not a smooth paste.
Add all the ingredients to a bowl and toss for a minute or two.
Refrigerate for 30 minutes and then garnish with a mint sprig and serve.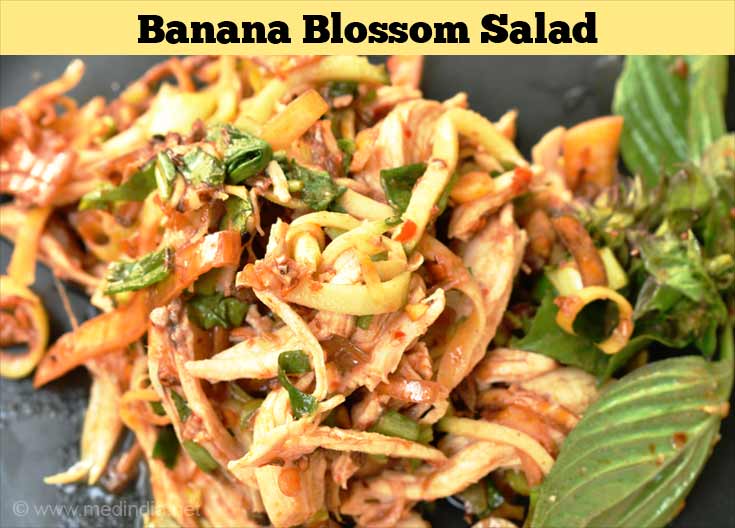 Molecular docking studies of banana flower flavonoids as insulin receptor tyrosine kinase activators as a cure for diabetes mellitus -

(http://www.ncbi.nlm.nih.gov/pmc/articles/PMC3314874/)

Botany class on how to dissect and clean banana flower -

(http://cooking.jingalala.org/2012/05/botany-class-on-how-to-dissect-and-clean-banana-flower/)
Please use one of the following formats to cite this article in your essay, paper or report:
APA

Shaun DMello. (2018, June 11). Health Benefits of Banana Flower. Medindia. Retrieved on Jan 30, 2023 from https://www.medindia.net/patients/lifestyleandwellness/health-benefits-of-banana-flower.htm.

MLA

Shaun DMello. "Health Benefits of Banana Flower". Medindia. Jan 30, 2023. <https://www.medindia.net/patients/lifestyleandwellness/health-benefits-of-banana-flower.htm>.

Chicago

Shaun DMello. "Health Benefits of Banana Flower". Medindia. https://www.medindia.net/patients/lifestyleandwellness/health-benefits-of-banana-flower.htm. (accessed Jan 30, 2023).

Harvard

Shaun DMello. 2021. Health Benefits of Banana Flower. Medindia, viewed Jan 30, 2023, https://www.medindia.net/patients/lifestyleandwellness/health-benefits-of-banana-flower.htm.
Latest Publications and Research on Health Benefits of Banana Flower
Request an Appointment with a Doctor (Nutrition Expert)
Dr. Sunita Malhotra
DDPHN, MSc
30 years experience
Pro Health Diet Clinic, Sector 37-C, Chandigarh
Dt. Unnati Sisodia
Diploma
2 years experience

Dt. Sara Maryam
BSc, CFN, MSc, MBA
9 years experience

Ms. Priti Kumari
DNHE, Diploma in Medical Nutrition, Medical Nutrition, Diploma in Yoga and Naturopathy, PGDHM, DND, DYTT
2 years experience
Aarogyam Fitness, Kadugodi,Whitefield, Bengaluru Urban
View All