How Beneficial is Almond Oil?
The many nurturing qualities of almond oil were recognized thousands of years ago. It has been an integral part of Ayurvedic medicines since 5000 years. There are several claims made by our ancestors about the
health benefits of almond oil such as it is good for heart health, useful in delaying aging, effective for sharp memory and lots more, but does the modern science too have the same view? If it is yes, then what makes almond oil so good for our health?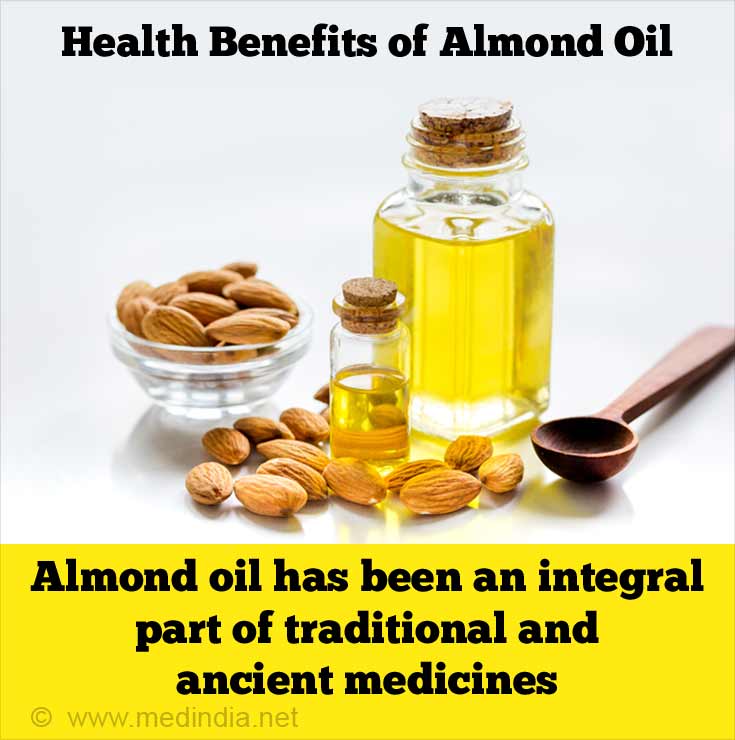 Almond oil has been an integral part of traditional and ancient medicines. It was quite popular in Greece and Italy long before the Christian era. In ancient medicines, they were quite valued for the purpose of preventing intoxication. During the middle ages, they became an important trade which was very popular in Central Europe. Almonds were generally grown in the countries bordering the Mediterranean.
Oil, almond
The nutritional values of "Oil, almond" per 100 grams are:
Nutrition Summary
Total Calories
884
Protein
0 g
Fat
0.4 g
Carbohydrate
0 g
Nutrients
Amount
%Daily Value
Calcium, Ca
0 mg
0 %
Copper, Cu
0 mg
0 %
Iron, Fe
0 mg
0 %
Magnesium, Mg
0 mg
0 %
Manganese, Mn
~
Phosphorus, P
0 mg
0 %
Potassium, K
0 mg
0 %
Selenium, Se
0 mcg
0 %
Sodium, Na
0 mg
0 %
Zinc, Zn
0 mg
0 %
Vitamin A
0 IU
0 %
Vitamin C
0 mg
0 %
Vitamin B6
0 mg
0 %
Vitamin E
39.2 mg
130.67 %
Vitamin K
7 mcg
8.75 %
Riboflavin
0 mg
0 %
Thiamin
0 mg
0 %
Folate, DFE
0 mcg
0 %
Niacin
0 mg
0 %
Sugars
0 g
Fiber
0 g
0 %
Cholesterol
0 mg
0 %
Water
0 g
Carotene, alpha
0 mcg
Carotene, beta
0 mcg
Choline
0.4 mg
Lycopene
0 mcg

View all +
Data source: USDA Nutrient Database, R25
*Percent Daily Values (%DV) are based on a 2,000 calorie reference diet. Your daily values may be higher or lower based on your individual needs.
References:
9 Best Benefits of Bitter Almond Essential Oil -

(http://www.organicfacts.net/health-benefits/essential-oils/health-benefits-of-bitter-almond-essential-oil.html)

Examining Phytosterols In Nuts andSeeds For The USDA National Nutrient Database for -

(http://www.nutrientdataconf.org/PastConf/NDBC31/3-1_Thomas.pdf)

Annual Review of Nutrition -

(https://www.annualreviews.org/doi/abs/10.1146/annurev.nutr.22.020702.075220?journalCode=nutr)
Post a Comment
Comments should be on the topic and should not be abusive. The editorial team reserves the right to review and moderate the comments posted on the site.