What is Hand Sanitizer?
A hand sanitizer is a gel that contains alcohol. It was developed for washing hands when soap and water are unavailable. This gel helps kill the germs like bacteria and viruses present in the skin and thus, protecting us against the onset of infections. To use hand sanitizers, place a small amount on your palm and rub it over your entire hands. If the hand sanitizer evaporates in less than 15 seconds, it means you have not used enough product.
Types of Hand Sanitizers
Hand sanitizers can be classified as:
Alcohol-based hand sanitizers
Alcohol-free hand sanitizers
Alcohol-based hand sanitizers contain 60-95 percent alcohol in the form of ethanol, isopropanol or n-propanol. Alcohol, at such a concentration, effectively kills the micro-organisms. This type of hand sanitizer is usually used in the hospital environment and is more effective when compared to antiseptic soaps.
Alcohol-free hand sanitizers contain disinfectants such as benzalkonium chloride or anti-microbial agents such as triclosan This type of sanitizer can protect against infections, but the alcohol-free solution itself is prone to contamination because alcohol is a natural preservative. However, the chances of alcohol-based hand sanitizer being contaminated are less.
The alcohol present in hand sanitizers can make your skin dry, thus emollients such as glycerin are added to hand sanitizers that keep the skin soft and minimize dryness. Besides this, hand sanitizers also contain thickening agents and fragrance.
Other types of hand sanitizers:
Chlorine-based hand sanitizers
Ammonia-based hand sanitizers
Silver/iodine-based hand sanitizers
Essential oil based (clove or cinnamon) hand sanitizers
Easy To Use
Hand sanitizer is easy to use and convenient to carry. They are handy to use especially in conditions where any soap and water are not available. Hence, hand sanitizers easily kill bacteria and germs in less than a minute. Hand sanitizer is safe and does not cause any skin reactions.
Reduces Risk of Infections
Washing hands before eating food can lower the risk of infections. Studies have found that hand sanitizers available in the market are effective against common bacteria and micro-organisms, which can be contagious. Applying hand sanitizer before eating a meal decreases the chances of gastrointestinal infections.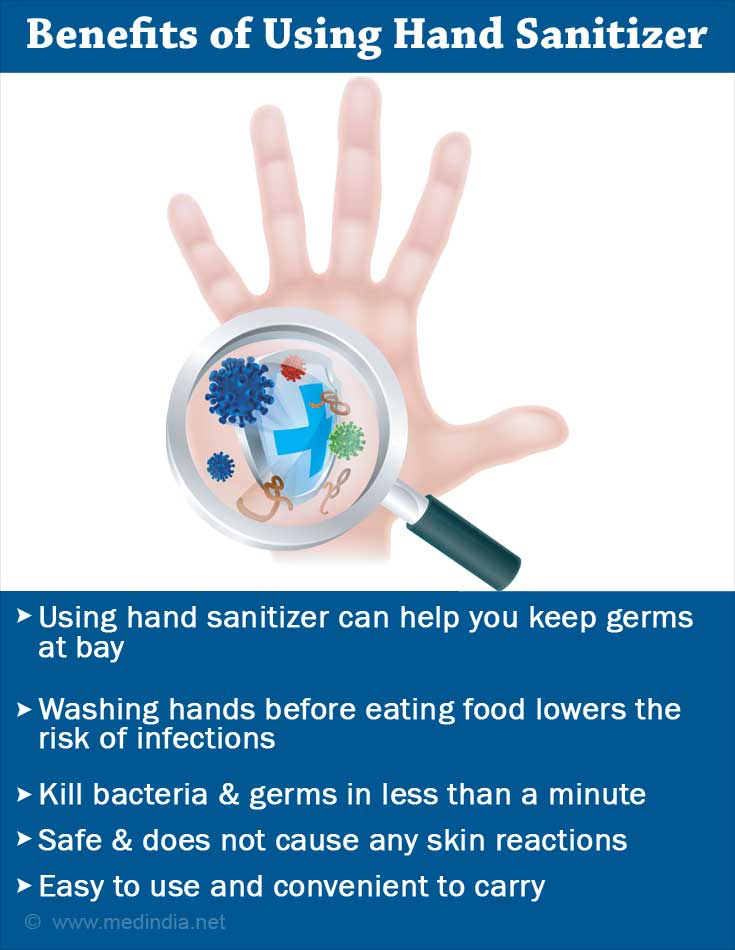 Maintains Cleanliness
The primary benefit of a hand sanitizer is that it keeps our hands clean by killing the bacteria and micro-organisms present. The components present in hand sanitizer kill 99.9 percent bacteria, thus keeping your hands are clean. Also, hand sanitizer stops the spread of germs.
Great Option For Group Settings
In places with a lot of foot traffic like classrooms and offices, germs like bacteria and viruses spread quickly. Therefore, having hand sanitizers available is great for these set-ups. Office staff, teachers and students can easily use hand sanitizer and reduce the risk of diseases and infections.
It is vital to use the hand sanitizer correctly to ensure that your hands get rid of germs before they spread.
The aim of using a hand sanitizer is to disinfect residues like dirt or oil and preventing it from penetrating deep into the skin. However, hand sanitizers should not be used to clean your hands, i.e., if your hands are visibly dirty, for example- after playing outdoors or after gardening.
While using a hand sanitizer, thoroughly coat your hands with the sanitizer. Do not just focus on your palms. Remember to apply it on the back of your hands as well as on nail beds, which would take approximately 20 seconds.
Once you have applied the hand sanitizer properly make sure you rub it until your hands are dry.
Does Not Clean Your Hands
As mentioned earlier, hand sanitizers do not clean your hands. If there is visible dirt present on your hands, you have to wash them with soap and water. Hence, soap and water are more effective in keeping your hands clean than hand sanitizer. Do not completely depend on hand sanitizers for keeping your hands clean and dirt-free.
Not Safe for Children
Research has found that hand sanitizers contain 60-95 percent alcohol, hence it must be kept out of reach of children. Accidental consumption of hand sanitizers in children may lead to vomiting and abdominal pain, and may further require medical treatment. Besides this, inhaling the sanitizer or entry of it into the eyes may cause breathing problems and irritation to the eyes. Hence, it is best to keep children away from hand sanitizers, especially those below 5 years of age.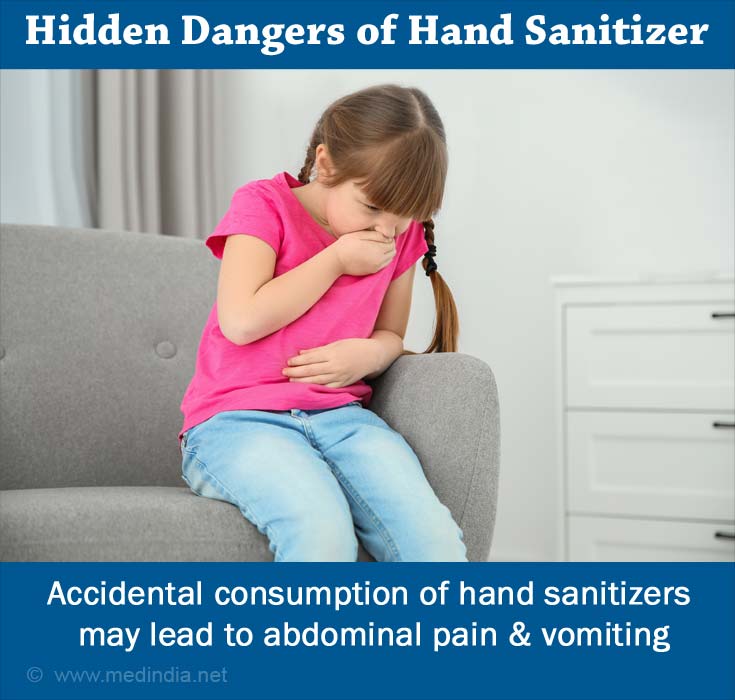 Other Disadvantages
Hand sanitizers are effective at killing micro-organisms and bad bacteria, but they may even destroy some good bacteria that are required by the body to maintain good health. Besides this, the high alcohol content of most hand sanitizers makes it flammable. Therefore, people should be careful and keep it away from candles and gas appliances. Do not place hand sanitizers or use them while grilling foods.
List of Hand Sanitizers in India
Zapcare Sanitize Hand Wash: Foam-based sanitizer
Winova Baby Smooth- Alcohol-free Hand Sanitizer: A foam-based sanitizer free from preservatives and additives
Klenza Alcohol-Free Hand Sanitizer: A foam-based sanitizer that does not contain alcohol
Himalaya PureHands Hand Sanitizer: A watery gel-based sanitizer with a string gin-like smell
Keisha Hand Sanitizer: It has a watery consistency and smells like spirit
Dr. Batra Hand Sanitizer: It is a non-alcohol spray and contains Indian basil extract.
Lifebuoy Total Hand Sanitizer: A gel-based sanitizer that smells like spirit
Godrej Protekt Hand Sanitizer: It feels like soap water and may smell like a floor cleaner
Zuci Junior Instant Hand Sanitizer: It smells like wine and feels like a watery gel
Dettol Instant Hand Sanitizer: It has a mild fragrance and a thick gel-like consistency
Hand sanitizer gel effectively kills the germs like bacteria and viruses. Using hand sanitizer is a fast and effective way to clean your hands in just 30 seconds. So, stay safe and clean as you use this incredible gel.
References:
Effectiveness of Liquid Soap and Hand Sanitizer against Norwalk Virus on Contaminated Hands -

(https://aem.asm.org/content/76/2/394)

Alcohol Sanitizer -

(https://www.ncbi.nlm.nih.gov/pubmed/30020626)

The impact of alcohol hand sanitizer use on infection rates in an extended care facility -

(https://www.ncbi.nlm.nih.gov/pubmed/12032498)
Latest Publications and Research on Hand Sanitizers - Interesting Facts You Must Know