About
Your precious eyes are a window to your soul! Your eyes can speak a million words without a sound as their beauty and sparkle tells the world that you are in good health with a balanced and sound mind.
Healthy eyesight and bright eyes requires an intake of the right blend of vitamins and minerals besides other essential nutrients like carbohydrates, fats, and proteins in an optimum amount.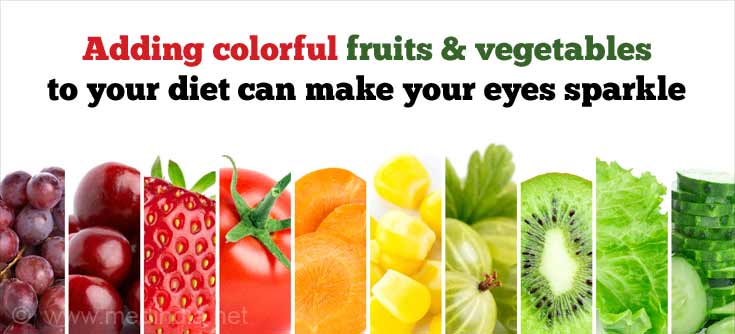 Regular intake of the following "rainbow colored foods" can help you to maintain a healthy vision with bright and sparkling eyes.
1. Go Green for Nutritional Power: Dark green leafy vegetables are the best bet in not only controlling age related macular degeneration (AMD), retinal damage, cataracts or glaucoma but also for the sparkle in your eyes. This is because calorie for calorie they are the most concentrated form of nutrition dense foods that contain antioxidants (substances that protect your body against the damage caused by free radicles), lutein, zeaxanthin, beta- carotene, vitamin A, vitamin C, vitamin E, vitamin K, folate, calcium, zinc and iron besides dietary fiber. Lutein and zeaxanthin helps protect your eyes against the oxidative damage caused by the ultraviolet rays. Good sources of greens include spinach and other leafy greens, broccoli, cabbage, green peppers and cucumbers.
2. Binge on Yellow and Orange: Yellow and orange colored fruits and vegetables are rich in beta-cryptoxanthin which is a pro-vitamin A carotenoid, vitamin C, vitamin A, folate and other antioxidant phytonutrients. Clinical studies such as the "Rotterdam study" have proved that a diet rich in carotenoid vegetables can reduce the development of age-related genetic macular degeneration of the eye among the elderly and blindness (age related macular degeneration or AMD is a slow destruction of the macula of the retina in the eye which is responsible for the central vision necessary for reading or even driving). Increasing vitamin C intake also reduces cataract. Rich sources of yellow and orange foods are apricots, carrots, lemons, mangoes, papayas, oranges, peaches, pears, and pumpkins.
3. Give me Red!: Red colored foods contain lycopene, anthocyanins, ellagic acid, quercetin, and hesperidin besides vitamin C and other powerful antioxidants which fights disease and gives you great eyes and a healthy body. Tomatoes tops the list in red colored foods because of a very high quantity of lycopene. Other red foods include beetroots, apples, cherries, strawberries, red grapes, watermelons, red wine and red onions. According to Dr. Mares-Perlman and his associates from University of Wisconsin Medical School in Madison, USA, people having a lower level of serum lycopene were twice more likely to have macular degeneration of the eye compared to people with higher levels.
4. Add a couple of Blue and Purple: Blue and purple foods bring with them luteins, flavanoids, anthocyanins, zeaxanthin, ellagic acid, resveratrol, quercetin, vitamin C, and proanthocyanidins. Blue and purple foods are blueberries, blackberries, raisins, purple grapes, dried prunes or plums, cranberries, eggplants and purple cabbage. Dr. Jia Z from the department of Ophthalmology, the First Affiliated Hospital of Harbin Medical University, in China has reported that grape seed pro-anthocyanidin extracts can protect the human eye from oxidative stress and resulting cataract.
5. White keeps your eyes bright!: White coloured foods are loaded with beta-glucans, EGCG (or epigallocatechin gallate which is an antioxidant catechin usually found in green tea), SDG (or secoisolariciresinol diglycoside which is an antioxidant seen in flax, sunflower, pumpkin and seseme seeds) and lignans besides other nutrients. White colored foods include bananas, mushrooms, onions, garlic, turnip, white of an egg, besides whole grains and fish such as salmon and tuna. Professor Julie A. Mares at the University of Wisconsin Department of Ophthalmology and Visual Sciences, Madison says that healthy lifestyles, diet and the low glycemic index in whole grains especially whole unprocessed grains can reduce the incidence of age related macular degeneration by almost three times. The omega-3 fatty acids present in fish such as docosahexaenoic acid (DHA) and eicosapentaenoic acid (EPA) prevents ageing and the development of eye diseases such as retinitis pigmentosa, dry eye syndrome and age related macular degeneration. This is because the retina of the eye is mainly composed of DHA.
An important point to note and remember is that besides the food that you put in your mouth, exercise, stress free environment and lifestyle management goes a long way to give you that radiant and brilliant shine in the eye.
References:
Inverse Association of Vitamin C with Cataract in Older People in India. Ravindran RD, Vashist P, Gupta SK, Young IS, Maraini G, Camparini M, Jayanthi R, John N, Fitzpatrick KE, Chakravarthy U, Ravilla TD, Fletcher AE. Ophthalmology. 2011 Jun 25. [Epub ahead of print].
Reducing the Genetic Risk of Age-Related Macular Degeneration With Dietary Antioxidants, Zinc, and {omega}-3 Fatty Acids: The Rotterdam Study. Ho L, van Leeuwen R, Witteman JC, van Duijn CM, Uitterlinden AG, Hofman A, de Jong PT, Vingerling JR, Klaver CC. Department of Ophthalmology, Erasmus Medical Center Rotterdam, PO Box 2040, 3000 CA Rotterdam, the Netherlands. Arch Ophthalmol. 2011 Jun;129(6):758-66.
Dietary carotenoids, vitamins A, C, and E, and advanced age-related macular degeneration. Eye Disease Case-Control Study Group. Seddon JM, Ajani UA, Sperduto RD, Hiller R, Blair N, Burton TC, Farber MD, Gragoudas ES, Haller J, Miller DT, et al. Epidemiology Unit, Massachusetts Eye and Ear Infirmary, Boston 02114. AMA. 1994 Nov 9;272(18):1413-20.
Serum antioxidants and age-related macular degeneration in a population-based case-control study. Mares-Perlman JA, Brady WE, Klein R, Klein BE, Bowen P, Stacewicz-Sapuntzakis M, Palta M. Department of Ophthalmology and Visual Sciences, University of Wisconsin Medical School, Madison, USA. Arch Ophthalmol. 1995 Dec;113(12):1518-23.
Grape seed proanthocyanidin extract protects human lens epithelial cells from oxidative stress via reducing NF-êB and MAPK protein expression. Jia Z, Song Z, Zhao Y, Wang X, Liu P. Department of Ophthalmology, The First Affiliated Hospital of Harbin Medical University, Harbin, P.R. China. Mol Vis. 2011 Jan 20;17:210-7.
Dietary omega-3 Fatty Acid and Fish Intake and Incident Age-Related Macular Degeneration in Women William G. Christen, ScD; Debra A. Schaumberg, ScD; Robert J. Glynn, ScD; Julie E. Buring, ScD Arch Ophthalmol. 2011;129(7):921-929.

doi:10.1001/archophthalmol.2011.34

Healthy Lifestyles Related to Subsequent Prevalence of Age-Related Macular Degeneration. JA Mares, R. Voland, SA Sondel, A.E. Millen, T LaRowe, SM Moeller, M.L. Klein, B.A Blodi, R. Chappell, L. Tinker, C Ritenbaugh, K Gehrs, G Sarto, E.J Johnson, M Snodderly, and RB Wallace. Arch Ophthalmol. Published in final edited form as: Arch Ophthalmol. 2011 April; 129(4): 470–480. Published online 2010 December 13. doi:

10.1001/archophthalmol.2010.314
Latest Publications and Research on Foods that Gives You Sparkling Eyes