About
We may have to travel for variety of reasons; it could be an overdue vacation or traveling for work or maybe to meet someone in another city. The first thing which is affected when we travel is our diet. Sometimes we are not sure what we should choose amongst the options available outside. When we are at home, we have endless ways to pamper our taste buds. But itís different when we are traveling.
If you want to stay right on track and donít want to go haywire on the diet intake, choose healthy. Itís not about restricting yourself from outside food but it is about choosing the right one. Sometimes, people on vacations correlate eating unhealthy stuff with enjoying and henceforth binge on anything and everything. Eating joints have a vast menu which fascinates you and you land up ordering a dish without knowing about calories or fat content of that food. The key to control and balance oneís diet while travelling is to have a variety of food item but in moderation.
Traveling should be fun; be it for any reason, so while planning your itinerary, plan your food options as well. Ask the hotel to email the menu so that you can decide the food options in advance.
Many airlines have stopped providing meals in the flights until and unless it is an extended flight. Now the airlines have allowed the travelers to carry their own meals as well.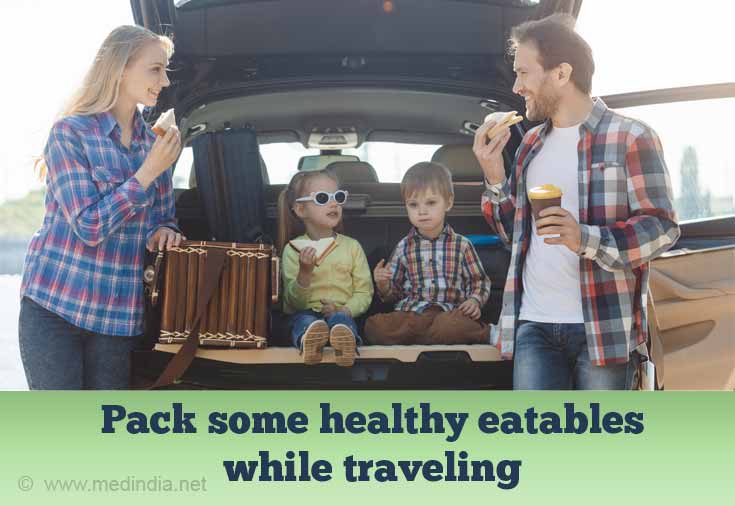 While one is on a road trip and especially when the person is driving long stretches, they tend to stop over for food many times - may be fancy restaurants attract them or they feel like relaxing on the road or simply because they are hungry. The best idea is to pack some healthy eatables along with yourself or find a grocery shop good enough to provide you enough choices to treat yourself. Carry some zero calorie beverages with you to keep yourself hydrated enough.
Downsizing the portion sizes is a better choice instead of refraining from the food one is tempted to. Share the platters, plan and order the food items, never go random on selection of eatables. This is the root cause of eating inappropriate food items, and right food choice starts right from selection.
Feel free to ask questions to the waiter about the dish you ordered or want to order; ask for the cooking method, or the cooking style, or for right selection of gravies, etc. Cooking method also plays an important role while you select the food item, steamed, sautťed, baked or roasted foods are a better choice than deep fried or shallow fried stuff.
Staying physically active during the vacation or in the work schedule is important. Diet and nutritional management during traveling is very important to keep yourself safe and healthy and to maintain your weight.
Advertisement
Food Choices while Traveling in India
Breakfast Choices-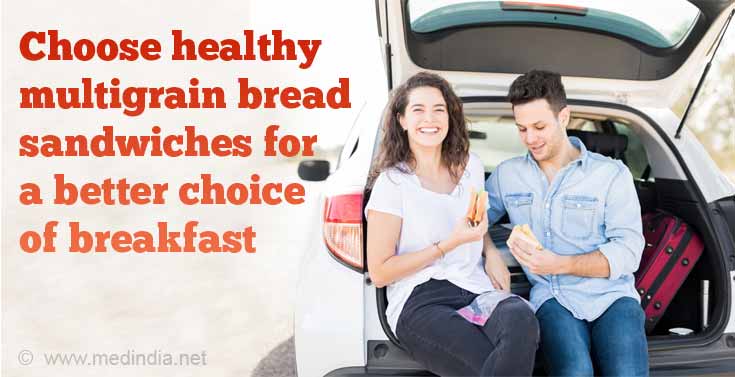 Midmorning Meal Choices- Fruits / green tea / tea/ coffee/ lemonade/ soups / buttermilk/ coconut water etc.
Advertisement
Lunch Choices-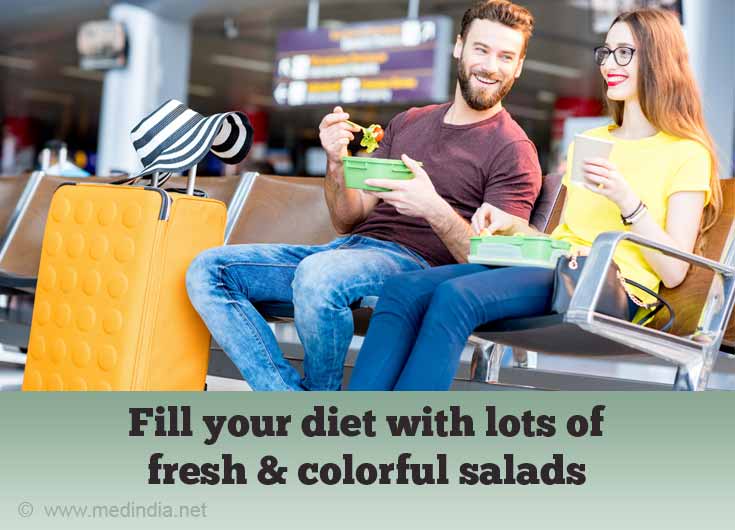 Evening Meal Choices- Fruits / tea / coffee / lemonade / soups / green tea
Dinner Choices-
Post Dinner Meal Choices- Fruits and a cup of double toned milk
Advertisement
Food Choices for International Travel
Breakfast / Mid morning /Evening Meal Choices-
Continental Options
Oats porridge / cracked wheat porridge/ vegetable sandwich with different fillings/ chicken sandwich with either chicken or fish or egg / whole wheat cereals/ egg whites in scrambled or poached form / egg white omelette/ vegetable juice / lemon water / green tea/ butter milk / south India food / baked cutlets / fruits and sprouts
Indian Options
Stuffed rotis/ grilled rosti (Swiss dish made of potato)/ fruit curd
Italian Options
Whole wheat bagel sandwich/ portabella mushroom sandwich/ pesto grilled vegetable/ vegetable sandwich/ fresh grilled tuna sandwich/ pesto grilled chicken sandwich.
Lunch and Dinner Options-
Continental Options
Soups- Clear soup / pumpkin puree soup / vegetable soup / asparagus soup/ mushroom puree / tomato basil & chicken clear soup / salads/ fruit / lettuce with veggies / grilled salad & sprouts with your choice of dressing
Vegetarian Main Course- Grilled vegetable / sauteed veggies / baked veggies / paneer shaslik with oriental sauce/ paneer platter & mashed potato
Non-Veg Main Course- Grilled chicken / roasted chicken & baked chicken / grilled fish with some sauce / poached fish with veggies & baked fish
Breads- Different type of bread like multi grain, rye, oat, whole wheat & brown
Indian Options
Soups - Palak shorba / subz shorba / khumb, dal & gobhi murg shorba / yellow dal, moong dal & rajma make to order
Veg Main Course- Mushroom curry / palak or mix veg / bhindi do pyaza / aloo ki subzi / soy curry / gobhi musalam / baingan ka bharta / lauki ki subzi/ bharva tinda / paneer bhurji & karele ki subzi,
Non-veg Main Course- Chicken tikka masala / khadhai chicken / egg curry without yolk / murg methi & fish curry
Breads- Tandoori Roti/ missi roti
Italian Options
Soups- Chicken soup with whole wheat spaghetti / minestrone, and veg clear soup/
Salads- Italian pasta / mediterranean roast veggies salad / asparagus salad / artichoke salad / Caesar salad / Caesar non-veg salad / potato salad / chicken toss salad / veg toss salad
Main Course- Whole wheat pasta veg or non-veg with the combination of tomato basil sauce/ arrabiata sauce / roasted bell pepper sauce / mushroom sauce and olive salsa putanesca sauce, pesto sauce and breads as per availability
Chinese and Thai Options
Soups- Clear veg soup / clear chicken soup / hot and sour with tofu soup / tofu soup / Thai chicken clear soup / Thai veg clear soup / mushroom soup / lemon & coriander veg soup
Salad- Spicy cabbage salad & raw papaya salad / Thai squid salad / bokchoy salad / Thai egg salad / Thai chicken salad
Main Course- Curried tofu / sauteed tofu with veggies / chilli fish with gravy (Thai style) / chicken with sesame sauce / chicken with garlic sauce
Rice- Boiled rice / rice with veggies
Please use one of the following formats to cite this article in your essay, paper or report:
APA

Vandita Jain. (2019, March 13). Food Choices During Traveling. Medindia. Retrieved on Jun 09, 2023 from https://www.medindia.net/patients/lifestyleandwellness/food-choices-during-traveling.htm.

MLA

Vandita Jain. "Food Choices During Traveling". Medindia. Jun 09, 2023. <https://www.medindia.net/patients/lifestyleandwellness/food-choices-during-traveling.htm>.

Chicago

Vandita Jain. "Food Choices During Traveling". Medindia. https://www.medindia.net/patients/lifestyleandwellness/food-choices-during-traveling.htm. (accessed Jun 09, 2023).

Harvard

Vandita Jain. 2019. Food Choices During Traveling. Medindia, viewed Jun 09, 2023, https://www.medindia.net/patients/lifestyleandwellness/food-choices-during-traveling.htm.
Latest Publications and Research on Food Choices During Traveling
Request an Appointment with a Doctor (Nutrition Expert)
Dt. Prathima Potluri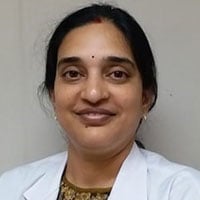 BSc, MSc
12 years experience

Dt. Ritu Kumari Mishra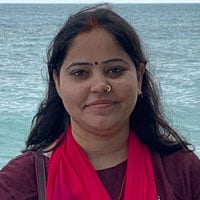 DDHN, BSc, MSc
1 year experience

Dt. Nishita Suratkal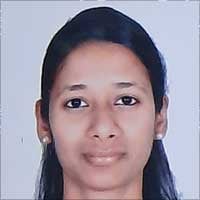 BSc, MSc
5 years experience
Nutrify your Gut, Thakur Village, Mumbai
Dt. Priti Kumari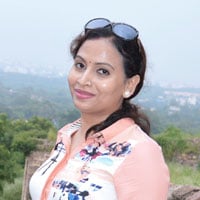 DNHE, Diploma in Medical Nutrition, Medical Nutrition, Diploma in Yoga and Naturopathy, PGDHM, DND, DYTT
2 years experience
Aarogyam Fitness, Kadugodi,Whitefield, Bengaluru Urban
View All