About
If you needed one more reason to eat fruits, then how about this Ė some fruits can actually help your body burn fat. Good enough? Yes certain fruits burn fat and calories along with several other benefits.
When talking in terms of a fat loss diet; fat-burning fruits are not what come to mind. In fact people generally avoid eating fruits when on a diet because of their higher sugar content. But by doing so, they miss out eating on amazing fruits that burn fat and calories and lose out on extra support in their weight management plans.
The best part of fat-burning fruits is that they offer a healthy way to lose weight. They are packed with nutrients and many health benefits and you neednít starve any more to lose those love handles.
Here is a list of best fat-burning fruits that anyone can eat to aid in their weight loss efforts.
Apples
Now you have one more reason to love and eat apples. Apples are one of the best fruits for weight loss. They are low in calorie and sodium and contain no fats, so consuming them is just ideal if you are looking for a healthy snack option.
Advertisement
Apples are one of the best sources of fiber so when you eat them the fiber fills you up nicely and helps to keep the hunger pangs away. The polyphenols (a chemical similar to antioxidant) found in apples help reduce body fat and is one of the best fruits to eat to reduce visceral fat, which is the fat around internal organs that leads to belly fat. So eat apples to burn belly fat. Apples are also one of the best fat burning fruits for men as not only they reduce belly fat but also help gain endurance before a workout.
Strawberries
Strawberries are one of the best belly fat burning fruits that you can eat for weight loss. Strawberries work by producing fat-burning hormones that make the metabolism work faster. A body with fast metabolic rate always burns more calories even when the body is at rest. This means that your body will burn belly fat faster with the aid of strawberry consumption.
Advertisement
You can make fat burning fruit smoothies for breakfast using strawberries and low-fat milk or yogurt, sip their juice or simply munch on the berries as a pre-dinner snack. This can be made into a breakfast staple, as strawberries can be easily incorporated into several recipes such as porridge and pancakes.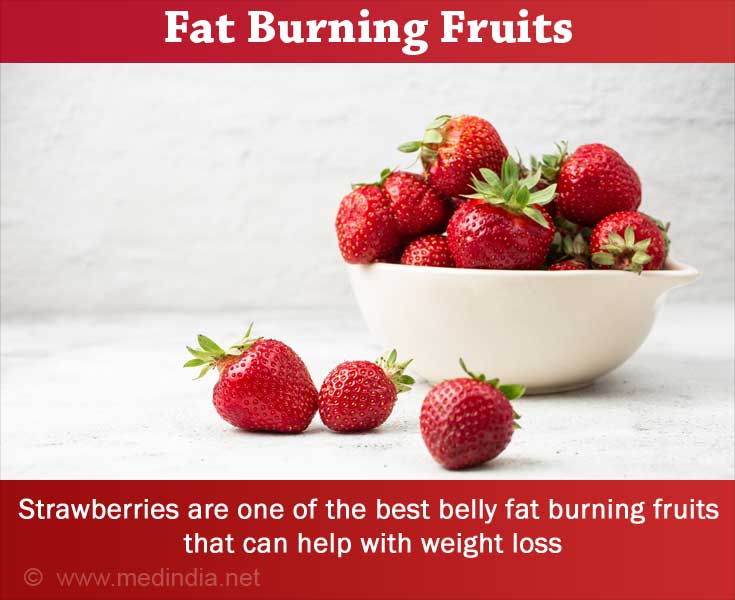 Avocado
Add avocados to your fat burning fruits list as they are rich in healthy fats that make the metabolism work faster and help in burning body fat. These healthy fats known as Omega-9s reduce the buildup of bad cholesterol in the heart as well.
Eat avocado in moderation to gain maximum benefit from this fat-burning fruit. They are ideal for use in salads.
Advertisement
Grapefruit
For a higher-fiber food that gives low calories think of grapefruits. Not only will it make you feel fuller with minimum amount of calories, digesting of grapefruits actually consumes more calories from the body. This is a win-win situation. Gorge on fresh grapefruits every day to burn body fat and lose weight in a healthy way.
Pomegranate
Another metabolism-boosting food due to the presence of polyphenols, regular consumption of pomegranate or its juice helps the body burn fat. Pomegranate also reduces fat from the arteries and stabilizes the appetite.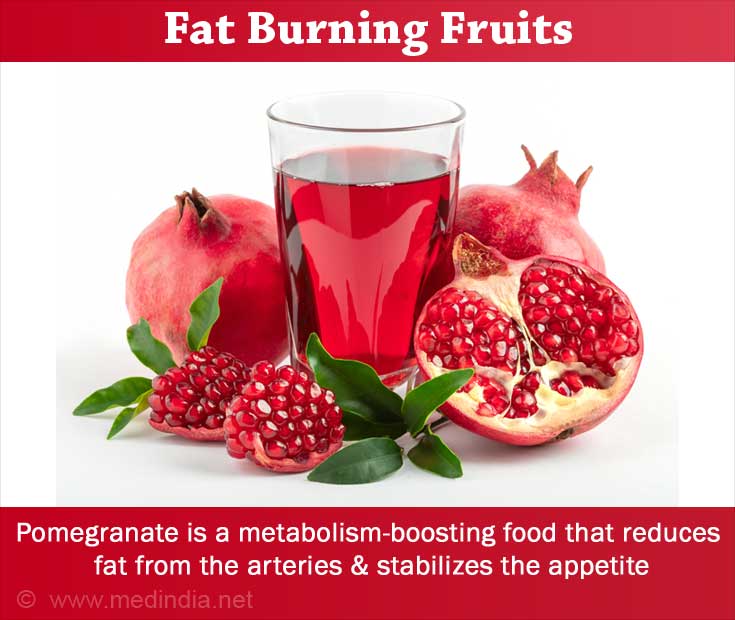 Coconut
Coconut boosts the metabolic rate of the liver due to the presence of medium-chain saturated fatty acids (MCFAs), which speeds up the metabolism of the body. MCFAs burns fats. Coconut is also rich in fiber helping you feel full for a longer time thus aiding weight loss.
Banana
Bananas generally donít feature in fat-burning fruits list owing to its sweet taste. But they offer many fat-burning benefits. The fruit contains fibers that are not digestible by the body and thus prevents carbohydrates in the banana from getting absorbed. This helps the body burn fat instead and extra fat doesnít get stored in the body. Bananas are also rich in potassium, which helps body burn fat by building muscles.
Chomp on a banana for breakfast or make delicious fat burning fruit smoothies to burn fat and support your weight loss.
Strawberries, raw
The nutritional values of "Strawberries, raw" per 100 grams are:
Nutrition Summary
Total Calories
32
Protein
0.7 g
Fat
0.4 g
Carbohydrate
7.7 g
Nutrients
Amount
%Daily Value
Calcium, Ca
16 mg
1.6 %
Copper, Cu
0.05 mg
2.4 %
Iron, Fe
0.41 mg
2.28 %
Magnesium, Mg
13 mg
3.25 %
Manganese, Mn
0.39 mg
19.3 %
Phosphorus, P
24 mg
2.4 %
Potassium, K
153 mg
4.37 %
Selenium, Se
0.4 mcg
0.57 %
Sodium, Na
1 mg
0.04 %
Zinc, Zn
0.14 mg
0.93 %
Vitamin A
12 IU
0.24 %
Vitamin C
58.8 mg
98 %
Vitamin B6
0.05 mg
2.35 %
Vitamin E
0.29 mg
0.97 %
Vitamin K
2.2 mcg
2.75 %
Riboflavin
0.02 mg
1.29 %
Thiamin
0.02 mg
1.6 %
Folate, DFE
24 mcg
6 %
Niacin
0.39 mg
1.93 %
Sugars
4.89 g
Fiber
2 g
8 %
Cholesterol
0 mg
0 %
Water
90.95 g
Carotene, alpha
0 mcg
Carotene, beta
7 mcg
Choline
5.7 mg
Lycopene
0 mcg

View all +
Data source: USDA Nutrient Database, R25
*Percent Daily Values (%DV) are based on a 2,000 calorie reference diet. Your daily values may be higher or lower based on your individual needs.
What Are The Best Fruits To Eat To Lose Weight? -

(http://www.builtlean.com/2013/07/11/best-fruits-lose-weight/)

8 Surprising Fruits That Burn Belly Fat -

(https://www.flatbellybible.com/400/8-surprising-fruits-that-burn-belly-fat/)

APPLES: THE FAT-FIGHTING FRUIT -

(http://www.muscleandfitness.com/nutrition/lose-fat/fat-burning-fruit)
Please use one of the following formats to cite this article in your essay, paper or report:
APA

Rakhee Maloo. (2018, June 11). Fat Burning Fruits. Medindia. Retrieved on Nov 28, 2022 from https://www.medindia.net/patients/lifestyleandwellness/fat-burning-fruits.htm.

MLA

Rakhee Maloo. "Fat Burning Fruits". Medindia. Nov 28, 2022. <https://www.medindia.net/patients/lifestyleandwellness/fat-burning-fruits.htm>.

Chicago

Rakhee Maloo. "Fat Burning Fruits". Medindia. https://www.medindia.net/patients/lifestyleandwellness/fat-burning-fruits.htm. (accessed Nov 28, 2022).

Harvard

Rakhee Maloo. 2021. Fat Burning Fruits. Medindia, viewed Nov 28, 2022, https://www.medindia.net/patients/lifestyleandwellness/fat-burning-fruits.htm.
Latest Publications and Research on Fat Burning Fruits
Request an Appointment with a Doctor (Nutrition Expert)
Dt Aarti Varma
Bsc Homescience with specialization in Foods and Nutrition, Msc Food and Nutrition
10 years experience

Ms. Jaichitra R
DNHE
1 year experience

Ms. Pandi Alagammai Thillainathan
BSc, MSc
1 year experience
Online mode, Porur, Chennai
Ms. Bharathi Ravi
B.Tech, M.Tech
2 years experience

View All