What is Jaundice?
Most people do not realize that jaundice in itself is not a disease but is a symptom of an underlying health condition or disease. Jaundice causes yellowing of the skin and the eyes, with the whites of the eyes taking on a yellow tinge.
This condition may be observed in individuals of any age group and is also common in newborns, in which case it is referred to as infant jaundice.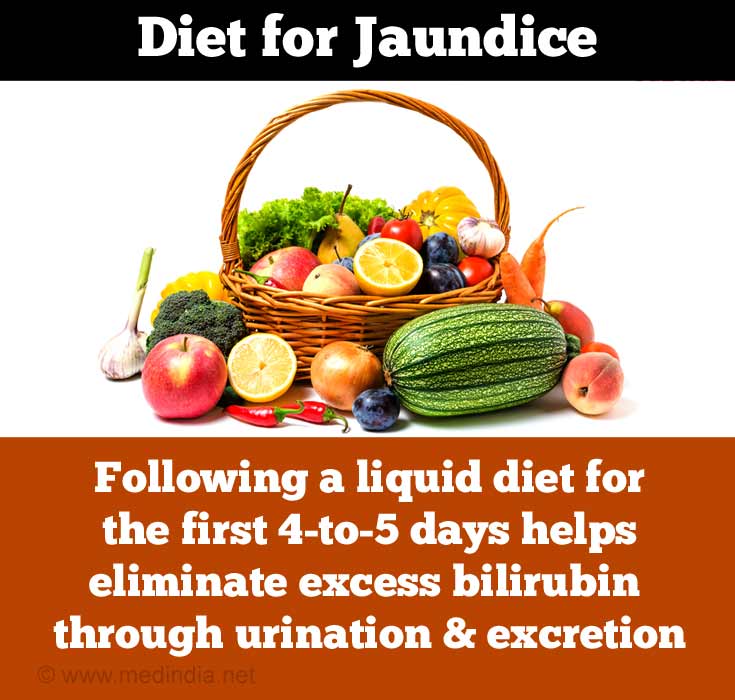 Jaundice occurs as a result of the buildup of bilirubin in body tissue and in the blood. Bilirubin is a yellowish pigment that is present in bile, which is produced by the liver. As red blood cells in the body are replenished and replaced, bilirubin is left behind in the blood. The liver helps to breakdown bilirubin, which is then eliminated from the body in stools. If liver function is impaired or if the normal metabolism is affected the liver may not function efficiently leading to a buildup of bilirubin, which manifests as jaundice.
Advertisement
Jaundice is often indicative of diseases and conditions that affect the liver such as liver cirrhosis, blockage of the bile ducts, hepatitis or gallstones. It can also be caused by certain genetic or blood diseases and as a result of certain medications. Conditions that cause acceleration or increased rate of breakdown of red blood cells like malaria, thalassemia and autoimmune disorders can also cause jaundice as the liver gets overwhelmed.
As jaundice can be caused by various conditions, treatment will vary widely as it is aimed at addressing the underlying condition and not at treating jaundice. In addition to medical treatment however, it is important for patients to make changes to their lifestyle and diet in particular. Dietary modifications are in fact critical to improve the outcome and to reduce the recovery or convalescence period.
What Should I Eat During Jaundice?
There are no specific foods that are recommended during jaundice, but there are certain dietary changes and guidelines that should be enforced for a patient suffering from or recovering from the condition. The purpose to make changes in the diet is to help in tissue regeneration and to prevent further liver damage. Keep these points in mind when formulating a healthy diet for jaundice:
Jaundice patients are advised to follow a liquid diet for the first four to five days of treatment. Increase your fluid intake by consuming a lot of water. Vegetable and fruit juices should form the bulk of your diet during this period. Sugarcane juice is especially popular with jaundice convalescents in India. This type of diet also helps to cleanse the body as it facilitates increased elimination of bilirubin through urination and excretion.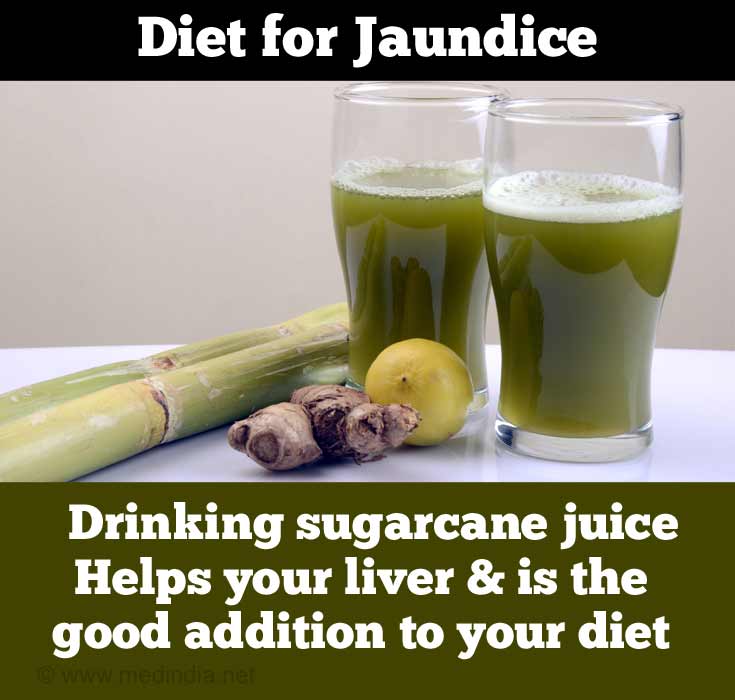 Bilirubin levels in the body would already be decreasing by this point and you can begin consuming foods like fruits, broths, custard and yogurt. Fruits like grapes, pears, watermelons, carrots and beets supply an adequate electrolytes and simple sugars needed to fuel the tissues. Leafy vegetables like lettuce and spinach may also be added to your diet. Protein is also an essential nutrient to overcome the excessive loss of nitrogen and fat accumulation in the liver. Include lean cuts of meat, skimmed milk in small quantities.
Keep in mind that all foods should be consumed as boiled or steamed foods and they should not be fried or cooked with oil. Consuming foods rich in carbohydrates like cereal porridge, bread, rice, potato, yam, custards ensures adequate supply of calories to the body so that tissue protein is not broken down for energy.
Avoid consuming foods that are high in fats like red meats and fried or oily foods as the liver is still weak and these foods will increase strain on the liver. Likewise, avoid consuming sugar-rich foods and foods containing artificial sweeteners.
Once the symptoms of jaundice have resolved you can also begin to include other foods, but do this gradually. Make it a point to consult your doctor before you make any changes in your diet.
Try to eat smaller meals through the course of the day rather than following the traditional pattern of breakfast followed by two heavy meals later in the day. Eat smaller portions but at more regular intervals through the course of the day.
Keep in mind that resistance is low while you are recuperating and this makes it imperative for you to only consume foods that are prepared with the highest levels of hygiene. Avoid consuming juices or foods prepared by hawkers or even from restaurants. Home preparation is the only way to ensure such high levels of hygiene. Also, make it a point to only consume fresh foods.
Yagi S, Tabata M, Isaji S, Kawarada Y, Naganuma T, Ito A. [Nutritional management for non operative patients with obstructive jaundice caused by biliary tract disease]. Nihon Rinsho. 2001 May;59 Suppl 5:626-30. Review. Japanese. PubMed PMID: 11439613.
Please use one of the following formats to cite this article in your essay, paper or report:
APA

Shaun DMello. (2019, June 28). Diet During Jaundice. Medindia. Retrieved on Mar 28, 2023 from https://www.medindia.net/patients/lifestyleandwellness/diet-during-jaundice.htm.

MLA

Shaun DMello. "Diet During Jaundice". Medindia. Mar 28, 2023. <https://www.medindia.net/patients/lifestyleandwellness/diet-during-jaundice.htm>.

Chicago

Shaun DMello. "Diet During Jaundice". Medindia. https://www.medindia.net/patients/lifestyleandwellness/diet-during-jaundice.htm. (accessed Mar 28, 2023).

Harvard

Shaun DMello. 2021. Diet During Jaundice. Medindia, viewed Mar 28, 2023, https://www.medindia.net/patients/lifestyleandwellness/diet-during-jaundice.htm.
Latest Publications and Research on Diet During Jaundice
Request an Appointment with a Doctor (Nutrition Expert)
Dt. Pandi Alagammai Thillainathan
BSc, MSc
1 year experience
Online mode, Porur, Chennai
Dt. Unnati Sisodia
Diploma
2 years experience

Dt. Ritu Kumari Mishra
DDHN, BSc, MSc
1 year experience

Komal Kumar
16 years experience

View All