About
Dates are dry soft fruits with a sweet and delicious taste, which come from the date palm trees that grow in the desert.
Date palm is among the most ancient fruit trees that have been growing in the Middle East and the Indus valley for thousands of years. It was considered as the staple food for people living in those areas. Date palm was later introduced to different parts of the world starting from South East Asia, Northern Africa, Spain, Italy, and Mexico, and then to the United States during the 18th century.
Dates are of endless varieties. It can be classified as soft, semi-soft and dry dates. Like other fruits, dates are also seasonal products and therefore, the supply of fresh dates is always limited. Dates can also be used as 'survival food' on long trips or on hiking as it contains lots of nutrients, which boost the energy level, and it is easy to carry and ready to eat.
Nutritional Value of Dates:
Date fruits contain lots of nutrients such as vitamins and minerals for normal growth, health and well-being.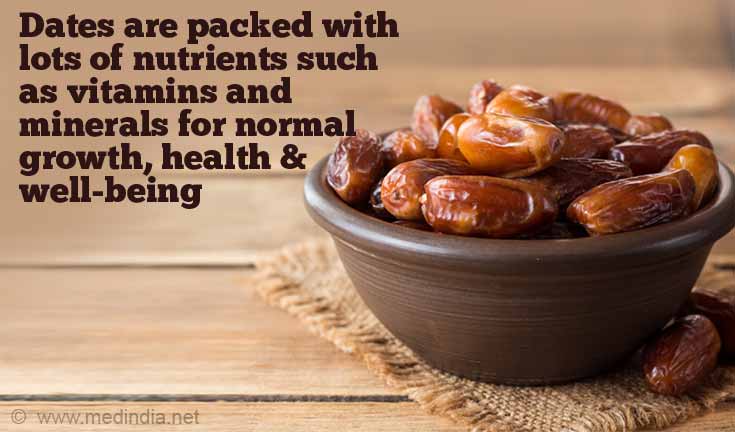 Nutritive Value per 100 grams:
Health Benefits of Dates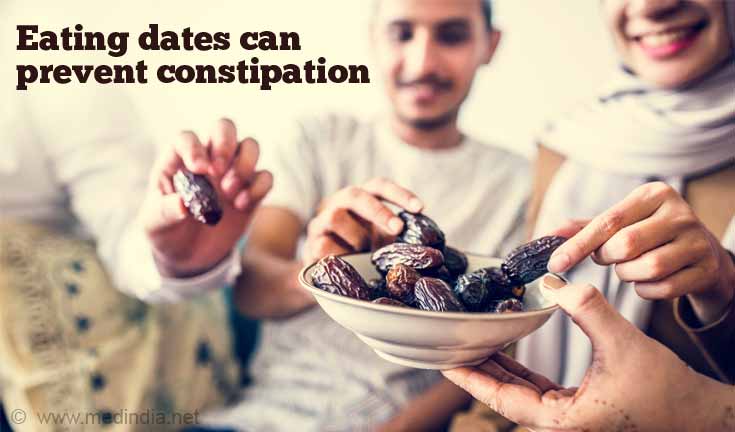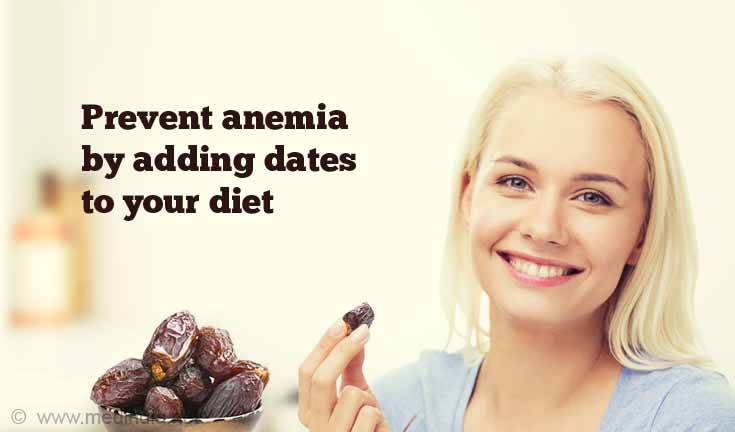 Dates Snack Recipe:
Feeling hungry and tired of eating raw dry dates? Here's a simple, quick preparation for you:
Dates, deglet noor
The nutritional values of "Dates, deglet noor" per 100 grams are:
Nutrition Summary
Total Calories
282
Protein
2.4 g
Fat
0.4 g
Carbohydrate
75 g
Nutrients
Amount
%Daily Value
Calcium, Ca
39 mg
3.9 %
Copper, Cu
0.21 mg
10.3 %
Iron, Fe
1.02 mg
5.67 %
Magnesium, Mg
43 mg
10.75 %
Manganese, Mn
0.26 mg
13.1 %
Phosphorus, P
62 mg
6.2 %
Potassium, K
656 mg
18.74 %
Selenium, Se
3 mcg
4.29 %
Sodium, Na
2 mg
0.08 %
Zinc, Zn
0.29 mg
1.93 %
Vitamin A
10 IU
0.2 %
Vitamin C
0.4 mg
0.67 %
Vitamin B6
0.16 mg
8.25 %
Vitamin E
0.05 mg
0.17 %
Vitamin K
2.7 mcg
3.38 %
Riboflavin
0.07 mg
3.88 %
Thiamin
0.05 mg
3.47 %
Folate, DFE
19 mcg
4.75 %
Niacin
1.27 mg
6.37 %
Sugars
63.35 g
Fiber
8 g
32 %
Cholesterol
0 mg
0 %
Water
20.53 g
Carotene, alpha
0 mcg
Carotene, beta
6 mcg
Choline
6.3 mg
Lycopene
0 mcg

View all +
Data source: USDA Nutrient Database, R25
*Percent Daily Values (%DV) are based on a 2,000 calorie reference diet. Your daily values may be higher or lower based on your individual needs.
Latest Publications and Research on Dates: Nutritious Desert Fruit with Health Benefits