What is Master Health Checkup?
A master health checkup is a comprehensive health screening used as a preventive measure in health care. Because of the high quality and affordability of health care in India, the country has become a leading destination for 'health' tourism. This means that many patients from overseas visit hospitals and clinics in India for treatment.
A master health checkup is simply a spiced up and commercially packaged description of the annual or yearly checkup. Most health care experts and researchers feel that the concept of such annual health checks is in itself redundant. Nevertheless, periodic health checkups are still recommended because of the numerous benefits, although such tests do not need to be taken every year.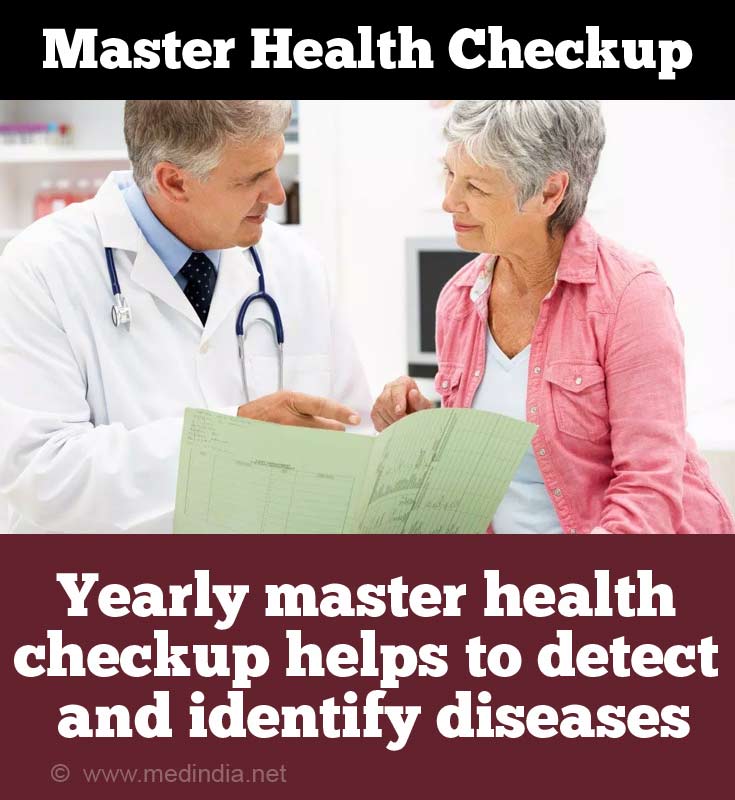 The Good
A master health checkup or periodic health check is useful as it can help detect and identify diseases or the warning signs of an impending disease very early. This makes treatment a lot more effective, less expensive and less invasive.
In addition to detecting such diseases before a patient turns seriously ill, such periodic checkups also give you a detailed update on various health parameters like cholesterol levels, blood sugar levels, blood pressure and body weight. This helps to gauge your overall health and it enables health care providers to assess health risks and advise you on lifestyle on dietary measures to counter such risks.
The Bad
Master health checkups typically comprise of an assortment of tests, many of which are believed to be unnecessary and have no known cost benefit. Make it a point to seek complete preventive health checkup services only in reputed hospitals and laboratories, as unnecessary tests like imaging with CT scans or MRIs will unnecessarily expose patients to radiation. Such tests are used when there is a specific risk or suspicion that the patient may suffer from a condition that can be detected through the imaging test. Similarly, there are many other tests that offer no known benefits for otherwise healthy adults.
Advertisement
Your Responsibility
When periodic health checkups or master health checkups comprise of the tests that are actually useful such testing is, in fact, an important aspect of preventive health care. The tests that are suited to each individual will vary slightly depending on age, gender, health status, pre-existing conditions, family history, lifestyle, diet, levels of activity and on whether you smoke. Before you sign up for or go for a master health checkup there are some things you should do:
Gather details about your family health history.
Check your medical records and find out if you are due for any screening tests or vaccinations.
Consult your general physician and provide him with your family history and vaccination information.
Get advice from your general physician on the tests you should do and the frequency with which they should be done.
Note down your concerns and seek clarification from your health care provider and the clinic that is conducting the health checkup.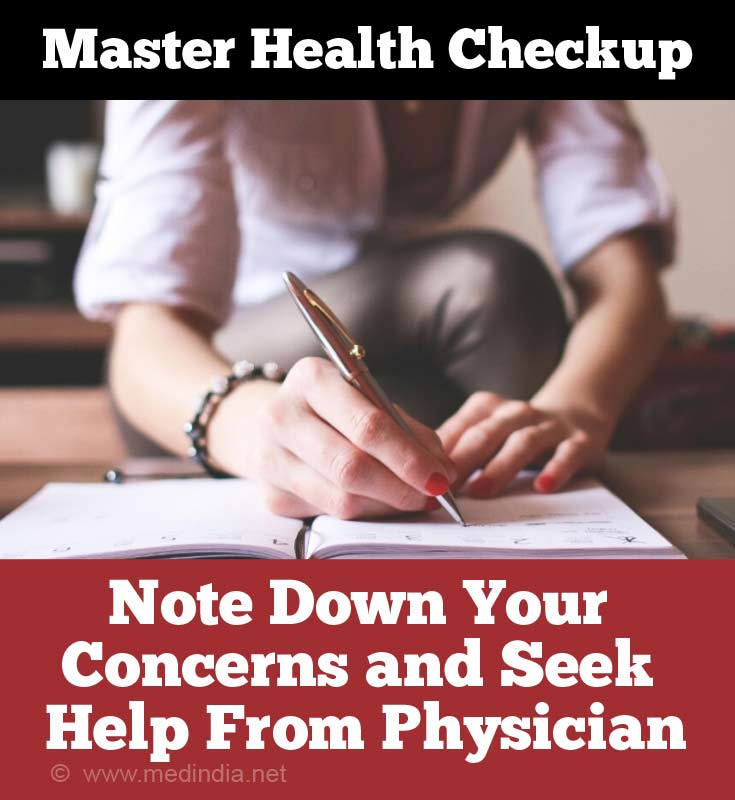 Advantages of Yearly Master Health Checkup
A preventive health checkup may not seem like a good investment in terms of both time and money, but if you choose a master health checkup that is best suited for your needs it can make a world of difference.
Diagnostic clinics and hospitals offer a variety of packages in terms of medical checkups and tests (from master or executive health checkups to health checkups specifically meant for endocrinal disorders or diabetes) but your family physician who has been your long term health care provider will be the best judge of which tests you need.
Consult your doctor and choose the package that suits you best with his help. There are several advantages to going for regular health checks.
Advertisement
These include:
A full body checkup or yearly physical checkup can be conducted by your doctor himself in most cases. This is the most important of all checkups and it really costs you little. It helps to cement a relationship with your primary health care provider and enables him to make better-informed decisions that suit your interests.
Many health conditions do not present immediate symptoms and you may feel great while the condition gradually progresses. Screening tests that are part of your health checkup can detect many such conditions and your health care provider will be able to tackle it before the condition even begins to affect you. This not only spares you any discomfort and long term consequences, but it also saves a great deal in terms of medical expenses.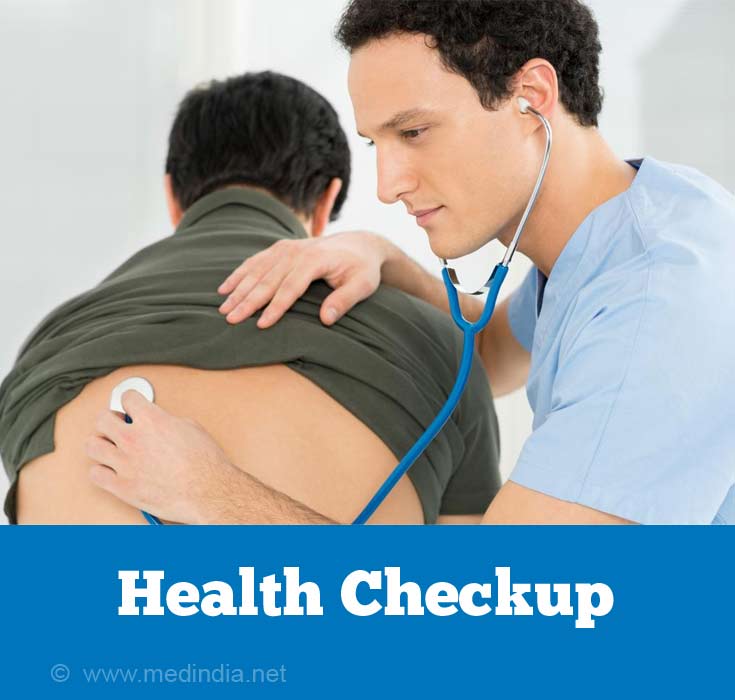 Certain health parameters that are measured like blood cholesterol levels, blood pressure and blood sugar levels can be a good indicator of lifestyle diseases and the warning signs can be detected early enough to take preventive steps. In such cases, the savings are immense, both in terms of the financial burden of lifestyle diseases like diabetes and heart disease and also in terms of the quality of life.
Vitamin and mineral deficiencies like vitamin D deficiency or iron deficiency, for example, may at times not be detected and will only be identified through such health checkups. Nutritional deficiencies can cause long term health complications and may also leave you more susceptible to certain health conditions.
Just as regular monitoring is essential to track the progress or remission of a disease or to keep a check on a patient's recovery, it is also helpful to health care providers when dealing with a medical emergency or the onset of a health condition. Having access to the patient's past medical records allows health care providers to chart a better course of action.
Advertisement
Important Tests
While almost all health checkups include standard tests like blood pressure tests, lipid and glucose tests, there are some other tests that you should be aware of:
Men who are in their 50s or older should go for regular screening tests to check for prostate or colon cancer. A prostate examination or colonoscopy will be necessary to get that clean bill of health! As disturbing as a colonoscopy may sound, it is completely painless and will cause a lot less discomfort as compared to undiagnosed colorectal cancer.
Men who are in their 60s and 70s and have a history of smoking should go in for an ultrasound because of the risk of abdominal aortic aneurysm, a condition that shows no symptoms and can often be fatal.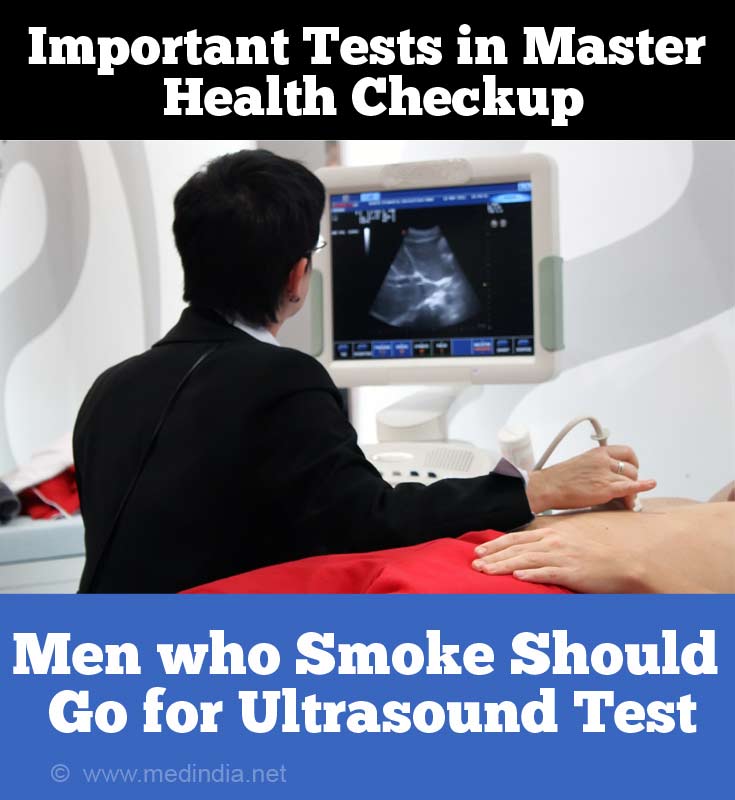 Women who have crossed the age of 60 should go in for bone mineral density tests because of the high risk of osteoporosis. If you were a smoker or have a family history of osteoporosis you should get this test done regularly as soon as you've hit menopause.
Women who have touched 40 are advised to go in for mammograms to detect breast cancer. While physical examinations are also important and can help in the detection of breast cancer, physical examinations will only suffice while you're in your 20s and 30s. Both types of screening can detect breast cancer early enough to improve the survival rate by as much as 97 percent.
A Pap smear test is another test that every woman should have done, beginning at age 21. This will help detect any cervical or vaginal abnormalities and is especially important for women past the age of 50 because of the risk of cervical cancer.
Regular Check-Ups are Important -

(http://www.cdc.gov/family/checkup/)

Physical exam frequency -

(https://medlineplus.gov/ency/article/002125.htm)

Howard-Tripp M. Should we abandon the periodic health examination?: YES. Canadian Family Physician 2011;57(2):158-160.
Han PK. Historical changes in the objectives of the periodic health examination. Ann Intern Med. 1997 Nov 15;127(10):910-7. PubMed PMID: 9382370.
Please use one of the following formats to cite this article in your essay, paper or report:
APA

Shaun DMello. (2019, April 29). Concepts of Yearly Master Health Checkups. Medindia. Retrieved on Jun 03, 2023 from https://www.medindia.net/patients/lifestyleandwellness/concepts-of-yearly-master-health-checkups.htm.

MLA

Shaun DMello. "Concepts of Yearly Master Health Checkups". Medindia. Jun 03, 2023. <https://www.medindia.net/patients/lifestyleandwellness/concepts-of-yearly-master-health-checkups.htm>.

Chicago

Shaun DMello. "Concepts of Yearly Master Health Checkups". Medindia. https://www.medindia.net/patients/lifestyleandwellness/concepts-of-yearly-master-health-checkups.htm. (accessed Jun 03, 2023).

Harvard

Shaun DMello. 2019. Concepts of Yearly Master Health Checkups. Medindia, viewed Jun 03, 2023, https://www.medindia.net/patients/lifestyleandwellness/concepts-of-yearly-master-health-checkups.htm.
Latest Publications and Research on Concepts of Yearly Master Health Checkups