About
Watch out for the warning signs of burnout. Undo the damage by managing stress. Don't hesitate to seek support.
Very often you may wake up in the morning with the nagging feeling that you're still tired and need to sleep more. On some occasions your maybe emotionally low and may feel that there is nothing to look forward to in life or you may feel drained out for no reason at all. At another extreme you may feel like an 'elastic band' being stretched to the maximum and about to snap. If you have stopped caring about your professional or personal life and you can't fathom how you ended up there and you don't know how to fix it then these are indications of a burnout.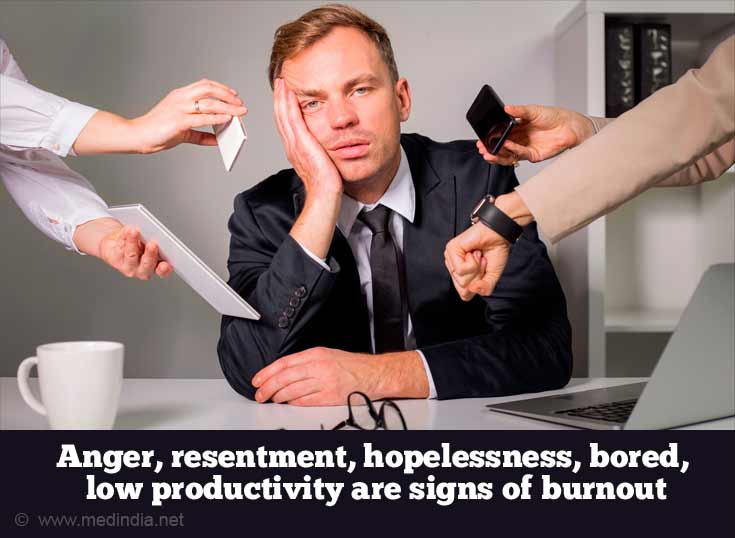 Burnout is nothing but a state of complete exhaustion of your physical, emotional and mental self, and this stage is reached because of a prolonged stress. When you are burned-out, you will feel a lot of negative emotions inside you such as low productivity and energy, anger, resentment, hopelessness, bored, unappreciative. You are under constant stress and you don't have the enthusiasm to do anything. These signs should be recognized immediately and help should be taken.
Remember 'burnout' can be cured provided it is recognized early If it is diagnosed in the late stage, it may require some additional time to get cured. Remember, it is never too late to take charge of the situation. Burnout takes months to surface and sometimes you don't even realize that you are suffering from it. But pay attention if your friend, spouse or parent realizes this change in your behavior and points it out to you.
An American psychoanalyst Herbert J. Freudenberger defines burnout as "a demon born of the society and times we live in and our ongoing struggle to invest our lives with meaning." He goes on to say that burnout "is not a condition that gets better by being ignored. Nor is it any kind of disgrace. On the contrary, it's a problem born of good intentions."
Difference Between Stress and Burnout
Stress and burnout and two words which are often used interchangeably. Even though most people think that they are the same, there is a difference between the two words. While burnout is the result of consistent and intense stress, it isn't the same as stress. Stress involves excessive pressure at the physical and psychological level, but it can be brought under control with a break. Stress can trigger an adrenaline rush, pushing you to perform better. But in a burnout, you feel absolutely beyond caring, drained out and devoid of motivation and see no hope at all. People who experience a burnout are not even in a state of mind to make things better for themselves. Other differences include-
Stress is something which involves "too much" of work and activity. When people are stressed, they think they can get everything under control, and feel better. But a burnout indicates "not enough". Burnout is feeling empty and having a non caring attitude. There is no hope of feeling better in a burnout unlike in stress.
Stress is characterized by over-engagement while burnout is characterized by disengagement.
In stress, emotions become over reactive. In burnout, emotions becomes blunted.

Stress produces urgency and hyperactivity. Burnout produces hopelessness and helplessness.

Stress kills the physical energy first but burnout kills the mental and emotional energy before the physical.
Stress produces disintegration while burnout produces demoralization.
Stress will lead to the physical body getting sick. Burnout will lead to the decrease in motivation and drive.
Stress may kill you prematurely, and a burnout, though may not make life worth living, will not kill you.
Latest Publications and Research on Burnout