About
Body Wraps - Wellness Par Excellence!
Think of Cleopatra and the thing that strikes you first is her beauty. Head to toe this dusky damsel was a living epitome of attractiveness par excellence. Perhaps even before her existence, beauty and caring for body both by men and women was essential.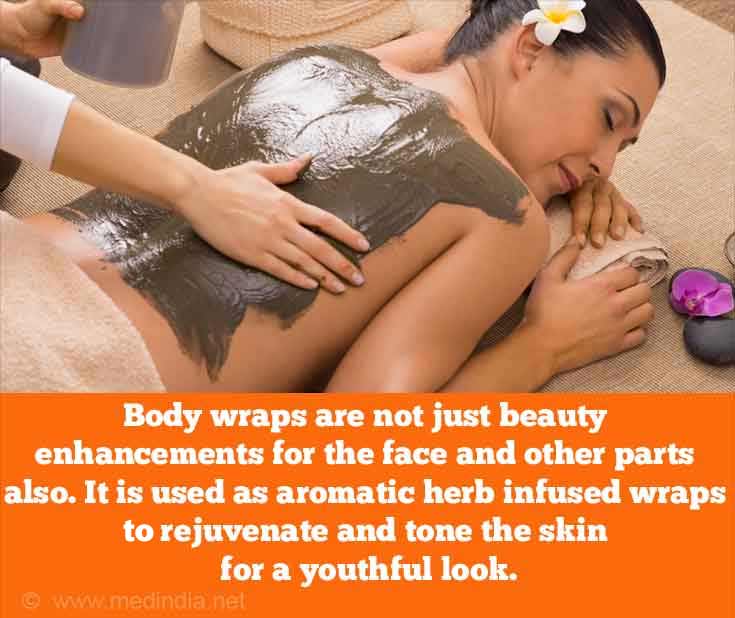 Body wraps are not just beauty enhancements for the face and other parts of the body, but is a healing technique meant to soothe the soul. The Egyptians enjoyed aromatic herb infused wraps to rejuvenate and improve circulation and toning of skin for a youthful look, today popularly known as a  hydrating body wrap.
Wraps are becoming an integral part of a woman's beauty regime. Body wraps are no longer limited to mummifications or an expensive salon affair. With different kinds of wraps available, they are used for a  body glow, rejuvenation, slimming, cellulite reduction, detox, pain relief, and the list goes on. True! Body wraps are considered luxury that only the riches can afford as they don't just limit their services to facial, manicures and pedicures but also to the rest of the body. Some of the wrap treatments that the salons and wellness centers are cashing on our body contour, weight loss & cellulite reduction.
From the hour glass shape in the 20's, curves in the 50's and size zero today, we have seen the fluctuating trend of slimming and keeping skin from sagging. With countless youngsters aspiring to jettison into stardom, they considered this body contouring wraps as an investment. Weight loss body wraps involve ingredients anywhere from minerals, seaweeds, herbs & aromatic oils. The seaweed & mineral treatment offered for weight loss tops the chart by far.
Slimming body wraps have always been debated to have temporary results. It has been argued that the weight loss is only because of the suction of water from the body that helps reduce the waist line but as you go back to your regular lifestyle, you regain the weight as you consume water. Whatever the controversy, a  body wrap is  relaxing, and it adds that extra glow to the skin.
It has been reported that some people feel giddiness, shortness of breath and nausea with these wraps on, however it's not confirmed if these symptoms were because of the wrap as such. The American fitness professionals and associates have warned about certain perils body wraps could cause and recommend a doctor's advice about the chemicals and wrap procedure one might consider going in for- a little precaution is always good but this should not deter one from indulging in this exquisite luxury. From chocolate, strawberry, banana, or the aloe vera- the wide range of ingredients used to make your wrap an exotic experience is what the market is fast capitalizing on. However, despite everything, body wraps for sure is a good spend!
Post a Comment
Comments should be on the topic and should not be abusive. The editorial team reserves the right to review and moderate the comments posted on the site.