About
What do cancer, heart disease, diabetes, and dementia have in common? The answer is chronic inflammation. Since obesity is one of the main causes of inflammation and excess fat wreaks havoc with the body's natural immune response, healthy eating in the form of anti-inflammatory diet and reducing weight seems to be the most plausible solution to fight inflammation naturally. The Mediterranean diet is one good example of an anti-inflammatory diet.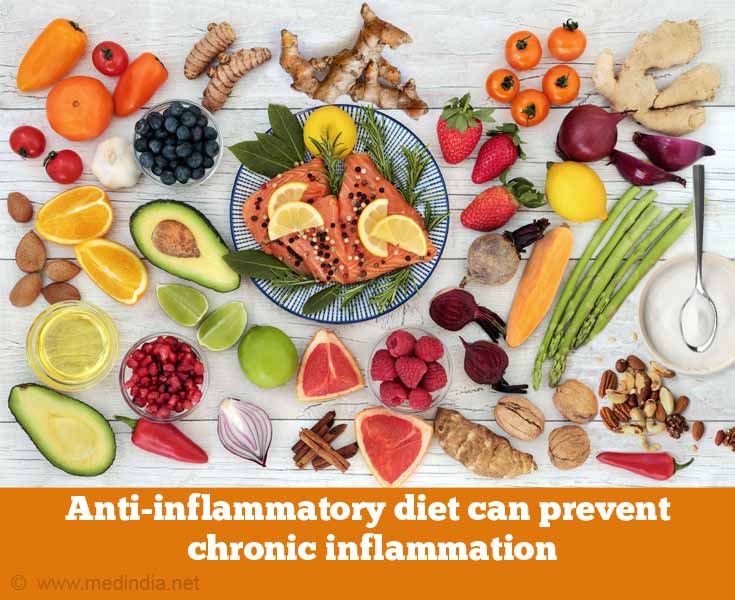 What is Anti-inflammatory Diet?
Anti-inflammatory diet is a diet to combat chronic inflammation. Inflammation can be defined as the swelling, redness, heat, and pain produced in an area of the body by 'immune cells' as a protective reaction to injury or infection. As such, it is not bad as it is a useful phenomenon that initiates the healing process in the body. However, inflammation can do permanent damage if the system doesn't shut off the immune response and becomes chronic.
There is no one anti-inflammatory diet, rather, it is all about including foods that can reduce inflammation and avoiding foods that aggravate the inflammatory processes.
Anti-inflammatory Foods
Here's a list of foods to help you make up versatile anti-inflammatory diets.
1. Fish / Omega-3 fatty Acid foods
Foods that contain long chain omega-3 fatty acids such as EPA and DHA can best fight inflammation. Such foods include fish and sea food, for example, sardine, salmon, anchovies, and shell fish. Algae, flax seeds and nuts are also good sources of omega-3s. Vegetables do not provide the DHA omega-3s that are so important in fighting inflammation, and some people cannot convert ALA from their diet into DHA in their body. So Raksha Changappa, a dietitian from Bangalore, advises resorting to DHA fortified foods and DHA vegetarian supplements for people who are vegetarian or those who do not eat fish.
Serving size: 2 to 6 servings of fish and sea food per week
2. Whole grains
Whole grains and cracked grains (dalhia) of wild rice, basmati rice, brown rice, oats, quinoa, barley and buckwheat, are good anti-inflammatory foods. These grains digest slowly thus reducing blood sugar spikes after meals and lead to decreased inflammatory protein concentrations in the blood.
Serving size: 3 to 5 servings of half a cup of cooked grains per day
3. Olive oil
Virgin olive oil, an essential component of the Mediterranean diet, is one of the best fats to fight inflammation. This is because virgin olive oil contains numerous phenolic compounds that exert potent anti-inflammatory actions similar to that of NSAIDs ibuprofen and aspirin. For example, a study from Deakin University, Australia, discovered that phenolic compound oleocanthal in virgin olive oil possesses similar anti-inflammatory properties as ibuprofen.
Serving size: 5 to 7 teaspoons of olive oil per day
4. Soy foods
Soy foods have been considered very important among vegetarians for both their high protein content and versatility. Although soybeans are classified as legumes, they are much higher in fat and protein, and lower in carbohydrate than other pulses. Soy is rich in isoflavones that help prevent chronic inflammation-induced bone loss and cardiovascular disease.
Serving size: Researchers from Loma Linda University, California, US, suggest 2 to 4 servings of soy foods per day.
5. Nuts
Frequent consumption of walnut and hazel nuts or for that matter any tree nut can decrease the inflammation causing C-reactive protein (CRP) and interleukin-6 (IL-6) concentrations in the body. In fact, nuts are complex foods that containing diverse nutrients and other chemical constituents that favorably influence inflammation and endothelial function. Examples of these are omega-3 fatty acids, dietary fiber, magnesium, and antioxidants. This may be the reason why frequent nut consumption is associated with reduced risk of diabetes and cardiovascular disease.
Serving size: 10 to 14 nuts per day, but not every day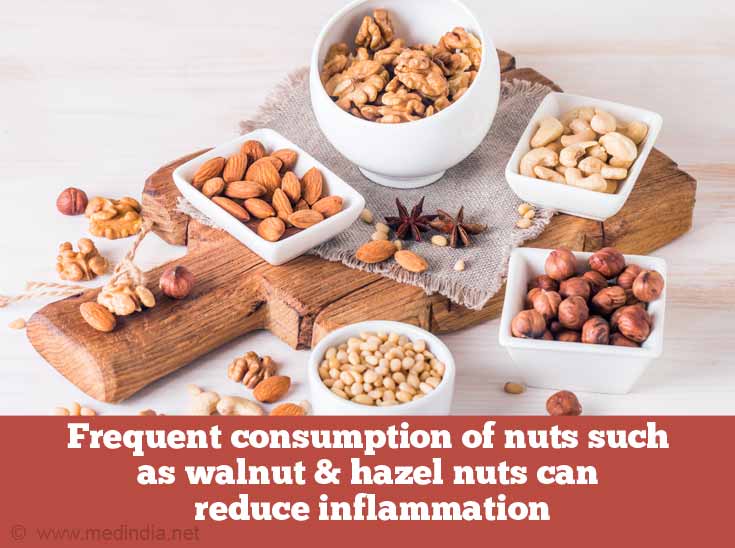 6. Yogurt and Natural Cheese
Yogurt and natural cheese (not processed) are good alternatives to meat and poultry with added anti-inflammatory benefits. However, the jury is still out on whether low-fat or full-fat fermented dairy products are better anti-inflammatory foods.
Serving size: 1 to 2 servings of one-ounce cheese per week and 1 to 2 servings of eight-ounce yogurt per week
7. Fruits and Vegetables
Dark leafy greens and a wide array of colorful vegetables and fruits are excellent choices for anti-inflammatory diet. Carotene, lutein, zeaxanthin, lycopene, and vitamin C, are nutrients present in vegetables and fruits that have been found to lower the inflammation causing C-reactive protein concentrations.
Scientists have however cautioned that single such nutrients don't have favorable effects. The anti-inflammatory effect is seen only when they are consumed as several foods rich in different nutrients. Thus, fruit and vegetable variety, but not quantity, appears to be important in reducing inflammation.
Spinach, collard greens, kale, broccoli, cabbage, Brussels sprouts, cauliflower, carrots, beets, onions, peas, bell peppers (all colors) and squash are good examples of anti-inflammatory vegetables.
Examples of fruits are blueberries (best of all fruits for fighting inflammation), blackberries, strawberries, peaches, oranges, pink grapefruit, red grapes, plums, pomegranates, cherries, apples, and pears.
Serving size: 4 to 5 servings of half cup cooked vegetables per day and 3 to 4 medium-sized fruits per day
8. Herbs
Spice up your food because herbs and spices have great anti-inflammatory effects.
Herbs such as basil, chamomile, cilantro, thyme, and rosemary are useful not only for their antioxidant and anti-inflammatory activity but they have clinical benefits in conditions such as osteoarthritis, rheumatoid arthritis and inflammatory bowel disease. And sometimes regular intake of herbs works better than drugs and without the side effects. For example, researchers from Australia suggested that – 'In contrast to non-steroidal anti-inflammatory drugs and aspirin, rosehip has anti-inflammatory actions that do not have ulcer causing effects and do not inhibit platelets'.
9. Turmeric
Turmeric is a spice that can effectively relieve inflammatory conditions by inhibiting different substances involved in inflammation. Phospholipase, lipooxygenase, thromboxane, cyclooxygenase 2, leukotrienes, prostaglandins, nitric oxide, tumor necrosis factor (TNF), and interleukin-12 (IL-12) are some of these inflammatory substances. Research shows that turmeric and its active compound, curcumin, are effective for rheumatoid arthritis and other inflammatory conditions viz., psoriasis, inflammatory bowel disease (IBS), and inflammatory eye diseases. It also benefits patients who have had kidney transplants.
10. Ginger
Another equally beneficial anti-inflammatory food is ginger. This spice could also be used as a cholesterol-lowering and anti-thrombotic agent. Ginger suppresses inflammation by inhibiting the action of several genes involved in the inflammatory response.
Generally, 2g of ginger daily can help fight inflammation. However, the amount of ginger you can take depends on your age, weight and health and whether you are allergic to any substance in the ginger.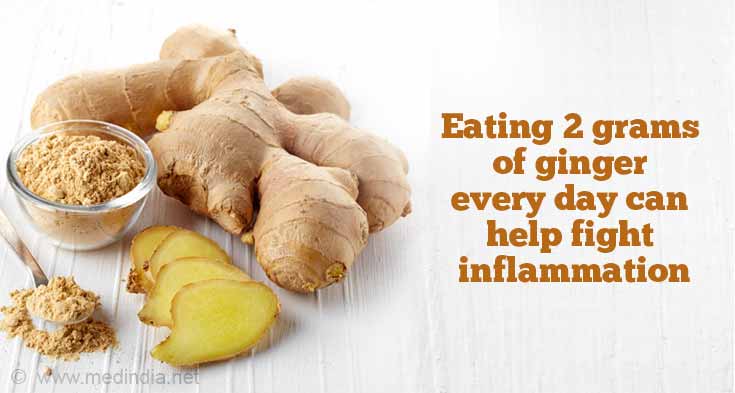 11. Pepper
All chili peppers including cayenne, habanero, jalapeno, and cherry peppers contain capsaicin, which effectively inhibit certain neuropeptides associated with inflammatory processes. Hotter the pepper, the more capsaicin it contains and better its inflammatory activity.
References:
Whole and Refined Grain Intakes Are Related to Inflammatory Protein Concentrations in Human Plasma -

(https://www.ncbi.nlm.nih.gov/pmc/articles/PMC2821887/)

Molecular mechanisms of inflammation. Anti-inflammatory benefits of virgin olive oil and the phenolic compound oleocanthal. -

(https://www.ncbi.nlm.nih.gov/pubmed/21443487)

The role of soy in vegetarian diets. -

(https://www.ncbi.nlm.nih.gov/pubmed/22254060)

Rosehip - an evidence based herbal medicine for inflammation and arthritis. -

(https://www.ncbi.nlm.nih.gov/pubmed/22762068)

Clinical Inquiry. Does turmeric relieve inflammatory conditions? -

(https://www.ncbi.nlm.nih.gov/pubmed/21369559)
Latest Publications and Research on Anti-Inflammatory Diet
Please use one of the following formats to cite this article in your essay, paper or report:
APA

Mita Majumdar. (2021, March 02). Anti-Inflammatory Diet | Top Anti-Inflammatory Foods. Medindia. Retrieved on May 25, 2022 from https://www.medindia.net/patients/lifestyleandwellness/anti-inflammatory-diet.htm.

MLA

Mita Majumdar. "Anti-Inflammatory Diet | Top Anti-Inflammatory Foods". Medindia. May 25, 2022. <https://www.medindia.net/patients/lifestyleandwellness/anti-inflammatory-diet.htm>.

Chicago

Mita Majumdar. "Anti-Inflammatory Diet | Top Anti-Inflammatory Foods". Medindia. https://www.medindia.net/patients/lifestyleandwellness/anti-inflammatory-diet.htm. (accessed May 25, 2022).

Harvard

Mita Majumdar. 2021. Anti-Inflammatory Diet | Top Anti-Inflammatory Foods. Medindia, viewed May 25, 2022, https://www.medindia.net/patients/lifestyleandwellness/anti-inflammatory-diet.htm.
Request an Appointment with a Doctor (Nutrition Expert)
Ms. Jaichitra R
DNHE
1 year experience

Teleconsult Now
View Profile
Ms. Pandi Alagammai Thillainathan
BSc, MSc
1 year experience
Online mode, Porur
Teleconsult Now
View Profile
Ms. Supraja Vijay
BSc
1 year experience

Teleconsult Now
View Profile
Ms. Himaja H
BSc, MSc
12 years experience
Health and Nutrify clinic, Serlingampally
Teleconsult Now
View Profile
View All