About
What is Aloe Vera?
Aloe Vera is a short stem plant with green succulent leaves widely found in the tropical and sub tropical regions of the world. Aloe Vera is the oldest and famous medicinal plant that has been used for thousands of years in various cultures in traditional home remedies. It has excellent anti-bacterial, anti-viral, anti- fungal and anti-inflammatory properties and contains minerals and vitamins. It is used to treat a number of skin ailments and health conditions and is also used in the production of cosmetics like, hair gel, shampoos, body lotion, oil etc.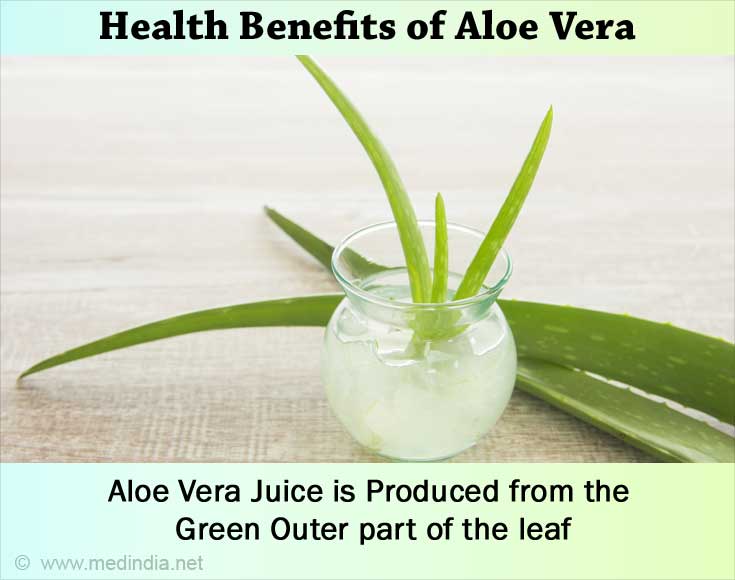 Aloe Vera Oil
Aloe Vera Oil is extracted from aloe vera plant. It is used to help recover from wounds and scars. It is also used as a moisturizer that works wonderfully for improving hair and skin conditions. The oil is also used to improve digestive system and help stabilize blood circulation. Aloe Vera oil penetrates into the skin quickly and deeply and heals, thus making the oil a natural choice for base oil in aromatherapy to rejuvenate the skin.
Aloe Vera Gel
Aloe Vera Gel is secreted from the aloe vera plant. The gel is obtained from the inner leaves of the plant. The gel is odorless and tasteless; it is used as an ingredient in lotions, beverages and some desserts. It is also used for treating acne and helps in fighting common problems of skin ageing, stretch marks and sunburn. It is a natural remedy for all skin types. The gel is a herbal medicine and has different kinds of health promoting compounds, minerals, vitamins and amino acids that help boost the energy levels and build new healthy cells in the body.
Aloe Vera Juice
Aloe Vera Juice is produced from the green outer part of the leaf. The leaf pulp is rich in natural nutrients and fiber that help to repair the body when consumed as a natural drink. It is a herbal remedy for internal healing and cleansing for the skin. Aloe Vera Juice cures constipation, lowers blood sugar level and cholesterol. However Aloe Vera Juice has some side effects as well. High intake of Aloe Vera juice can cause diarrhea and cramping, and one should avoid drinking it continuously for a year. Use of Aloe vera juice for self-medication purpose should only be done after consulting your doctor.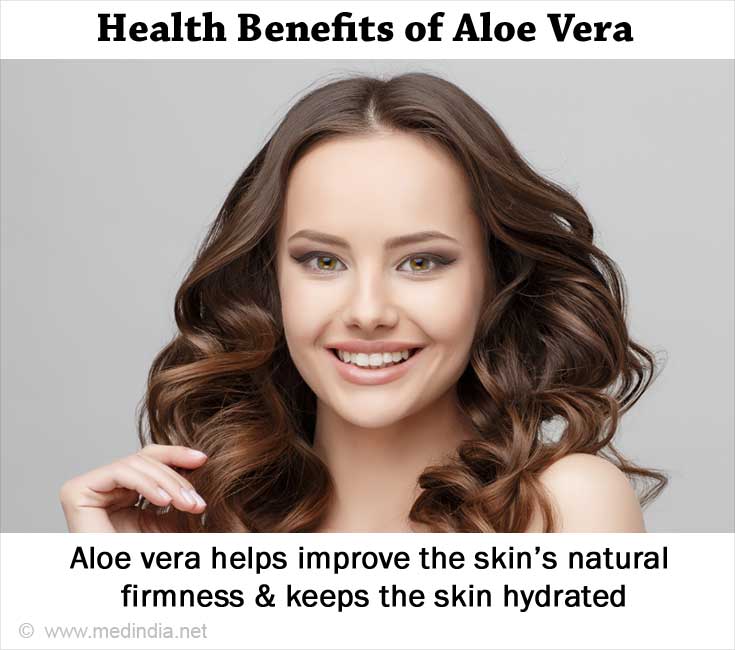 Benefits of Aloe Vera
Aloe Vera for hair
Hair problems like dryness, thinning, frizziness and oily hair are very common nowadays. To prevent all these hair related issues, try Aloe Vera, a natural medicine that contains essential vitamins and minerals to nourish the hair and make it look gorgeous and healthy. Aloe Vera has been used in hair care products like shampoos and conditioner. Here are some benefits of using Aloe Vera for hair:
a) Aloe Vera contains natural enzymes that help in removing dead skin cells present in the scalp that prevent penetration of nutrients in the hair, thus promoting healthy hair growth.
b) Dandruff is caused by dead skin cells present in the scalp. Aloe Vera helps in treating dandruff. It also helps to boost blood circulation in the scalp which stimulates the production of moisturizing oils, eliminating the dryness and itchy feeling that causes dandruff. It also keeps hair's natural oil in balance to prevent excessively dry and oily scalp.
c) It has essential vitamins and minerals with nourishing properties that prevent hair loss and promote hair growth.
d) Aloe Vera is considered as a natural conditioning agent. Its natural properties improve the strength and suppleness of your hair. Aloe Vera works wonders in promoting growth, shine and moisture in hair.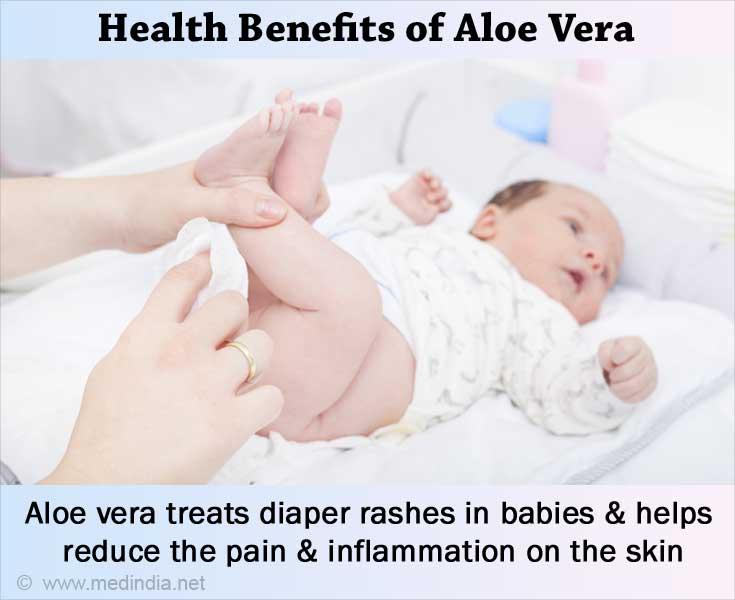 Aloe Vera for Skin
Aloe Vera is a succulent plant and has anti-inflammatory, anti-healing and cooling properties that help in treating acne, blemish and other skin problems. It has been used in various skin products for removing dead skin cells and results in soften and smoother skin. Try Aloe Vera for a glowing, supple and spotless skin:
a) Aloe Vera is used in moisturizing products, to protect and nourish the skin.
b) It has powerful healing properties for treating sunburn and helps to reduce the pain as well as the swelling, by keeping your skin moisturized.
c) It is also used for treating acne, and has anti-inflammatory properties that reduce skin inflammation. It heals the skin quickly and naturally with minimum scarring.
d) It reduces stretch marks that are caused due to weight gain or pregnancy. The marks are reduced after the healing of wounds.
e) Aloe Vera has antioxidants such as beta-carotene, vitamin C and E that delay the aging process and help skin maintain elasticity. It helps to improve the skin's natural firmness and keep the skin hydrated.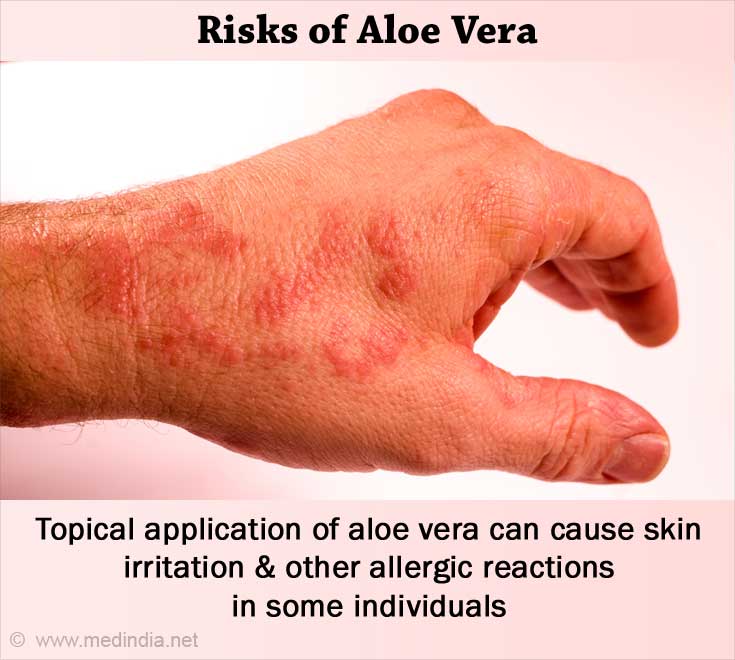 Aloe Vera for Digestion
Aloe Vera can also benefit the digestive system. It contains nutrients like vitamins and minerals that are required for the growth process and healthy function in the body system. Here are some of the benefits of Aloe Vera for digestion:
a) Aloe Vera has a natural healing power that works gently within the intestinal tracts and helps cleanse the digestive system. Excessive food in the stomach will lead to discomfort and cause abdominal pain, diarrhea and constipation. Aloe Vera helps reduce all these symptoms easily and add strength to the body.
b) It has detoxifying power that allows the digestive system to work more efficiently and helps break down the nutrients in food. The juice that is extracted from the plant helps in stimulating the production of blood cells and fight against infection in the body; it also improves the body's circulatory system.
c) It prevents constipation as it has natural laxative properties and helps to break down fats in the body. The gel from the plant helps reduce the symptoms of constipation.
d) Aloe Vera gel contains proteins that make the body to work harder. It helps to stimulate the metabolic rate in the liver and give more energy while breaking down food.
Aloe Vera for Weight Loss
Aloe Vera is known as one of the most effective agents to promote weight loss. Aloe Vera not only helps you to lose weight but also makes your body healthy. The benefits of using Aloe Vera for weight loss are as follows:
a) Drinking Aloe Vera juice is a healthy habit, as it burns fat present in the body and helps promote weight loss.
b) Boosts the metabolism rate of our body and helps in burning calories.
c) It also promotes good eating habits for maintaining weight and improves health.
Aloe Vera for diabetics and heart patients:
Preliminary results from an ongoing research suggest drinking aloe vera juice can help improve blood glucose levels and hence may be useful in the treatment of diabetes. Common complications of diabetes include leg wounds and ulcers that take a longer time to heal in diabetic individuals. Aloe vera has been linked with faster healing of wounds and decreased swelling among diabetic persons too.
Aloe Vera juice is useful in lowering cholesterol level and keeps the heart healthy.
Other benefits of Aloe Vera
Aloe Vera gel is used as a pack for treating eye infections and irritation like itchiness and redness of the eye. It also helps to reduce the puffiness of the eyes. Do not apply the gel directly into the eyes, though. It may trigger an allergic reaction in some people.
Aloe Vera is used for treating ear infection in traditional medicine to reduce the inflammation or swelling of the inner ear tissue.
Aloe Vera is also used to treat diaper rashes in babies. It helps to reduce the pain and inflammation in the skin.
Aloe Vera is used for treating herpes. It reduces the occurrence of viral symptoms and complications, and helps to slow down the spreading of infection.
Aloe Vera for Fungal infection: Athlete's foot is a common fungal infection that usually occurs at the bottom of the feet and in between the toes. Aloe Vera is used for treating the swollen, itchy and burning sensation in the foot with no side effects.
Aloe Vera for irritable bowel syndrome: Aloe Vera juice is a natural medicine that helps to treat symptoms like constipation, loose stool, stomach bloating, digestive problems and generally helps to prevent irritable bowel syndrome.
Aloe Vera for arthritis: Arthritis is a chronic disease that attacks the joints and causes pain in the body. Aloe Vera is a natural product that has anti –inflammatory, anti-bacterial and anti-viral properties that will help fight against several infections and reduce the pain in the body.
Aloe Vera for Psoriasis: Psoriasis is a common skin problem that leads to itching, lesion and inflammation in the skin. Aloe Vera is a natural agent that is used for treating Psoriasis.
What are some of the risks of using Aloe Vera
Side effects of aloe vera: Topical application of aloe vera gel can cause skin irritation and other allergic reactions. Drinking aloe vera juice or consuming the gel orally can cause cramping and diarrhea in some individuals. Ingesting aloe vera can stain the colon, making it difficult to observe the colon during a colonoscopy.
Aloe vera risks: People who are allergic to garlic, onions and tulips are prone to be allergic to aloe vera. Generally, avoid applying raw aloe vera gel to deep cuts or severe burns. Prolonged ingestion of aloe vera juice in the raw state may irritate the intestines and increase the risk of colorectal cancer.
Medication interactions: If you are already taking any drugs regularly consult your doctor before you begin using aloe vera supplements. Aloe vera taken internally could interact with health supplements and medicines such as diabetes drugs, heart drugs, steroids, laxatives and licorice root.
Latest Publications and Research on Aloe Vera - A Natural Medicine for Good Health