Almonds for Better Health
Almonds are one of the most healthy and nutritious nuts. In recent years, almonds have become popular for their health benefits. Experts suggest that eating a handful of almonds a day aids in weight loss and improve brain health. Swapping unhealthy snacks with almonds can reduce hunger and desire to gorge food later in the day. For weight watchers, almonds help reduce their overall calorie intake.
Almonds have been praised as the healthiest nut as it contains monounsaturated fatty acids, dietary fiber, vitamin E, riboflavin, magnesium, calcium, phosphorous, iron, selenium and other essential antioxidants. Almonds are usually eaten raw, however, they can also be added to salads and yogurt. Almonds are also available in other forms such as flour and milk.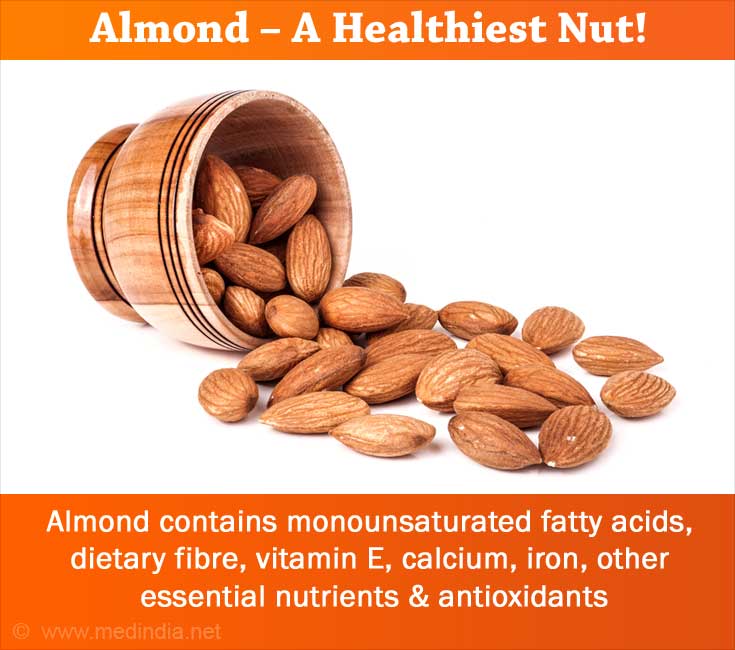 Some of the health benefits of eating almonds on a daily basis are:
Aid in Weight Loss
Although nuts benefit health in numerous ways, people tend to avoid them for fear of weight gain. Almonds contain protein and fiber that increase satiety and aid in weight loss. According to a study published in the International Journal of Obesity and Related Metabolic Disorders that involved overweight and obese participants suggests that almond-enriched diet can help reduce body weight than a low-calorie diet. The participants who followed an almond enriched diet for six months experienced a 62% greater reduction in their BMI, 50% reduction in waist circumference and 56% reduction in body fat.
Advertisement
Unsweetened almond milk is an ideal option for people on a weight loss regimen. The fiber in almonds contributes to consistent bowel movements and help in weight loss. People who regularly consume almonds are far more likely to remain at their ideal weight than those who rarely or never consume almonds.
Improve Brain Health
Almonds help improve memory, learning ability and supports healthy brain function. Two essential nutrients present in almonds are riboflavin and L-carnitine that help increase brain activity. A study published in the Indian Journal of Pharmacology (2010), showed that supplementation of 150mg of almonds per kilogram of body weight for two weeks improved learning, memory and reversed a form of drug-induced dementia. Also, the consumption of almonds reduced the levels of an enzyme that breaks down acetylcholine, a neurotransmitter that increases attention and awareness.
Another study conducted in mice published in Brain Research Bulletin (2016) showed that supplementation of 400mg of almonds per kilogram of body weight for four weeks significantly improved memory retention. Regular consumption of almonds can also reduce the risk of Alzheimer's disease. Studies show that almonds can have a positive effect on neural activity and prevent neural degeneration and Alzheimer's disease.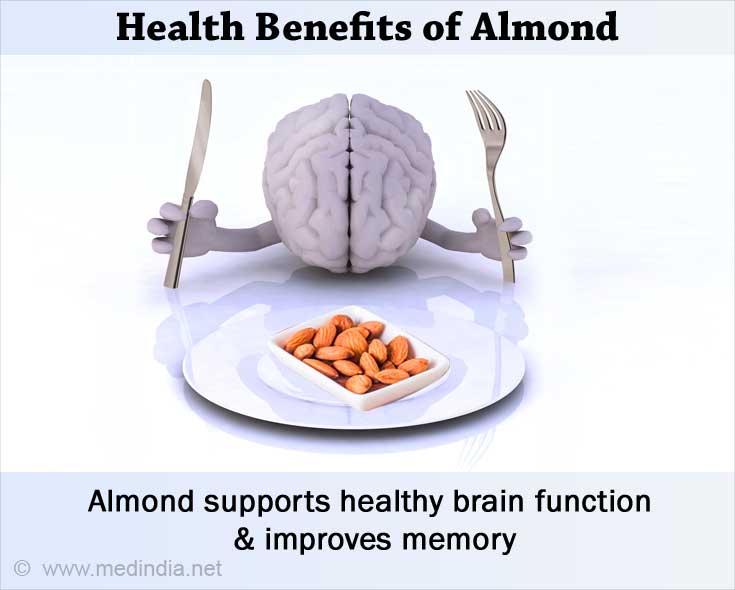 Boost Immune System
Almonds increase the immune system's defense against viruses. According to a study published in the journal Immunology, naturally occurring compounds in the almond skin stimulate the immune response and thus contribute to an antiviral immune defense. The study funded by the Almond Board of California, found that almond skin extracts were effective against Herpes Simplex Virus 2, a virus that causes cold sores and is difficult to treat.
Studies have also shown that almonds increase white blood cell production that fights viral infections such as flu and common cold. Alkali compounds in almonds strengthen the immune system. The high amounts of vitamin E found in almonds also help boost the immune system and stave off infections.
Energizing Food
Eating almonds can also lead to more energy, healthy and stronger muscles. Manganese, copper and vitamin B2 (riboflavin) are the three essential nutrients that play a key role in the production of energy. A handful of almonds provides more protein than an egg. Manganese and copper in almonds limit the free radicals that can hinder the mitochondria to produce energy. Thus, eating a handful of almonds can keep you going through the day.
Keeps Bone Healthy
Microminerals such as phosphorous, magnesium and calcium found in almonds are essential for maintaining bone health. Phosphorous has an impact on the strength and durability of bones, teeth and also prevents the onset of osteoporosis. A study published in Metabolism: Clinical and Experimental (2011) showed that almonds significantly reduced osteoclast proliferation and activity, suggesting that almonds have a positive effect on maintaining bone health by reducing bone tissue breakdown.
Promote Skin Health
Including almonds in the diet helps improve skin health. Vitamin E in almonds helps to protect against oxidative stress, which can damage molecules in cells and contribute to aging. Almonds also contain high concentrations of catechin, epicatechin, and flavonoids that fight skin cancer and aging by reversing oxidative stress. Almond milk is used in cosmetic products like soaps to improve skin complexion. Almond oil is also used to reduce scars and pigmentation. Topical application of almond oil keeps the skin soft, supple, prevent dryness, reduce dark circles and improves skin complexion.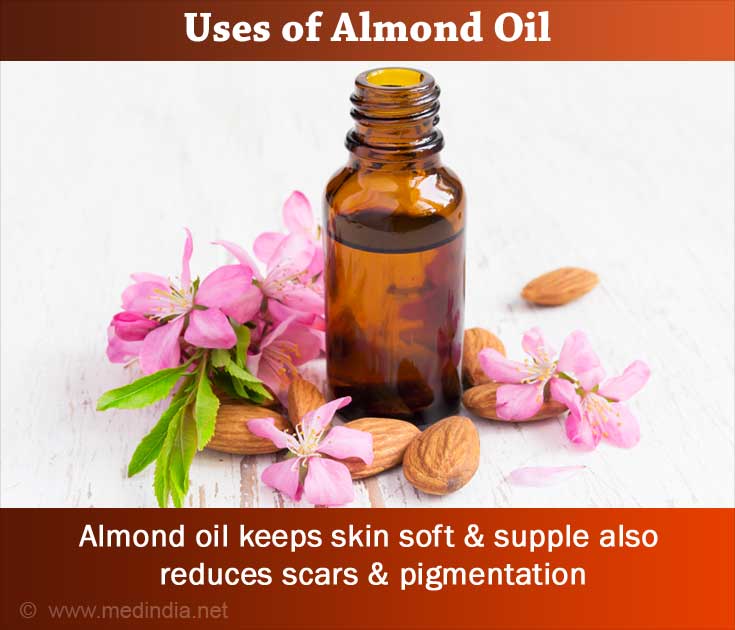 Prevent Constipation
The high dietary fiber content of almonds helps prevent constipation. The amount of fiber in five almonds is sufficient to improve digestion and regularize bowel movement. Eating too many almonds without adequate fluid intake could cause gastrointestinal distress. Thus, it is important to stay hydrated.
The skin of almonds contains probiotic components that aid in digestion and healthy bacterial growth within the gut flora. A 2014 study conducted by the Institute of Food Science and Technology in China found that supplementation of 56 grams of almonds to women for over a period of eight weeks, significantly improved the number of healthy bacteria (Bifidobacterium and Lactobacillus) in their gut.
Ingredients
Rolled oats - 2 cups
Raw almonds - 1/2 cup
Raisins - 1/4 cup
Dried cranberries - 1/4 cup
Dried dates - 1/4 cup
Dried fig - 1/4 cup
Sunflower seeds - 1/4 cup
Flax seeds - 1/4 cup
Almond butter - 1 cup
Honey - 1/2 cup
Vanilla extract - 1 teaspoon
Preparation Method
Take a large bowl, combine oats, chopped almonds, raisins, cranberries, dates, fig, sunflower seeds, and flaxseeds.
Combine almond butter, honey, vanilla extract and mix well. Heat in the microwave on high for one minute.
Add it to the oat mixture and stir well.
Grease the baking tray and preheat the oven to 350°F. Pour the mixture into the baking tray and bake for 15 minutes.
Cool, and cut into bars.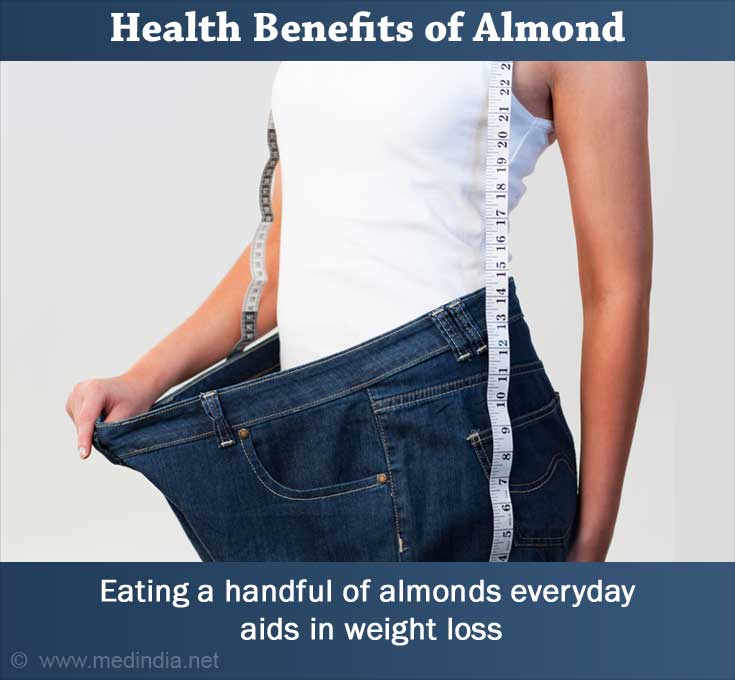 Nutrition Facts for Almonds
The nutritional values of "Almonds" per 100 grams are:
Nutrition Summary
Total Calories
575
Protein
21.2 g
Fat
0.4 g
Carbohydrate
21.7 g
Nutrients
Amount
%Daily Value
Calcium, Ca
264 mg
26.4 %
Copper, Cu
1 mg
49.8 %
Iron, Fe
3.72 mg
20.67 %
Magnesium, Mg
268 mg
67 %
Manganese, Mn
2.28 mg
114.25 %
Phosphorus, P
484 mg
48.4 %
Potassium, K
705 mg
20.14 %
Selenium, Se
2.5 mcg
3.57 %
Sodium, Na
1 mg
0.04 %
Zinc, Zn
3.08 mg
20.53 %
Vitamin A
1 IU
0.02 %
Vitamin C
0 mg
0 %
Vitamin B6
0.14 mg
7.15 %
Vitamin E
26.22 mg
87.4 %
Vitamin K
0 mcg
0 %
Riboflavin
1.01 mg
59.65 %
Thiamin
0.21 mg
14.07 %
Folate, DFE
50 mcg
12.5 %
Niacin
3.38 mg
16.92 %
Sugars
3.89 g
Fiber
12.2 g
48.8 %
Cholesterol
0 mg
0 %
Water
4.7 g
Carotene, alpha
0 mcg
Carotene, beta
1 mcg
Choline
52.1 mg
Lycopene
0 mcg

View all +
Data source: USDA Nutrient Database, R25
*Percent Daily Values (%DV) are based on a 2,000 calorie reference diet. Your daily values may be higher or lower based on your individual needs.
Reference:
Health Benefits of Almonds -

(http://www.healthyeating.org/Healthy-Eating/All-Star-Foods/Meat-Beans/Article-Viewer/Article/88/health-benefits-of-almonds.aspx)
Latest Publications and Research on Almonds for Healthy Daily Life
Please use one of the following formats to cite this article in your essay, paper or report:
APA

Shirley Johanna. (2016, October 07). Almonds for Healthy Daily Life. Medindia. Retrieved on May 16, 2022 from https://www.medindia.net/patients/lifestyleandwellness/almonds-for-healthy-daily-life.htm.

MLA

Shirley Johanna. "Almonds for Healthy Daily Life". Medindia. May 16, 2022. <https://www.medindia.net/patients/lifestyleandwellness/almonds-for-healthy-daily-life.htm>.

Chicago

Shirley Johanna. "Almonds for Healthy Daily Life". Medindia. https://www.medindia.net/patients/lifestyleandwellness/almonds-for-healthy-daily-life.htm. (accessed May 16, 2022).

Harvard

Shirley Johanna. 2021. Almonds for Healthy Daily Life. Medindia, viewed May 16, 2022, https://www.medindia.net/patients/lifestyleandwellness/almonds-for-healthy-daily-life.htm.
Request an Appointment with a Doctor (Nutrition Expert)
Dr. Varsha
PhD
39 years experience

Teleconsult Now
View Profile
Ms. Supraja Vijay
BSc
1 year experience

Teleconsult Now
View Profile
Ms. Jaichitra R
DNHE
1 year experience

Teleconsult Now
View Profile
Dr. Pratiksha Prashant
Masters in Dietitics, Masters in Health Science, International Health coach, International diabetic educator, Certification in Vedic nutrition, Bachelors in Dental Surgery
7 years experience

Teleconsult Now
View Profile
View All