What is High Intensity Interval Training?
High-intensity interval training (HIIT), also known as high-intensity intermittent exercise (HIIE) or sprint interval training (SIT), is a well-rounded physical activity program that includes aerobic exercise and strength training exercise, though not necessarily in the same session.
Regular HIIT sessions can vary from 4- 30 minutes. These short intensive workouts can cause improvement in athletic capacity and condition, glucose metabolism and burning fat. But, may not be effective in the treatment of Hyperlipidemia and obesity, or refining muscle and bone mass.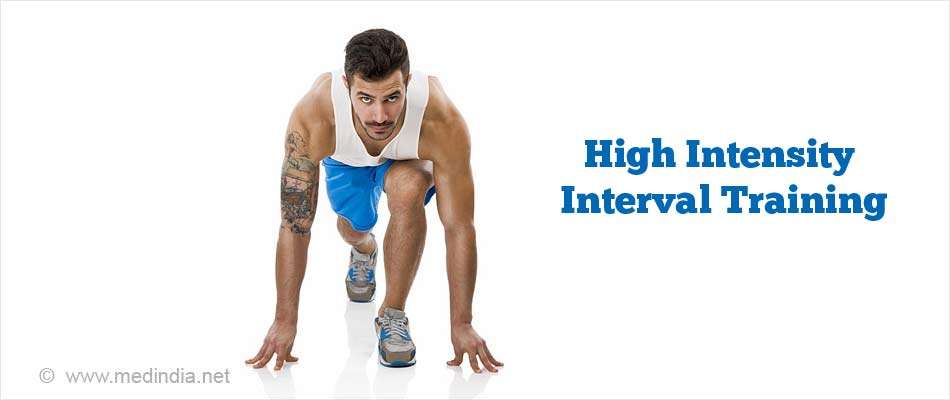 Training in HIIT improves:
Aerobic and anaerobic fitness
Blood pressure
Cardiovascular health
Sensitivity to insulin
Cholesterol levels
Abdominal fat and body weight by maintaining muscle mass
Procedure
The process comprises of warm-up period followed by many repetitions of high-intensity exercise interspersed by medium intensity exercise for recovery and finally a cool down period.
High-intensity exercises involve maximum power, whereas medium intensity exercises require half the rate (50% intensity). Repetitions of both types of exercises, however, may vary, but usually, can be three repetitions in just 20 seconds of intense exercising. The types of exercises done during high-intensity exercise regimen may differ as needed. Moderate level intensity exercises may involve walking. Normally, exercise program involves 2:1 ratio of work to recovery period. Use a clock or timer for measuring time, number of rounds and intensity.
Tabata: It consists of sets which are 30 seconds in length, involving 20 seconds work alternating with 10 seconds of rest. The sets can be repeated 8 times for a total duration of 4 minutes. In this type of HIIT, rest sets make you completely immobile, unlike in other types where rest sets are of low intensity but you can be mobile.
Power Intervals: It involves 90 seconds of workout alternating with 30 seconds rest. This is mostly used in cardio activities like running, walking, swimming, rowing, etc. Maximum effort should be put during workout sets and only 50% effort for rest sets.
Turbulence Training: It can involve 3 sets having 8 repetitions of weight training that are alternated with about 2 minutes of high-intensity cardio. The whole process can last for maximum 45 minutes.
Persons with sedentary lifestyle or periods of physical inactivity have higher coronary disease risk to high-intensity exercise.
Family history of heart disease
Cigarette smoking
Hypertension
Diabetes
Abnormal cholesterol levels
Obesity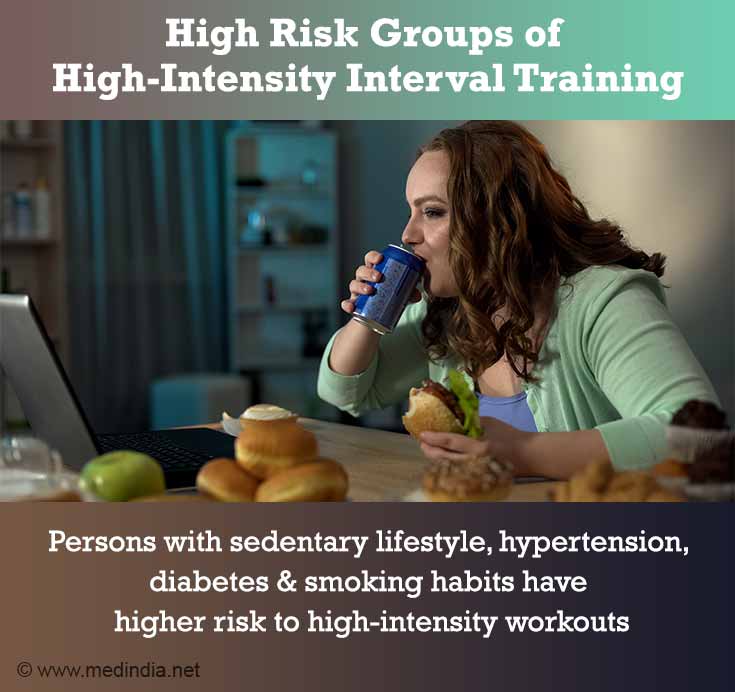 What are the Precautionary Measures before High-intensity Interval Training / Any Exercise Program?
Seek medical clearance from a physician.
Before HIIT, establish a foundation level of fitness, referred to as base fitness.
Establish appropriate exercise form and muscle strength to reduce the risk of musculoskeletal injury.
Irrespective of age, gender and fitness level, modify the intensity of work interval.
Know your personal safety level and not match up with other persons.
Efficiency
High-intensity interval training is an ideal workout for a busy schedule, if squeezing out is required during lunch breaks or for any event that is impending. A study shows that progress can be achieved faster by doing 15 minutes of interval training done thrice a week as compared to jogging on the treadmill for an hour. Also, undergoing 2 weeks of high-intensity intervals raises aerobic capacity similar to 6-8 weeks of endurance training.
Building Healthy Heart
In a study conducted in 2006 stated that practicing 8 weeks of HIIT workouts leads to healthier heart such that subject can even bicycle for much longer than previously done, though maintaining the same pace.
No Equipment Needed
Typical aerobic exercises like walking, running, stair climbing, cycling, biking, rowing, swimming are all kinds of HIIT and don't need any equipment.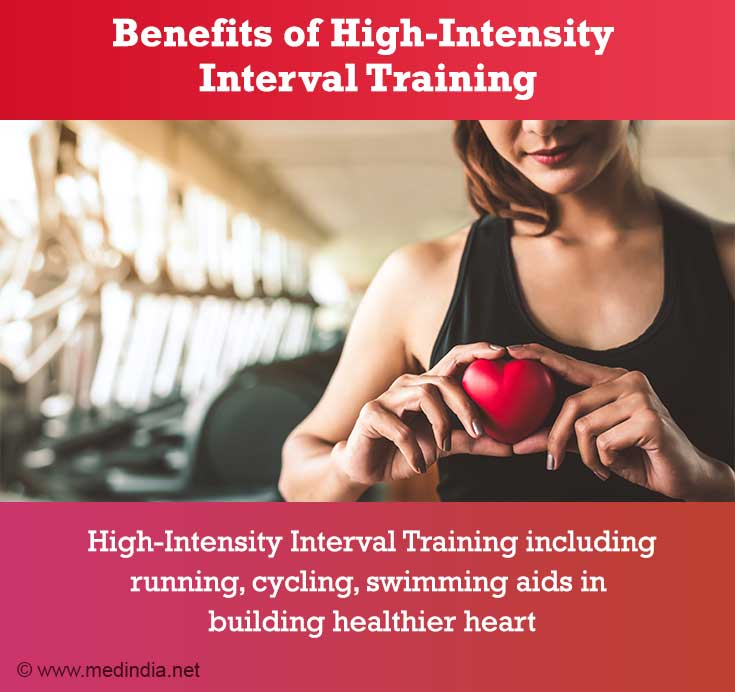 Retain Muscles
As per a study, weight training and HIIT workouts preserve hard-earned muscles and ensure that most of the weight loss comes from reserves of fat stored in the body.
Elevated Metabolism
Not only does HIIT raises burning of fat and preserves your muscles, but also stimulates human growth hormone production (HGH) by up to 450% within 24 hours after the workout is finished. This is beneficial as HGH slows down the aging process, thereby making you look younger from outside as well as inside.
No Space Restriction
Since it is based on a simple concept of ensuring maximum effort for limited time period followed by a recovery period, it can be done at any time and place.
Challenging
This type of workout can't be done while reading a newspaper or chatting. Also, due to its short nature longer working hours may be required. HIIT offers seasoned exercisers a challenge and an instant way to obtain results.
More Fat Burn
HIIT workouts burn more calories due to the increased body's repair mechanism. In other words, HIIT allows you to burn more fat and calories in 24 hours than a typical workout, such as steady-pace run.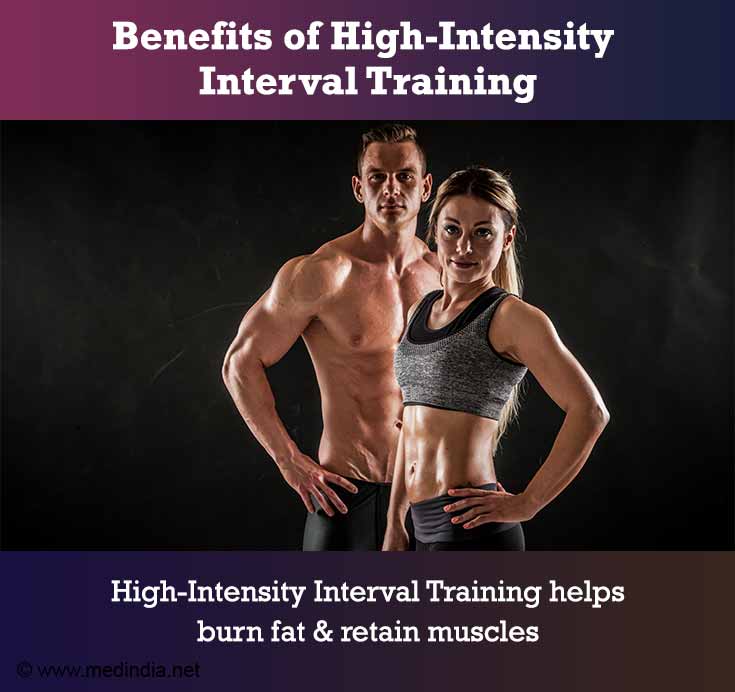 Interval training is a vital part of athlete training programs, as a variety of sport and recreational activities need short bursts of movement at high intensities. HIIT is being increasingly known as a well-connected method of training. By including interval training as a part of your general exercise program will cause optimization in the development of cardiorespiratory fitness and various other health benefits.
Reference:
High-intensity interval training -

(https://en.wikipedia.org/wiki/High-intensity_interval_training)
Latest Publications and Research on All You Need to Know about High Intensity Interval Training