What is Vampire Facial & Who Invented It?
Although the term vampire facial is a bit scary, it has no relation to vampires and it is named so perhaps because your own blood is used for the facial treatment.
The blood facial treatment became famous due to Kim Kardashian, who posted a selfie of herself on Instagram with her face covered in her blood following the facial treatment. The picture, although initially shocking, became a trendsetter in facial anti-aging treatments, with several celebrities following suit to make their skin look younger and glowing.
Interestingly though, Kim decided never to have a vampire facial again, but says that it may probably suit others better: "Even though it wasn't for me, I know it has so many benefits for your skin," she says.
The term "vampire facial" was first coined and patented by Dr. Charles Runels, MD, a plastic surgeon from Mobile, Alabama, USA. The technical term for this treatment is a platelet-rich plasma or PRP facial, although both terms are used commonly.
As stated earlier, during a vampire facial, once a sample of your blood is drawn, it is spun in a centrifuge to separate out the liquid portion of the blood or plasma. The platelets are then extracted from the liquid plasma and the sample is concentrated to obtain what is called platelet-rich plasma (PRP).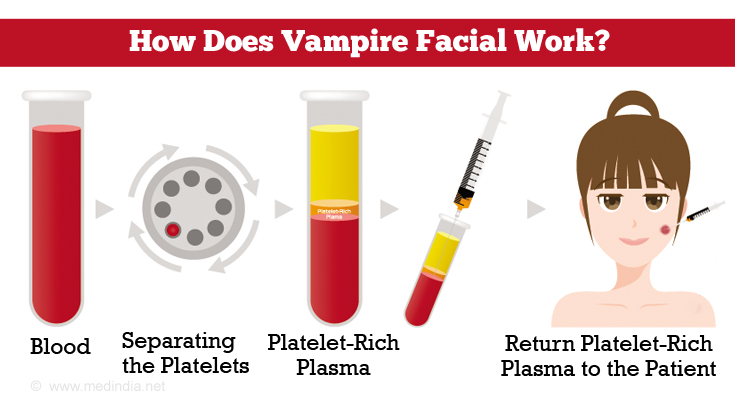 The procedure is done by a medical team led by a dermatologist. The plasma is first applied on your face and then microneedling is done to create a series of tiny superficial pores across the cheeks and forehead to help the face absorb the proteins from the plasma.
The platelet-rich plasma is rich in growth factors that promote collagen development and improve skin tone and texture. It is believed that the platelets and growth factors induce a healing response which rejuvenates the skin over time. The various benefits of this procedure include the following:
Skin appearance is better with smoothening of wrinkles and fine lines
It is a natural procedure and does not use any artificial chemicals
Skin texture becomes better
The size of the skin pores is decreased
Removes facial scars and acne
Tone and elasticity of your skin is better
Skin appears younger and has a glow
Improves the effectiveness of other facial creams and skin care products
You can resume your routine the next day itself without missing work
It avoids expensive and invasive plastic surgery
Some of the side effects of vampire facial are highlighted below:
Pain:Persons who have poor pain tolerance should best avoid the procedure as it can be quite painful. However, numbing gels can be used to reduce pain.
Inflammation: Sometimes the vampire facial may cause undesirable side effects such as swelling and redness of the face if proper aftercare measures are not followed. It is best to consult an expert before you decide to undergo this procedure to know if this is suitable for you.
Infections: There have been reports of blood-borne infections due to not following sterile practices while using needles, which have led to infections such as HIV, hepatitis B and hepatitis C. These are fortunately rare and happen at unlicensed spas when the procedure is not supervised by a medical professional.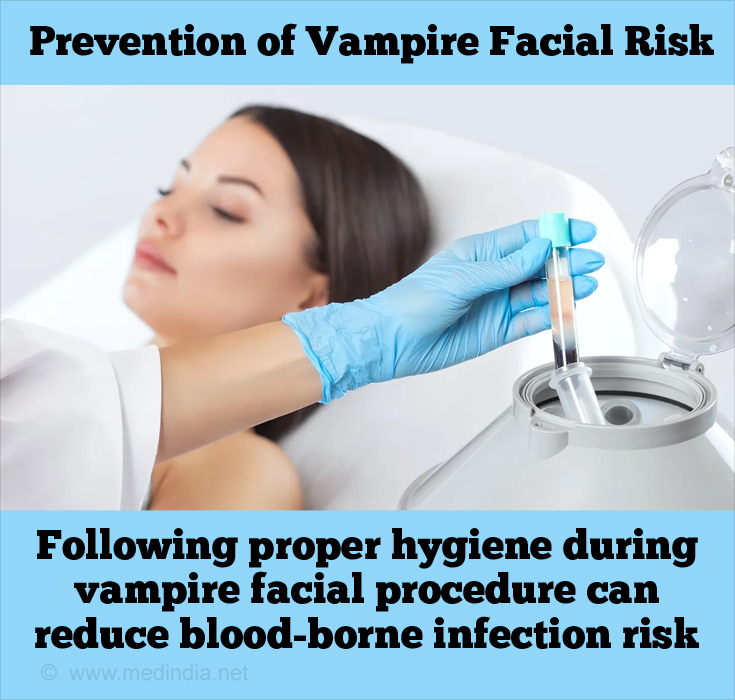 Miscellaneous: Other possible demerits of the procedure include the fact that it is expensive, costing anything between $ 1500-2500. Also, it has to be done regularly at least once a year to sustain the beneficial effects on the skin. Moreover, there are no scientifically validated studies that have shown vampire facial treatment to be effective
Does Vampire Facial Suit All Skin Types?
Vampire facial is a safe technique and can be performed on all skin types. However, always consult an expert before undergoing this procedure to confirm if the procedure is suitable for you. Go only to licensed medical spas or beauty salons where the procedure is done or supervised by a certified medical professional.
Performed properly and followed by adequate aftercare, the vampire facelift enhances the texture, volume, and irons out the wrinkles and lines, giving the skin a youthful look while avoiding more invasive and highly expensive plastic surgery. The effects will be visible within a few days and continue to become even better over the following weeks.
References:
Is platelet-rich plasma the secret to younger-looking skin? -

(https://www.aad.org/public/skin-hair-nails/anti-aging-skin-care/facials)

Vampire facial  -

(https://skepticalinquirer.org/exclusive/vampire_facials/)

Vampire facial: What is it and why is it so popular? -

(https://health.clevelandclinic.org/can-a-blood-facial-make-you-look-younger/)

About vampire facial  -

(https://www.tmc.edu/news/2018/10/vampire-facial-not-that-bloody/)
Latest Publications and Research on Vampire Facial