What is Therapeutic Drug Monitoring?
Therapeutic drug monitoring (TDM) is the practice of measuring the concentration of drug in the bloodstream, at pre-defined intervals. It helps to individualize the dosage regimen for patients and thus maintain the desired level of drug substance in patients' body.
The drug concentration is usually measured in blood; however, it can also be measured in other body fluids like sweat, urine, and saliva.
Therapeutic drug monitoring is used for treatment as well as for diagnostic purposes.
It is easier to correlate the relationship between the drug's therapeutic or adverse effect on its concentration in the blood, rather than with the dose administered. This principle is used for TDM.
The drug metabolism too varies from patient to patient, in case of some drugs. TDM helps in individualizing the dosage regimen in these cases too.
Therapeutic drug monitoring helps in patient management and to improve clinical effects of the drug.
Therapeutic drug monitoring helps in designing patient-specific dosage regimen; it aids in enhancing the efficacy of drugs, to reduce the toxicity of drugs and for diagnostic purposes, by individualizing drug therapy.
Some drugs have a wide coefficient of pharmacokinetic variation and thus exhibit a larger intra-patient variation between dose and effect. Therapeutic drug monitoring becomes very helpful in such situations.
What Information is Required for Therapeutic Drug Monitoring?
The following information is required:
Pharmacokinetics of the drug
Patient's clinical condition
Patient's clinical history concerning past therapeutic responses
Dosage regimen
Sampling time
Purpose of therapeutic drug monitoring, i.e. whether to determine efficacy, toxicity or for diagnostic purpose
Patient's clinical responses
The process of TDM involves:
Administration of a pre-determined dose of the drug
Collection of blood samples
Analysis of blood samples
Pharmacokinetic assessment of responses
Evaluation of clinical response
Finalizing dosage regimen
Various organizations have laid down guidelines for therapeutic drug monitoring for different categories of drugs.
One of the organizations, National Health Service (NHS), UK, lists guidelines for TDM of some drugs, which mention half-life of the drug, time to reach steady state, blood sample withdrawal timing and the target range for blood concentration.
Based on these specific drug guidelines and other sources, it can be summarized that the following stages are critical to conduct and interpret TDM studies:
Documentation involved in TDM
Legal procedures involved in TDM
Procedure for sample collection
Tests to be conducted before conducting TDM
The timing of sample collection - sampling time is decided depending on the half-life of the drug
Sample concentrations
Storage and shipment of samples
Monitoring of patients
Laboratory measurements of drug concentration in blood
Action required if abnormal results are observed
Computing analytical data
Interpretation of results and recommendations
Factors that Affect TDM Results
Pharmacokinetics
Dosage regimen
Formation of active metabolites
Effect of age
Sampling time and type
Testing methodology
The general indications to perform therapeutic drug monitoring are:
Narrow therapeutic index
Therapeutic failure
Wide variation in metabolism of drugs
A poorly defined clinical endpoint
For diagnosis of suspected toxicity and to detect drug abuse
The drug assay methods are expensive; hence, it is important to understand the benefits of therapeutic drug monitoring and its advantage for that drug.
The indications or situations under which therapeutic drug monitoring can be used are:
Toxicity:
Dosing:
To determine adequate loading dose
Dose adjustment after reaching a steady state
Monitoring:
To assess clinical response with varying dose, e.g., anticonvulsant therapy diagnosing failed therapy or sub-therapeutic dose
Which Drugs are Commonly Monitored in Therapeutic Drug Monitoring?
A drug becomes a suitable candidate for therapeutic drug monitoring if it meets the following criteria:
High level of pharmacokinetic variability
Narrow therapeutic index
Drugs with a steep dose-response curve
Exhibits co-relation between blood or plasma concentration and clinical effects
The therapeutic effect cannot be readily assessed based on clinical observation, e.g., for anticonvulsants like phenytoin or antidepressants, the relationship between dose and plasma concentration is unpredictable
Proven range of target drug concentration in blood
A cost-effective method for measuring drug content in blood is available
Some classes of drugs which are already being used for therapeutic drug monitoring include:
Anti-arrhythmics - e.g., digoxin - for heart failure
Anti-maniacs or mood stabilizers - e.g., lithium and tricyclic antidepressants– for acute and maintenance dose for psychotic disorders
Immunosuppressants - e.g., sirolimus
Aminoglycoside antibiotics - e.g., gentamicin, vancomycin
Anti-epileptics - e.g., phenytoin, carbamazepine, phenobarbitone – to prevent epileptic fits after neurosurgery or trauma
Immunosuppressants - e.g., cyclosporine - to prevent transplant rejection
Antineoplastics - e.g., methotrexate
Bronchodilators - e.g., theophylline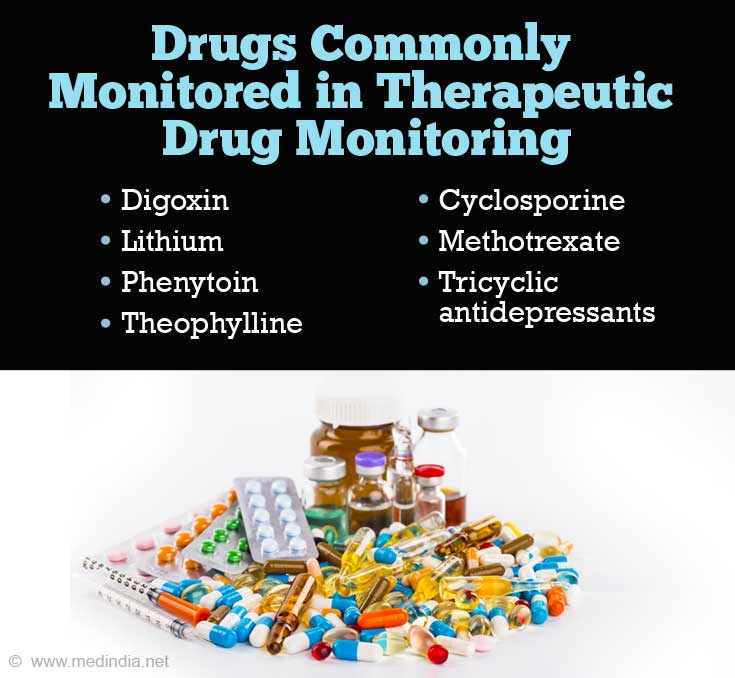 Some of the limitations include:
A limited number of drugs as suitable candidates for therapeutic drug monitoring
Variation or lack of accuracy and sensitivity of the drug assay methods
Limited infrastructure facilities in rural areas
Laboratory to laboratory variations in reports
Insufficient or invalid data for suggesting target concentration range
Active metabolite(s) of the drug may contribute to the therapeutic effect, but the metabolite cannot be measured
Lack of training and quality assurance skills
Cost of TDM study
What Analytical Techniques are used to Assay Drugs in Blood or any Other Fluid?
There are many analytical techniques to quantify the amount of drug in body fluid. The method should be such that it is
Able to differentiate between the compounds of similar structure, i.e., the drug and its metabolites
Able to detect small amounts
Simple to use
Not having any interference with other drugs being administered simultaneously
Some of the analytical techniques used for to assay drugs include:
Spectrophotometry
Chromatography (HPLC, GLC, etc)
Radio immunoassay (RIA)
Enzyme immune assay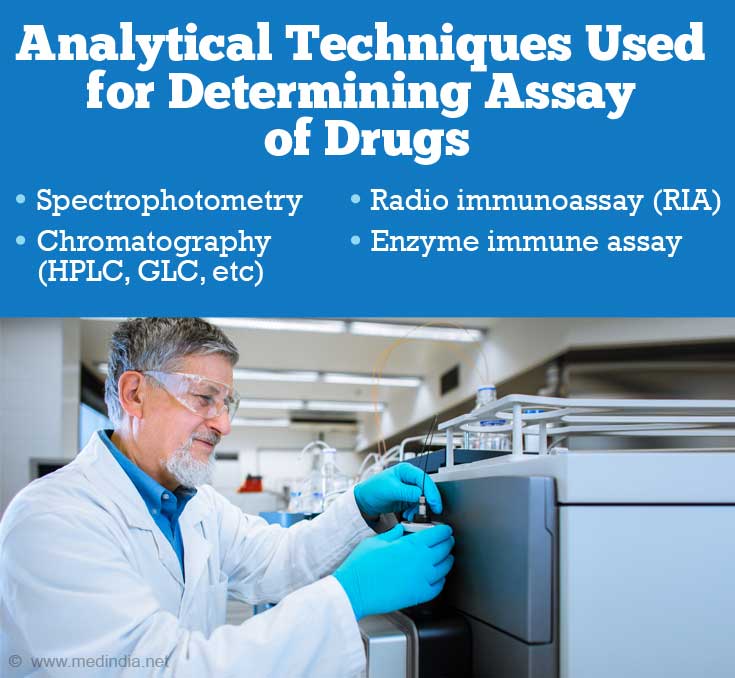 References:
Therapeutic drug monitoring: which drugs, why, when and how to do it -

(https://www.nps.org.au/australian-prescriber/articles/therapeutic-drug-monitoring-which-drugs-why-when-and-how-to-do-it)

Overview of Therapeutic Drug Monitoring -

(https://www.ncbi.nlm.nih.gov/pmc/articles/PMC2687654/)

Therapeutic Drug Monitoring -

(https://labtestsonline.org/tests/therapeutic-drug-monitoring)

New Guideline for Therapeutic Drug Monitoring in Inflammatory Bowel Disease -

(https://www.jwatch.org/na44790/2017/08/14/new-guideline-therapeutic-drug-monitoring-inflammatory)

NHS Grampian Acute Sector Summary Guideline for Therapeutic Drug Monitoring (TDM) in Adults -

(http://foi.nhsgrampian.org/globalassets/foidocument/foi-public-documents1---all-documents/nhsgtdma.pdf)
Post a Comment
Comments should be on the topic and should not be abusive. The editorial team reserves the right to review and moderate the comments posted on the site.