What are the Symptoms and Signs of Brain Metastasis?
Some of the clinical features of brain metastases are:
Headaches, which occur during sleep and get progressively worse
Cognitive deficiencies, such as memory loss, lethargy, lack of attention, weakness, and disinterest in activities
Weakness, based on the area of the brain in which the tumor develops. This affects bodily functions on the affected side of the body
Loss of sensation
Abnormalities in gait
Speech and vision abnormalities
Neurological deficits, including increased intracranial pressure, displaced or destroyed brain tissue, and swelling that affects adjacent regions.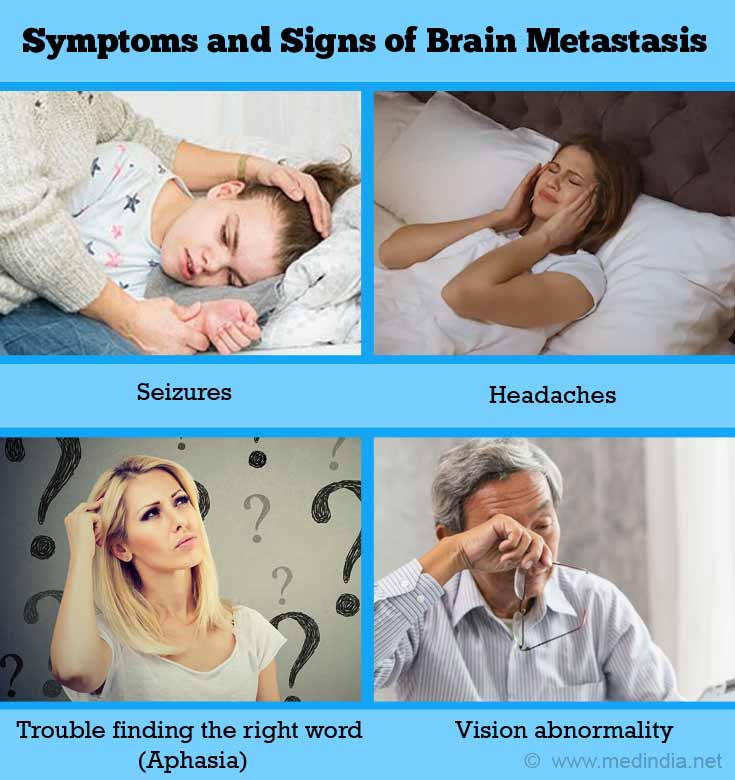 The region in the brain where the tumor grows, affects the associated side of the body with loss of sensory capabilities or disturbance in gait. More than half of those affected with brain metastasis, display cognitive difficulties and weakness.
References:
Mukherjee S. The Emperor of all Maladies: A Biography of Cancer. London: Fourth Estate, 2011.
Vachani C. All about brain metastases - OncoLink -

(https://www.oncolink.org/cancers/brain-tumors/brain-metastasis/all-about-brain-metastases)

Gould J. Breaking down the epidemiology of brain cancer. Nature. 2018; 561: S40-S41. -

(https://www.nature.com/articles/d41586-018-06704-7)

Eichler AF, Loeffler JS. Multidisciplinary management of brain metastases. Oncologist. 2007;12(7): 884-98. -

(http://theoncologist.alphamedpress.org/content/12/7/884.full)

Hardesty DA, Nakaji P. The current and future treatment of brain metastases. Front Surg. 2016; 3: 30.

(DOI:10.3389/fsurg.2016.00030)

. PMID: 27252942. -

(https://www.ncbi.nlm.nih.gov/pmc/articles/PMC4879329/)

Newton HB. Neurologic complications of systemic cancer. Am Fam Physician. 1999; 59(4): 878-86. -

(https://www.aafp.org/afp/1999/0215/p878.html)

Nivolumab and ipilimumab effective against melanoma that has spread to the brain - National Cancer Institute, National Institutes of Health (NIH), USA -

(https://www.cancer.gov/news-events/cancer-currents-blog/2018/melanoma-brain-metastases-nivolumab-ipilimumab)

Shipp S. Structure and function of the cerebral cortex. Curr Biol. 2007; 17(12): PR443-449. -

(https://www.cell.com/current-biology/fulltext/S0960-9822(07)01148-7#secsection0015)
Post a Comment
Comments should be on the topic and should not be abusive. The editorial team reserves the right to review and moderate the comments posted on the site.