What are Smart Drugs?
Smart drugs are also known as "Cognitive enhancement substances", or "memory enhancers. These could be drugs, supplements, nutraceuticals and functional foods which expand human capabilities and claim to improve cognition, memory, motivation and intelligence in healthy individuals. Hence, consuming smart drugs is also known as brain doping.
Smart drugs either increase the blood flow to brain or increase the concentration of neurotransmitters in the brain or stimulate nerve growth.(1✔)
Smart drugs are consumed by healthy individuals for improving personal behavior. These are also used by people who are in demanding and competitive jobs and by students to overcome academic pressures. The effects could be as given below:(2✔)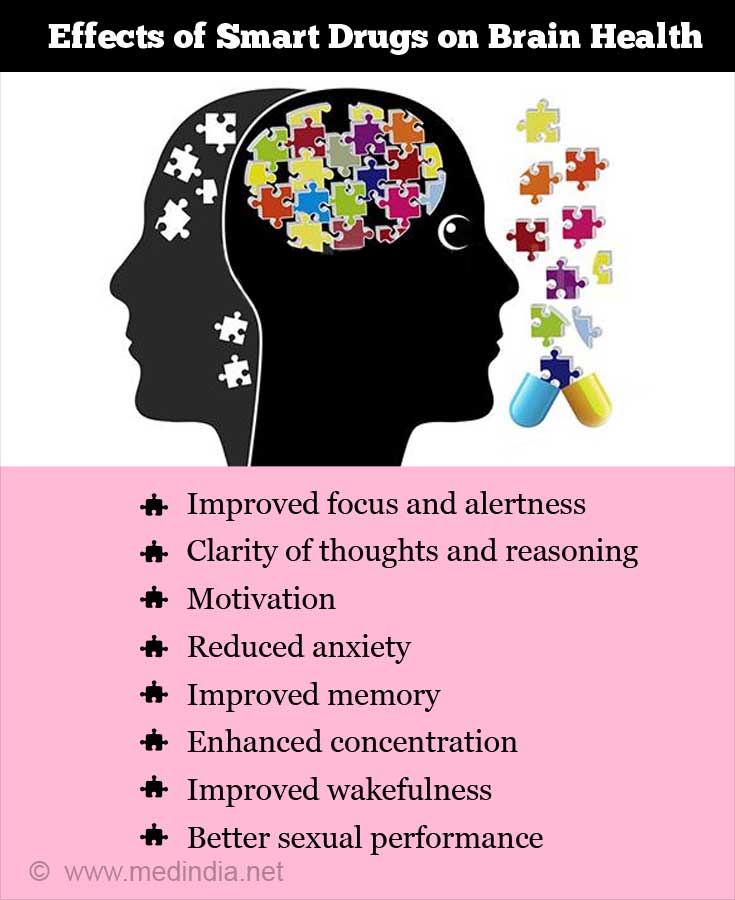 The performance of smart drugs is at its best at optimal concentration; having too low or too high doses can worsen effects.
It might work by increasing the concentration of a particular neurotransmitter if a person is a low performer. However, if the person is a high performer, the neurotransmitter would already be at an optimum level and increasing it further would not improve the performance of the individual. On the contrary, it may make it worse.
Use of these drugs as brain boosters is always debated by psychiatrists, neurosurgeons and psychoanalysts and the ethics for using these are challenged. Other reasons include their adverse effects and usage of prescription drugs for nonmedical uses.(3✔)
However, the global demand for these compounds is still growing rapidly.
Research indicates that Athletes too improves memory and learning; and sleep improves brain power.
The extent to which cognitive performance is improved by such non-pharmacological means compared to consuming smart drugs is not known. However, it appears that smart drugs are not more effective.
The addiction and side effects of consuming smart drugs could offset the benefits which one would expect from using these smart drugs.(4✔)
Hence, it is safer to avoid these drugs.
Smart Drugs for Athletes
Athletes use Smart drugs or performance enhancing drugs, to improve performance. The competition pressure to pursue one's dreams and peer pressure are the common reasons for increasing illegal use of performance enhancing drugs or doping. Their use is prohibited by most sports organizations.(5✔)
These drugs include:
These are used for multiple clinical indications. However, they are also misused and abused by athletes to improve their performance or for body building.
There are various categories of drugs which are used as smart drugs. Some of these are listed below:(6✔)
Adrafinil gets converted into Modafinil in the body. It is used to increase alertness, focus and concentration. It also helps improve short-term memory.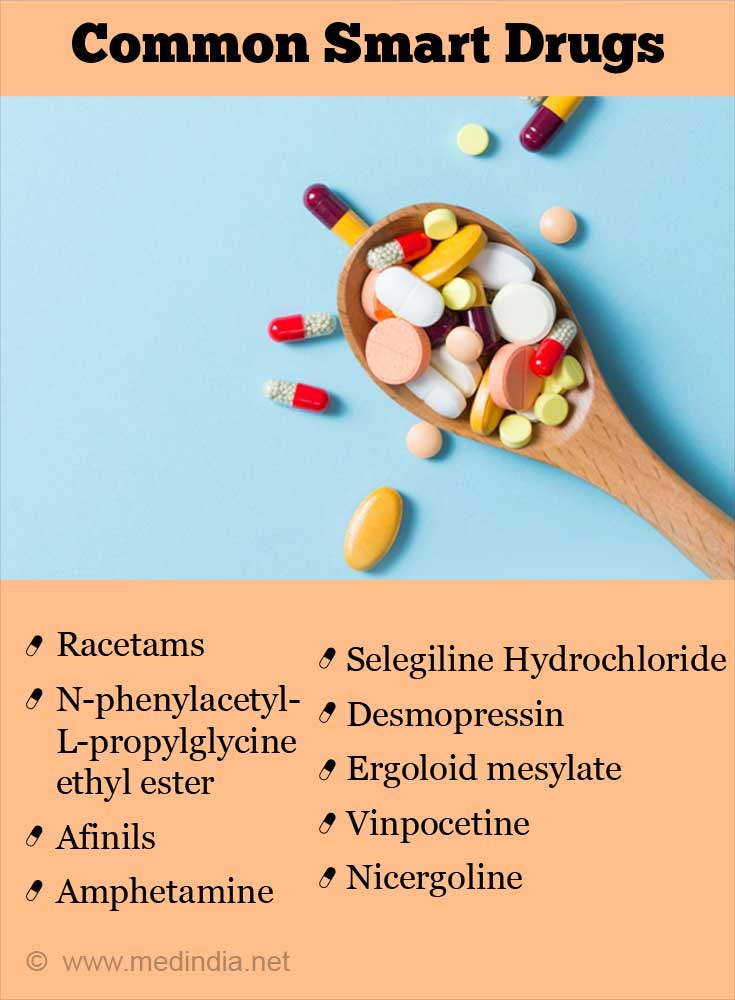 The ethics behind the use of smart drugs have been debated upon and challenged.
On the positive side, these drugs could fast-track new discoveries and lead to efficient output. It can be debated that if drugs can be used for sexual enhancement, beauty enhancement and mood enhancement, then why should they be discriminated for cognitive enhancement.
On the contrary, one can debate the negative aspects of using these drugs:
There could be health risks associated with use of smart drugs as these could be used for long term. They also have potential for abuse and dependence. The users can build tolerance and would need to take higher doses. They could also experience withdrawal symptoms, if they suddenly discontinue using these drugs.(8✔)
Post a Comment
Comments should be on the topic and should not be abusive. The editorial team reserves the right to review and moderate the comments posted on the site.