What is Pyelonephritis?
Pyelonephritis is a urinary tract infection that could affect one or both the kidneys. The infecting organism usually enters the urinary tract through the urethra, into the urinary bladder and then enters the kidneys. Bacteria are the main infecting organisms, but sometimes even viruses can cause the infection.
Kidneys and the Urinary tract
Kidneys are the waste removing organs in the body. They are two bean shaped organs present in the back just below the rib cage. The blood enters the kidneys and the waste materials from it are removed by the kidney's filtering systems to form urine. The urine drains from each kidney into the urinary bladder through tubes called ureters. The urine then passes from the bladder to the external environment through a short pipe called the urethra.
Acute pyelonephritis: This is a sudden and a potentially severe infection of the kidneys. This article is mostly about acute pyelonephritis.
Chronic pyelonephritis: Pyelonephritis can become a chronic condition due to recurrent or persistent infections. It can cause scarring of the tissues especially when there is already a urinary tract obstruction present. These patients normally have raised blood pressure; hence these patients should have their BP controlled adequately.
Pyelonephritis occurs usually due to ascending infection from urethra. Organisms (mainly bacteria) present outside enter into the bladder through the urethra. These organisms then multiply and move upwards through the ureters into the kidneys. The most common organisms that cause pyelonephritis are Esterichia coli (70 to 80%) and Enterococcus faecalis. If acquired through a hospital stay, it could be coliform bacteria and Enterococci.
In a small percentage of patients, the source of infection is elsewhere in the body, like a heart valve that has become infected. These bacteria pass into the bloodstream and then enter into the kidneys. Kidneys can also become infected after a kidney surgery, though this is rare.
Advertisement
Obstruction anywhere in the urinary tract: The obstruction can be due to a structural defect in the urinary tract, kidney stones, enlarged prostate (in males), or any abnormal growth like cancer.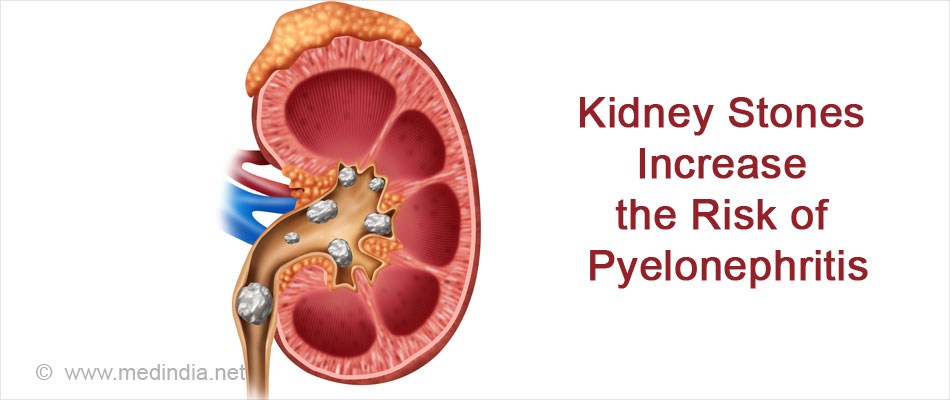 Vesico-ureteric reflux: In this condition, small amounts of urine flow backward from the urinary bladder, into the ureters and finally into the kidneys. This retrograde urine flow occurs at a high pressure. Due to this the kidney gets damaged over time. Bacteria can hide in the damaged parts of the kidney, leading to recurrent infections.
Problems with urinary catheters: Urinary catheter is a small pipe inserted into the bladder via the urethra to drain urine in patients who have undergone a recent surgery. If the catheter is not inserted under sterile conditions or if the urinary catheter is placed for weeks to months, there is a chance of bacteria entering into the bladder through the catheter tip and a risk of developing urinary infections.
Lack of immunity: Medical conditions like tuberculosis, AIDS, and cancer lead to a weak immune system. The body is not able to fight infection on its own. These people are more susceptible to urinary infections. Immunosuppressant drugs and chemotherapy drugs also weaken the immune system and may result in urinary infections.
Pregnancy: Pregnant women are more prone to acquire a urinary tract infection.
Female gender: Females are more prone to urinary tract infections compared to men due to their shorter urethra.
Nerve damage: Damage to the nerves of the bladder causes lack of sensation in the bladder and lower abdomen area. The patient would not experience the symptoms of pain and thus he would not be aware when the infection has progressed to kidney infection.
Symptoms can develop quickly within a few hours. Not everyone gets all the symptoms mentioned below:
Fever, mostly with chills and rigors
Pain in flanks/side/back, sometimes radiating to groin
Burning sensation or pain while urinating
Increased frequency and/or urgency of urination
Cloudy urine with strong odor
Pus or blood in the urine
Nausea or vomiting
Diarrhea
Abdominal pain
Confusion is a very common symptom of urinary tract infection in the elderly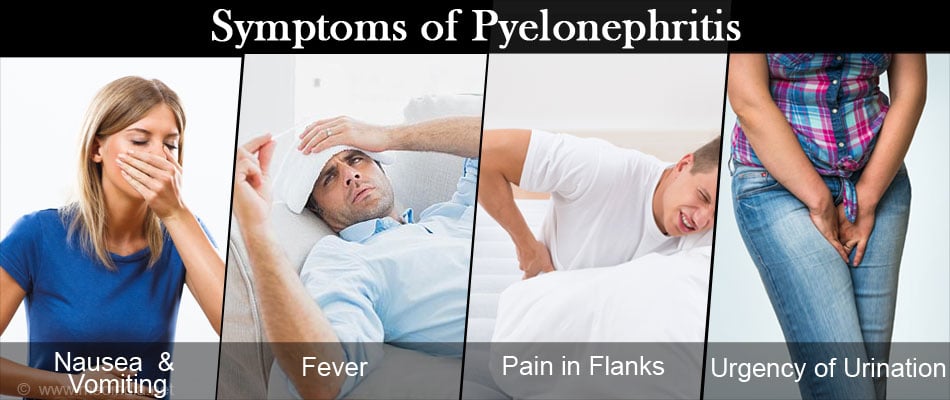 Urine analysis: Urine sample is sent for microscopy. Evidence of white blood cells and bacteria indicate infection.
Urine culture: Urine is also sent for culture and sensitivity. This test identifies the type of bacteria/organism causing the infection and helps to plan the treatment method.
Complete blood count shows a raised white cell count.
Imaging: Imaging is advised in patients if the diagnosis is not clear, or if patients do not improve within 72 hours and is advised in conditions like recurrent pyelonephritis or if they have kidney stones. It is also advised in children, men and pregnant women. It is usually not needed in non-pregnant women.

Ultrasound: This is a first line imaging investigation. It is cheap and can be performed on pregnant women too. It can identify kidney stones, wounds or other substances that block the urinary tract.
CT/Spiral CT scan: Will pick up moderate-severe disease but may be normal in mild disease. Cannot be performed in pregnant women due to risk of radiation. It can show detailed images of the kidney and the presence of any blockage.
Voiding cystourethrogram (VCUG): It uses a contrast medium to see an x-ray image of the bladder and urethra while full and during urination and indicates any problems of the same.
Digital rectal examination (DRE): This is a physical examination done on men with pyelonephritis to check if the infection is due to a swollen prostrate that is blocking the neck of the bladder.
Dimercaptosuccinic acid (DMSA) scintigraphy: Small amounts of radioactive material is injected to finally reach the kidneys and the radiation is detected as it passes through the kidneys via imaging techniques. The radiation makes the scarred or infected parts of the kidney stand out clearly. It is used primarily to identify severe kidney damage like scarring.
Prompt treatment is necessary to prevent complications. Majority of the patients can be managed at home. Treatments include:
Antibiotics are the first line of treatment that can be taken orally or intravenously. Depending on the species and antibiotic sensitivity, the drugs used may include fluoroquinolones, cephalosporins, aminoglycosides, or trimethoprim / sulfamethoxazole, either alone or in combination.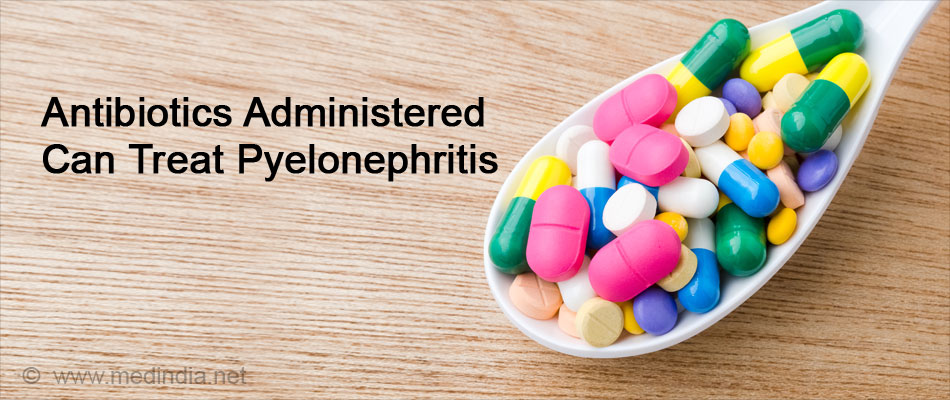 If the infection is very serious or if the patient has nausea they might need to get admitted in a hospital. Fluids and antibiotics are then given intravenously.
Pain management, antipyretics to get the fever down, antiemetics for vomiting and increased fluid intake are also important components of treatment.
Urine cultures are taken after the course of antibiotics is done. If infection persists, the antibiotics are prescribed for another 2 weeks. If the infection still remains after this, the patient has to use antibiotics up to 6 weeks.
Surgery: This is advised if there is a kidney abscess or a kidney stone causing obstruction or a birth defect is identified.
Advertisement
Pyelonephritis is a serious condition but is curable if treated appropriately with antibiotics There is a chance of complications if the infection is not cured in patients older than 65 years, patients with diabetes, pregnant women and babies under 3 months of age, immunosuppressed patients, kidney transplant patients in the first three months or those who have a structural abnormality or foreign body (stones, urinary stents etc.) within the urinary tract.
Sepsis can occur if the infection has spread into the blood.
Abscess (a collection of pus) can occur either in the kidney or around the kidney.
In patients who have a structural problem in the urinary tract or repeated episodes of pyelonephritis, kidney scarring can occur that can lead to chronic kidney disease and failure and high blood pressure.
In pregnant women, there is an increased risk of miscarriage and low birth weight babies.
Some women are generally more prone to urinary tract infections compared to others. Being a diabetic increases the risk of infections.
If you are prone to UTI, the following health tips can help you avoid infections.
Drink plenty of water so that the organisms can be flushed out.
Urinate frequently when you get the urge, do not hold urine for long time.
To maintain genital hygiene and to prevent urine infections, women are advised to wipe from front to back after urinating or after a bowel movement. If she wipes from back to front, the organisms present near the anus are likely to enter into the vagina and urinary tract.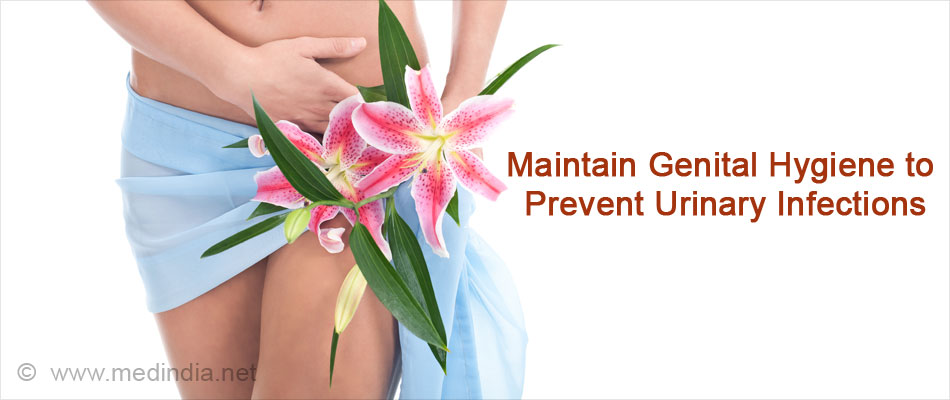 It is advisable for women to urinate after intercourse.
Saadeh SA, Mattoo TK; Managing urinary tract infections. Paediatric Nephrology. 2011 Nov;26 (11):1967-76.
Colgan R, Williams M, Johnson JR; Diagnosis and treatment of acute pyelonephritis in women. American Family Physician. 2011 Sep 1;84 (5):519-26.
Urinary Tract Infection - Children; NICE CKS, July 2015
Guidelines on Urological Infections; European Association of Urology (2015)
Pyelonephritis - acute; NICE CKS, June 2013
Management of suspected bacterial urinary tract infection in adults; Scottish Intercollegiate Guidelines Network – SIGN (updated guidelines 2012)
Please use one of the following formats to cite this article in your essay, paper or report:
APA

Dr. Sunita Sayammagaru. (2021, July 28). Pyelonephritis - Causes, Symptoms, Diagnosis, Treatment & Prevention. Medindia. Retrieved on Dec 09, 2022 from https://www.medindia.net/patientinfo/pyelonephritis.htm.

MLA

Dr. Sunita Sayammagaru. "Pyelonephritis - Causes, Symptoms, Diagnosis, Treatment & Prevention". Medindia. Dec 09, 2022. <https://www.medindia.net/patientinfo/pyelonephritis.htm>.

Chicago

Dr. Sunita Sayammagaru. "Pyelonephritis - Causes, Symptoms, Diagnosis, Treatment & Prevention". Medindia. https://www.medindia.net/patientinfo/pyelonephritis.htm. (accessed Dec 09, 2022).

Harvard

Dr. Sunita Sayammagaru. 2021. Pyelonephritis - Causes, Symptoms, Diagnosis, Treatment & Prevention. Medindia, viewed Dec 09, 2022, https://www.medindia.net/patientinfo/pyelonephritis.htm.
Latest Publications and Research on Pyelonephritis
Do you wish to consult an Urologist for your problem? Ask your question
Dr. Gautam Chopra
MBBS, MS, DNB Urology
3 years experience

Dr. Anurag Garg
MCh, MChir, MS, MBBS
11 years experience

Dr. Ketan Shukla
MBBS, MS, MCh, MChir
24 years experience
Aarogyam speciality Hospital , NAVRANGPURA , Ahmedabad
Dr. Sunil Shroff
MBBS, FRCS, Dip. Urology, MS
34 years experience
Madras Medical Mission Hospital, Mogappair, Chennai
+ 1 more
View All