What is Puberty?
Puberty is that stage in life when both boys and girls develop sexually and also acquire awareness of sexuality. This is the time when adult hormones kick in and prepare the body for its reproductive role.
Puberty usually begins in girls around the ages 9-13 and in boys around 10-16. Each individual being will go through puberty differently and at different ages.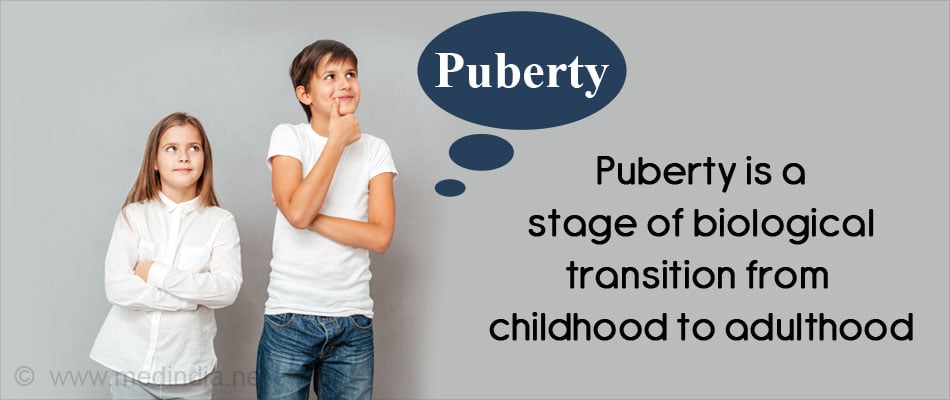 When the body is ready for puberty, the pituitary gland in the brain releases hormones which work on different parts of the body depending on your gender. For boys, the pituitary signals the testes (in the scrotum) to start making the sex hormone testosterone and for girls, the pituitary signals the ovaries to start making estrogen. This marks the beginning of menstruation and the readiness of the body to reproduce.
During puberty, the body undergoes a shift as the sex hormone production begins. Maturation during puberty is mainly controlled by complex interactions between the brain, pituitary gland, the gonads (sex glands) and the adrenal glands (glands that produce adrenaline and steroids). During this phase, rapid brain development also occurs along with physiological changes. These developments stimulate cognitive development and intelligence.
Some of the physiological processes underlying puberty include:
Hypothalamus in the brain releases hormones called gonadotropins that signal the pituitary gland to release two more hormones called the luteinizing hormone (LH) and follicle-stimulating hormone (FSH) into the bloodstream.
LH and FSH stimulate the production of male and female hormones – androgen in the male testes and estrogen in the female ovaries.
There is evidence that gonadal hormones, gonadotropins and adrenal hormones affect and are affected by the social environment. Which is why adolescence is a time of tumultuous behavioral changes. Females experience mood swings, restlessness, excessive sleep and in some cases pre-menstrual syndrome or PMS. Males also experience mood swings, aggressive behaviour, excessive sleep, thoughts about sex and wet dreams.
Girls:
The first signs of puberty in girls are acne, development of breasts, hair in the underarm and pubic region. Puberty timing varies between individuals. It can start as early as 8 years or begin as late as 13. The process of puberty from breast development to menarche can last anywhere between 2-6 years.
Timing of events:
Breast development – 8-14
Pubic hair – 9-14
Rapid body growth (height and weight) – 10-15
Menarche (first period) – 10-16
Underarm hair – a couple of years after first onset of pubic hair
Acne – occurs along with underarm hair growth
Breast development begins with a firm, tender lump called a breast bud in the center. This is the first evidence of the onset of puberty. Soon the area around the nipple becomes enlarged. Breast size varies with individuals. In the beginning girls may experience some tenderness which settles down with time.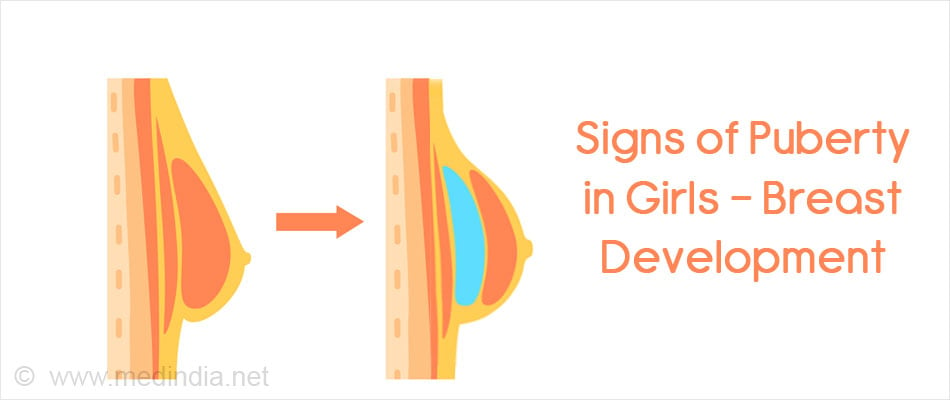 Hair Growth: Pubic hair growth is the second sign of puberty experienced by girls. Hair first forms on the outer areas of the private parts. The hair becomes coarse and dark and slowly spreads up to the inner thighs.
Rapid body growth: During this period, the upper and lower limbs also grow along with the torso and height. A female may gain up to 3.5 inches height per year. Height gain is sometimes accompanied by weight gain as well which is normal.
Menarche: Onset of menstrual cycle is the central event in female puberty as it signals the readiness of the body to reproduce. The timing of the first period has many accelerating factors including good nutrition, income levels of family and overall health. Periods may be accompanied by a number of symptoms like abdominal and back pain, breast tenderness, weight gain, excess sweating, nausea and irritability. With time some of these symptoms settle down. Girls should be educated on menstrual hygiene and monitoring for abnormal flows. It is normal to feel a little tired and drained during this period.
Underarm hair growth occurs a couple of years after the onset of pubic hair. Females may experience sweating in the underarm. It is important to maintain hygiene in this area.
Acne: As the underarm hair develops, the other glands (oil and sweat) are activated. Hair follicles get clogged due to oil deposits and dead skin cells. This results in a condition called acne. Acne can be prevented by washing the face regularly with a good soap or face wash. It is important to keep the facial skin oil-free to avoid acne.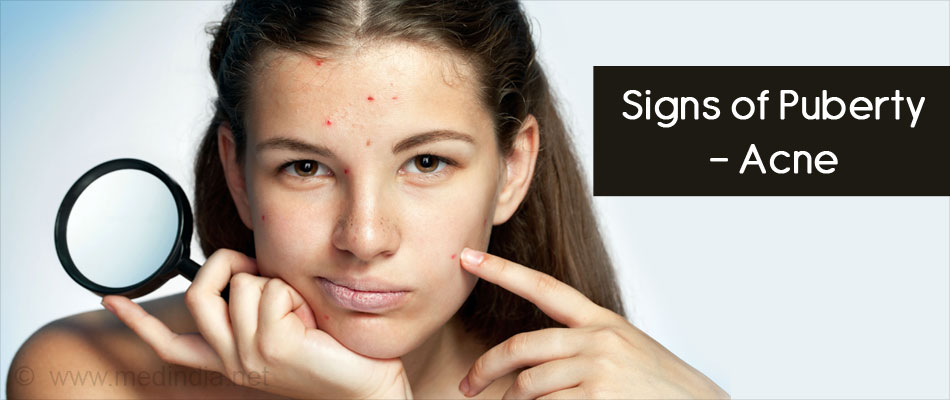 Boys:
The first sign of puberty in boys is growth of the penis, testis and scrotum. Timing of puberty varies between individuals. It can start anywhere between the age of 9-16 and last up to the age of 18 or 19. The complete process takes 2-5 years.
Timing of events:
Testicles and scrotum development (growth of genitalia) – 10-14
Pubic hair – 10-15
Rapid body growth (height and weight) – 10-17
Growth of penis – 11-15
Voice change – 11-15 along with the growth of the penis
Facial and underarm hair – around 2 years after pubic hair
Acne – along with appearance of facial hair
Growth of genitalia: Boys experience enlargement of the testicles and the scrotal sac. The scrotum usually darkens and continues growing.
Pubic Hair: Around the same time as the testicles grow, hair starts growing at the base of the penis. Soon the pubic hair becomes curlier, dense and darker. Finally it starts growing towards the thighs and the navel.
Rapid body growth: Puberty in boys leads to a sudden increase in height. The hands and legs grow lanky as the torso and shoulders keep up with this increase. Boys may gain up to 4 inches height each year.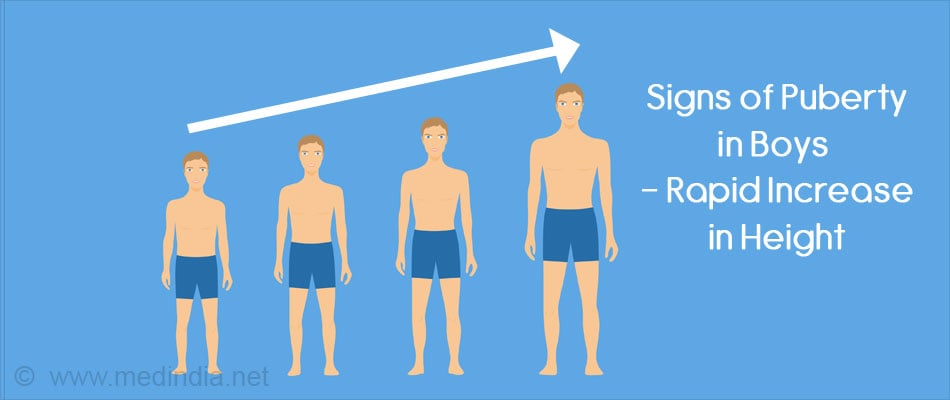 Penis Growth: The penis length increases with a small change in width. After a year of penis growth, boys experience their first ejaculation of semen. Though this feels scary and awkward, it is a normal sign.
Voice change: Around the age of 11, a boy's voice usually starts cracking and deepening. The voice deepens gradually and the full process may take around 1-2 years.
Hair Growth: This occurs a couple of years after pubic hair. Facial hair usually starts with the corners of the lip and slowly spreads to the upper lip and upward along the cheeks. During this time, legs, arms and underarm hair also grow and boys experience excessive sweating. Finally they start getting chest hair.
Acne: Along with facial and underarm hair, the oil glands beneath the facial skin start secreting excessive oil which leads to acne. To avoid excess breakouts, it is best to regularly wash the face at least 3-4 times a day.
Puberty can be a tumultuous time for both girls and boys. Along with bodily changes they also experience a search for the self and identity. This is a time when girls and boys feel conscious as their bodies change in different ways. They are also experiencing sexual growth and may feel attracted to the opposite sex. This leads to new emotions and feelings.     
Boys and girls experience varied mood swings ranging from aggression to depression. Teenagers experience many frustrations during this stage due to raging hormones, identity crises and exploring their sexuality. Parents and carers must be patient and understanding during this period.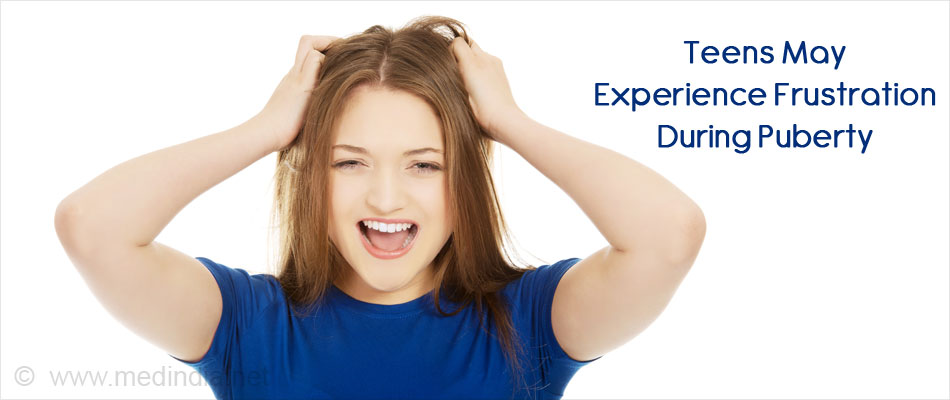 References:
Puberty -

(https://medlineplus.gov/puberty.html)

Know About Puberty -

(https://www.healthychildren.org/English/ages-stages/gradeschool/puberty/Pages/default.aspx)

Puberty Information -

(http://www.pamf.org/teen/health/puberty/)

Adolescent Development and the Biology of Puberty -

(https://www.ncbi.nlm.nih.gov/books/NBK224692/)

Menstruation in Girls and Adolescents: Using the Menstrual Cycle as a Vital Sign -

(http://www.acog.org/Resources-And-Publications/Committee-Opinions/Committee-on-Adolescent-Health-Care/Menstruation-in-Girls-and-Adolescents-Using-the-Menstrual-Cycle-as-a-Vital-Sign)

Time to Change -

(http://kidshealth.org/en/kids/puberty.html#)
Latest Publications and Research on Puberty