What is Polymelia?
Polymelia is a rare birth defect in which the affected individual has more than the usual number of limbs, usually five or more limbs. In this congenital defect, the extra limb is most commonly abnormal in shape and size and may appear as a shrunken limb. The presence of extra limbs, higher than the normal number is technically termed as supernumerary limbs. Polymelia can be in the form of dipygus deformity, which is a severe congenital anomaly in which the body axis forks along the abdomen and the lower extremities such as the pelvis and legs become duplicated, giving rise to two pelvises and four legs.
The prevalence of polymelia alone in the Indian population is difficult to ascertain; however, the prevalence of birth defects as a whole is 61 to 69.9/1000 live births. Since polymelia is an extremely rare condition, it is plausible that it forms only a minute fraction of the total prevalence of birth defects.
The type of polymelia depends on the position at which the accessory limb is attached to the body. Thus, polymelia can be classified as follows:
Cephalomelia: Extra-limb attached to the head
Pyromelia: Extra-limb attached to the pelvis
Thoracomelia: Extra-limb attached to the thorax
Notomelia: Extra-limb attached to the backbone
Polymelia can be caused by one of several factors:
Genetic Factors: These include defects in the chromosomes and transgenes. One or more genes may undergo a change, technically termed a mutation. Sometimes, a part of a gene may be missing. These changes can result in improper cell division and/or proliferation, leading to polymelia. In this genetic birth disorder, conjoined twins can sometimes be formed in which one of them undergoes degeneration while still in the womb, but its shrunken limbs may remain attached to the remaining fetus, thereby giving rise to polymelia.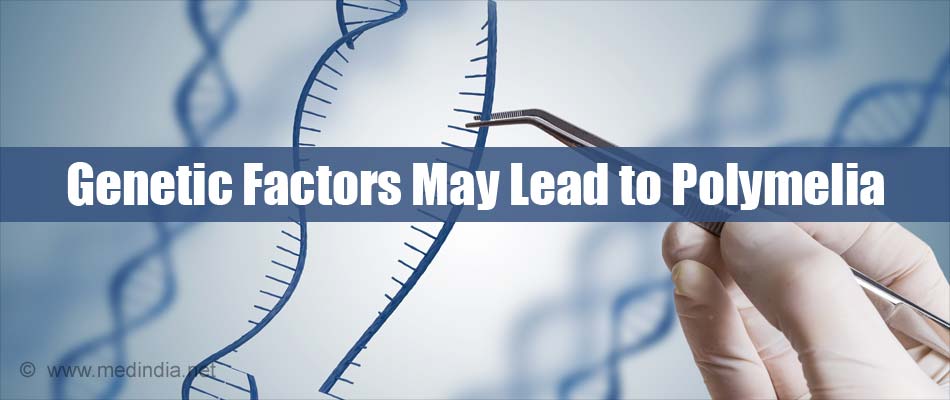 External Factors: Exposure to infectious agents, medications, and chemicals during pregnancy can influence the pattern of gene expression that can lead to polymelia. The thalidomide disaster is a classic example, where pregnant women consumed an innocuous cough syrup containing the drug thalidomide and gave birth to children having multiple limb defects like polymelia, amelia, phocomelia, polydactyly, abnormal hand position (AHP), limb reduction defects (LRD), and arthrogryposis. Exposure to the rubella virus, commonly known as German measles, as well as toxic chemicals such as hydrocarbons, can also give rise to congenital birth defects.
Advertisement
The signs and symptoms of polymelia are quite obvious. These include presence of limbs that are more than the normal number. This congenital anomaly is responsible for the extra number of limbs, as a result of which more than two arms or more than two legs are formed. Sometimes the limbs may be rudimentary or may be greatly deformed and disproportionate in size.
Prenatal (prior to birth) screening of fetuses while still in the womb offers a convenient way to identify birth defects associated with abnormalities in the limbs, so that timely preventive measures can be instituted. Prenatal diagnosis should be carried out by a multidisciplinary medical team so that a proper diagnosis can be established and institution of possible treatment strategies such as orthopedic surgery can be planned.
Commonly used diagnostic strategies include the following:
Fetal Ultrasonography: Fetal ultrasonography is the diagnostic tool of choice for detection of visible fetal abnormalities such as limb defects. Ultrasonography can effectively reveal the presence of polymelia, while the fetus is still in the womb. The general build of the patient's body, fetal position, quality of the ultrasound machine, and operator skill have a major impact on the diagnostic efficacy of prenatal ultrasonography.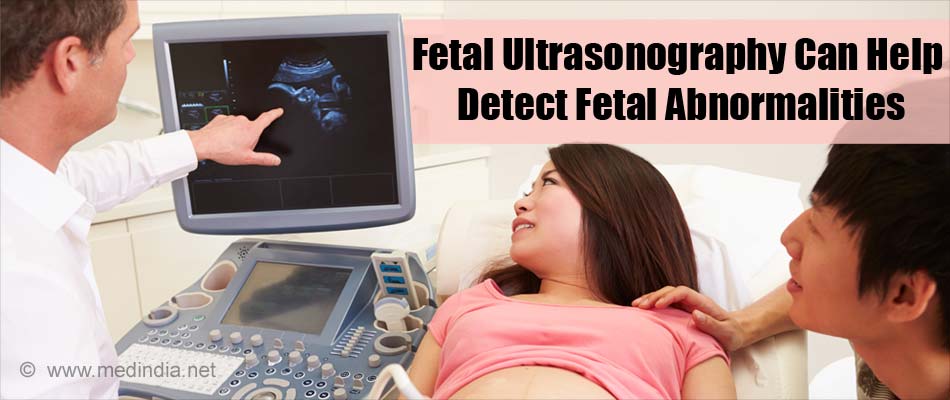 Magnetic Resonance Imaging (MRI): MRI can be used to detect fetal limb abnormalities. However, this technique is very rarely used in clinical practice for detecting fetal malformations, largely due to lack of knowledge of fetal anatomy and pathology, which is required for proper interpretation of the images.
Crucial Information Impacting Diagnosis: The medical history of the mother as well as a detailed family history influences a correct diagnosis. Therefore, the following aspects should be considered:
Maternal History:
Diabetes mellitus
Propensity for formation of blood clots (hypercoagulability)
Systemic lupus erythematosus (SLE) or other autoimmune diseases
High blood pressure (hypertension)
Exposure to teratogens
Family History:
Congenital limb abnormalities
Recurrent miscarriage
Mental retardation
Inherited disorders
Consanguinity
Treatment requires surgery to detach the soft tissue between the false limb(s) and other adjacent structures. Typically, a pediatric orthopedic surgeon would carry out the operation under general anesthesia. The surgery is quite complicated and involves the removal of the extra limbs from the body, taking utmost care not to excise other structures. A successful surgery is a life-changing event for the infant. However, the surgery can sometimes lead to disability and other complications.
Polymelia can be prevented by carrying out a thorough prenatal screening to detect any birth defects before the child is born. In case of any severe anatomical abnormalities such as supernumerary limbs, the gynecologist may advise the medical termination of pregnancy in a timely manner.
Health Tips
Have regular health check-ups during pregnancy: Do not miss any appointments with your gynecologist and follow all the instructions.
Educate yourself about diseases occurring during pregnancy: You should increase your awareness about diseases that may affect you or your baby during pregnancy.
Talk to your doctor to clarify your apprehensions: Consult your doctor regarding any doubts that may be in your mind.
Say "no" to consanguineous marriages: Do not marry with close relatives as this can dramatically increase the chances of your baby being born with congenital limb defects, including polymelia.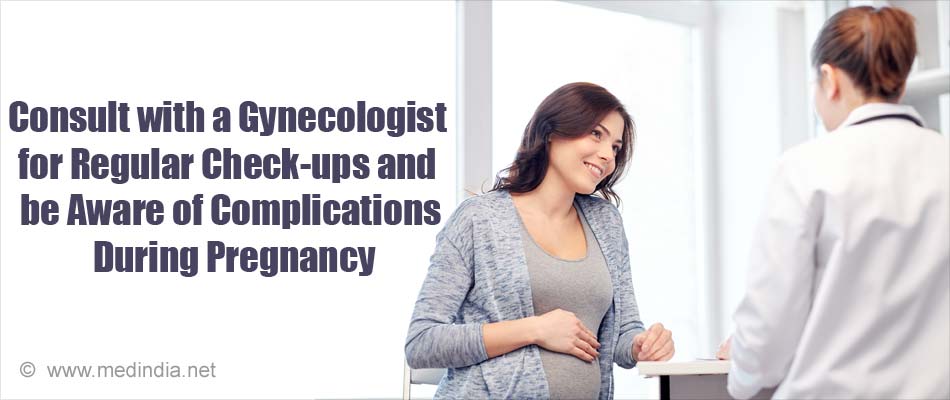 References:
Sharma R. Birth defects in India: hidden truth, need for urgent attention. Indian J Hum Genet. 2013; 19(2): 125-9. doi:

10.4103/0971-6866.116101

Verma S, Khanna M, Tripathi VN, Yadav NC. Occurrence of polymelia in a female child. J Clin Imaging Sci. 2013; 3: 18. doi:

10.4103/2156-7514.111235

Dicke JM, Piper SL, Goldfarb CA. The utility of ultrasound for the detection of fetal limb abnormalities – a 20-year single-center experience. Prenat Diagn. 2015; 35(4): 348-53. doi:

10.1002/pd.4546

Ermito S, Dinatale A, Carrara S, Cavaliere A, Imbruglia L, Recupero S. Prenatal diagnosis of limb abnormalities: role of fetal ultrasonography. J Prenat Med. 2009; 3(2): 18-22. PMCID: PMC3279100
Todros T, Capuzzo E, Gaglioti P. Prenatal diagnosis of congenital anomalies. Images Paediatr Cardiol. 2001; 3(2): 3-18. PMCID: PMC3232499
Reddy UM, Filly RA, Copel JA. Prenatal imaging: ultrasonography and magnetic resonance imaging. Obstet Gynecol. 2008; 112(1): 145-57
Please use one of the following formats to cite this article in your essay, paper or report:
APA

Dr. Kaushik Bharati. (2017, November 28). Polymelia - Causes, Symptoms, Diagnosis, Treatment & Prevention. Medindia. Retrieved on May 28, 2022 from https://www.medindia.net/patientinfo/polymelia.htm.

MLA

Dr. Kaushik Bharati. "Polymelia - Causes, Symptoms, Diagnosis, Treatment & Prevention". Medindia. May 28, 2022. <https://www.medindia.net/patientinfo/polymelia.htm>.

Chicago

Dr. Kaushik Bharati. "Polymelia - Causes, Symptoms, Diagnosis, Treatment & Prevention". Medindia. https://www.medindia.net/patientinfo/polymelia.htm. (accessed May 28, 2022).

Harvard

Dr. Kaushik Bharati. 2021. Polymelia - Causes, Symptoms, Diagnosis, Treatment & Prevention. Medindia, viewed May 28, 2022, https://www.medindia.net/patientinfo/polymelia.htm.