What is Night Blindness?
Night blindness or nyctalopia, as it is medically known is the impairment of vision at night time or in low light conditions. Blindness and night blindness are very different. Night blindness is the result of a vitamin A deficiency and it is reversible and preventable.
Night blindness does not mean that one is completely incapable of seeing, but rather means that the vision is compromised. It is imperative that night blindness is not a disease in itself, it is a symptom manifested due to underlying issues like retinal problems. A person suffering from night blindness would find it hard to watch a movie, or spot stars in the sky. Serious repercussions include not being able to drive at night while less serious cases may just involve a longer time to adapt in a brightly lit environment.(1)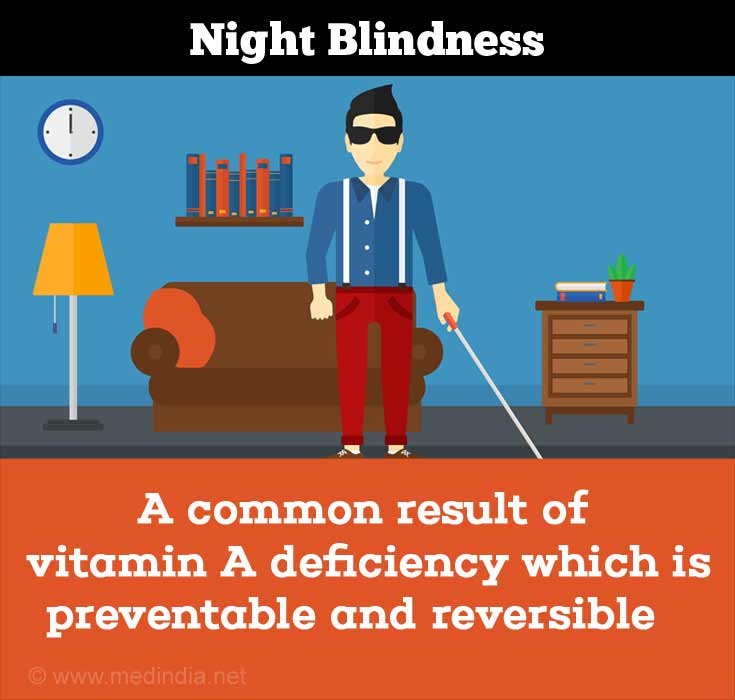 India has the largest population of blind people in the world. Three-fourth of the cases of blindness are caused due to vitamin deficiencies and are essentially avoidable. The rising number of blindness cases became a public health concern and the National Program for Control of Blindness in India was established to tackle the same.
Night blindness affects pre-school children and pregnant women the most. According to a report by WHO, night blindness globally impacts 0.9% of children and 7.8% of pregnant women.
The proportion of cases of night blindness peaks in developing countries where health and nutrition are a constant worry. Africa and South East Asia account for nearly 2/3rd of the cases.
The term night blindness is actually quite misleading as it implies that one is sightless at night, but as explained above, this is not the case.(2✔)
As mentioned earlier, night blindness is the symptom of a variety of underlying conditions and include:
In other cases, an individual may suffer from night vision impairment by birth (congenital nyctalopia) or because of the use of certain drugs (like medication for glaucoma).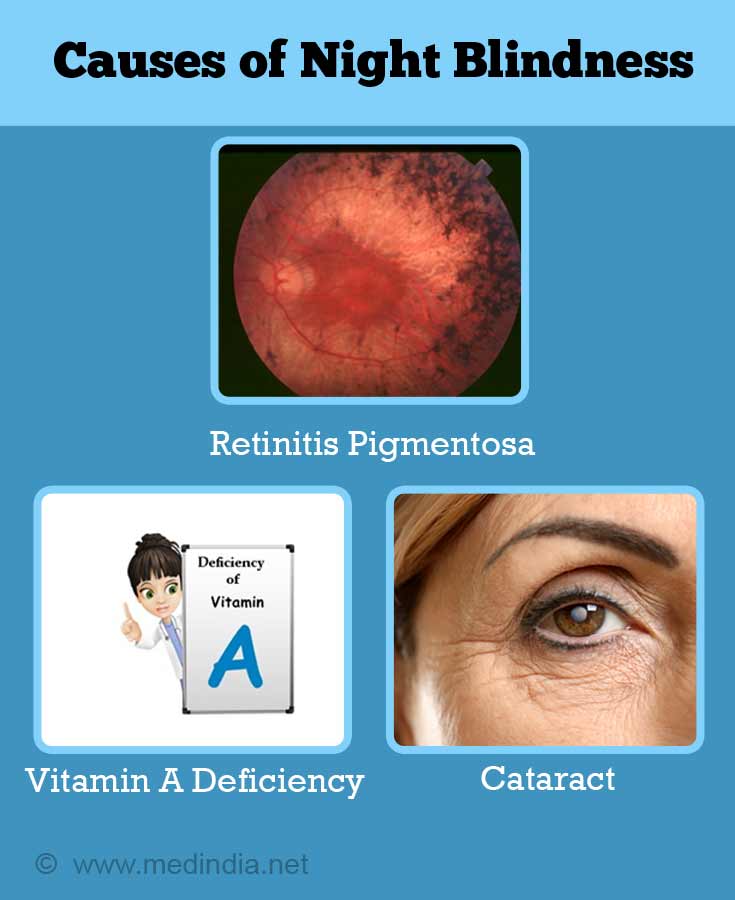 Night blindness affects people of all ages from young children to old people. Hence, it is important to identify the signs and symptoms of the disease and avail treatment at the earliest. The basic symptoms involve vision impairment in dim environments, longer adaptability period while switching from bright light to dim light and tunnel vision (loss of peripheral field of vision).
Certain cases of night blindness are curable while others are not, depending upon the cause for the onset of the disease. Regardless of the reason, patients should immediately visit an eye specialist/ophthalmologist who will make the diagnosis.
History: The doctor will ask for the complaints in vision and then interrogate about several aspects of the condition like – severity, onset, progression, duration, diet, past history of eye surgery and so on. History of recent onset fear of going alone in the dark, frequent falls or bumps might give a clue especially in children.
Eye Examination: A night blindness test involves a brief eye examination. The eye exam includes the following:
Tests to measure visual sharpness, pupillary light reflex and the ability to see colors.
Refraction test to verify the prescription for spectacles or contact lenses.
Slit Lamp Examination to identify structural anomalies in the front of the eye, including conjunctiva, cornea, eyelids, iris, lens, and sclera.
Retinal Examination using an ophthalmoscope to check for any injury to the structures in the back of the eye, the choroid, retina, vitreous, optic nerve and retinal detachment.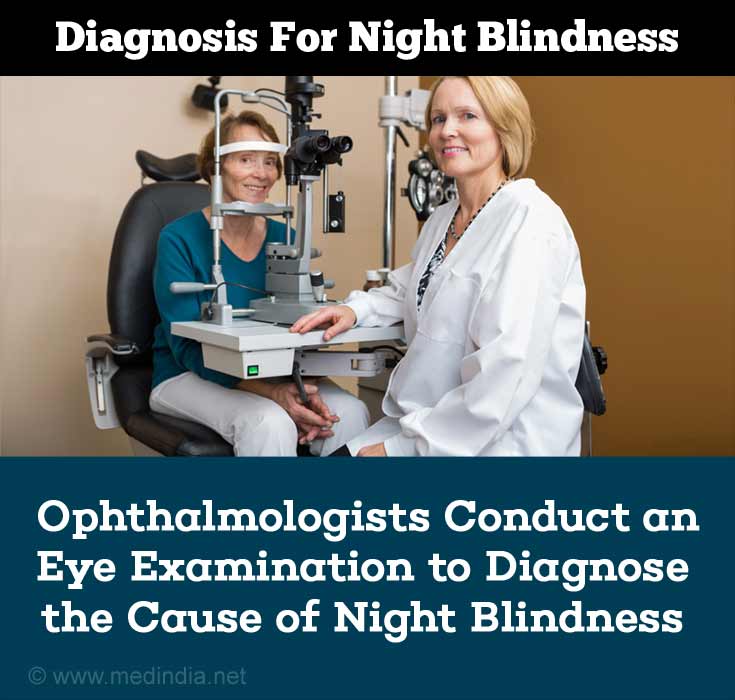 Other Tests
Additionally, the doctor could ask for an Electroretinogram (measures the responses of rods and cones to light) to be done.
Visual field tests may be done to rule out the possibility of other diseases like glaucoma or brain stroke.
Often the treatment for poor night vision involves directly treating the underlying condition that is causing night blindness.
Myopia or nearsightedness will be kept under control by the use of vision correction glasses or contact lenses.
Cataract surgery is a simple procedure that removes the fogginess on the eye lens and improves eyesight and reduces night blindness.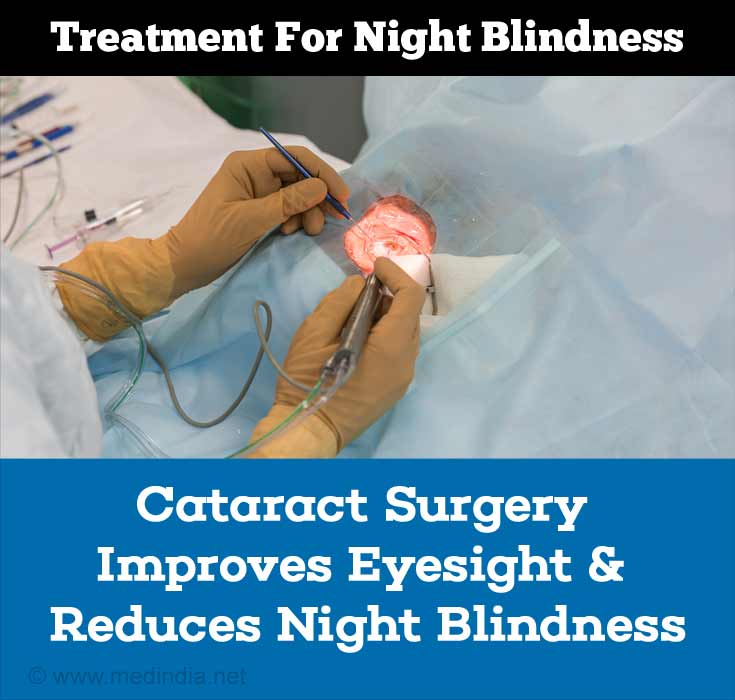 Certain drugs that might cause night blindness such as Quinidine should be replaced with an alternate drug.
Those suffering from Vitamin A Deficiency should include foods rich in vitamin A. The desired results do not just occur with a change in the diet, rather take time to be healed. Oral or injectable vitamin A preparations should be administered as per the age of the child and severity of disease.
The condition is irreversible and permanent for individuals who have a birth defect as there is no cure for the same.
One could be prescribed with eye glasses that enhance vision and could help with driving at night time.(4)
In order to prevent or forestall the development of night blindness, the following measures may be followed.
Including plenty of Vitamin A in the diet. Foods rich in vitamin A include dairy products, egg yolks, fish liver oil, and liver, yellow-green fruits and vegetables like papaya, carrots, mangoes, melons, bell peppers, and spinach.
Regular eye check-ups with an ophthalmologist
Health Tips
Ensure you eat vitamin A rich foods everyday i.e. yellow, green, red foods e.g. papaya, mangoes, oranges, lemons, sweet lime, carrots, bell peppers, pumpkin, spinach, etc.
Help in Early identification of Diabetic Retinopathy
Start screening for diabetic retinopathy and other eye problems in your Clinic or Hospital We offer an online seamless solution that can benefit the patients. Please fill the form and submit it to us and a representative will call you and Discuss your requirements
Post a Comment
Comments should be on the topic and should not be abusive. The editorial team reserves the right to review and moderate the comments posted on the site.