What is Neutropenia?
Neutropenia is a condition where there is an abnormally low count of neutrophils in the blood. Neutrophils are the most predominant type of white cells occurring in the blood and play an important role in providing defence and immunity against infections. Neutropenia therefore results in an increased risk for recurrent infections.
Neutropenia results from different reasons, such as infections, blood disorders, drugs, or birth defects.
They are a type of white blood cells of the immune system, which are important to fight viral or bacterial infections in the body The neutrophils in the bloodstream travel to different locations in the body and fight the invading organisms. Neutrophils also trigger inflammation responses in the body.
The absolute neutrophil count (ANC) is different based on ethnicity and age. On an average, the human body daily produces 1 billion neutrophils per kilogram of body weight. The ANC count is 1000 per microliter in children between 2 and 12 months. After 1 year of age, the ANC increases to 1500 per microliter. However, this value is lower in the Middle Eastern and African individuals. Based on the ANC count, neutropenia is classified as:
Mild neutropenia – 1000 to 1500 per microliter
Moderate neutropenia – 500 to 1000 per microliter
Severe neutropenia - < 500 per microliter
Neutropenia is also classified based on how it manifests at birth (congenital) or due to other causes, such as drugs, cancer, infections (acquired):
Congenital neutropenia (E.g. Chediak-Higashi syndrome, cyclic neutropenia, reticular dysgenesis, cyclic neutropenia, Wiskott-Aldrich syndrome).
Chronic neutropenia lasts for 3 months or longer.

Chronic idiopathic neutropenia results when it is impossible to identify the cause of neutropenia after ruling out infections, immune disorders, drugs, and bone marrow disorders.

Acute neutropenia occurs immediately in response to an infection.
Advertisement
Neutropenia may be caused by different factors as outlined below:
Infections - HIV, Malaria, Hepatitis A, B, C, sepsis, typhoid
Blood disorders - Chronic lymphocytic leukemia, acute myeloid leukemia, malignant lymphoma, Diamond-Blackfan syndrome, cyclic neutropenia, Kostmann's syndrome
Immune disorders - rheumatoid arthritis
Drugs - Clozapine, rituximab, antithyroid medications, sulfasalazine
Chemotherapy agents for cancer treatment eg alkylating agents and antimetabolites
Bone marrow diseases eg aplastic anemia, cancer infiltration
Deficiencies in diet - malnutrition, vitamin B12, copper
Preeclampsia in mother – (congenital neutropenia)
Maternal antibodies against neutrophils of the infant (congenital neutropenia)
Neutropenia caused by enlarged spleen
Cancer (e.g. large granular lymphocyte (LGL) leukemia)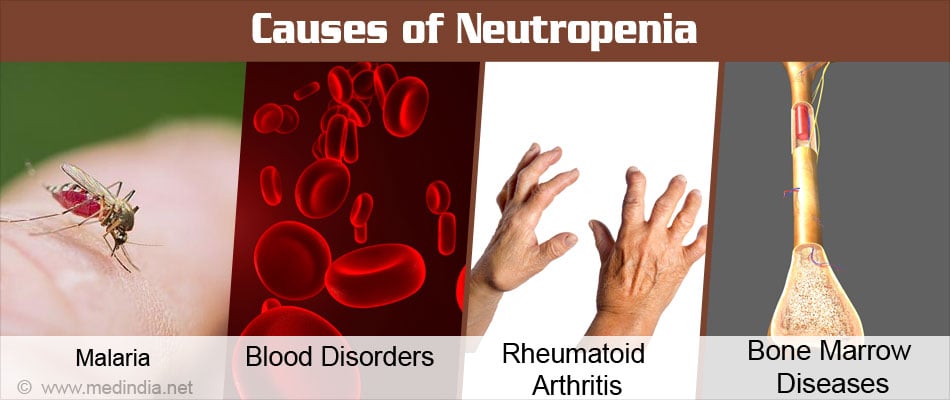 Neutropenia by itself does not cause any symptoms. In fact in many instances, it may be incidentally detected during a blood test for some other reason.
Symptoms may be related to the underlying cause of neutropenia or may present as recurrent infections, especially of the skin and mucus membranes. They usually manifest as
Ulcers
Non-healing wounds
Abscesses (spaces filled with pus)
Rashes
Fever
Fever (febrile neutropenia) is the only symptom frequently associated with neutropenia. Febrile neutropenia occurs when there is a rise in underarm temperature to > 38.5°C for over an hour while the ANC value is < 500 per microliter.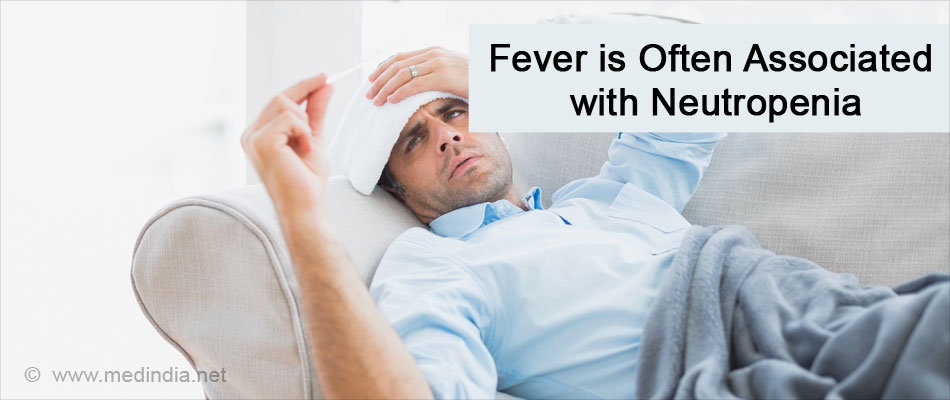 Severe neutropenia is characterized by the following symptoms:
Muscle pain
High fever
Symptoms of flu
Advertisement
Neutropenia is diagnosed with a medical evaluation and appropriate tests are recommended based on the ANC value. A complete blood count (CBC) gives an estimate of the neutrophil count.
Complete history – may be useful in diagnosing drug induced neutropenia,
Physical examination to look for any underlying cancers, enlarged liver and/or spleen, lymph node enlargement, evidence of infection in various sites, evidence of rheumatoid arthritis
Complete blood count (CBC) – Reveals the presence of reduced neutrophils in the blood and may give a clue to an underlying cause if any and
Prior history of reduced white cell counts (leukopenia, both acute and chronic)
Bone marrow aspiration in the case of chronic neutropenia
If the ANC count is <500 and the patient has a fever > 100.4°F, then there is an increased risk of infections and the patient should be admitted to the hospital immediately.
Even if the neutropenia is not severe but the patient has a serious infection, it is better to hospitalize the patient and administer antibiotic treatment.
If the patient has fever, but does not have an identifiable source of infection, it is still treated with broad spectrum antibiotics.
Advertisement
Congenital (Cyclic, familial, and constitutional) neutropenias do not require any treatment.
Quinolones are the first choice of antibiotics to treat high-risk patients who have just undergone anti-leukemia treatment or stem cell transplantation.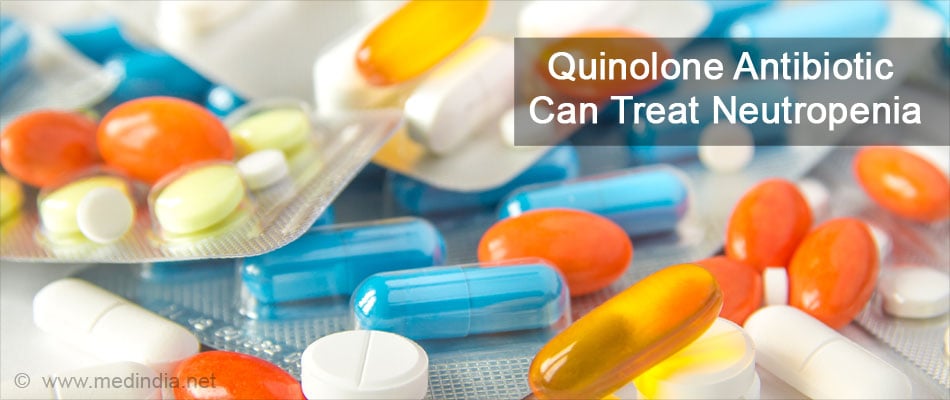 Amoxicillin with or without clavulanic acid is used to treat low-risk patients.
Corticosteroids may be useful in treating autoimmune neutropenia
Treatment of underlying cause will lead to resolution of neutropenia
Growth factor treatment (G-CSF, GM-CSF) is used to treat chronic or severe neutropenia 1 to 3 times a week at a minimum dose. It is also used to treat febrile neutropenia in combination with antibiotics.
IV immunoglobulins may be useful in immunodeficiency states
The best way to prevent neutropenia is to avoid infections (one of the causes of neutropenia).
Avoid crowded areas
Avoid pedicures and manicures
Wash your hands regularly
Wear shoes
Eat and sleep well
Do not share personal items, such as toothbrushes, utensils, cups, or food
Cook eggs and meat thoroughly so all the germs are killed
Make sure you get the annual flu shot
Wash all produce thoroughly
Use gloves while gardening or cleaning pets
Clean the surfaces in the house very well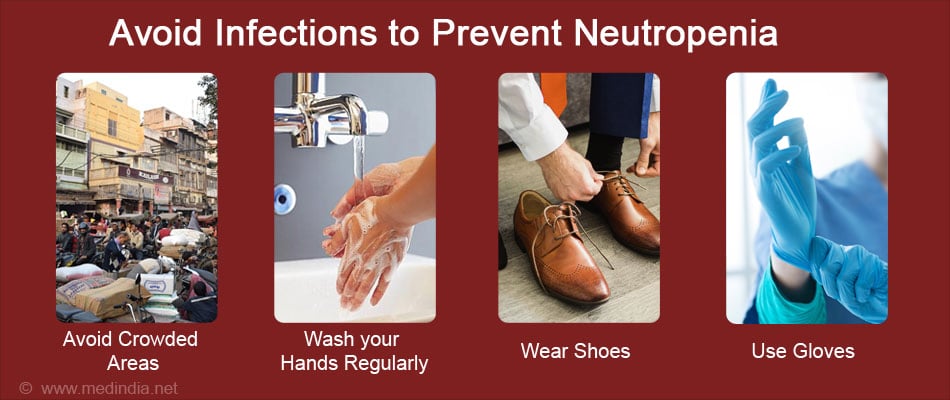 In the case of chemotherapy drugs that cause neutropenia, reducing the drug dose may help to prevent the infection.
Growth factor treatment has been shown to prevent nearly 50% of neutropenic fever cases. Sargramostim (GM-CSF), lenograstim and filgrastim (G-CSF), pegylated filgrastim are some of the growth factors used for treatment.
Neutropenia (low neutrophil count) -

(http://www.mayoclinic.org/symptoms/neutropenia/basics/definition/sym-20050854)

What you need to know: Neutropenia and risk for infection -

(https://www.cdc.gov/cancer/preventinfections/pdf/neutropenia.pdf)

Neutropenia – infants -

(https://medlineplus.gov/ency/article/007230.htm)

Agranulocytosis and neutropenia (white blood cell deficiencies) -

(http://www.nhs.uk/conditions/agranulocytosis/Pages/Introduction.aspx)

Neutropenia -

(https://www.healthdirect.gov.au/neutropenia)

Preeclampsia -

(http://www.mayoclinic.org/diseases- conditions/preeclampsia/basics/definition/con-20031644)

Cyclic Neutropenia -

(https://ghr.nlm.nih.gov/condition/cyclic-neutropenia#)

Boxer LA. How to approach neutropenia. Hematology 2012 2012:174-182;

doi:10.1182/asheducation-2012.1.174.

Schouten HC. Management of Neutropenia. Annals Onc. 2006;17 (S10):x85-x89.
Gibson C, Berliner N. How do we evaluate and treat neutropenia in adults. Blood. 2014;124:1251- 1258.
Lustberg MB. Management of Neutropenia in Cancer Patients. Clinical advances in hematology & oncology : H&O. 2012;10(12):825- 826.
Dale DC. Advances in the treatment of neutropenia. Curr Opin Support Palliat Care. 2009;3(3):207-212.
Please use one of the following formats to cite this article in your essay, paper or report:
APA

Dr. Smitha S. Dutt. (2017, April 13). Neutropenia - Causes, Symptoms, Diagnosis, Treatment & Prevention. Medindia. Retrieved on Jun 03, 2023 from https://www.medindia.net/patientinfo/neutropenia.htm.

MLA

Dr. Smitha S. Dutt. "Neutropenia - Causes, Symptoms, Diagnosis, Treatment & Prevention". Medindia. Jun 03, 2023. <https://www.medindia.net/patientinfo/neutropenia.htm>.

Chicago

Dr. Smitha S. Dutt. "Neutropenia - Causes, Symptoms, Diagnosis, Treatment & Prevention". Medindia. https://www.medindia.net/patientinfo/neutropenia.htm. (accessed Jun 03, 2023).

Harvard

Dr. Smitha S. Dutt. 2017. Neutropenia - Causes, Symptoms, Diagnosis, Treatment & Prevention. Medindia, viewed Jun 03, 2023, https://www.medindia.net/patientinfo/neutropenia.htm.
Latest Publications and Research on Neutropenia
Do you wish to consult a General Medicine Doctor / Internal Medicine Doctor for your problem? Ask your question
Dr. Ramashree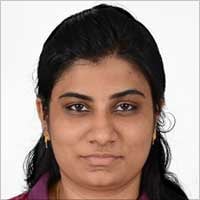 MBBS, F.I.O.G with laparoscopy
3 years experience
Saral clinics, Tondiarpet, Chennai
Dr. Sambit Banerjee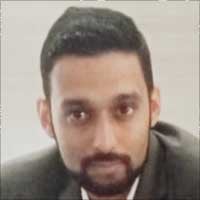 MBBS
7 years experience

Dr. Asmita Pandey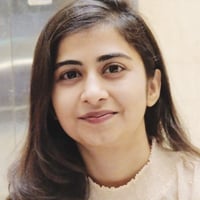 MBBS, FAM
3 years experience

Dr. Syed Mohammed Tayaib Raza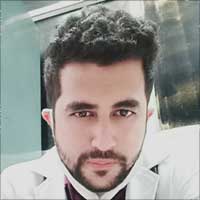 MBBS
1 year experience

View All