What is Marasmus?
Marasmus is a condition of chronic malnutrition or an inadequate nutritional diet occurring especially in children where there is significant wasting of fats, muscles and tissues of the body. Marasmus is caused by a diet deficient in calories and proteins and can affect both young children and adults especially in Africa and Southern Asia where there are famines and a constant scarcity of food supply.
Marasmus occurs commonly in children of one to three years, with children less than one year affected more than other age groups. Children with marasmus mostly do not have enough food to eat or the food eaten is not meeting the demands of the body.
Marasmus is also referred to as wasting as it is mostly identified by the affected person's physical appearance. The loss of body fat and muscle tissue leads to a withered appearance and being skeletally thin often described as looking like "skin and bones."
Facts on Marasmus
According to UNICEF, It is estimated that twenty million children under the age of five have severe forms of malnutrition like Marasmus and that about 500,000 to two million children die as a result of it.
The India National Family Health Survey 2006, states that twenty percent of children or around twenty five million children under five suffer from malnutrition.
Premature birth - Babies who are born premature find it difficult to suck the breast milk which puts them at higher risk of developing marasmus. Even failure of breast feeding makes children less than one year of age more prone to marasmus.
Early weaning
Deficient intake of calories and protein - This causes the body to use available resources present in the body for producing energy. This causes wasting of muscles and tissues resulting in symptoms of Marasmus. A child with marasmus will also consequently suffer from vitamin and mineral deficiencies including iron, zinc, vitamin A and iodine.
Infections - Childhood infections such as measles, diarrheal diseases and intestinal parasites may affect appetite of children causing them to eat less which may further lead to malnutrition and result in marasmus.
Drinking adulterated water
Poor sanitation and hygiene
Congenital defects - Congenital malformations such as cleft palate and cleft lip make feeding difficult and may lead to infections of the respiratory tract thereby complicating the risk of developing marasmus.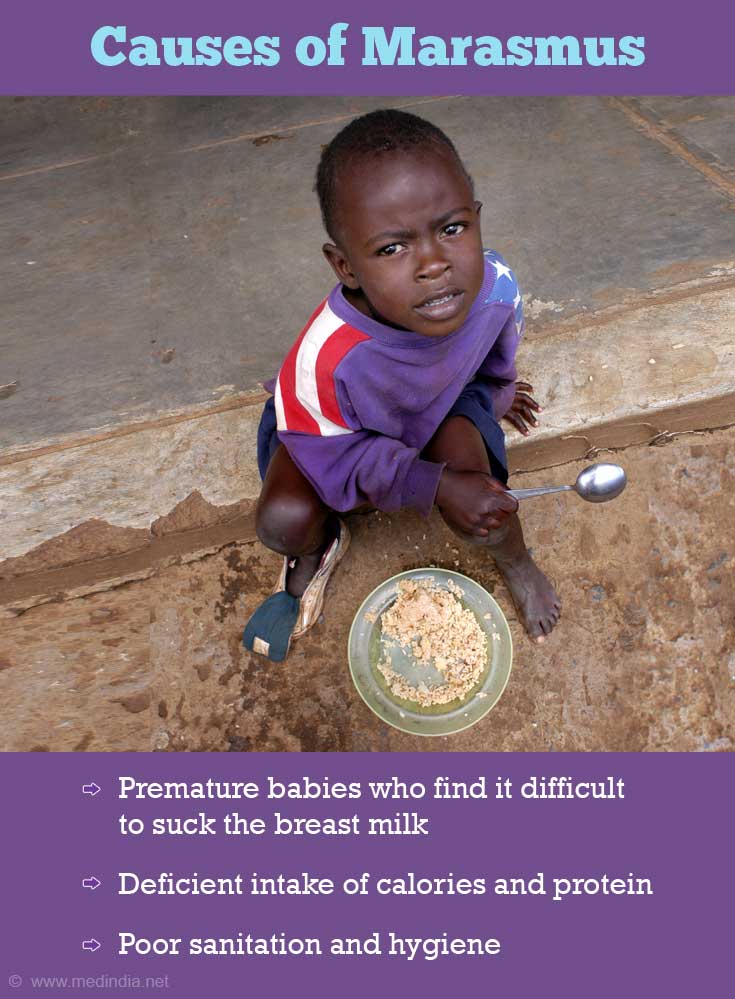 Poor growth and development
Thin and bony face.
Sunken eyes
Dry skin, brittle hair
Loose skin that may hang in folds in the upper arms, thighs, and buttocks
Ribs and shoulders which are clearly visible through the skin
Persistent dizziness
Chronic diarrhea
Irritable behavior though active and alert
Frequent dehydration
Lethargy
Frequent infections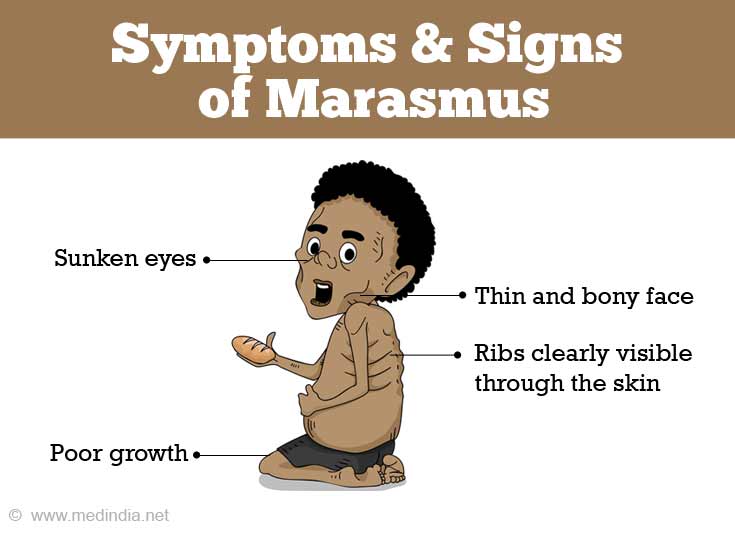 Marasmus is usually diagnosed by clinical examination and evaluation. This is usually sufficient for diagnosis. Basic measurements, such as height and weight, can help diagnose if a child has marasmus. When those measurements are well below what is expected of a healthy child of the same age and sex, marasmus should be considered. However, laboratory tests such as blood glucose, hemoglobin, urine and stool tests might help rule out other conditions and confirm the diagnosis of marasmus.
Treatment of Marasmus involves proper feeding, rehydration and close medical observation to prevent and manage complications of malnutrition. High protein and high energy diet is prescribed as a part of dietary treatment for Marasmus patients.
The treatment usually starts with introduction of carbohydrate rich foods that provide the required amount of calories and protein to the body. Patients are asked to take skimmed milk, eggs, water drained from boiled legumes, fruit juices, sugar cane juice, porridge of lentil and rice or pulses, vegetables soup, cereals, citrus fruits, vegetable soups and green vegetables.
A diet rich in Vitamin E such as vegetable oils like cotton seed, soy and safflower oil is also recommended to boost the immunity levels.
It is important to ensure that the food being consumed is cooked properly.
Breastfeeding mothers should provide their babies with sufficient complementary feedings in the weaning stage.
If dehydration is a problem due to diarrhea, fluids are to be given orally or intravenously as required to rehydrate the body.
If infections are present antibiotics may be prescribed to enable the patients to recover quickly.
In extreme cases where the body has lost its fat supply and most of the tissues have been starved, feeding is usually done in small amounts and through tubes to the veins and stomach as the body does not have the ability to digest a normal amount of food on its own.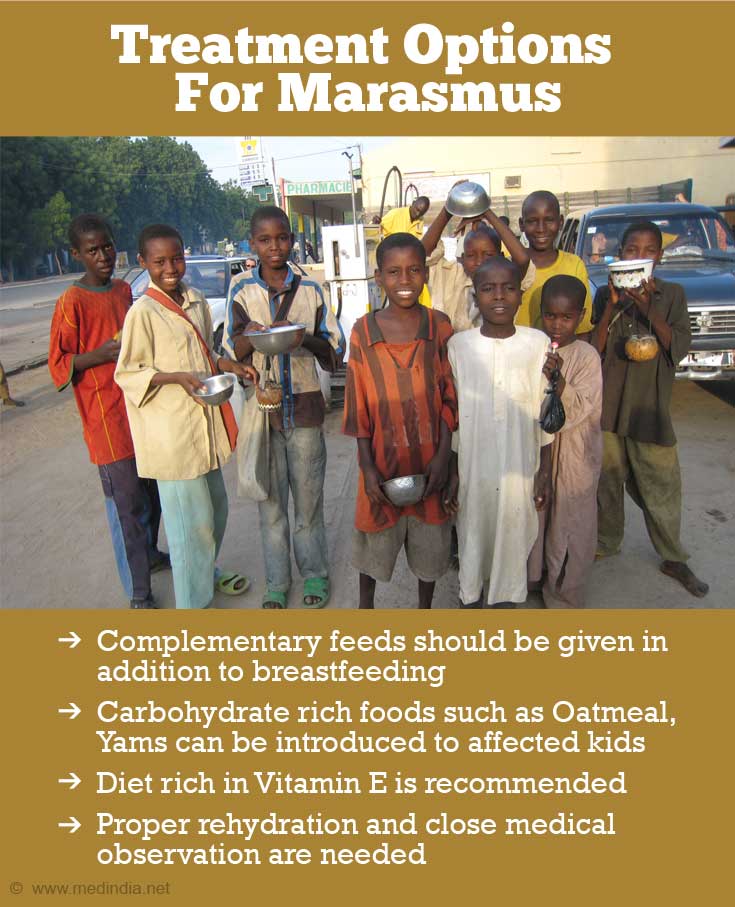 A nutritious, well-balanced diet with lots of fresh fruits and vegetables, grains, and protein will reduce the risk of marasmus.
Foods rich in protein like milk, fish, eggs and nuts are important for energy and growth. Vegetables and fruits are important for providing other nutrients and minerals and for preventing malnutrition in general.
Good sanitation and hygiene also play a big role in spreading disease in developing countries. Poor sanitation and hygiene can lead to infections that may cause malnutrition. Foods should be cooked at high heat to destroy bacteria. Water should be boiled before drinking and cooking and bathing should be avoided in areas where clean water is not accessible.
New mothers can also help prevent malnourishment in their newborns by breastfeeding on demand as much as possible and adequate feeding of children who have been completely weaned off breast milk.
Children should be properly immunized and there should be spacing of three to four years between children.
References:
NHS- kwashiorkor -

(https://www.nhs.uk/conditions/kwashiorkor/)

The effectiveness of interventions to treat severe acute malnutrition in young children: a systematic review J Picot, D Hartwell, P Harris, D Mendes, AJ Clegg, and A Takeda. -

(https://www.ncbi.nlm.nih.gov/pubmedhealth/PMH0046293/)

Malnutrition and health in developing countries Olaf Müller and Michael Krawinkel -

(https://www.ncbi.nlm.nih.gov/pmc/articles/PMC1180662/)

Risk Factors of Protein Energy Malnutrition Deficiency among Children Under Five Years at Alruhal Camp-Kass Locality South Darfur State 2012 SudanAhmed M Hussein* and Dawria Adam Faculty of Public Health, Shendi University, Sudan -

(https://www.omicsonline.org/open-access/risk-factors-of-protein-energy-malnutrition-deficiency-among-childrenunder-five-years-at- alruhal-campkass-locality-south-darfur-st-2155-9597-1000252.php?aid=64817)
Latest Publications and Research on Marasmus / Protein-Energy Malnutrition