What is a Lipid Profile?
A lipid profile is a collection of blood tests that help to calculate the levels of different types of lipids or fat in our blood.
By measuring the values of different types of lipid, we can assess a personís risk of developing heart disease and pave the way to prevention, early diagnosis and treatment.
These tests also help in diagnosing genetic conditions associated with high cholesterol and rarely even pancreatitis.
Lipids are the fats in our body and are an important source of energy for the body. There are mainly 3 important types of lipids in our body -
Triglycerides (TG) - they make up most of our bodyís fat content and their main source is from fatty foods and oils that we eat in our diet. (Source - Only from Diet)
Phospholipids - this type of lipid we get NOT only from our diet, but are also produced by the body (1). They are required as a building block to create the wall of not only the trillions of cells of the body but also for the smaller structures within the cells itself called organelles.
Cholesterol or Sterols is mainly produced by the body. In addition to being present in our organelles and barrier membranes of cells they carry out important functions like synthesis of bile, Vitamin D, and many hormones related to our reproductive systems (1).
Contrary to the popular belief that fats are bad for our body, we must know that lipids carry out many vital functions in our body like- maintaining our body temperature, storing memory, regulating hormones, cushioning vital organs, transmitting nerve impulses and many more.
Lipoproteins - Since lipids (triglycerides, cholesterol, and phospholipids) cannot dissolve in water they need special mechanisms to be broken down and to be transported in blood. To facilitate this, the lipids combine with proteins in the blood and form what are known as Lipoproteins. There are many different types of lipoproteins.
Lipoproteins thus act as a shuttle and transport the bodyís lipids from our digestive system into blood and then takes them to on a journey to different cells in our body. The heavier molecules first go through the lymphatic system to the neck vein (the jugular vein to be released there) and from there enter the circulation. They also pass through the liver and the excess is stored as adipose tissue, in the fat storage cells of our body. The lighter molecules directly get absorbed into the blood stream. When the body requires energy it breaks these cells down. (In brief Lipoprotein - Transporters of fat in the body)
Cholesterol is poorly absorbed compared to the other two fat forms (TG & Phospholipid). Only if one takes excess amount of fat in the diet it help with its absorption, however if the diet contains high amount of fibres, it reduces its absorption. High fiber foods such as fresh fruits, vegetables, and bran can bind to cholesterol, and prevent it from being absorbed, therefore keeping their levels in the blood low.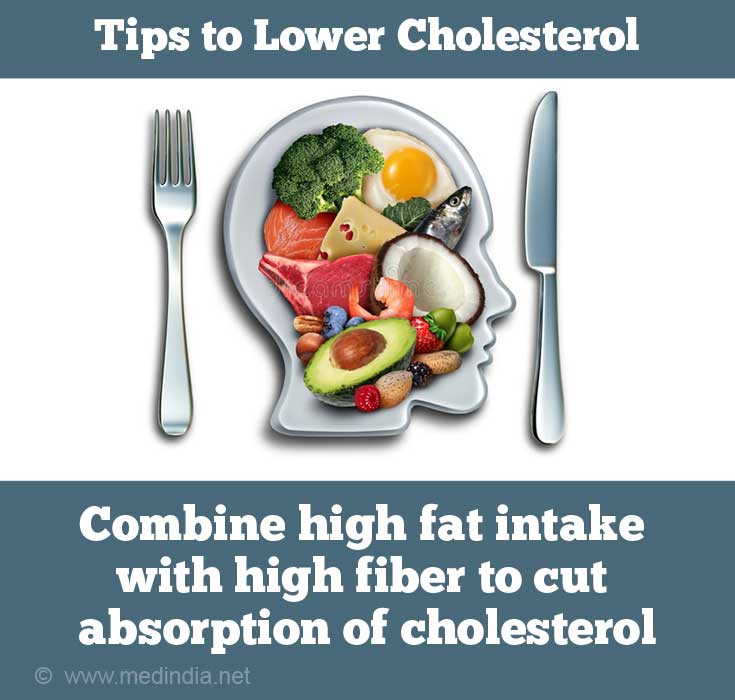 References:
What Are Lipids? -

(https://med.libretexts.org/Courses/American_Public_University/APUS %3A_An_Introduction_to_Nutrition_(Byerley)/Text/05%3A_Lipids/4.2%3A_What_Are_Lipids%3F)

Understanding Blood Cholesterol -

(https://med.libretexts.org/Courses/American_Public_University/APUS %3A_An_Introduction_to_Nutrition_(Byerley)/Text/05%3A_Lipids/4.5%3A_Understanding_Blood_Cholesterol)

ATP III Guidelines At-A-Glance Quick Desk Reference -

(https://www.nhlbi.nih.gov/files/docs/guidelines/atglance.pdf)

Archived Final Recommendation Statement Lipid Disorders in Adults (Cholesterol, Dyslipidemia): Screening -

(https://www.uspreventiveservicestaskforce.org/Page/Document/RecommendationStatementFinal/lipid-disorders-in-adults-cholesterol- dyslipidemia-screening#consider)

Lipoprotein (a) -

(https://labtestsonline.org/tests/lipoprotein-a)

Current therapies for lowering lipoprotein(a) -

(http://www.jlr.org/content/early/2015/12/04/jlr.R053066.full.pdf)

Lipoprotein(a) as an Old and New Causal Risk Factor of Atherosclerotic Cardiovascular Disease -

https://www.ncbi.nlm.nih.gov/pmc/articles/PMC6629747/)

LDL subclass patterns and lipoprotein response to a low-fat, high-carbohydrate diet in women -

(https://www.ncbi.nlm.nih.gov/pubmed/9108784)
Latest Publications and Research on Lipid Profile