What is Lipedema?
Lipedema is a disorder characterized by abnormal and irregular deposits of fat in tissues underneath the skin. There is abnormal symmetric enlargement of the legs, thighs and buttocks. Lipedemic fat in the later stages may also accumulate in the chest, abdomen and upper extremities. People with lipedema may have size disparities of up to ten clothing sizes between their top and bottom.
Lipedema is also known as painful fat syndrome and about eleven percent of women are affected with this condition. Lipedema can be mistaken for regular obesity or bilateral lower extremity lymphedema. Patients with lipedema who undergo bariatric surgery for weight loss may continue to have extensive fat deposits which are refractory to weight loss attempts.
Initially, lipedema may be a cosmetic concern but later on it may lead to other health related problems such as joint pains and mobility issues. Lipedema fat is relatively unresponsive to diet and exercise measures.
Though the exact causes are not known, lipedema is believed to occur due to variations in the female hormonal levels during puberty, pregnancy, perimenopause or menopause. This condition is mostly triggered at puberty or during pregnancy but it can also begin or worsen following gynecological surgery.
Genetics also plays an important role as lipedema is known to run in families. Many women suffering from lipedema have other female family members with the same condition.
Advertisement
There are three stages of Lipedema:
Stage I: This is the beginning stage where the fat is still smooth and soft though it is enlarged. The swelling, heaviness and pain in the legs can be managed with rest and elevation of limbs. This stage responds well to treatment.
Stage II: During this stage, the fat begins to form firm nodules [lipomas] which cause indentations in the skin similar to cellulite. The swelling and tenderness does not reduce much with rest and elevation of feet. As lipedema progresses, inflammatory changes occur in the fatty tissue.
Stage III: In this stage large masses or lobules of fat and skin overhang and deform the affected areas. There is more hardening of the fat and connective tissue [fibrosclerosis] and skin may have a puckered (peau d'orange) appearance. Pain may become debilitating and limit mobility as well. The swelling is consistently present and less responsive to treatment.
Stage II and III lipedema may obstruct lymph flow due to the pressure of the fat deposits on the lymph vessels leading to lipolymphedema.
Advertisement
Symmetrical enlargement of the legs. The abnormal fat tissue results in large stove pipe shaped legs with a distinct fat ring or band like appearance around the ankles.
The upper body is much smaller than the lower body.
Presence of lumpy tissue that looks like cellulite.
Easy bruising and subcutaneous bleeding due to increased fragility of small blood vessels within the fat tissue.
Hypersensitivity of the affected part to touch and pressure.
Decreased skin temperature in the limbs.
Abnormal gait due to joint pain and excessive fatty tissue.
Presence of edema due to fluid retention in the legs.
Caloric restrictive diets or exercise have little effect.
Depression or eating disorders due to chronic pain and disfigurement.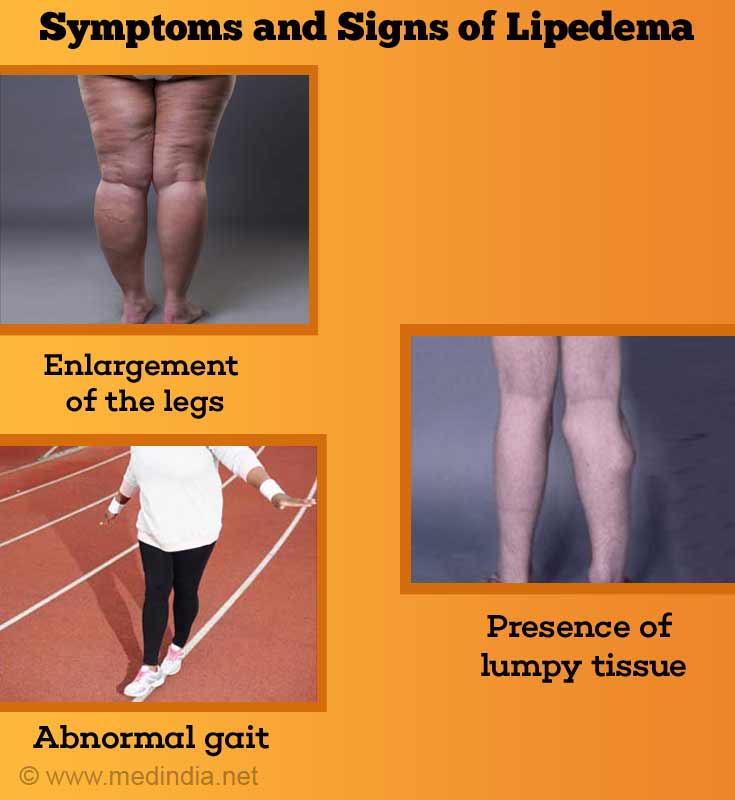 What are the Consequences of Lipedema?
If lipedema is not controlled in the initial stages, fat eventually accumulates in the upper arms and torso along with the lower limbs. As lipedema progresses the pain and swelling increases. This leads to reduced mobility and excess stress on knee joints causing joint pain and an abnormal gait. Patients with lipedema may eventually get fluid retention in their legs (lymphedema) as the blood circulation and lymphatic functions are compromised due to the pressure of the fat cells. Some patients may also suffer from severe depression and anxiety.
Advertisement
The following criteria by The National Institute of Health [NIH] are guidelines for diagnosing Lipedema.
A bilateral and symmetrical presentation of enlargement of legs from the hips to the ankles in a woman with minimal involvement of the feet,
Pain and easy bruising of tissues,
Persistent swelling of lower extremities despite elevation or weight loss,
Circularly thickened layer of fat affecting the skin,
Presence of small nodules on palpation.
Blood tests: Tests for thyroid, inflammatory markers [CRP, ESR, plasma viscosity (PV)], and vitamin D may be recommended to treat any condition that can increase lipedema.
2-D Ultrasound: This is a quick and easy noninvasive test. Just placing an ultrasound probe on top of the skin will show the fat deposits present below the skin.
Venous Doppler Ultrasound: This test helps to determine the presence of underlying venous problems and also gives vital information for managing lipedema.
Lymphangiogram or Lymphoscintigraphy: A radioactive solution is injected in the affected area to map the path of lymphatic fluids through the targeted regions.
The treatment of Lipedema is divided into 1) Conservative treatment and 2) Surgical treatment.
Conservative treatment: This is the first step in management of Lipedema and includes:
Compression garments: These include spandex shorts, stretch bandages and custom fitted panty hose to promote local lymph circulation and control swelling.
Lymphatic massage: This form of massage stimulates the flow of lymph which helps relieve pain and prevent fibrosis.
Exercise: Water exercises are best as they help circulation and also maintain muscle mass.
Lipedemic diet: This includes replacing processed foods with whole foods, avoiding chemicals, artificial sweeteners, sugar, sweets, junk foods, fast foods, white flour and wheat. A healthy diet and exercise may be helpful in reducing non-lipedemic fat and inflammation.
Ketogenic diet: Ketogenic diet promotes a high fat intake, a moderate protein intake and a very low carbohydrate diet (less than 50 grams per day). This turns the body into a fat burning machine. You can have plenty of meat, fat, and low carbohydrate vegetables, but foods containing a lot of starch and sugar are not allowed. Though this diet is popular, there are no conclusive studies on ketogenic diets and lipedema.
Surgical Treatment:
Liposuction: Water Assisted Liposuction (WAL) and Tumescent Liposuction (TLA) are two procedures that are performed for Lipedema. The procedure uses a hollow tube which is placed under the skin to suction out the fat tissue.
Drugs may be prescribed to treat pain, anxiety and depression often seen with lipedema patients.
Lipedema, a Rare Disease by Bae Wook Shin, M.D., Young-Joo Sim, M.D.,Ho Joong Jeong, M.D., Ghi Chan Kim, M.D. Cited in NCBI In 2011
Cure Lipedema- About - Treatments -

(http://www.cureLipedema.org/)

The Lipedema Project- The Disease they call fat -

(http://Lipedemaproject.org/about-Lipedema)

US Dept of health and human services- National Institute of Health- Lipedema -

(https://rarediseases.info.nih.gov/diseases/10542/Lipedema)

Cure Lipedema -In collaboration with Fat Disorders Research Society -

(http://www.cureLipedema.org/nutrition)
Please use one of the following formats to cite this article in your essay, paper or report:
APA

Dr. Sunita Chowdhary. (2018, June 27). Lipedema | Fat Disorder - Causes, Stages, Symptoms, Diagnosis & Treatment. Medindia. Retrieved on Nov 30, 2022 from https://www.medindia.net/patientinfo/lipedema.htm.

MLA

Dr. Sunita Chowdhary. "Lipedema | Fat Disorder - Causes, Stages, Symptoms, Diagnosis & Treatment". Medindia. Nov 30, 2022. <https://www.medindia.net/patientinfo/lipedema.htm>.

Chicago

Dr. Sunita Chowdhary. "Lipedema | Fat Disorder - Causes, Stages, Symptoms, Diagnosis & Treatment". Medindia. https://www.medindia.net/patientinfo/lipedema.htm. (accessed Nov 30, 2022).

Harvard

Dr. Sunita Chowdhary. 2021. Lipedema | Fat Disorder - Causes, Stages, Symptoms, Diagnosis & Treatment. Medindia, viewed Nov 30, 2022, https://www.medindia.net/patientinfo/lipedema.htm.
Latest Publications and Research on Lipedema / Fat Disorder
Do you wish to consult a General Medicine Doctor / Internal Medicine Doctor for your problem? Ask your question
Dr. Nisarg Angadi
MBBS
1 year experience

Dr. Riyas Shaji
MBBS
2 years experience
General practitioner, Ponekkara church , Kochi
Dr. Jagdish Deshpande
MBBS, MD
40 years experience
Dr.Jagdish Rajaram clinic, Viman Nagar, Pune
Dr. Aloka Nanda Dalal
MBBS, C Diab
12 years experience

View All