What is Insulinoma?
Insulinoma is a tumor of the insulin making cells of pancreas, which are called as beta cells or pancreatic islet cells or Islets of Langerhans. The insulinomas are located in the pancreas or are attached to the pancreas.
Insulinoma is a type of neuroendocrine tumor (NET); neuro means nerve and endocrine mean hormone producing. It is also known as pancreatic neuroendocrine tumor (pNETs) or islet cell adenoma.
Insulinoma leads to production of excessive insulin, which is a hormone controlling the levels of blood glucose. Excess amounts of insulin lead to hypoglycemia or low blood sugar.
Under normal conditions, the glucose levels increase after eating and in response, pancreas secrete insulin which helps in utilizing the glucose or storing it, thereby reducing the blood sugar level to a safe level. Subsequently, when the glucose level falls to the lower limit, the secretion of insulin from pancreas stops. This cycle regulates the levels of glucose in body. In patients with insulinoma, this regulation is affected and the tumor continues to secrete insulin, in spite of reaching very low blood glucose levels.
The pancreatic tumors are small in size and in most of the cases, they are benign or non-cancerous. Malignant insulinomas are very rare in occurrence.
Occurence of insulinomas in the general population is 1-4 people per million
Insulinomas can occur throughout the pancreas and are found either inside or attached directly to the organ
Around ninety percent of insulinomas are benign, solitary, < 2 cm, and occur at intrapancreatic sites
Extrahepatic insulinomas causing hypoglycemia are extremely rare with an incidence of < 2%; these are mostly found in the duodenal wall
The exact cause of insulinoma is not known. It is known to be caused by a genetic or hereditary disorder or lifestyle choices, such as smoking.
Advertisement
One does not see symptoms of insulinoma in the early stages. As the cancer grows, it may start to exhibit symptoms. Patients suffering from insulinoma become hypoglycemic. The symptoms could be mild to severe, which can even lead to death.
The symptoms of hypoglycemia are of two types, i.e.
Neurologic (related to nervous system) - The brain needs normal glucose levels for functioning. When the glucose levels drop below 50 mg/dL, this leads to abnormal brain-related symptoms, known as neuroglycopenia.
Adrenergic (related to secretion of adrenalin from the adrenal gland) - when the glucose levels drop to about 55 mg/dL, the release of adrenalin from adrenal gland is triggered, resulting in adrenergic symptoms.
The common symptoms under these two categories include:
| | |
| --- | --- |
| Neurologic or Neuroglycopenia symptoms | Adrenergic symptoms |
| Blurred vision or visual disturbances | Hunger |
| Double vision | Weakness and Tiredness |
| Seizures | Palpitation |
| Loss of consciousness | Sweating |
| Amnesia and confusion | Anxiety |
| Coma | Tremor |
| Personality changes | Diaphoresis |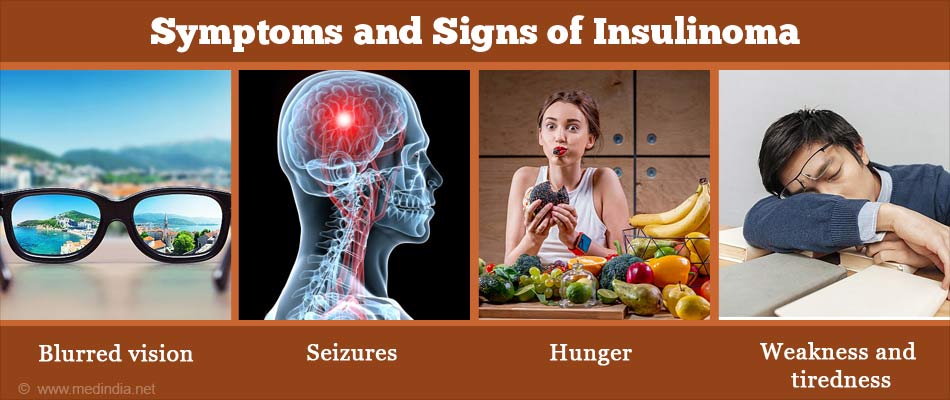 There are very few risk factors for insulinomas. Some of these include:
Women seem to be more affected than men
The condition generally starts between the age of 40- 50 years
Some genetic diseases can increase the chances of insulinomas, e.g.

Multiple endocrine neoplasia type I (MEN 1) - abnormal tissue growth in the endocrine system
Von Hippel-Landau syndrome - this causes tumors and cysts throughout the body
Advertisement
The complications associated with insulinoma could be mild to life-threatening and could include:
Metastasis- the cancerous tumor spreads to other organs
Diabetes- if the entire pancreas is removed as part of surgical procedure
Swelling and inflammation of the pancreas
In general, if one observes the following three points, known as Whipples' triad, it shows an indication of insulinoma.
Symptoms of hypoglycemia, as listed in table above
Blood glucose level of less than 50 mg/dL
Relief of these symptoms on administration of glucose
Insulinomas are diagnosed by biochemical analysis that measures the sugar and insulin levels in blood during a 72-h fast. This gold standard, prolonged fasting test can detect up to 99% of insulinomas. A high insulin level with a low blood sugar level confirms the diagnosis as insulinoma. Once diagnosed biochemically, the next step would be to locate the insulinoma, which could be a challenge given the size of tumor.
Simple, non-invasive imaging procedures are generally used to find the source of insulin secretion after a diagnosis of insulinoma.
Transabdominal ultrasound
Computed Tomography (CT) scan
Magnetic Resonance Imaging (MRI)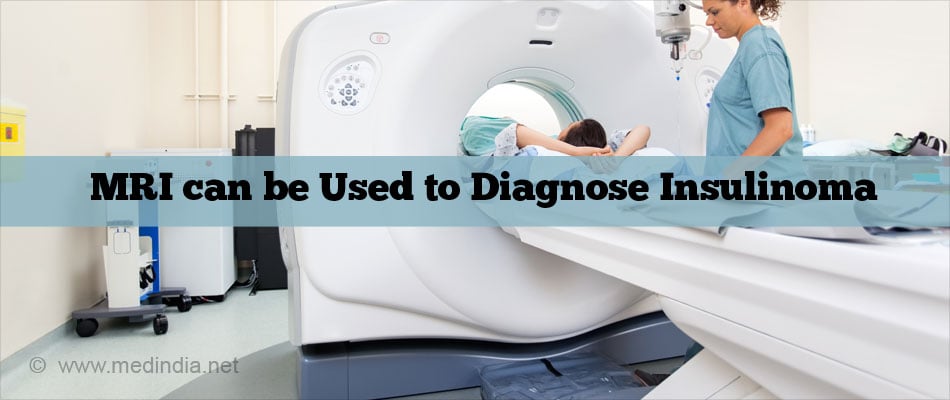 Other procedures include special nuclear medicine scans such as Octreotide or Positron emission tomography (PET) scans, to view if there is any spread of tumors.
Advertisement
Invasive procedures are used to determine the location of insulinoma, these include:
Endoscopic ultrasound - a test that uses a flexible scope and sound waves to view the digestive organs
Pancreatic arteriography - a test that uses special dye to view the arteries in the pancreas
Pancreatic venous sampling for insulin - a test that helps to locate the exact site of tumor
Selective Intra-Arterial Calcium Stimulation (SACS) - a highly sensitive method for localization of insulinomas
Patients suffering from malignant insulinoma need continuous monitoring of glucose and / or administration of octreotide, to prevent hypoglycemic episodes.
The patient suffering from insulinoma is relieved of its symptoms on removal of the tumor.
Once the patient has been diagnosed with insulinoma, surgery is the first choice of treatment to remove insulinoma. The surgical procedure used would depend on the tumor's size, type, location and whether it has spread to other parts.
The types of surgical procedures include:
Enucleation: If the pancreatic tumor is small, less than 2 cms, this is the preferred option. It involves removal of tumor which occurs on the surface of the pancreas. The pancreas remains intact.
Open surgery or Pancreatic resection (removal of pancreas): This surgery is performed if the tumor is large or there are multiple tumors. This procedure is less commonly used. There are four types of surgeries under this:
Removal of the whole pancreas, known as pancreatectomy
Removing the head of the pancreas known as pylorus preserving pancreaticoduodenectomy (PPPD)
Removing the head of the pancreas (PPPD) along with part of stomach, it is called Whipple's operation or Whipple procedure
Removing the tail of the pancreas known as distal pancreatectomy
Laparoscopic resection of Insulinoma:
This is a minimally invasive procedure to remove insulinomas, also known as keyhole surgery. However, it requires accurate preoperative localization and use of special incision technique.
If the insulinoma is a malignant type, the tumor may recur even after the surgical procedure. In some cases, the tumor may also have spread to the liver and the surgical procedure could be risky. In these cases, the symptoms will have to be controlled by the following methods:
Radiofrequency ablation (RFA):
This procedure uses heat from radio waves to kill cancer cells.
Cryotherapy:
This involves the use of a cold probe which destroy cells and tissues by freezing.
Chemotherapy:
Anti-cancer medications are used to control symptoms of insulinoma, when it cannot be removed by surgery. Some of these medications include doxorubicin and streptozocin.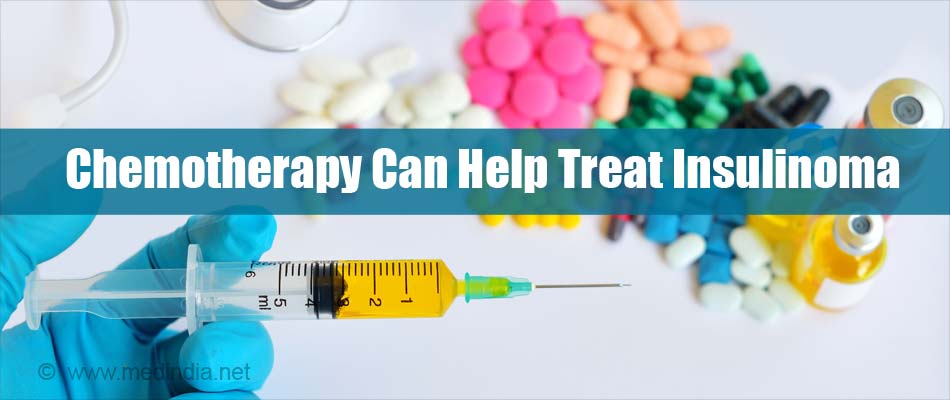 Radiation Therapy:
High energy x-rays are used to destroy cancer cells. Radiation therapy may be used on its own or in combination with chemotherapy.
Drugs and diet:
Drugs like diazoxide, octreotide and lanreotide help in reducing the amount of insulin in the body.
There are no ways to prevent insulinoma. However, if the person suffers from any of the genetic disorders listed above, a regular check should be made for insulinoma.
Pancreatic neuroendocrine tumors: insulinoma -

(http://endocrinediseases.org/neuroendocrine/insulinoma.shtml)

Insulinoma -

(http://www.surgery.usc.edu/divisions/tumor/pancreasdiseases/web%20pages/Endocrine%20tumors/pancreatic%20tumors/insulinoma.html)

Diagnosis and management of insulinoma -

(https://www.ncbi.nlm.nih.gov/pmc/articles/PMC3574879/)

About Insulinoma -

(http://www.cancerresearchuk.org/about-cancer/neuroendocrine-tumours-nets/insulinoma)
Please use one of the following formats to cite this article in your essay, paper or report:
APA

Jayashree Thakwani. (2018, January 18). Insulinoma - Causes, Symptoms, Risk Factors, Complications, Diagnosis, Treatment & Prevention. Medindia. Retrieved on May 30, 2023 from https://www.medindia.net/patientinfo/insulinoma.htm.

MLA

Jayashree Thakwani. "Insulinoma - Causes, Symptoms, Risk Factors, Complications, Diagnosis, Treatment & Prevention". Medindia. May 30, 2023. <https://www.medindia.net/patientinfo/insulinoma.htm>.

Chicago

Jayashree Thakwani. "Insulinoma - Causes, Symptoms, Risk Factors, Complications, Diagnosis, Treatment & Prevention". Medindia. https://www.medindia.net/patientinfo/insulinoma.htm. (accessed May 30, 2023).

Harvard

Jayashree Thakwani. 2018. Insulinoma - Causes, Symptoms, Risk Factors, Complications, Diagnosis, Treatment & Prevention. Medindia, viewed May 30, 2023, https://www.medindia.net/patientinfo/insulinoma.htm.
Latest Publications and Research on Insulinoma