What is Hypoxia?
Hypoxia is a condition, which manifests as the deficient oxygen supply at the tissue level. It should not be confused with the term anoxia, which means complete absence of oxygen. Oxygen is a very important element for our survival and its deficiency may lead to death within a matter of minutes.
Tissues of the lungs extract oxygen from the inhaled air and pass it on to the blood, which contains hemoglobin, an oxygen binding protein. It is mandatory for the oxygen to combine with hemoglobin in order to travel via the blood into different tissues.
Hypoxia manifests as the sub-optimal levels of oxygen at the tissue level. The process of energy generation in cells is inhibited due to the decreased oxygen availability. It causes cellular stress and a wide variety of complications.
Depending on the mechanism of occurrence, hypoxia is predominantly of four types.
Hypoxic hypoxia - It mainly occurs due to the decrease in the pressure of oxygen in the blood vessels, which carry the oxygenated blood. The defect usually lies at the level of lungs.
Anemic hypoxia - In this type of hypoxia, the lungs are working just fine, but the oxygen carrying capacity of blood is reduced due to lesser hemoglobin in the body as in the case of anemia.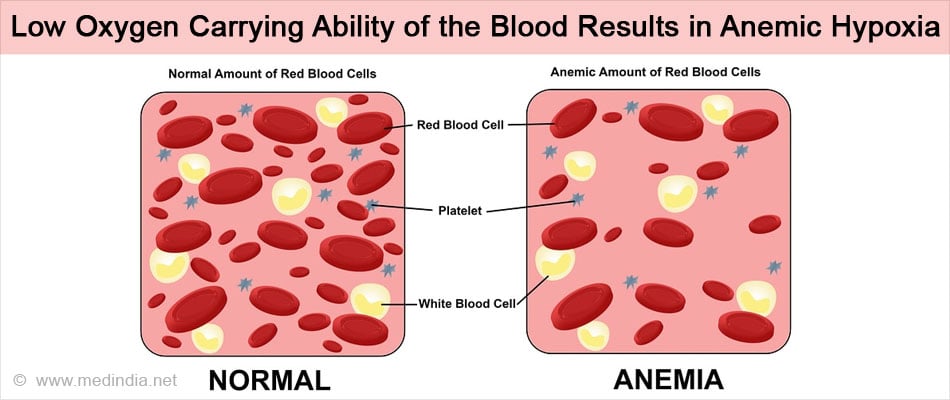 Stagnant hypoxia - It occurs due to the reduced blood flow to the tissues, which implies that in spite of normal partial pressure of oxygen and hemoglobin, sufficient amount of oxygen is not being delivered to the tissues. It is also called as ischemic hypoxia.
Histotoxic hypoxia - This type of hypoxia manifests due to the decreased capability of the tissues to utilize the oxygen because they have been poisoned. It must be kept in mind that this is not at par with the standard definition of hypoxia, which clearly defines hypoxia as the condition of inadequate oxygen supply at tissue level. Thus, strictly speaking, it is not a true hypoxia and only manifests in cases of poisoning.
Advertisement
The various causes of hypoxia, pertaining to the specific type are as follows:
Causes of hypoxic hypoxia:
Low oxygen pressure in the air we breathe in at higher altitudes. It is very common in mountain climbers and is known as altitude sickness. Breathing in a closed space also induces hypoxia in mineworkers.
Breathing artificial gas mixture having a low partial pressure of oxygen also induces hypoxic hypoxia as in the case of deep-sea divers or scuba divers.
Paralysis of respiratory muscles as in the case of poliomyelitis, motor neuron diseases
Damage to the respiratory centers of brain due to brain tumors or due to the consumption of toxic drugs like cocaine and heroin
Respiratory or lung diseases like asthma, emphysema, chronic bronchitis, and bronchiectasis cause an obstruction in the respiratory passage and leads to a low partial pressure of oxygen in the blood vessels, which eventually causes hypoxia.
Pulmonary edema and pulmonary fibrosis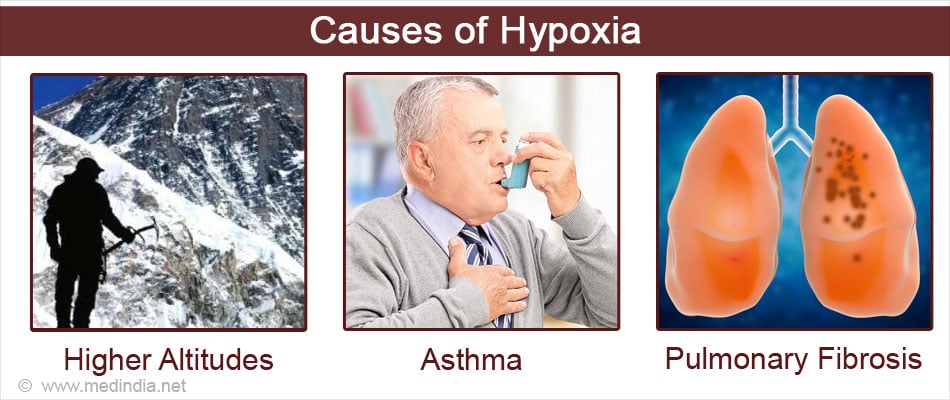 Causes of anemic hypoxia:
Excessive internal blood loss in the form of hemorrhage of any organ
Excessive external blood loss in accidents, surgical procedures or child birth
Anemia of all types
Carbon monooxide poisoning
Causes of stagnant hypoxia:
Congestive heart failure: the blood pumped out by heart per minute is reduced, which in turn leads to decreased blood flow to the tissues and hence causes stagnant hypoxia.
Congenital heart defects in children such as ventricular septal defect, atrial septal defect, tetralogy of Fallot
Localized stagnant hypoxia is caused by the stagnation of the blood supply in any area of the body, like in the case of Raynaud's disease or Buerger's disease, where the blood supply to extremities is restricted.
Causes of histotoxic hypoxia:
Cyanide poisoning
Sulphide poisoning
This condition also exacerbated by the use of alcohol, tobacco smoking, and excessive narcotics use.
Advertisement
The symptoms and signs of hypoxia depend on the severity of the condition, the rate at which the condition is progressing and on the ability of the body to compensate the oxygen deficit. Common symptoms and signs are:
Chronic Hypoxia:
Cyanosis: It is the bluish discoloration of skin and mucous membranes. It is seen in nails, earlobes, and tongue.
Tachycardia: It is the increase in the heart rate and occurs because of compensatory mechanism initiated by the heart to pump more blood to the oxygen-starved tissues.
Tachypnoea: An increase in the rate of breathing per minute is known as tachypnea.
Shortness of breath or dyspnea: It occurs after physical exertion and exercise. In severe cases, shortness of breath might occur even at rest, which calls for emergency consultation with a doctor.
Fatigue or tiredness
Palpitations and development of abnormal heart rhythm in severe cases
Fulminant hypoxia:
It is a severe hypoxia, which develops rapidly within seconds. It might occur in the cases of accidental loss of cabin pressure in an aircraft above 20,000 feet with no supplemental oxygen. It leads to unconsciousness within 15-20seconds and brain death may follow in 4-5 minutes.
Acute hypoxia:
The symptoms of acute hypoxia include:
Lack of co-ordination
Slowing of reflexes
Slurring of speech
Unconsciousness
Coma and death might possibly occur in minutes or hours if the body's compensatory mechanisms are insufficient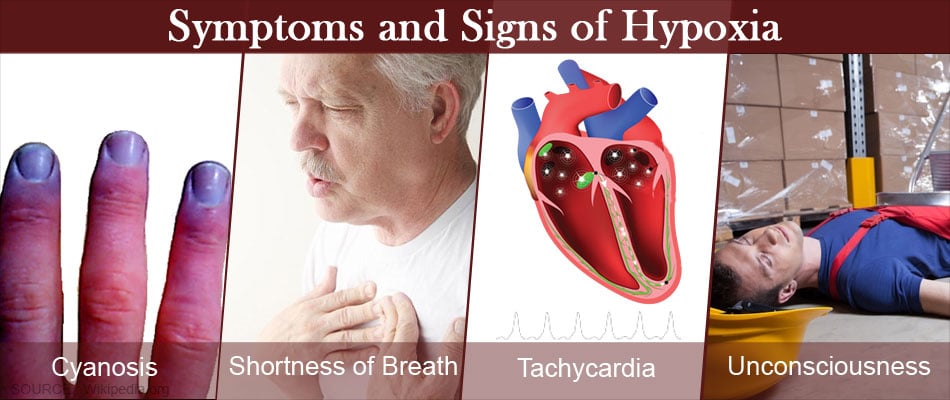 Hypoxia is a serious condition and must be timely taken into consideration. Ignored cases of hypoxia might lead to severe and permanent adverse effects on health or even cause death. The various complications include
Brain damage and paralysis
Death of body tissues leading to gangrene and
Hypoxia is usually diagnosed by evaluation of symptoms and medical history of patient to identify the cause. The presence and degree of hypoxia is determined by
Arterial Blood Gas analysis (ABG analysis): It gives a brief estimate of the partial pressure of oxygen in the blood vessels carrying oxygenated blood and the amount of hemoglobin that has been saturated with oxygen
Pulse oximetry: Hypoxia can also be estimated by a pulse oximeter, which is placed at the tip of finger and is connected to the monitor. The percentage of oxygen saturation is continuously monitored on the screen.
Other diagnostic blood tests and imaging may be done to determine the cause of hypoxia and institute appropriate treatment.
The main aim of treatment is to restore partial pressures of oxygen in the blood to normal and keep the patient comfortable. The cause of hypoxia has to be identified and treated.
The treatment of hypoxia is oxygen administration.
Supplemental oxygen is administered at atmospheric pressure of 760 mmHg by a nasal cannula or simple oxygen facemask connected to an oxygen reservoir.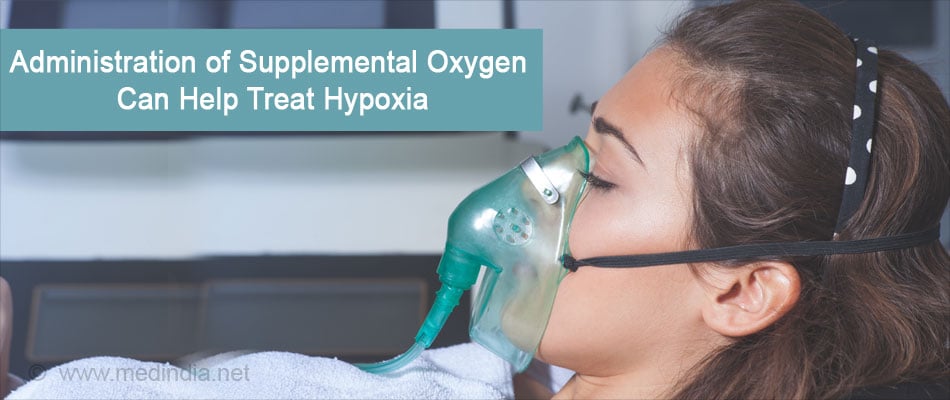 Hyperbaric oxygen therapy (inhalation of 100% pure oxygen at high barometric pressure) is given in those cases of hypoxia where normal hemoglobin is not available to carry the oxygen to the tissues.

Indications include:

Anemic hypoxia
Wounds with poor blood supply
Carbon monoxide poisoning
Decompression sickness and air embolism in scuba divers and mountain climbers.

Mechanical ventilation: It is a form of life support in patients who are very sick and cannot breathe on their own. The device used is termed a ventilator, breathing machine or respirator. It does the work of breathing by forcing a constant stream of air into the nasal passages.

A ventilator is used as a temporary measure while the patient is on other treatments to improve the primary condition. Most patients come off the ventilator in a few hours or days but some remain sick and continue to be on life support.

Treating the cause: The underlying cause of hypoxia has to be treated at the same time. This may be bronchodilators to treat asthma, drugs such as steroids to reduce lung inflammation or transfusing packed cells in an anemic patient.

It is important that the underlying cause is also treated while treating the hypoxia.
Hypoxia can be prevented by taking appropriate precaution
Mountain climbes must take proper training before hand. It is very important for the mountain climbers to climb a specific distance and then camp for 2-3 days to get acclimatized to the increasing altitude and its changes on the body.
Mountain climbers and scuba divers must always carry oxygen cylinders and face masks.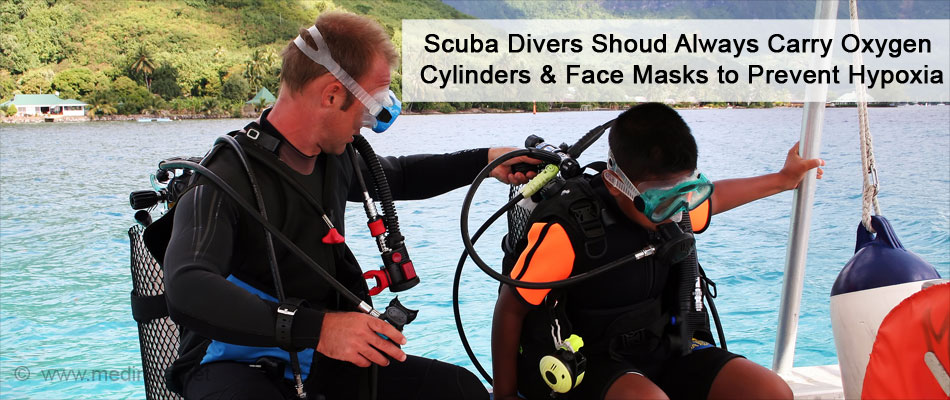 It is crucial to recognize the symptoms of hospitalized patients with impending hypoxia, and administer at earliest, the oxygen therapy through nasal cannula and face masks.
Patients suffering from asthma should be regular with their medications.
References:
Hypoxemia (low blood oxygen) -

(http://www.mayoclinic.org/symptoms/hypoxemia/basics/definition/sym-20050930)

Harrison's Textbook f Medicine – 19th edition
Guyton and Hall Textbook of Medical Physiology – 13th edition
Latest Publications and Research on Hypoxia
Please use one of the following formats to cite this article in your essay, paper or report:
APA

Dr. Ishan Mewara. (2017, April 19). Hypoxia - Types, Causes, Symptoms, Complications, Diagnosis, Treatment & Prevention. Medindia. Retrieved on Jul 02, 2022 from https://www.medindia.net/patientinfo/hypoxia.htm.

MLA

Dr. Ishan Mewara. "Hypoxia - Types, Causes, Symptoms, Complications, Diagnosis, Treatment & Prevention". Medindia. Jul 02, 2022. <https://www.medindia.net/patientinfo/hypoxia.htm>.

Chicago

Dr. Ishan Mewara. "Hypoxia - Types, Causes, Symptoms, Complications, Diagnosis, Treatment & Prevention". Medindia. https://www.medindia.net/patientinfo/hypoxia.htm. (accessed Jul 02, 2022).

Harvard

Dr. Ishan Mewara. 2021. Hypoxia - Types, Causes, Symptoms, Complications, Diagnosis, Treatment & Prevention. Medindia, viewed Jul 02, 2022, https://www.medindia.net/patientinfo/hypoxia.htm.
Do you wish to consult a Pulmonologist for your problem? Ask your question
Dr. Hiren Popat
MBBS, PGCIH, D.T.C.D.
12 years experience
MISHAY HOSPITAL, GOTRI, Vadodara
Dr. Hemalatha A S
MBBS, DNB
5 years experience

Dr. Thirupathi Rao Periyala
MBBS, DTCD
43 years experience

Dr. Chetan Sharma
MBBS, MD
14 years experience
Ramayana Healthcare And Diagnostics , Vasant Kunj, New Delhi
View All