Health Disparities - An Overview
Health disparities are essentially stark differences in health outcomes among different groups of people. This was first observed in Italy in the 1700s when unusually high cases of breast cancer were observed in Catholic nuns. Later, scrotal cancer was largely seen in chimney sweep workers in England. Such cases appeared to indicate that there was more to health outcomes than just the disease alone.
According to the World Health Organization, there are health inequities (inequalities in health results) spread across the globe affecting children, infants, adolescents, ethnic groups, and maternal health. For example, each day, in poor and underprivileged households, children under the age of five die due to malaria, measles, pneumonia, or other diseases. The WHO notes 21,000 such children die everyday.
Health disparities are differences in the status of health, which systematically and negatively affect particular groups with a social disadvantage, e.g. women, disabled individuals, minorities, or those with different sexual orientation.
Factors, such as race, gender, education, environment, ethnicity, socioeconomic conditions such as low income, poverty, and individual behavioral factors play a significant role in determining the outcome of a disease and overall health equity. Historical events, social and political inequality, all have an impact on health outcomes.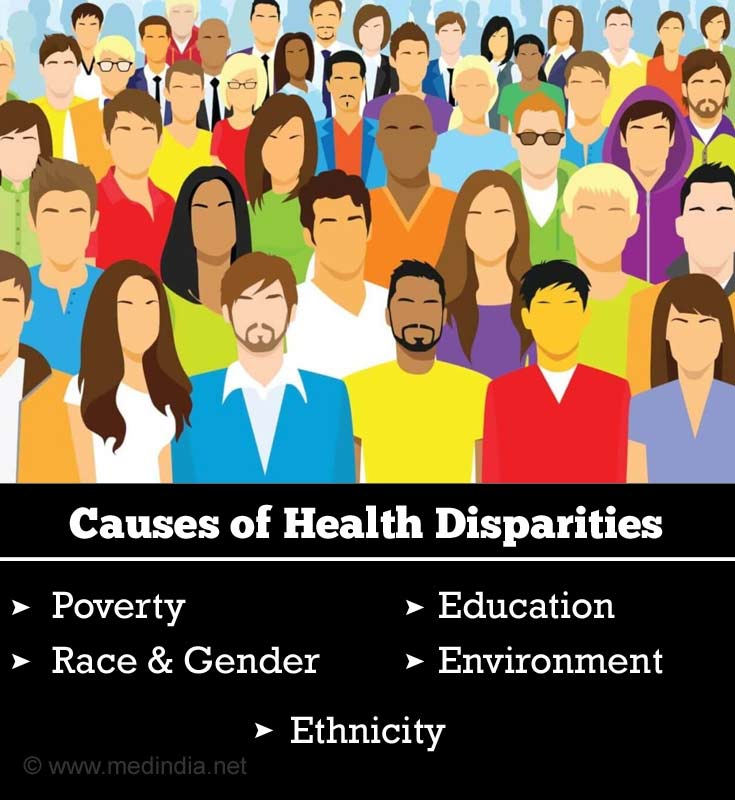 What are healthcare disparities?
Healthcare disparities are differences in the quality of healthcare that contribute to health disparity. Healthcare quality is based on effective treatment, personalized care to the patient, safety provided to the patient, affordable treatment, and healthy lifestyle. Healthcare disparity is just one of the factors that give rise to health disparity.
What are minority health disparities?
In the United States, minority health disparities are differences in health outcomes observed in minority Americans and the black population. Minority Americans may be Native Americans, Asian Americans, Native Hawaiian, Pacific Islander, or Alaska Native. The National Institute on Minority Health and Health Disparities (NIMHD) supports research into the factors that cause health disparities in the minority population. Through the data obtained from the research, solutions, partnerships, collaborations, and policies may be formulated to deal with the disparities.
Who is the target population for health disparities?
Health disparities are more frequently observed in:
Minorities based on race and ethnicity. The probability of African-American infants dying is 1.5 to 3 times higher than infants born to mothers of other ethnicities.
Economically-deprived populations Ė Low-income countries, e.g. Myanmar and Nigeria have ten times fewer doctors compared with high-income nations, such as Switzerland or Norway; The women of the worldís richest 20% have access to skilled doctors for their delivery.
The elderly and weak who depend on others (family and friends)
Geographical regions Ė Rural versus urban areas and unfavorable environmental factors
Gender Ė Female versus male (e.g. In Somalia and Afghanistan, the maternal mortality rate is over 1000 per 100, 000 live births; In the United States, African American men are more prone to cancer ~598.5 out of 100, 000 cases.)
In India, health disparities have been largely studied in women and their reproductive health, and in children.
References:
Health disparities: definitions and measurements. -

(https://www.ncbi.nlm.nih.gov/pmc/articles/PMC2857600/)

Health Disparities. -

(https://medlineplus.gov/healthdisparities.html)

Agency for healthcare research and quality. -

(https://www.ahrq.gov/research/findings/nhqrdr/nhqdr17/index.html)

CDC. Health Disparities. -

(https://www.cdc.gov/healthyyouth/disparities/)

Strategies for reducing health disparities. -

(https://www.cdc.gov/minorityhealth/strategies2016/index.html)

A historical overview of health disparities and the potential of eHealth solutions. -

(https://www.ncbi.nlm.nih.gov/pmc/articles/PMC1550690/)

Health inequalities research in India: a review of trends and themes in the literature since the 1990s. -

(https://www.ncbi.nlm.nih.gov/pmc/articles/PMC5053026/)

World Conference on Social Determinants of Health. -

(https://www.who.int/sdhconference/background/news/facts/en/)

National Institue on Minority Health and Health Disparities (NIMHD). -

(https://www.nih.gov/about-nih/what-we-do/nih-almanac/national-institute-minority-health-health-disparities-nimhd)
Latest Publications and Research on Health Disparities