What is Gardner Syndrome?
Gardner syndrome, also known as Gardner's syndrome or familial adenomatous polyposis (FAP), is an autosomal dominant genetic disease, characterized by multiple colorectal polyps (tissue outgrowths) as well as various other tumors, including osteomas (bone tumors), fibroids, thyroid cancer, lipomas, epidermal cysts and other skin and soft tissue tumors, often accompanied by fibromyalgia. These tumors can be benign (non-cancerous) or malignant (cancerous).
Cancers associated with Gardner syndrome can be present in the liver, bile duct, thyroid, kidneys, stomach, pancreas, small bowel, central nervous system (CNS), and adrenal glands.
Origin of the Term 'Gardner Syndrome'
Gardner syndrome is named after Dr. Eldon J. Gardner, an American geneticist from Logan, Utah, who first described the syndrome in 1951.
Epidemiology of Gardner Syndrome
The frequency of occurrence of Gardner syndrome in the general population is estimated to be between 1 in 12,000 and 1 in 1,400 live births. The average age of appearance of the polyps (the primary feature of Gardner syndrome) is 16 years. These polyps can become cancerous and in the absence of surgical removal of the colon, colorectal cancer can occur within 39 years of age.
Gardner syndrome is caused by a mutation (alteration) in the adenomatous polyposis coli (APC) gene, located on the q21 locus of the long arm of chromosome 5 (chromosome 5q21). The APC gene encodes the APC protein, which regulates the rate of cell division, thereby acting as a check for the abnormal and uncontrolled cell division, the hallmark of cancer. Gardner syndrome is inherited in an autosomal dominant fashion. This means that if one parent has Gardner syndrome, there is a 50% risk that the children will inherit the gene for the disease.
The symptoms and signs of Gardner syndrome vary from person to person. However, the primary signs include the formation of hundreds to thousands of benign polyps in the colon, which occur in 80-99% of individuals.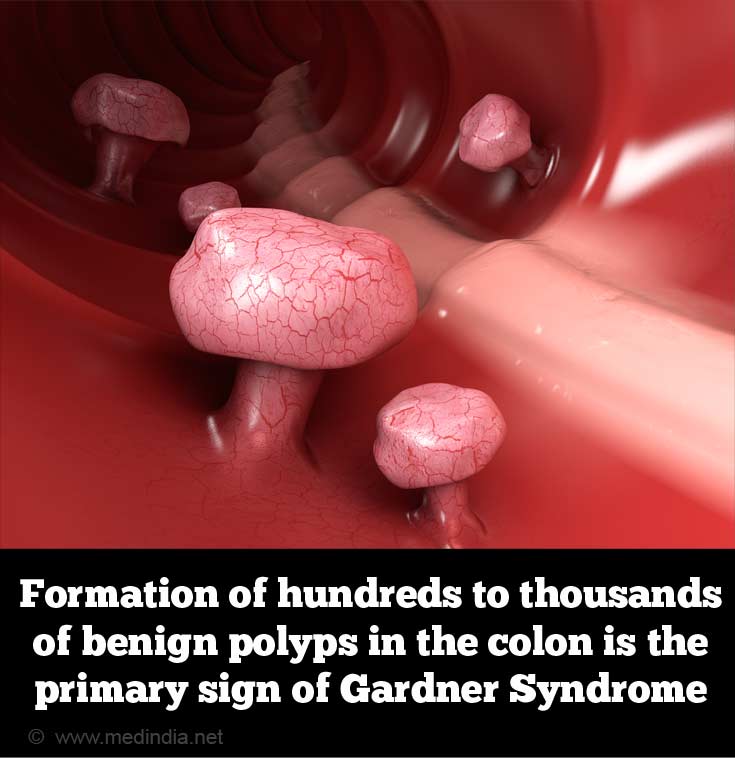 Some of the other symptoms and signs of Gardner syndrome include the following:
Colon Cancer: Invasive colorectal cancer is a major symptom of Gardner syndrome, which can occur in up to 100% of individuals in the absence of treatment.

Dental Abnormalities:

These occur in 5-29% of individuals and include the formation of cavities, extra teeth/increased tooth count, supplemental teeth, as well as tooth decay and failure of tooth eruption.

Osteomas:

These are non-cancerous bony tumors that develop on the skull and jaws.

CHRPE: This is the acronym for congenital hypertrophy of the retinal pigment epithelium. In this condition, the pigmented layer of the retina can become thicker than normal at birth (congenital) or may thicken later in life. CHRPE usually does not interfere with vision.
Skin Symptoms: These are usually benign symptoms, including epidermoid cysts, fibromas, and hyperpigmentation. Sometimes, these skin conditions can become itchy, inflamed and may rupture.
Early diagnosis of Gardner syndrome is crucial as there is a high propensity for benign tumors to become cancerous. Due to this reason, regular screening is mandatory. Some of the screening procedures are given below:
Colonoscopy:

This is recommended annually, once polyps are detected. Colonoscopy should continue till a colectomy (surgical removal of a part or the entire colon) is done. Colectomy is recommended due to the large number of polyps and the high risk of colorectal cancer.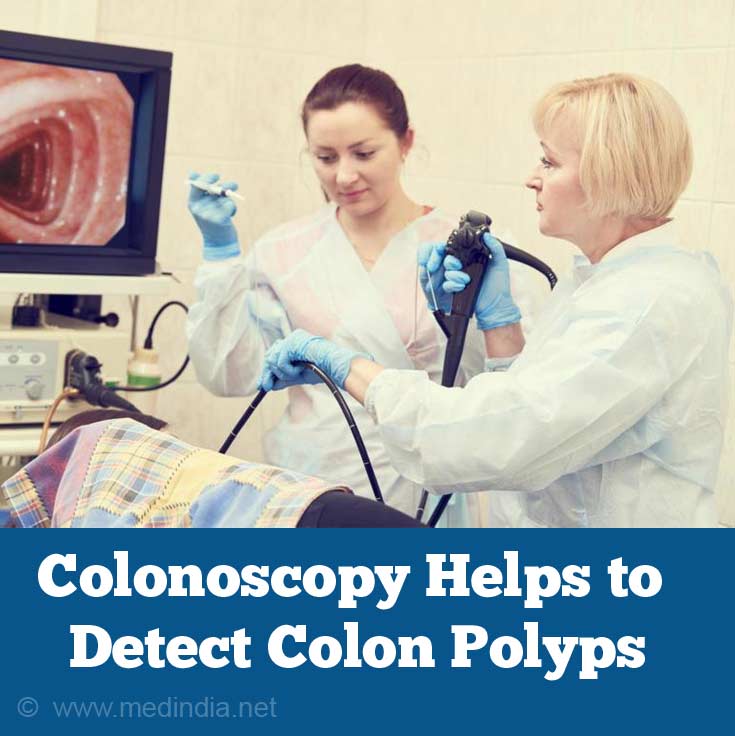 Sigmoidoscopy:

This procedure is generally recommended after colon surgery for monitoring the lower extremity of the colon, technically termed as the sigmoid colon, which is located just adjacent to the rectum. This surveillance is carried out regularly in order to detect any early signs of recurrence.

Upper Endoscopy: In upper endoscopy, the upper portion of the gastrointestinal (GI) tract i.e. the esophagus (food pipe), stomach and duodenum are observed through an endoscope to detect any pathological changes. This procedure is recommended once a year after the polyps start to appear in the colon.
Ultrasonography (USG): A yearly ultrasound of the thyroid is recommended starting at the age of 25-30 years to detect any tumors at an early stage.
CT Scan and MRI: The highly sensitive visualization techniques, namely, computed tomography (CT) scan or magnetic resonance imaging (MRI), are recommended for persons having a personal or family history of desmoid tumors.
Genetic Testing: This test uses a small blood sample and looks for any germline mutations in the APC gene, which is genetically linked to chromosome 5q21.
There is no cure for Gardner syndrome. Treatment options for Gardner syndrome are very limited and generally involve symptomatic treatment. Some of the treatment options include the following:
Medical Treatment: Some medications that are used for the management of Gardner syndrome include injection of steroids within the lesions of epidermoid cysts. Also, non-steroidal anti-inflammatory drugs (NSAIDs) such as ibuprofen, diclofenac, celecoxib, and indomethacin can be used, which help to limit the growth of colonic polyps. In case the polyps become malignant, radiation therapy and chemotherapy are the treatment modalities of choice.
Surgical Treatment: Surgery is primarily used for colectomy in severe cases of multiple polyposis, prior to development of invasive cancer. Surgery is also useful for excising (surgically removing) relatively large tumors that do not respond to medications. For example, osteomas and lipomas can be excised if they severely deform the affected part of the body.
The major risk factor for developing Gardner syndrome is the occurrence of the disease in one of the parents. The estimated cancer risks of Gardner syndrome are tabulated below:
| | |
| --- | --- |
| Type of Cancer | Estimated Cancer Risk |
| Colorectal cancer | Up to 100% if not treated |
| Small bowel cancer | 4-12% |
| Pancreatic cancer | 2% |
| Thyroid cancer | 2-25% |
| Hepatoblastoma (liver cancer) | 1.5% |
| Brain and CNS cancer | less than 1% |
| Stomach cancer | 0.5% |
References:
Gardner EJ. Follow-up study of a family group exhibiting dominant inheritance for a syndrome including intestinal polyps, osteomas, fibromas and epidermal cysts. Am J Hum Genet. 1962 Dec; 14: 376-90. PMID: 13946545.
Lyons LA, Lewis RA, Strong LC, Zuckerbrod S, Ferrell RE. A genetic study of Gardner syndrome and congenital hypertrophy of the retinal pigment epithelium. Am J Hum Genet. 1988 Feb; 42(2): 290-6. PMID: 3422541.
Butler J, Healy C, Toner M, Flint S. Gardner syndrome – review and report of a case. Oral Oncology Extra. 2005 May; 41(5): 89-92. DOI:

https://doi.org/10.1016/j.ooe.2005.02.001

Gardner Syndrome - Genetic and Rare Diseases Information Center (GARD), National Center for Advancing Translational Sciences, National Institutes of Health (NIH), USA -

(https://rarediseases.info.nih.gov/diseases/6482/gardner-syndrome)

Gardner Syndrome - DermNet NZ -

(https://www.dermnetnz.org/topics/gardner-syndrome/)
Latest Publications and Research on Gardner Syndrome / Familial Adenomatous Polyposis (FAP)