What is Euphoria?
Euphoria is a mental and emotional state which makes a person extremely happy, excited and self-confident. These intense feelings of happiness or well-being are much more than a person would normally feel and out of proportion to the situation.
Euphoria can be experienced by persons suffering from bipolar disorder in the manic phase, as well as in unipolar depression. It can also occur in other psychiatric disorders like cyclothymic personality disorder and in schizophrenia, where the actual perception of reality is blurred.
The various types of euphoria depend on the types of stimuli that induce the euphoria. These are briefly discussed below:
Music-induced Euphoria: Music is an undefined or abstract stimulus that can stimulate feelings of euphoria, heightened pleasure, and arousal. This occurs due to stimulation of the reward center of the brain.
Exercise-induced Euphoria: Sustained exercise such as aerobics can induce a state of euphoria. Long-distance running can also cause euphoria, which is commonly called "runner's high".
Drug-induced Euphoria: Psychedelic drugs can induce a state of euphoria. For this reason, they are often called "euphoriants". Their mechanism of action depends on the secretion of dopamine, as a result of stimulation of the brain's reward center.
Sex-induced Euphoria: A state of euphoria is often experienced during the act of sexual intercourse, which occurs due to stimulation of the pleasure centers in the limbic system of the brain.
Hypoxia-induced Euphoria: Strangling can cause suffocation, as a result of which the brain is deprived of oxygen. Intentional suffocation for brief periods can cause a state of euphoria. However, this is a very risky behavior as it can accidentally cause death. Altitude sickness can also cause euphoria.
Advertisement
Mental Disorders: These include unipolar depression, bipolar disorder, schizophrenia, and cyclothymic personality disorder.
Drug Addiction / Abuse: Drugs like cocaine, cannabis (marijuana), amphetamine, heroin, morphine, codeine, oxycodone, fentanyl, ecstasy (MDMA: 3,4-Methylenedioxymethamphetamine), lysergic acid diethylamide (LSD), mescaline, and psychedelic mushrooms.
Habit-Forming Agents: These are usually less severe than addictive drugs discussed above. These primarily include alcohol, nicotine, and caffeine.
Neurological Disorders: These include certain neurological disorders such as petit mal seizures, multiple sclerosis, migraine, head injury, and head trauma, which often need to be treated by a neurologist or a neurosurgeon.
Other Causes: Euphoria may be caused by hypoxia or oxygen deprivation (as occurs in altitude sickness or strangulation). Hyperthyroidism may also cause euphoria.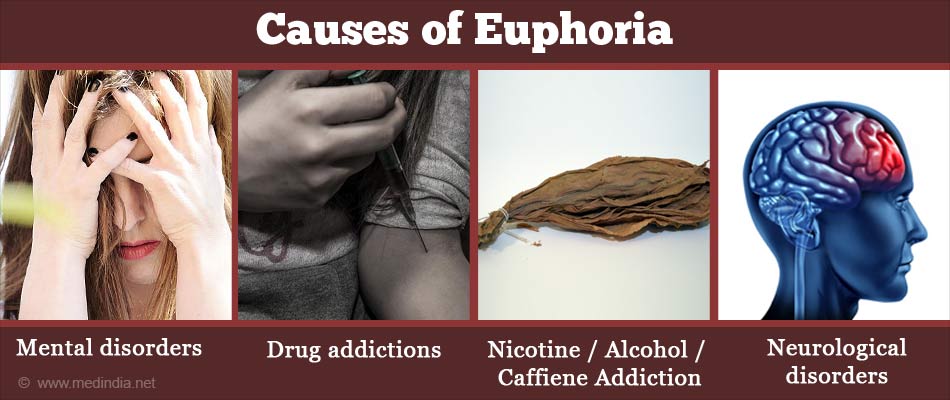 The major symptoms and signs of euphoria are listed below:
Extreme feeling of happiness and well-being
Mood swings
Disorientation
Paranoia
Confusion
Restlessness
Anxiety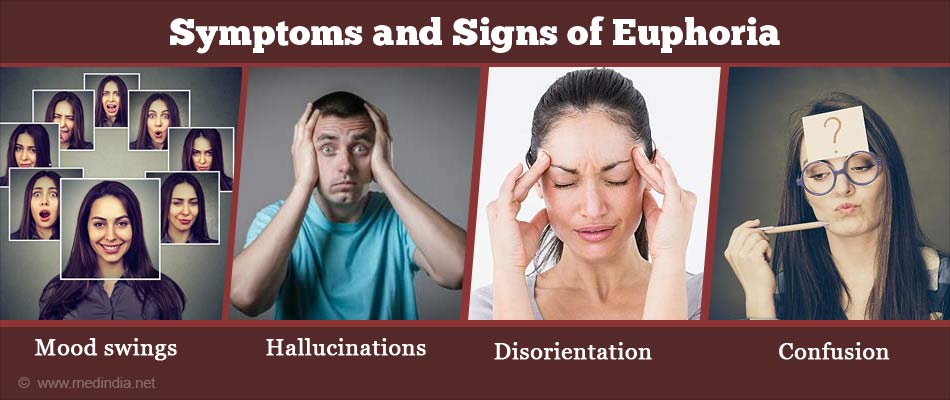 Euphoria is usually diagnosed by first taking a detailed medical history of the patient to assess the condition of the patient, including the home-atmosphere, socio-economic status, and predisposing factors such as a family history of euphoria. A thorough physical exam is then carried out, followed by a detailed evaluation of the patient by the psychiatrist.
Advertisement
Psychiatric Evaluation: The main aim of psychiatric evaluation is to get an understanding of the state of mind of the patient from his/her behavioral pattern in order to find the actual underlying cause of the problem.
Mini-Mental State Examination (MMSE): This aims to evaluate and assess the appearance, behavior, cognitive ability, speech pattern, evidence of hallucinations and any other signs that may reflect upon the mental state of the patient. It is useful for assessing Alzheimer's disease as an underlying cause of euphoria.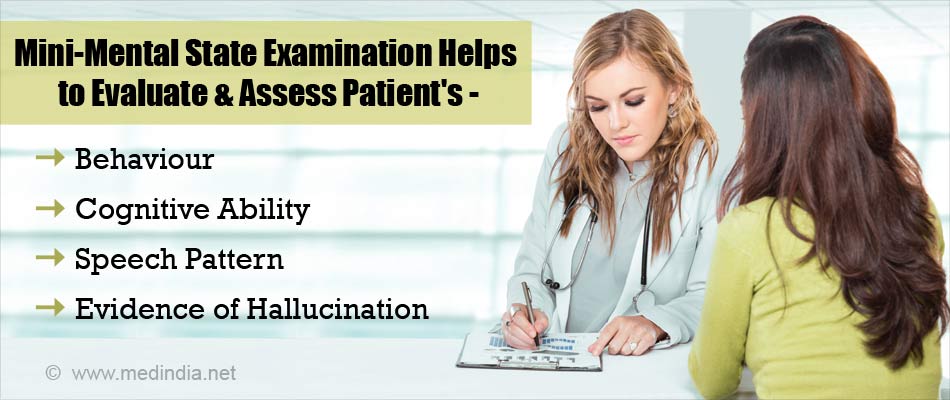 Record of Mood Patterns: The psychiatrist will ask the patient to maintain a chart that records on a daily basis any mood changes, changes in sleep patterns and various other factors. This chart is very important for the psychiatrist to plan a treatment regimen for the patient.
Laboratory Tests: Lab tests might be ordered if an underlying cause is suspected. For example, if alcohol addiction is suspected, a blood test to detect the alcohol level in the blood or a liver function test (LFT) may be ordered. If hyperthyroidism is suspected, a thyroid function test (TFT) that measures T3, T4 and TSH may be ordered.
Brain Imaging: Imaging techniques such as Computed Tomography (CT) scan and Magnetic Resonance Imaging (MRI) may be carried out if the doctor suspects that gross anatomical changes accompanied by changes in brain activity could be the underlying cause of the euphoric condition.
Advertisement
Treatment of euphoria usually involves treating the underlying disorder. Treatment is generally individualized based on the diagnosis. The following treatment strategies may be adopted based on the underlying cause:
Mental Disorders: Underlying mental disorders are generally treated with medicines, with regular follow-up, supplemented with psychotherapy sessions.
Drug / Alcohol Abuse: These may be treated by detoxification and de-addiction programs, rehabilitation programs, psychotherapy, and regular monitoring and follow-ups.
Alzheimer's Disease: Alzheimer's disease can cause euphoria, but since there is no treatment for the disease, it is very difficult to stop the symptoms. However, some medicines can improve cognitive function and prevent mild emotional fluctuations such as euphoria.
Hypoxia: In case of hypoxia, the oxygen saturation is measured by pulse oximetry followed by the institution of corrective measures. In case of altitude sickness, prompt transfer to lower altitudes is required along with oxygen supplementation. Intentional asphyxia is generally prevalent among adolescents for experiencing euphoria. For preventing this type of euphoria, proper counselling is a must.
Hyperthyroidism: This condition can be tackled by administration of anti-thyroid medications. Radioactive iodine can be used to slowly shrink the thyroid gland, eventually leading to its destruction. Occasionally, surgery may be required to remove the thyroid gland altogether.
Neurological Disorders: In case of head injuries, surgical intervention by a neurosurgeon is usually required. Other conditions like petit mal seizures and temporal lobe epilepsy can be treated with various types of anti-epileptic drugs such as valproate, phenytoin, phenobarbital, and carbamazepine.
Although euphoria is caused by many underlying conditions, only a fraction of these can actually be prevented. These essentially include drug abuse, tobacco use, and alcoholism. These can be prevented by not starting the habit in the first place by exercising self-restraint and lifestyle modifications. If alcohol consumption is necessary during social gatherings, it should always be consumed in moderation.
Seevers MH, Pfeiffer CC. A study of the analgesia, subjective depression, and euphoria produced by morphine, heroine, dilaudid, and codeine in the normal human subject. J Pharmacol Exp Ther. 1936; 56(2): 166-87.
Cathelin M, Vignes R, Malki A, Viars P. Comparison between the side-effects of fentanyl and morphine in conscious man. Anesth Analg (Paris) 1980; 37(5-6): 265-73.
Salimpoor VN, Benovoy M, Larcher K, Dagher A, Zatorre RJ. Anatomically distinct dopamine release during anticipation and experience of peak emotion to music. Nat Neurosci. 2011; 14 (2): 257-62.

doi:10.1038/nn.2726;

PMID 21217764.
Bearn J, O'Brien M. "Addicted to Euphoria": The history, clinical presentation, and management of party drug misuse. Int Rev Neurobiol. 2015; 120: 205-33. doi:

10.1016/bs.irn.2015.02.005;

PMID 26070759.
Schaefer CP, Tome ME, Davis TP. The opioid epidemic: a central role for the blood brain barrier in opioid analgesia and abuse. Fluids Barriers CNS. 2017; 14(1): 32. doi:

10.1186/s12987-017-0080-3;

PMID: 29183383.
Calderon SN, Hunt J, Klein M. A regulatory perspective on the evaluation of hallucinogen drugs for human use. Neuropharmacology. 2017 Nov 24. pii: S0028-3908(17)30537-3. doi:

10.1016/j.neuropharm.2017.11.028;

PMID: 29180224.
Ikemoto S, Yang C, Tan A. Basal ganglia circuit loops, dopamine, and motivation: A review and enquiry. Behav Brain Res. 2015 Sep 1; 290: 17-31. doi:

10.1016/j.bbr.2015.04.018;

PMID: 25907747.
Koob GF. The dark side of emotion: the addiction perspective. Eur J Pharmacol. 2015 Apr 15; 753: 73-87. doi:

10.1016/j.ejphar.2014.11.044;

PMID: 25583178.
Wood S, Sage JR, Shuman T, Anagnostaras SG. Psychostimulants and cognition: a continuum of behavioral and cognitive activation. Pharmacol Rev. 2013 Dec 16; 66(1): 193-221. doi:

10.1124/pr.112.007054;

PMID: 24344115.
Please use one of the following formats to cite this article in your essay, paper or report:
APA

Dr. Kaushik Bharati. (2018, February 09). Euphoria - Causes, Symptoms, Diagnosis, Treatment and Prevention. Medindia. Retrieved on Dec 10, 2022 from https://www.medindia.net/patientinfo/euphoria.htm.

MLA

Dr. Kaushik Bharati. "Euphoria - Causes, Symptoms, Diagnosis, Treatment and Prevention". Medindia. Dec 10, 2022. <https://www.medindia.net/patientinfo/euphoria.htm>.

Chicago

Dr. Kaushik Bharati. "Euphoria - Causes, Symptoms, Diagnosis, Treatment and Prevention". Medindia. https://www.medindia.net/patientinfo/euphoria.htm. (accessed Dec 10, 2022).

Harvard

Dr. Kaushik Bharati. 2021. Euphoria - Causes, Symptoms, Diagnosis, Treatment and Prevention. Medindia, viewed Dec 10, 2022, https://www.medindia.net/patientinfo/euphoria.htm.
Latest Publications and Research on Euphoria
Do you wish to consult a Psychiatrist for your problem? Ask your question
Dr. Tejas Patel
MBBS, D.P.M
12 years experience

Dr. Dana Prabagaran I.d
MBBS, MD
1 year experience

Dr. Sandeep Sekhon
MBBS, MD
7 years experience

Dr. Kamal Kishore Verma
MBBS, MD, DNB PSYCHIATRY
10 years experience

View All