What is Erectile Dysfunction?
Erectile dysfunction, or ED, is a physical condition in males in which it is hard to achieve or maintain an erection firm enough for sex. It is also known as impotence.
When a man is sexually excited (aroused), his brain sends signals to the nerves in the penis. This leads to increased blood flow to the penis, causing the penis to expand and harden. Hence, anything which interferes with the nervous system or blood circulation could lead to erectile dysfunction.
Problems with erections occur in most men; however, when this happens very frequently, it is a sign of ED. It is a very common condition, especially in older men.
ED can occur due to following reasons:
Insufficient blood flow into the penis – This could be due to health issues like heart disease, high blood sugar and smoking
Nerve signals from the brain or spinal cord do not reach the penis – Some diseases or injuries in pelvic area can harm the nerves going to the penis; thus, interfering with the transmission of signals
Stress or emotional reasons
The diagnosis of ED is made based on the following:
Physical examination - Physical examination includes examination of penis and testicles and checking the nerves for sensation
Blood tests – Blood tests can help to diagnose conditions like diabetes, high cholesterol and low testosterone levels, which could contribute to the erectile dysfunction
Urine tests - Urine tests could help in early signs of diabetes, which could be one of the causes for ED
Duplex Ultrasound - This test is performed over the penis to understand blood flow problems, if any
Overnight erection test - This test involves wrapping a special device around the penis before the patient goes to bed. The device measures the number and strength of erections that are achieved overnight, and thereby helps to differentiate between impotence caused by a physical and psychological factor. If a normal erection occurs during sleep, a physical cause can be ruled out
Psychological exam - The family doctor or health specialist may ask questions to screen for depression and other possible psychological causes of erectile dysfunction
If there is an underlying cause for erectile dysfunction, it should be treated. Psychological counseling may be necessary to treat the stress associated with the erectile dysfunction. Medications that cause erectile dysfunction may have to be stopped or changed to other alternatives. Lifestyle changes may also help, for example, the patient is advised to:
Quit smoking
Lose excess weight
Include physical activity in daily routine and exercise regularly
Reduce alcohol consumption or illegal drugs
Reduce stress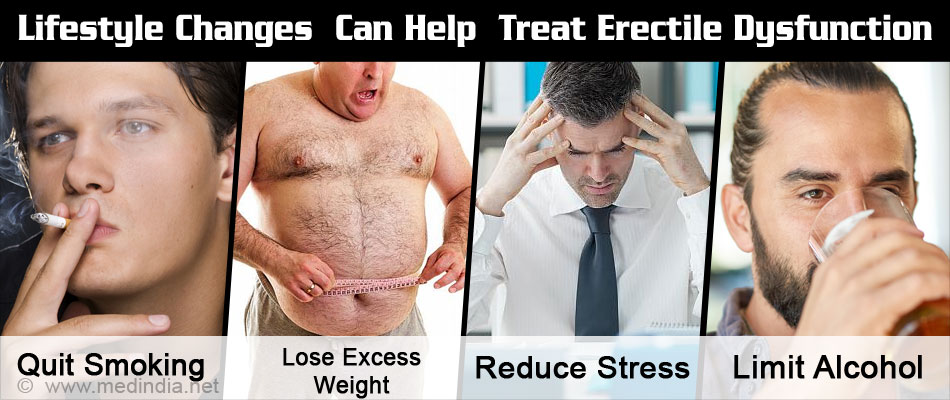 Oral medications form the main stay of treatment for erectile dysfunction.
Oral medications:
Most cases of ED respond to oral medications. These medications enhance the effects of nitric oxide, a natural chemical the body produces that relaxes blood vessels in the penis. This, in turn, increases blood flow to the penis and leads to an erection, in response to sexual stimulation. These oral medications are known as phosphodiesterase-5 (PDE-5) inhibitors and include the following: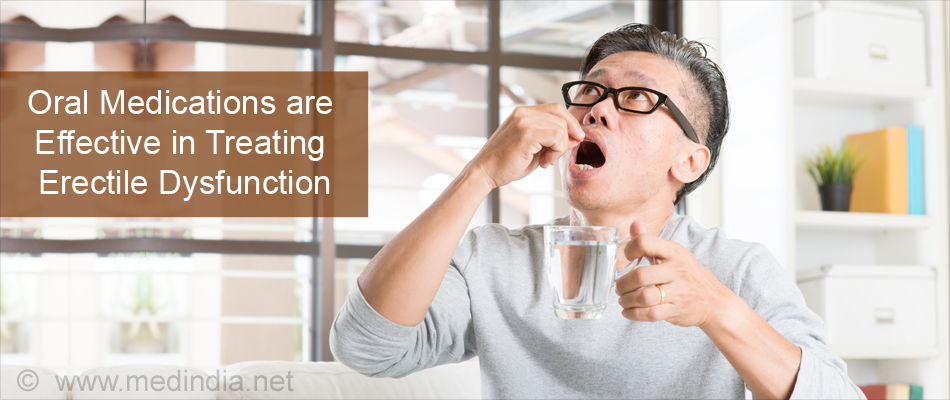 These are prescription drugs approved by FDA and are successful in generating an erection sufficient for intercourse in about 70% of men. The effects of these ED drugs may vary to quite an extent from person to person. They do not exhibit a strong response in men suffering from diabetes, heart disease and with damaged nerves or arteries.
The ED drugs work along with sexual stimulation. The onset of action and duration depend on the type of the PDE-5 inhibitor being prescribed and its dose. It normally takes about 30-60 minutes for the action to start and the effect lasts for about to one to 10 hours after taking the medicine. However, in the case of tadalafil, the effect could last up to 36 hours.
Sildenafil and vardenafil interact with food and their absorption is blocked when taken soon after a meal. Tadalafil and avanafil do not interact with food.
The side effects of oral medications like sildenafil and tadalafil are mild and generally last for a short period of time.
The common side effects include the following:
Headache and migraine
Nasal congestion or stuffy nose
Flushing
Muscle aches
Stomach upset
Visual changes
Some drug specific side effects are indicated below:
Tadalafil is associated with backaches and muscle aches
Sildenafil and vardenafil are associated with blue-tinged vision
A man with an erection sustained for four hours or more needs to be hospitalized to avoid risk of permanent damage.
Men with the following conditions should avoid consuming ED medications:
Very low blood pressure (hypotension) or uncontrolled high blood pressure (hypertension)
Severe liver disease
Kidney disease that requires dialysis
Interactions may occur between ED drugs and nitrate-based drugs, leading to very low blood pressure. Hence, a person consuming nitrate-based drugs commonly prescribed for chest pain (angina), such as nitroglycerin, isosorbide mononitrate and isosorbide dinitrate must not take ED drugs. ED drugs also react with alpha blockers and therefore, the combination should be avoided. It is important to consult the doctor if any over-the-counter supplements, herbal remedies or medication(s) for any other ailment need to be co-administered with ED drugs.
Other medications used in the treatment for erectile dysfunction include:
1. Injection of alprostadil, papaverine, phentolamine into the penis
Some medications are injected directly into the penis to achieve an erection. The most commonly used medications include alprostadil, papaverine and phentolamine. In this method, a fine needle is used to inject the medication into the base or the side of the penis. These drugs also increase the blood supply to the penis and bring about the erection.
Side effects of this method could include bleeding from the point of injection, prolonged erection (priapism) and formation of fibrous tissue at the injection site or within the penis.
2. Alprostadil urethral suppository
Alprostadil intraurethral therapy involves placing a tiny alprostadil suppository inside the penile urethra with a special applicator.
The side effects of this therapy could include pain, minor bleeding in the urethra, prolonged erection and formation of fibrous tissue inside the penis.
3. Testosterone replacement
In some men, erectile dysfunction could be due to low levels of the male hormone testosterone. In these cases, Testosterone replacement therapy might be recommended as the first step.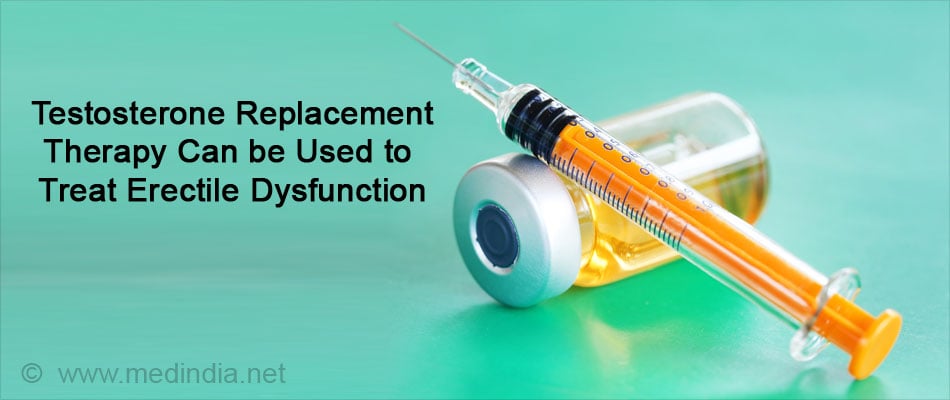 Testosterone can be administered via injection, applied as a gel to the mucus membranes, introduced as a pellet under the skin, applied as a patch to the skin or administered as an oral medication. The form in which testosterone is used should be recommended by the health provider, on a case-to-case basis.
4. Supplements for treating ED
Dietary supplements or herbal remedies too are popular for treating ED, although their safety and efficacy is not proven.
Herbs like Gingko, Ginseng, Horny goad weed and Yohimbe are some of the common herbs used for ED. These are available as over-the-counter ED pills.
5. Natural ED cures
Foods like watermelon, oysters, dark chocolate, nuts, garlic, and olive oil are advised by some for ED.
In some cases of ED, medications may not be effective; alternate treatment methods may be recommended by the health provider, which could include:
1. Penis pumps
A penis pump or a vacuum erection device is a hollow plastic tube with a hand-powered or battery-powered pump. The hollow tube is placed over the penis and the pump is used to suck out the air from inside the tube. The vacuum thus created pulls blood into the penis and causes an erection.
2. Penile implants
This method involves surgically placing devices into both sides of the penis. These implants are of two types, viz. inflatable or semi-rigid rods. Inflatable devices give the patient control on timing and duration of the erection. The semi-rigid rods keep the penis firm but bendable, and enable penetration during sex.
Penile implants are usually recommended only if other methods have failed. Since this method involves surgery, there is a risk of complications, such as infections.
3. Blood vessel surgery
This method is used very rarely and involves bypass surgery on the obstructed penile arteries, to improve blood flow.
Eat foods low in sugar and salt and watch your body weight, to control the blood sugar and blood pressure, which are risk factors for ED
Talk with your partner about ED; it helps in maintaining a healthy relationship
Visit a psychologist or counsellor who can help the person affected and partner to cope with ED
Identify the conditions which cause stress and learn ways to reduce them, e.g. lower your expectations, engage in problem solving, learn to relax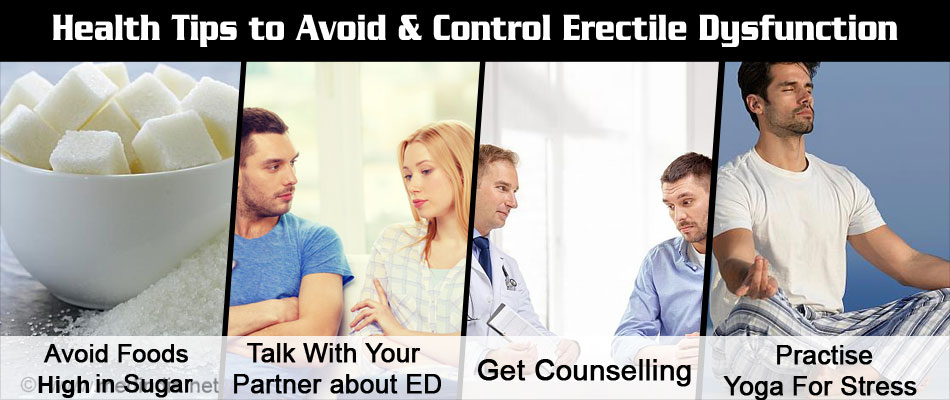 Medindia adheres to strict ethical publishing standards to provide accurate, relevant, and current health content. We source our material from reputable places such as peer-reviewed journals, academic institutions, research bodies, medical associations, and occasionally, non-profit organizations. We welcome and value audience feedback as a part of our commitment to health literacy and informed decision-making.
What is Erectile Dysfunction? -

(http://www.urologyhealth.org/urologic-conditions/erectile-dysfunction)

Erectile Dysfunction - Treatments and drugs -

(http://www.mayoclinic.org/diseases-conditions/erectile-dysfunction/basics/treatment/con-20034244)

How is ED Treated? -

(http://www.urologyhealth.org/urologic-conditions/erectile-dysfunction/treatment)

Which drug for erectile dysfunction? -

(http://www.health.harvard.edu/mens-health/which-drug-for-erectile-dysfunction)

Lifestyle and home remedies for erectile dysfunction -

(http://www.mayoclinic.org/diseases-conditions/erectile-dysfunction/basics/lifestyle-home-remedies/con-20034244)

Treating erectile dysfunction -

(http://my.clevelandclinic.org/health/articles/erectile-dysfunction-overview)
Please use one of the following formats to cite this article in your essay, paper or report:
APA

Jayashree Thakwani. (2020, August 27). Drugs for Erectile Dysfunction. Medindia. Retrieved on Sep 24, 2023 from https://www.medindia.net/patientinfo/drugs-for-erectile-dysfunction.htm.

MLA

Jayashree Thakwani. "Drugs for Erectile Dysfunction". Medindia. Sep 24, 2023. <https://www.medindia.net/patientinfo/drugs-for-erectile-dysfunction.htm>.

Chicago

Jayashree Thakwani. "Drugs for Erectile Dysfunction". Medindia. https://www.medindia.net/patientinfo/drugs-for-erectile-dysfunction.htm. (accessed Sep 24, 2023).

Harvard

Jayashree Thakwani. 2020. Drugs for Erectile Dysfunction. Medindia, viewed Sep 24, 2023, https://www.medindia.net/patientinfo/drugs-for-erectile-dysfunction.htm.
Latest Publications and Research on Drugs for Erectile Dysfunction
Advertisement