What is Fatigue?
Fatigue is a condition where the person is constantly feeling tired or overworked. The energy levels are low, and the person feels exhausted, even after taking rest. The person is unable to concentrate on work.
It generally goes away after taking complete rest under a low-stress environment, or post-recovery from the illness or trigger that causes it.
Fatigue can be caused due to
Lifestyle factors like excessive physical activity, lack of sleep, consumption of alcohol or drugs, unhealthy eating habits
Medical conditions like an infection, anxiety disorder, heart disease, hyperthyroidism, hypothyroidism
Medications such as antihistamines or blood pressure medications
Cancer condition or medications administered for cancer treatment
Fatigue affects the person physically, emotionally as well as psychologically.
What is Medication-Related Fatigue?
Some prescription drugs, as well as over-the-counter medications, can cause fatigue as an adverse effect, where the patients feel lethargic or exhausted all the time.
The side effects of these medicines can be dangerous; hence, precautions must be taken when driving or operating machinery or doing any such activity.
The level of fatigue caused will depend on:
The drug and combination of drugs
Dose of the drug(s)
How a person reacts to the drugs
Duration of the therapy
The categories of drugs known to cause fatigue are:
Blood Pressure Medications
There are different types of blood pressure medications.
ACE inhibitors like lisinopril, and calcium channel blockers like hydrochlorothiazide are known to cause fatigue.
The latest class of drugs known as renin inhibitors are also known to cause fatigue as a side- effect; an example is aliskiren.
Blood pressure medications slow down the pumping of the heart and depress the central nervous system, leading to fatigue.
Diuretics which help reduce blood pressure deplete the body of its electrolytes, thus causing fatigue.
Anti-hypercholesterol Drugs
Statin drugs like atorvastatin, rosuvastatin, and fibrate drugs like fenofibrate also cause fatigue.
Statins stop muscle growth, and they also interfere with the production of energy, as they interfere with the production of cholesterol, thus leading to fatigue.
Proton pump inhibitors (PPIs)
These medications are used to treat gastroesophageal reflux disease (GERD).
PPIs like esomeprazole, lansoprazole, pantoprazole reduce the levels of magnesium in the blood, leading to fatigue and weakness.
Benzodiazepines
These are also known as tranquilizers and are prescribed for their sedative or hypnotic effect or as anti-depressants.
The commonly prescribed tranquilizers or sleeping pills include alprazolam, diazepam, and lorazepam. These dampen or depress the central nervous system, thus causing fatigue.
Antihistamines
Antihistamines like diphenhydramine and fexofenadine are prescribed to get relief from allergies due to some diseases or the common cold.
They depress the central nervous system, causing drowsiness and tiredness.
Antidepressants and Antipsychotics
These are used to treat depression, anxiety-related disorders, obsessive-compulsive disorder and hormone-mediated disorders.
Antidepressants act on chemicals in the brain known as neurotransmitters and hormones. A change in the levels of hormones and neurotransmitters is closely associated with symptoms of fatigue and drowsiness.
Antibiotics
Antibiotics are used to treat infections or prevent infections during surgery.
The commonly used antibiotics like azithromycin, cephalexin, sulfamethoxazole are known to cause fatigue, and their package insert too lists fatigue as a potential side effect.
Diuretics
Diuretics are prescribed to treat high blood pressure, glaucoma, edema and other conditions.
These interfere with levels of electrolytes like sodium, potassium, and chloride in blood. These imbalances cause muscle weakness, joint aches, and extreme fatigue.
Anti-cancer Drugs
Drugs for chemotherapy are known to cause fatigue, as they may destroy healthy cells, in addition to the cancerous cells.
Opioid Pain Medications
Opioids are a class of drugs which include heroin, oxycodone, codeine, morphine. These are prescribed as pain relievers. They are generally safe to use under supervision; however, at times, they can cause extreme fatigue.
Illicit Drugs
Street drugs, which commonly include marijuana and cocaine, in extreme conditions, affect the brain's functioning which could lead to seizures and chronic fatigue.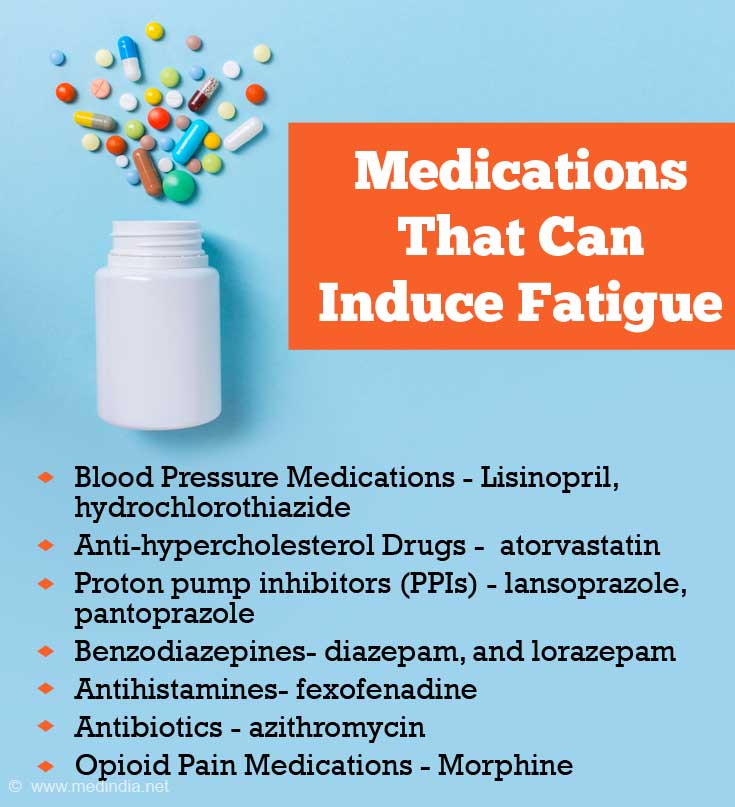 The typical symptoms of fatigue include:
Lack of energy, feeling sluggish or lethargic
Being breathless when doing short or simple activities
Difficulty in concentrating
Loss of interest in doing any action
Loss of interest in sex
A feeling of depression or anxiety
Sleep disturbance
Negative feelings about self and others
The patient must consult a doctor if fatigue symptoms are persistent and everyday activities are affected.
It is time to see a doctor if a person often experiences:
Confusion
Dizziness
Loss of balance
Shortness of breath
Slurred speech, stumbling or imbalance while walking
The doctor would treat fatigue by treating the main cause of fatigue or the symptoms associated with fatigue.
Some ways to treat fatigue include:
Take rest – the person must take short naps during the day
Increase energy levels – drink lots of fluids and maintain a healthy diet to increase energy levels
Meals must not be skipped nor must one overeat
Consume iron-rich foods
Avoid alcohol or caffeine drinks
Stop smoking
Light exercise should be done as a routine to maintain the energy levels
Avoid sleeping pills
Lose weight to increase energy
Visit the counselor
Consult a healthcare provider and consume drugs to alleviate fatigue symptoms
Fatigue can increase the risk of harm to workers, through impaired judgment and reduced capacity to work
It can also lower immunity, leading to illness and long-term health effects such as heart disease
Fatigue during driving can cause accidents, due to reduced alertness
How do you Avoid or Rationalize Drugs that Cause Fatigue?
If a person feels that the fatigue symptoms could be due to a medication being consumed, the physician or healthcare provider must be consulted. The medicine must be discontinued, or the dose varied, based on the advice of the healthcare provider.
The healthcare provider may also suggest consuming the fatigue-causing medication at a different time of the day, to reduce the effect of fatigue on daily activities.
After consultation with a healthcare provider, classic histamines like diphenhydramine or fexofenadine must be replaced with a newer generation of antihistamines like loratadine and cetirizine, which do not cause fatigue.
References:
9 Types of Medications That Can Lead to Chronic Fatigue -

(https://www.aarp.org/health/drugs-supplements/info-06-2012/medications-that-cause-chronic-fatigue.html)

How to prevent tiredness or fatigue caused by your medicines -

(https://provider.ghc.org/open/caringForOurMembers/patientHealthEducation/conditionsDiseases/tirednessMedicine.pdf)

What to do when medication makes you sleepy -

(https://www.health.harvard.edu/drugs-and-medications/what-to-do-when-medication-makes-you-sleepy)

Fatigue and cancer drugs -

(http://www.cancerresearchuk.org/about-cancer/cancer-in-general/treatment/cancer-drugs/side-effects/fatigue)

Fatigue fighting tips -

(https://www.betterhealth.vic.gov.au/health/conditionsandtreatments/fatigue-fighting-tips)
Latest Publications and Research on Drugs That Can Make You Feel Tired
Please use one of the following formats to cite this article in your essay, paper or report:
APA

Jayashree Thakwani. (2018, June 01). Drugs That Can Make You Feel Tired. Medindia. Retrieved on May 22, 2022 from https://www.medindia.net/patientinfo/drug-that-can-make-you-feel-tired.htm.

MLA

Jayashree Thakwani. "Drugs That Can Make You Feel Tired". Medindia. May 22, 2022. <https://www.medindia.net/patientinfo/drug-that-can-make-you-feel-tired.htm>.

Chicago

Jayashree Thakwani. "Drugs That Can Make You Feel Tired". Medindia. https://www.medindia.net/patientinfo/drug-that-can-make-you-feel-tired.htm. (accessed May 22, 2022).

Harvard

Jayashree Thakwani. 2021. Drugs That Can Make You Feel Tired. Medindia, viewed May 22, 2022, https://www.medindia.net/patientinfo/drug-that-can-make-you-feel-tired.htm.
Do you wish to consult a Pharmacologist for your problem? Ask your question
Dr. Poulomi Roy Choudhury
MBBS, MD
4 years experience

Teleconsult Now
View Profile
Dr. Sushil C
MBBS
1 year experience

Teleconsult Now
View Profile
View All