MYTHS AND FACTS about COVID-19
Debunking several misconceptions that have surfaced regarding COVID-19 vaccination is important to prevent vaccine hesitancy among the masses. In some centres vaccines have been wasted as there were no takers. There is a plethora of misinformation out there is due to various misconceptions. This unfortunately even prevails among medical professionals.
The misinformation is costing precious lives and is hugely detrimental in efforts to combat the pandemic. A term infodemic has been coined to mean an over abundance of information and includes deliberate attempts to disseminate wrong information. This has led the World Health Organization (WHO) to form a special cell to handle this Infodemic. In 2020, soon after COVID there was a deluge of information that included -
361,000,000 videos were uploaded on YouTube under the "COVID-19" and "COVID 19" classification,
About 19,200 articles have been published in Google Scholar,
Around 550 million tweets included the terms coronavirus, corona virus, covid19, covid-19, covid_19, or pandemic.
"We're not just fighting an epidemic; we're fighting an infodemic," said Tedros Adhanom Ghebreyesus, Director-General of the World Health Organization (WHO) at a gathering of foreign policy and security experts in Munich, Germany referring to fake news that "spreads faster and more easily than this virus."
Advertisement
In a Facebook post, Under-Secretary-General for Global Communications Melissa Fleming said: "My global communications team at the United Nations will be stepping up our communications efforts to make sure people have the best, most credible information and also inspiration from examples of global cooperation and viral acts of humanity."
MYTHS

FACTS

MYTH 1

 

People who have already contracted the infection do not need to be vaccinated

 

After being infected by the novel coronavirus, one develops a natural immunity against the virus. This natural immunity elicited by an individual varies from person to person, depending upon their immune systems. Hence, it is not possible to determine how long the natural immunity is likely to last. Several cases of reinfection have been reported. The Centers for Disease Control and Prevention (CDC) currently recommends vaccination be taken after 90 days of recovery in COVID infected patients.

 

MYTH 2

 

Waiting for a more effective vaccine is a logical choice

 

 

Covid-19 vaccination should not be delayed. Moreover, all the vaccines approved for administration are safe and effective to a great extent. The primary goal is to get everyone vaccinated as it is the only way to curb the burden of the disease.

 

MYTH 3

 

Covid-19 vaccines alter genetic makeup

 

 

This is such a common misconception and resulting in vaccine hesitancy.

 

When a nucleic acid vaccine is used, the messenger RNA (mRNA) is injected as the vaccine enters human cells and stimulates the immune system to launch an immune response against the viral products. The genetic material of humans is stored in cell nucleus within the cells. The mRNA never enters the cell nucleus, and thus, does not interfere with the genetic makeup (DNA or RNA) of people in any way.

 

MYTH 4

 

Masks are not required post vaccination

 

The COVID vaccine does not guarantee 100% protection.

 

Covid-19 vaccines only lower the risk of developing serious diseases and complications.

 

They do not protect against contracting the infection and transmission of virus to others.

 

Therefore, wearing a mask and taking other coronavirus precautions are necessary even after vaccination.

 

MYTH 5

 

Covid-19 vaccines were developed in a haste, and are thus unsafe

 

Despite being developed in record time, all the FDA authorized emergency use vaccines against Covid-19 have been effectively tested and evaluated for safety as any other vaccine.

 

Thus, these vaccines are no less safe than any other vaccine being administered under routine vaccination.

MYTH 6

 

Vaccination should not be taken by pregnant and lactating females

 

The pregnant and lactating women are at an increased risk of developing severe illness from Covid-19 infection.

 

The WHO has recommended both the groups to get vaccinated as these vaccines are considered safe for the mother, as well as the child.

 

Furthermore, in a recent study, the ICMR (Indian Council of Medical Research) has emphasized on the importance of vaccination for pregnant and lactating women in the fight against Covid-19.

 

MYTH 7

 

Covid-19 vaccine increases risk of falling sick from other infectious diseases

 

 

There is no evidence to implicate the role of Covid-19 vaccines in increasing the risk for other infectious illnesses. The vaccine does not dampen the immune responses of an individual in any way.

MYTH 8

 

Covid-19 infection can be contracted from the vaccine

 

None of the vaccines developed against Covid-19 are capable of infecting a person with the infection as they do not contain the live virus.

 

The vaccines merely prepare the immune system to mount a befitting response against the virus in case of a future infection.

 

MYTH 9

 

Covid-19 vaccine can cause infertility

 

 

There is no medical or scientific mechanism by which the vaccines could interfere with reproductive outcomes.

 

Thus, Covid-19 vaccines do not negatively affect fertility in either men or women.

 

MYTH 10

 

Covid tests will yield a positive report after vaccination.

 

 

The tests being used to diagnose Covid-19 detect viral antigens (live virus) present in the respiratory system, and not the antibodies produced against the virus.

 

Therefore, a vaccinated individual will not yield a positive result unless he is infected by the virus. Only the specific antibody titer in blood will be raised, suggesting some level of protection against the virus.
Advertisement
Vaccine hesitancy refers to the refusal or delayed acceptance to vaccines despite effective services being available. According to the World Health Organization (WHO), vaccine hesitancy is one of the top 10 threats to global health.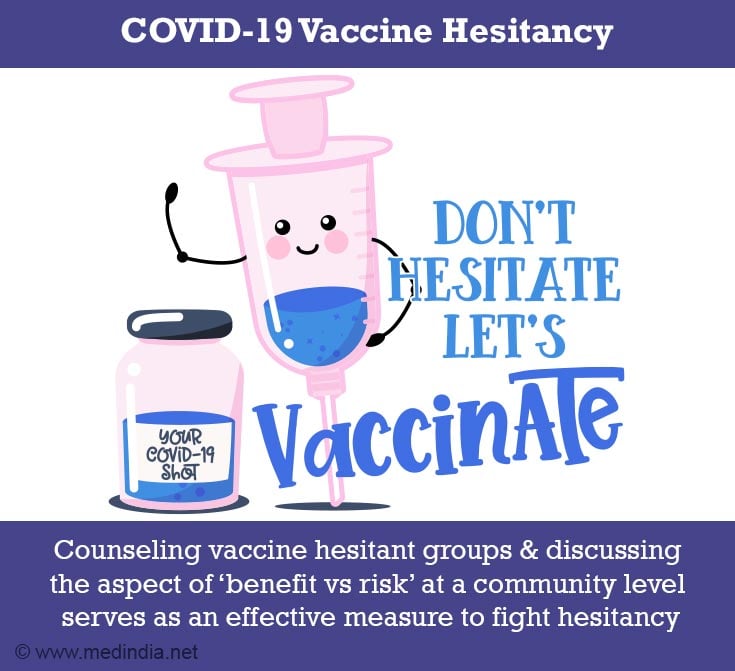 The progression of the disease has brought about new variants of the virus which are more contagious and difficult to treat as compared to the original variant. With the advent of such mutations, vaccination may be the only way to weaken the grasp of the virus over mankind.
The most important question we should be asking ourselves is "How many people will we harm if we deny vaccination". By getting vaccinated, we not only protect ourselves from potential threats of the disease, but also play a significant role in fighting the pandemic.
Therefore, counselling such vaccine hesitant groups and discussing the aspect of 'benefit vs risk' at a community level could serve as an effective measure to fight hesitancy.
Advertisement
Covid-19 stands for Coronavirus Disease – 2019, which is a viral respiratory tract infection caused by a new variant of Coronavirus, named as SARS-COV-2 (Severe Acute Respiratory Syndrome Coronavirus-2). The disease was declared as a pandemic on 11th March, 2020.
The virus is highly infective in nature and multiplies by producing clones of itself in the infected person. While multiplying, the virus has the ability of changing its genetic makeup, thereby giving rise to new variants. This is known as viral mutation.
Many variants of SARS-COV-2 have been identified and classified by the World Health Organization (WHO) as:
Variants of Concern (VOC)

These variants are predicted to spread more rapidly as compared to the original variant and exhibit increased resistance to disease curbing modalities like medicines, vaccines, etc.

Some named variants are:


| | |
| --- | --- |
| Name of Variant | First Detected in |
| Alpha (B.1.1.7) | September, 2020 [United Kingdom] |
| Beta (B.1.351) | May, 2020 [South Africa] |
| Gamma (P.1) | November, 2020 [Brazil] |
| Delta (B.1.617.2) | October, 2020 [India] |

Variants of Interest (VOI)

These are variants which show clear evidence of causing increased spread and severity of disease and are difficult to diagnose and treat owing to their increased resistance.

These are:


Name of Variant

 

First Detected in

Eta (B.1.525)

December, 2020 [Multiple countries]

Iota (B.1.526)

November, 2020 [USA]

Kappa (B.1.617.1)

October, 2020 [India]

Lambda (C.37)

December, 2020 [Peru]

Zeta (P.2)

April, 2020 [Brazil]

Epsilon (B.1.427/B.1.429)

March, 2020 [USA]

Theta (P.3)

January, 2021 [Philippines]
As of today, a total of more than 3800 million doses have been administered worldwide, of which, about 420 million doses have administered in India. More than 90 million people in India have been fully vaccinated.
There are broadly 4 main types of COVID-19 vaccines: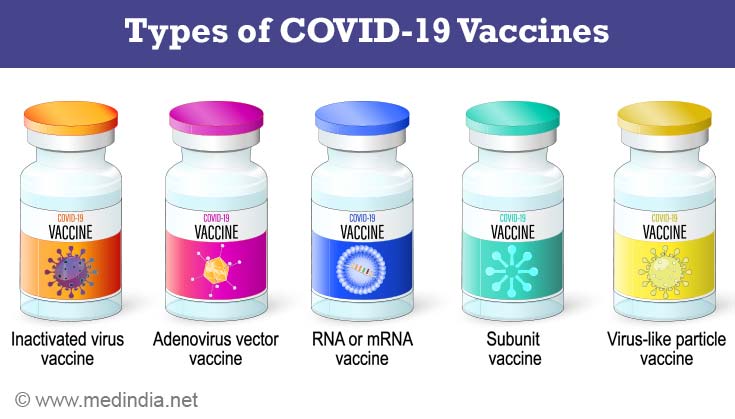 Whole Virus Vaccines

Live attenuated - Use a weakened form of the virus that still possesses antigens as that of the virus, but does not have the infective potential. The virus injected in the form of vaccine, thus, has the potential to replicate, but does not cause infection.
Inactivated - Here, the genetic material of the virus is destroyed. Hence, they cannot replicate, but can induce an immune response. These vaccines are safer in individuals with weakened immune systems. Covaxin is an example of inactivated whole virus vaccine.

Protein Subunit Vaccines - These vaccines use fragments of the viral protein to elicit an immune response. The immunity produced is comparatively weak, thus adjuvants may be required to increase the effectivity.
Nucleic Acid Vaccines - Here, the viral genetic material (DNA or RNA) is injected into human cells, following which the human cells produce clones of the virus protein, which in turn induces an immune response. Examples include Pfizer and Moderna vaccines.
Viral Vector Vaccines - In this, a potentially harmless virus (like a common cold virus - adenovirus) is weakened and is genetically engineered to produce coronavirus proteins in the body but cannot cause an infection. It can be of 2 types: Replicating and Non-replicating. Covishield and Sputnik V are examples of non-replicating viral vector vaccine.
All vaccines that are authorized for emergency use against Covid-19 are safe. The vaccines are tested in several phases and evaluated thoroughly before being licensed by the Food and Drug Administration (FDA).
During clinical trials, the vaccines are tested on volunteers for safety and efficacy. Vaccines are approved for mass administration to the population after Phase 3 trials, following which, mass surveillance is carried out as part of Phase 4 to keep a check on any long-term side effects that may happen.
WHO chief scientist, Soumya Swaminathan said that "Whilst speed is important, it cannot be at the cost of compromising on the safety or the efficacy standards", thereby assuring the safety of the Covid-19 vaccines.
The phases of clinical trials include:
Phase

No. of Participants

Purpose

PRE-CLINICAL

 

--

Development of vaccine at laboratory

PHASE 1

Less than a hundred healthy volunteers

Safety and toxicity profile

PHASE 2

Few Hundred

Efficacy

PHASE 3

Hundreds to Thousands

- Confirm safety and efficacy

- Comparison

PHASE 4

Population

Long term or rare side effects
Myths and Facts about COVID-19 Vaccines -

(https://www.cdc.gov/coronavirus/2019-ncov/vaccines/facts.html)

COVID-19 Vaccines: Myth Versus Fact -

(https://www.hopkinsmedicine.org/health/conditions-and-diseases/coronavirus/covid-19-vaccines-myth-versus-fact)

Vaccine Hesitancy: what it means and what we need to know in order to tackle it. -

(https://www.who.int/immunization/research/forums_and_initiatives/1_RButler_VH_Threat_Child_Health_gvirf16.pdf)

Addressing vaccine hesitancy -

(https://www.ncbi.nlm.nih.gov/pmc/articles/PMC6515949/)
Please use one of the following formats to cite this article in your essay, paper or report:
APA

Dr. Sreeja Dutta. (2021, August 12). COVID-19 Vaccine: Myths and Facts. Medindia. Retrieved on Dec 07, 2022 from https://www.medindia.net/patientinfo/covid-19-vaccine-myths-and-facts.htm.

MLA

Dr. Sreeja Dutta. "COVID-19 Vaccine: Myths and Facts". Medindia. Dec 07, 2022. <https://www.medindia.net/patientinfo/covid-19-vaccine-myths-and-facts.htm>.

Chicago

Dr. Sreeja Dutta. "COVID-19 Vaccine: Myths and Facts". Medindia. https://www.medindia.net/patientinfo/covid-19-vaccine-myths-and-facts.htm. (accessed Dec 07, 2022).

Harvard

Dr. Sreeja Dutta. 2021. COVID-19 Vaccine: Myths and Facts. Medindia, viewed Dec 07, 2022, https://www.medindia.net/patientinfo/covid-19-vaccine-myths-and-facts.htm.