Copper Metabolism - Overview
Copper is an essential trace element needed for several vital functions. However, its level should be tightly regulated as an accumulation of copper in tissues can cause serious organ damage. This balance is maintained through excretion of excess copper through the bile into feces.
Dietary copper is absorbed from the upper small intestine and transported to the liver bound to protein albumin. From the liver, it is transported to the peripheral tissues bound to a protein ceruloplasmin (nearly 95%) and a small amount bound to albumin. Free copper is highly toxic and hence it is tightly bound to proteins.
Copper deficiency (also known as hypocupremia) occurs as a result of inadequate consumption or poor absorption of copper in the diet.
The major symptoms of copper deficiency include neuropathy, unsteady gait, spasticity of muscles, and, sometimes, anemia. Copper deficiency can also occur after gastric bypass surgery and administration of parenteral nutrition over long periods. The deficiency can sometimes occur in children that results in stunted growth, weakened bones, and anemia.
The Recommended Dietary Allowance (RDA) of copper in adults is 900 µg/day.
Advertisement
Copper deficiency can occur due to certain underlying conditions. There is a paucity of data on the prevalence of copper deficiency around the globe. The available latest figures are presented below:
An Indian study found that the prevalence of copper deficiency can be as high as 30% in Indians suffering from hair loss.
A study from Chile found that the prevalence of copper deficiency was 2.3% in Chilean women of childbearing age.
A study from USA found that patients who underwent Roux-en-Y gastric bypass surgery exhibited a prevalence of copper deficiency of 9.6%.
Improves absorption of iron
Improves brain function
Maintains healthy metabolism
Maintains bone and joint health
Promotes healthy skin
Alleviates throat infections
Helps in the production of hemoglobin and red blood cells (RBC)
Promotes heart health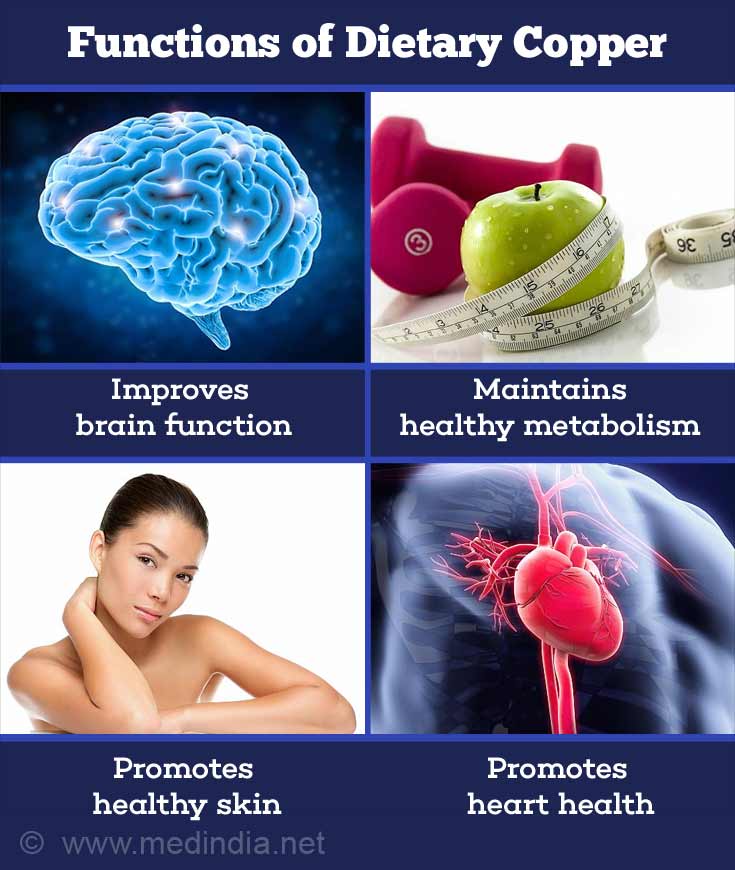 Copper is the third most abundant mineral in the human body, all of which need to be obtained from the diet. Some copper-rich foods include the following:
Bananas
Zucchini
Liver
Oysters
Fish
Nuts and seeds
Beans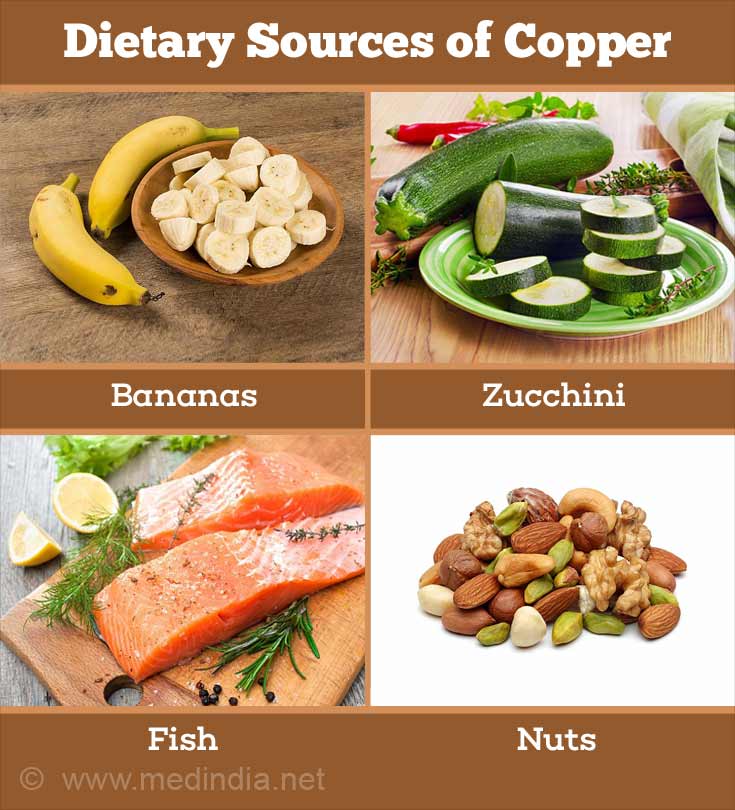 Copper deficiency can be caused by several factors. The major ones are highlighted below:
Bariatric Surgery: This type of surgery is also known as gastric bypass surgery and is aimed at weight reduction for obese patients. Since the normal pathway of the gastrointestinal (GI) tract is altered, the absorption of copper, vitamin B12, iron and other micronutrients are appreciably hampered.
Zinc Toxicity: Zinc is contained in most multivitamin/micronutrient supplements. Therapeutically, zinc is used for treating various ailments, including sinusitis, celiac disease, sickle cell anemia, as well as ulcers. Zinc is also a component of denture creams. Too much use of zinc for medical applications can cause copper deficiency.
Menkes Disease: This is also called Kinky Hair Syndrome, a hereditary disease, which occurs due to a defective gene. It is characterized by weak muscle tone, seizures, low body temperature and steel colored rough hair. Menkes disease is usually fatal and causes abnormalities in copper metabolism, leading to copper deficiency.
Copper deficiency exhibits a wide variety of symptoms. The major ones are listed below:
Fatigue and exhaustion
Hypochromic anemia
Iron and vitamin B12 deficiency
Confusion
Irritability
Loss of coordination
Depression
Neuropathy – numbness, tingling sensation
Osteoporosis / brittle bones
Abnormally white or gray hair
Arthritis
Falling ill frequently
Skin inflammation, bruising, and sores
Stunted growth and development in children
Muscle and joint pain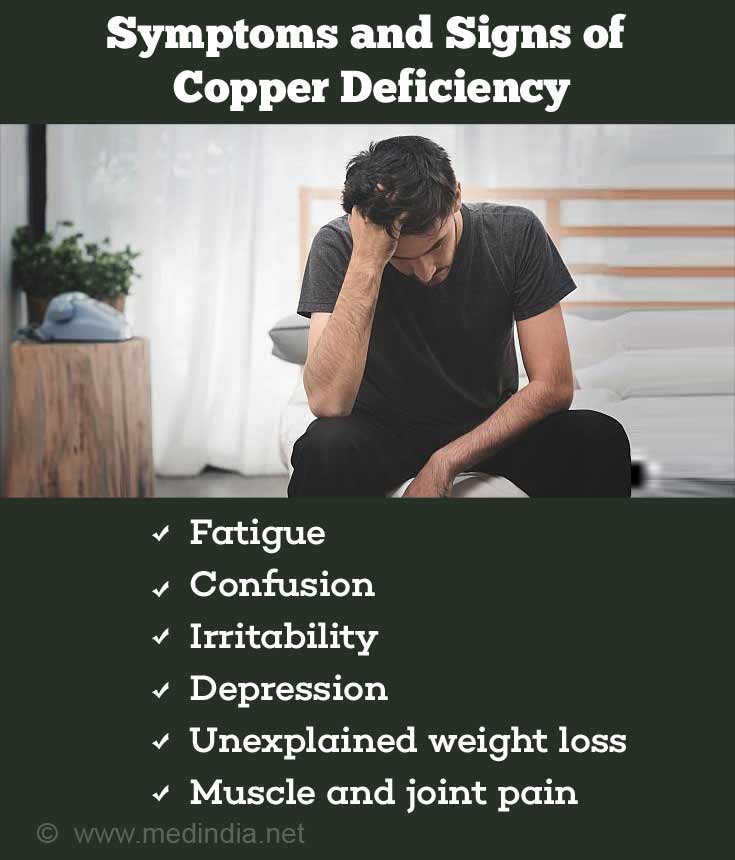 The bulk of the copper (95%) circulating in the blood is bound to ceruloplasmin. Estimation of ceruloplasmin also gives an idea of the amount of copper present in the sample. Copper is tested by a blood or urine test.
Copper and/or ceruloplasmin is tested in the following samples:
Copper in plasma (normal range 70 to 140 micrograms per deciliter)
Copper in urine (24-hour urine sample)
Ceruloplasmin in plasma
Liver biopsy (rare)
In copper deficiency, low levels of copper are noted in blood, urine and liver biopsy samples. This is associated with low ceruloplasmin levels in the blood.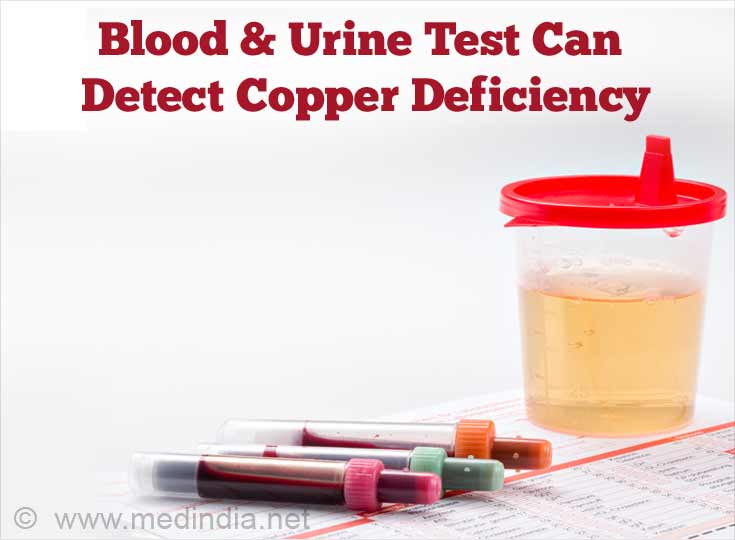 Treatment of copper deficiency involves either parenteral (through an IV channel) or oral copper supplementation until normal copper levels in the blood are achieved.
A common copper formulation is copper sulfate. In India, it is sold under the Brand Name Fersolate-CM, which is manufactured by GlaxoSmithKline (GSK). Fersolate-CM is a combination of ferrous sulfate, copper sulfate, and manganese sulfate monohydrate.
Copper interacts with the following major drugs:
Penicillamine: Copper interacts strongly with penicillamine, which is used to treat Wilson's disease. In this disease, excess copper builds-up in the organs. The drug binds the copper and excretes it through the urine.
NSAIDs: Non-steroidal anti-inflammatory drugs (NSAIDs) like ibuprofen and naproxen have been reported to interact with copper, as a result of which the anti-inflammatory effects are increased appreciably.
Oral Contraceptives and HRT: Women taking oral contraceptives or those undergoing post-menopausal hormone replacement therapy (HRT) with estrogen can cause a rise in the serum levels of copper. Therefore, copper supplements must be avoided while undergoing these types of therapy.
Cimetidine: This drug is used to treat gastric ulcers and gastroesophageal reflux disease. Cimetidine can cause a rise in the serum levels of copper, which can lead to liver damage.
Nifedipine: This drug is a calcium channel blocker and is used to treat angina and high blood pressure (hypertension). Nifedipine can cause depletion of copper in RBCs upon prolonged use.
Allopurinol: This drug is used in the treatment of gout. Studies suggest that allopurinol can decrease the serum levels of copper.
Zinc: Studies have suggested that prolonged zinc supplementation in the diet could hamper the absorption of copper in the intestine, leading to a depletion of copper stores in the body.
References:
Gowda D, Premalatha V, Imtiyaz DB. Prevalence of nutritional deficiencies in hair loss among Indian participants: results of a cross-sectional study. Int J Trichology. 2017 Jul-Sep; 9(3): 101-4. PMID: 28932059. DOI:

10.4103/ijt.ijt_48_16.

Mujica-Coopman MF, Borja A, Pizarro F, Olivares M. Prevalence of deficiency and dietary intake of iron, zinc and copper in Chilean childbearing age women. Arch Latinoam Nutr. 2014 Mar; 64(1): 9-15. PMID: 25796712.
Gletsu-Miller N, Broderius M, Frediani JK, Zhao VM, Griffith DP, Davis SS Jr, et al. Incidence and prevalence of copper deficiency following roux-en-y gastric bypass surgery. Int J Obes (Lond). 2012 Mar; 36(3): 328-35. PMID: 21876546. DOI:

10.1038/ijo.2011.159.

Storey ML, Greger JL. Iron, zinc and copper interactions: chronic versus acute responses of rats. J Nutr. 1987 Aug; 117(8): 1434-42. PMID: 3625315.
Griffith DP, Liff D, Ziegler TR, Esper GJ, Winton EF. Acquired copper deficiency: a potentially serious and preventable complication following gastric bypass surgery. Obesity (Silver Spring). 2009 Apr; 17(4): 827-31. PMCID: PMC2712481. DOI:

10.1038/oby.2008.614

.
Copper Toxicity & Self Evaluation -

(http://nutritionalbalancing.org/center/htma/science/articles/copper-toxicity.php)

University of Maryland Medical Center. Possible Interactions with: Copper -

(https://www.umm.edu/health/medical/altmed/supplement-interaction/possible-interactions-with-copper)
Latest Publications and Research on Copper Deficiency
Please use one of the following formats to cite this article in your essay, paper or report:
APA

Dr. Kaushik Bharati. (2018, March 02). Copper Deficiency | Hypocupremia - Causes, Symptoms, Diagnosis, Treatment, and Prevention. Medindia. Retrieved on May 22, 2022 from https://www.medindia.net/patientinfo/copper-deficiency.htm.

MLA

Dr. Kaushik Bharati. "Copper Deficiency | Hypocupremia - Causes, Symptoms, Diagnosis, Treatment, and Prevention". Medindia. May 22, 2022. <https://www.medindia.net/patientinfo/copper-deficiency.htm>.

Chicago

Dr. Kaushik Bharati. "Copper Deficiency | Hypocupremia - Causes, Symptoms, Diagnosis, Treatment, and Prevention". Medindia. https://www.medindia.net/patientinfo/copper-deficiency.htm. (accessed May 22, 2022).

Harvard

Dr. Kaushik Bharati. 2021. Copper Deficiency | Hypocupremia - Causes, Symptoms, Diagnosis, Treatment, and Prevention. Medindia, viewed May 22, 2022, https://www.medindia.net/patientinfo/copper-deficiency.htm.
Request an Appointment with a Doctor (Nutrition Expert)
Ms. Pandi Alagammai Thillainathan
BSc, MSc
1 year experience
Online mode, Porur
Teleconsult Now
View Profile
Ms. Dharanya Ramesh
BSc, Pg
1 year experience
Dt.Dharanya s clinic, Arul Nagar
Teleconsult Now
View Profile
Dr. Pratiksha Prashant
Masters in Dietitics, Masters in Health Science, International Health coach, International diabetic educator, Certification in Vedic nutrition, Bachelors in Dental Surgery
7 years experience

Teleconsult Now
View Profile
Ms. Supraja Vijay
BSc
1 year experience

Teleconsult Now
View Profile
View All