What is Cachexia?
Cachexia is a wasting syndrome as a result of an extreme decrease in weight due to the loss of body mass and fat. This loss in weight is usually disproportionate. This condition is seen in the setting of an underlying disease in the body. This type of weight loss increases the chance of disease complications and death of the patient.
The earliest reports of severe and marked weight loss date back to Hippocrates' School of Medicine around 460-377 BC. Since then, this finding has been recognized as being associated with an unfavorable prognosis, justifying the title cachexia, from the Greek kakos (i.e., bad) and hexis (i.e., condition or appearance), or 'bad condition'. Cachexia is seen in several chronic or end-stage diseases such as cancer, infectious diseases, cardiac, respiratory, renal or hepatic failure as well the aging process.
As per studies in 2010 the prevalence of Cachexia was 1% which is 9 million patients and growing in industrialized countries like, North America, Europe and Japan. However, it has a lower prevalence in Asia but it is seen to be increasing over the years.
There are three stages of Cachexia:
Precachexia: This stage is characterized by a weight loss of less than 5%, which is accompanied with anorexia or impaired glucose tolerance.
Cachexia: This stage is characterized by a weight loss greater than 5% accompanied with other diagnostic criteria.
Refractory cachexia: In this stage, the patient is no longer responsive to cancer treatment, and has a lowered life expectancy.
Advertisement
There are other syndromes of weight loss that exist which should be looked into for prompt and effective management. These include:
Caloric Deprivation: This is a type of weight loss that occurs due to starvation. It leads to a loss of fat tissue than muscle.
Sarcopenia: This is a syndrome primarily due to a decrease in muscle mass.
Dehydration: This is often the most neglected cause of weight loss due to a decrease in fluids.
Cachexia is a serious and underestimated consequence in many conditions, namely -
Cancer
Organ failure
Chronic conditions like chronic heart failure, chronic kidney disease, chronic obstructive pulmonary disease
Infectious diseases like tuberculosis, acquired immunodeficiency syndrome(AIDS)
Inflammatory disorders like rheumatoid arthritis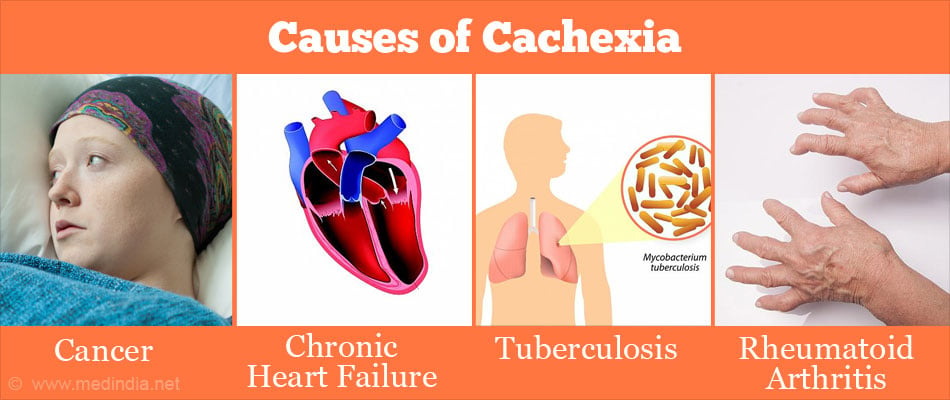 Cancer cachexia is defined as a multifactorial syndrome, characterized by anorexia as well as diminished body weight, atrophy of adipose tissue and loss of skeletal muscle mass.
Specifically, weight loss greater than 5% in previously healthy individuals or more than 2% in subjects with reduction of current body weight (BMI less than 20 kg/m2) or in individuals with reduced appendicular muscle index (females less than 5.45 kg/m2 and males less than 7.26 kg/m2) constitute the diagnosis of cancer cachexia.
Advertisement
Several mechanisms such as increased concentrations of hormones, cytokines and factors released by the tumor cells, and importantly loss of control by the hypothalamus of energy expenditure and hunger/satiety promote fat and muscle wasting, increased metabolism, anorexia, asthenia and anemia.
In cancer there is inappropriate regulation of inflammation and immune system activation in contrast to normal adaptive response seen in infection or tissue stress that is essential to host survival.
80% of patients with cancer and AIDS develop cachexia before death. Cachexia is a major contributor to morbidity and mortality. It also impairs the quality of life and increases health costs.
The diagnostic criteria for cachexia include 3 main criteria:
Presence of chronic disease
Loss of body weight ≥5% within the last 12 months or less
Presence of any three of the following:
Fatigue
Reduced muscle strength
Anorexia
Low fat-free mass index
Abnormal biochemistry
Background of inflammation
Anemia
Low albumin levels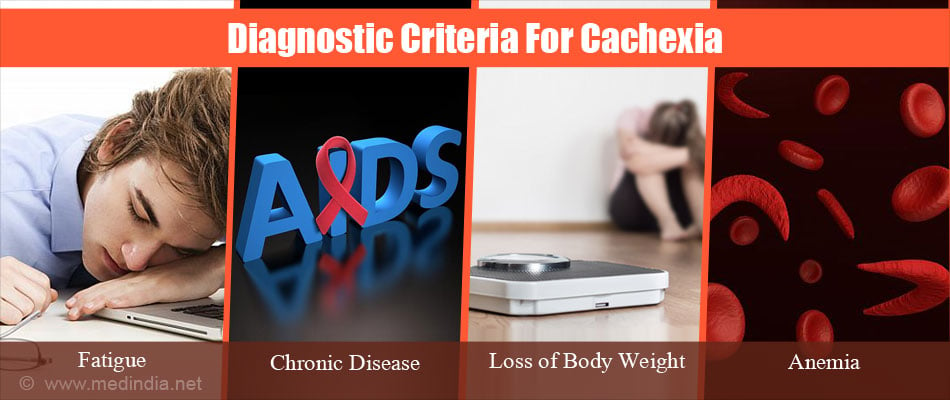 Treatment of Cachexia requires intervention that will stop or slow down the depletion of muscle, enhance muscle mass, improve body weight and strength, provide nutritional support, treat the underlying disease condition with chemotherapy or immunotherapy and improve the quality of life.
The therapeutic options for treatment include:
Advertisement
Dietary advice & nutritional supplementation
It takes into account that the energy deficit can result in cachexia complication and hence nutritional supplementation is a logical solution, however, there is a lack of evidence towards the benefits of intensive nutrition in improving symptoms. It has shown results in patients recovering from surgery and prior to chemotherapy. Both parenteral and enteric nutrition are used in correcting the nutritional deficit of the patient.
Pharmacotherapy
Prokinetic drugs - They help in dealing with the complaints of chronic nausea, anorexia and early satiety symptoms that result due to complications of the gastro intestinal symptoms
Corticosteroids - They help in reducing both anorexia and weakness, however, there is no benefit toward nutritional status and the effects are short lived. They also help in reducing vomiting and improve any neurological complications.
Progestogens
This was the first drug used for the treatment of cancer cachexia. It helps in improving appetite, calorie intake and nutritional status in patients. These drugs have an effect on the metabolism that induces the increase in appetite. But these drugs are often expensive and can result in thrombotic episodes.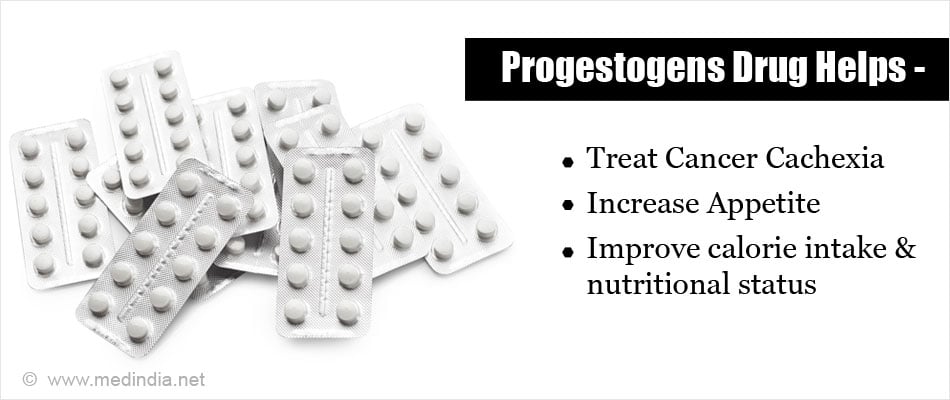 Other Modalities
Clinical trials are presently ongoing to identify drugs that can increase appetite and energy that can improve this clinical syndrome. Psycho social support is also advised to help in improving the quality of life of the patient.
Additionally, although not yet fully exploited in humans, research has demonstrated that targeting the hypothalamus and tumor-secreted factors might emerge as attractive options in the management of cancer cachexia.
The strategies for preventing Cachexia have been described in small experimental studies. The interventions that looked into in these studies include:
Nutritional supplementation
Neurohormonal blockade
Anemia and Iron deficiency treatment
Appetite stimulants
Physical exercise regimen
Nutrition support and physical exercise are the present preventive strategies for cachexia.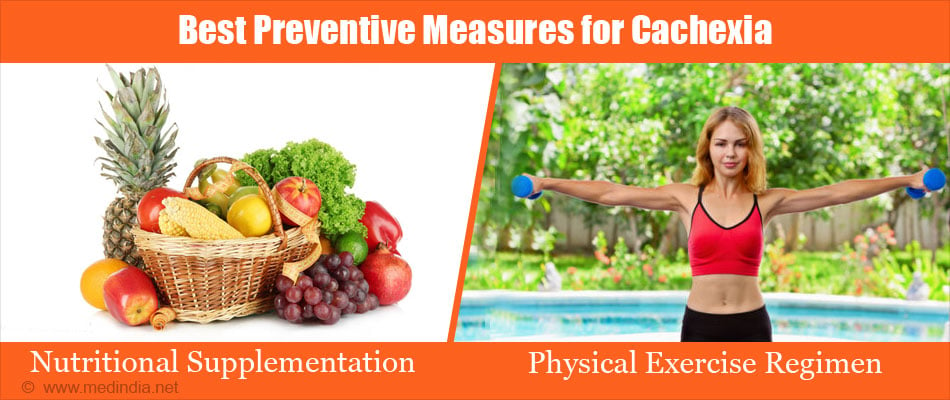 Medindia adheres to strict ethical publishing standards to provide accurate, relevant, and current health content. We source our material from reputable places such as peer-reviewed journals, academic institutions, research bodies, medical associations, and occasionally, non-profit organizations. We welcome and value audience feedback as a part of our commitment to health literacy and informed decision-making.
Kalantar-Zadeh kamayar, Rhee Connie, Sim John j, Stenvinkel Peter, Anker Stefan D, Kovesdy Csaba P. Why cachexia kills: examining the causality of poor outcomes in wasting conditions. Journal of Cachexia, Sarcopenia and Muscle (2013) DOI:

10.1007/s13539-013-0111-0

Cachexia as a major underestimated and unmet medical need: facts and numbers Von Haeling Stephan, Anker Stefan D. Journal of Cachexia, Sarcopenia and Muscle (2013) DOI:

10.1007/s13539-010-0002-6
Please use one of the following formats to cite this article in your essay, paper or report:
APA

Dr. Karishma Krishna Kurup. (2017, August 22). Cachexia - Causes Symptoms Diagnosis Treatment & Prevention. Medindia. Retrieved on Sep 29, 2023 from https://www.medindia.net/patientinfo/cachexia.htm.

MLA

Dr. Karishma Krishna Kurup. "Cachexia - Causes Symptoms Diagnosis Treatment & Prevention". Medindia. Sep 29, 2023. <https://www.medindia.net/patientinfo/cachexia.htm>.

Chicago

Dr. Karishma Krishna Kurup. "Cachexia - Causes Symptoms Diagnosis Treatment & Prevention". Medindia. https://www.medindia.net/patientinfo/cachexia.htm. (accessed Sep 29, 2023).

Harvard

Dr. Karishma Krishna Kurup. 2017. Cachexia - Causes Symptoms Diagnosis Treatment & Prevention. Medindia, viewed Sep 29, 2023, https://www.medindia.net/patientinfo/cachexia.htm.
Latest Publications and Research on Cachexia