What is Anencephaly?
Anencephaly comes from the Greek (An=without + encephalos=brain). Also known as "open skull" this birth defect affects the development of the brain and skull. Thus, a baby is born with an underdeveloped or almost completely absent brain and an incomplete skull and scalp.
Technically speaking, anencephaly is a type of neural tube defect (NTD). The neural tube is a hollow structure which forms the brain and spinal cord. Any defect in the development of the neural tube can result in anencephaly, amongst other congenital abnormalities like spina bifida.
Anencephaly can sometimes result in absence of the entire cerebrum. This part of the brain is responsible for cognitive functions such as memory, judgement, thinking and reasoning. The cerebrum has other functions as well. These include vision, hearing, touch, coordination and movement.
A baby with anencephaly is born blind, deaf, unconscious, and cannot feel anything.
Besides the cerebrum, the cerebellum, which is responsible for fine motor activity, may also be affected. Most babies with anencephaly are stillborn (75%), some die at birth, while some may survive a few hours or at the most a few days.
It should be noted that a baby with anencephaly can be born to a couple who never had any family history of the disease. Importantly, once a baby is born with this birth defect, the chances of future pregnancies having the defect or a related defect such as spina bifida can increase by 4 to 10%.
Epidemiology of Anencephaly
Neural tube defects are a leading cause of birth defects with a global prevalence of 1-2 per 1000 births.. The prevalence of NTD in India varies between 0.5 to 11 per 1000 births. The birth prevalence of NTD including anencephaly varies with geographical location, race, ethnicity, and sex.
Anencephaly occurs in 1 in 5000 births worldwide. It is 2-4 times more prevalent in female fetuses. A wide variation in the frequency of anencephaly has been reported from different parts of India. It ranges approximately between 1.8 to 7 per 1000 live births and is most prevalent in Punjab, Haryana, Rajasthan and Bihar.
It has been found that anencephaly is caused due to multifactorial traits, which involve a combination of genetic and environmental factors that prevent the closure of the neural tube at the head end, which usually closes by the 3rd or 4th week of pregnancy. How the genetic and environmental factors interact to cause the birth defect is still poorly understood. Some of these factors are briefly discussed below:
There are several symptoms and signs of anencephaly, which are briefly highlighted below: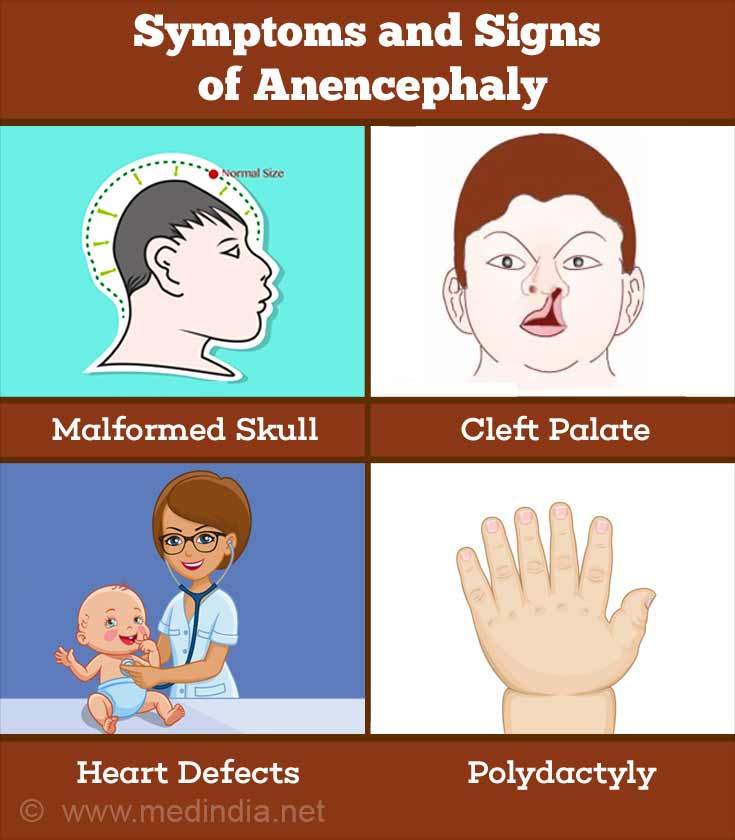 A diagnosis of anencephaly can be made before birth, which is technically known as prenatal diagnosis. After birth the features of anencephaly becomes clearly evident upon a physical exam. The baby's head will appear flat and bones of the skull and scalp will be absent.
The following diagnostic tests are generally performed during pregnancy for evaluation of the baby for anencephaly:
Any of the above procedures can be carried out between the 14th and 18th weeks of pregnancy, while the fetal MRI can be performed at any time during the pregnancy.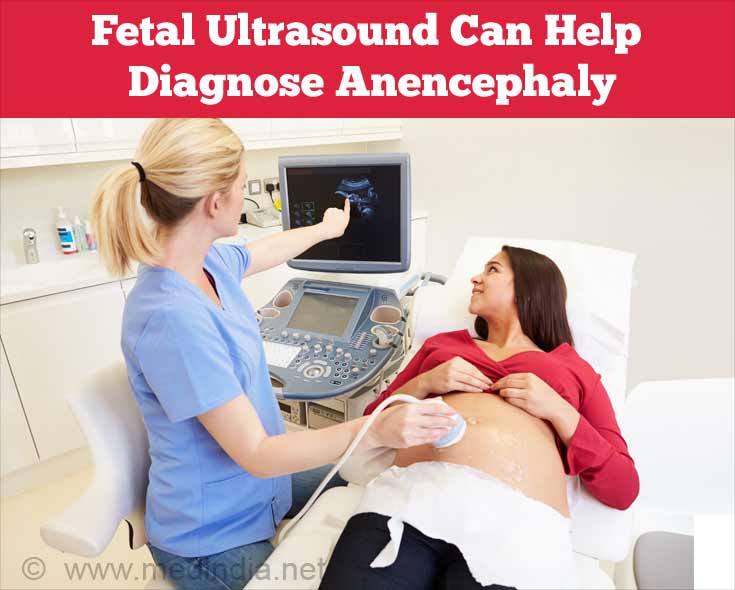 What Should you do After a Diagnosis is Made?
The decision of what to do after anencephaly is diagnosed is very difficult to take, since the couples know that the baby will inevitably die. That is why most couples decide to terminate the pregnancy after receiving a prenatal diagnosis of anencephaly. In rare instances, some couples opt to carry on the pregnancy, often based upon religious beliefs, in spite of being fully aware that the baby will not survive.
There is no known cure or available treatment regimen for anencephaly. Almost all babies born with anencephaly die shortly after birth, if not already stillborn. As long as the baby is alive after birth, only supportive care can be given.
Supplementation of the diet with folic acid before and during pregnancy can help prevent NTD, such as anencephaly. The standard recommended dose of folic acid is 400 µg daily. Two of the major strategies for preventing anencephaly include the following:
References:
Anencephaly: Genetic and Rare Diseases Information Center (GARD), National Center for Advancing Translational Sciences (NCATS), National Institutes of Health -

(https://rarediseases.info.nih.gov/diseases/5808/anencephaly)

Anencephaly: St. Louis Children's Hospital -

(http://www.stlouischildrens.org/diseases-conditions/anencephaly)

Anencephaly: Cleveland Clinic-

(https://my.clevelandclinic.org/health/diseases/15032-anencephaly)

Facts About Anencephaly: Centers for Disease Control and Prevention -

(https://www.cdc.gov/ncbddd/birthdefects/anencephaly.html)
Latest Publications and Research on Anencephaly
Please use one of the following formats to cite this article in your essay, paper or report:
APA

Dr. Kaushik Bharati. (2018, May 14). Anencephaly - Causes, Symptoms, Diagnosis and Treatment. Medindia. Retrieved on May 25, 2022 from https://www.medindia.net/patientinfo/anencephaly.htm.

MLA

Dr. Kaushik Bharati. "Anencephaly - Causes, Symptoms, Diagnosis and Treatment". Medindia. May 25, 2022. <https://www.medindia.net/patientinfo/anencephaly.htm>.

Chicago

Dr. Kaushik Bharati. "Anencephaly - Causes, Symptoms, Diagnosis and Treatment". Medindia. https://www.medindia.net/patientinfo/anencephaly.htm. (accessed May 25, 2022).

Harvard

Dr. Kaushik Bharati. 2021. Anencephaly - Causes, Symptoms, Diagnosis and Treatment. Medindia, viewed May 25, 2022, https://www.medindia.net/patientinfo/anencephaly.htm.